"This post may contain affiliate links. Please read my disclosure for more info.
If you're worried about money, and financial stress has got you preoccupied lately, you're not alone. 
When 2020 began, new jobs were being created at a record rate, and unemployment was at a 50 year low. But suddenly within a few months, our ability to make a living isn't such a sure thing anymore.
Our main concern of course, is staying healthy. But a big source of financial stress recently, has been the sudden uncertainty everywhere around us.
We've been told, "Stay home. Don't go out. Don't socialize".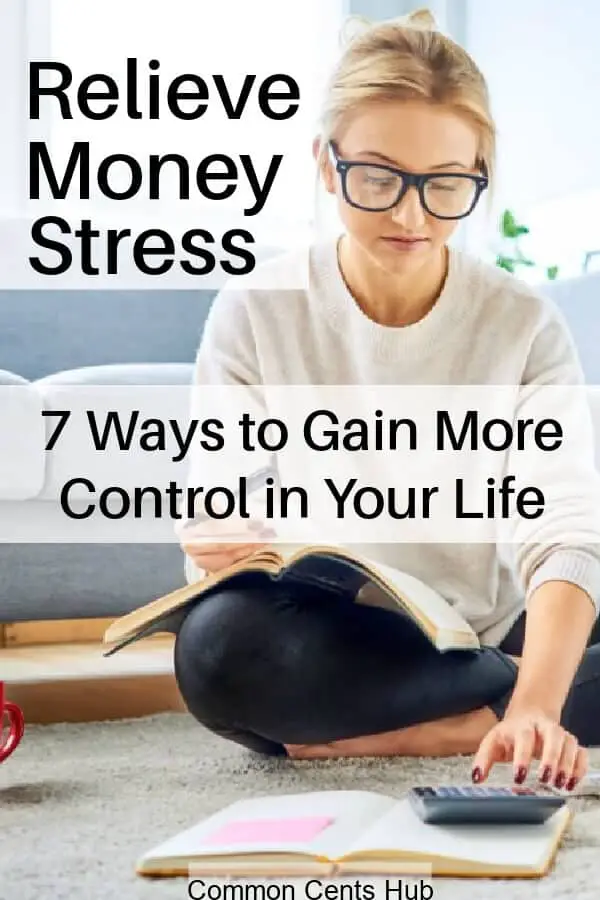 But while we continue to hibernate at home, it's natural to worry about money, and whether you'll be employed a few months from now.
The one thought that keeps reverberating with me as the pandemic ripples through our economy, is that putting all your eggs in one basket – relying on one company for your income, isn't very secure.
So as you comply with the demands to stay home, why not use this time to get a better grip. To feel better about your life now, but to come out of this with less money stress, and more control over your life.
Here are 7 ways to that'll help to lower your anxiety now, and start taking more control of your life and your ability to earn an income.
1. Creating a personal goal can lower your money anxiety
Even in normal times, when we're not facing health and economic craziness, setting a personal goal for the next 2 to 3 years can reduce your anxiety.
When you're working toward something that you want, you'll feel a better sense of achievement and have less regrets over the long term. You'll also have more focus. Daily decisions will become easier.
Your goal might be to finish school, transition to another career, become debt free, start a business, buy a home, travel, move to another area… anything that'll make a significant impact on your life and requires more money and time than you can muster in just a few months.
When you're focused on achieving one major accomplishment, other decisions have a tendency to fall into place.
Things like buying a new couch, or taking on a car payment, or even how you spend your weekend become clear when you can measure them against your goal. It also becomes easier to pass on things people around you might be chasing.
What if for example, you had set a goal to move to Florida in two years?
You'd probably have an

account

setup to save for your move.

You'd setup an

emergency fund

so unexpected expenses wouldn't impact your move.

You'd think twice about blowing $90.00 at Target on things you didn't absolutely need.

You'd be conscious about clutter, and you'd think twice about bringing new things home.

You'd be motivated to think out of the box about how you'll earn money, or ways you can generate a

side income

.
Your goal of moving to Florida would give you a frame of reference for any decision that involves money or time.
RELATED: Values Based Budgeting: How to Manage Your Money AND Do Things You Love
We can't control what goes on around us, so it's likely your timetable could be affected by what's going on in the world. But setting your own internal compass will make it easier to move in a consistent direction with less stress and anxiety.
2. Empower yourself with a simple budget - take control of your money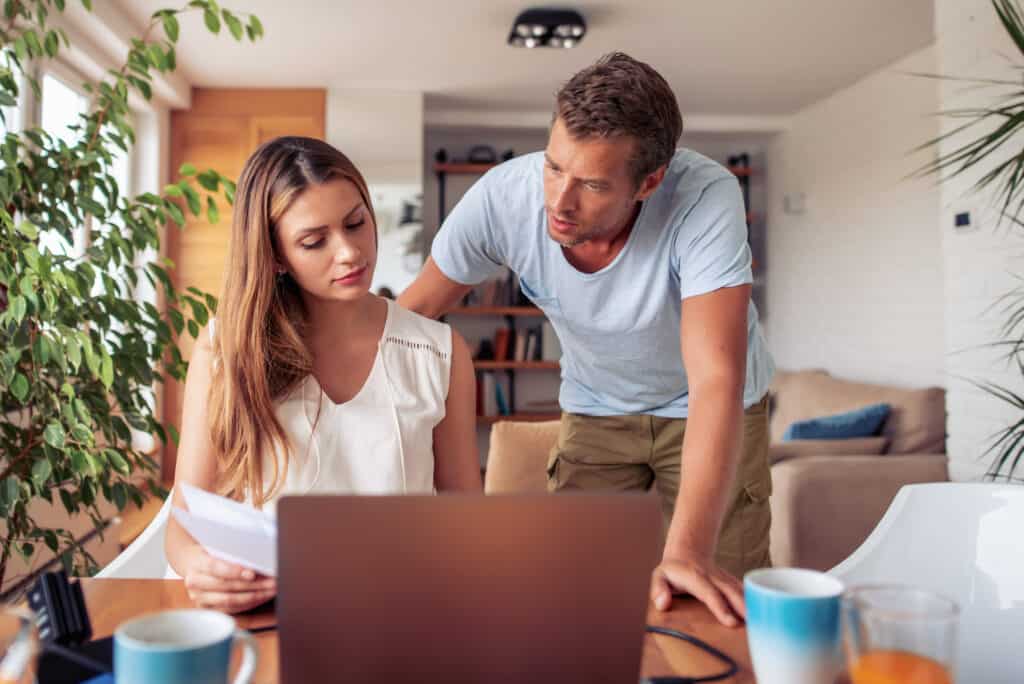 Weight and money cause a lot of stress and anxiety, so it's no surprise that they're the two most popular resolutions each year.
It's depressing to step on the scale and see that you've gained 10 pounds, or to total your expenses and see you're $400 a month underwater, but doing it anyway is a big step nonetheless.
The only way to succeed with either one is to know the ugly details.
Like Peter Drucker said, "If you can't measure it, you can't improve it."  And now more than ever, knowing the details will put you in a better position than wearing blinders and hoping things will improve.
Here's a good starting point. It shouldn't take more than 30 minutes:
Either write out your spending categories, or print one of these

free templates.

You'll want to print several so you can see your improvements over the next several months.

Grab your bank statement or log into your account.

Now fill in your expenses for the last full month.
How do they compare to your paycheck?
If you're underwater, highlight expenses you can either eliminate or cut back on. Just take them one at a time:
Get control of

food spending

one week.

Then setup a

debt snowball

to eliminate your credit card debt.

Total your entertainment spending and consider some less expensive choices.

Look into cheaper alternatives for regular expenses like

cable TV

, or car insurance.

   
And the most important part – repeat this next month. Compare each category and track your progress.
Consider using a budget sheet that tracks your net worth from month to month, because that's the most accurate way to know whether overall, you're making progress.
Using a budget isn't restrictive. It's empowering.
It's impossible to move beyond paycheck to paycheck without controlling the relationship of what you earn to what you spend.
But once you do, it's amazing how your choices in life start to expand. When you're not stressed about debt and you can handle an average emergency, you're able to say yes to many things you were never able to before.
3. Reduce money stress by taking control of your income
Never has the need to take control of your career and income been so clear. To our parents and their parents, "secure" meant working for an established company for a regular paycheck.
But they didn't need to contend with the technologies that enable companies to outsource or automate our jobs. 
Whether you work for a Fortune 100 company or your neighborhood bakery, if eliminating your job can help their quarterly statement, it can happen in a heartbeat.
Leaving your sole source of income in the hands of someone else is not so secure anymore. And over the next year or two, as businesses recover, taking control of your income could be smarter than ever.
According to a Bankrate survey in 2019, more than a third of U.S. citizens were working some kind of a side hustle and earning an average of $1122 each month (part-time).
And here's the part I thought was interesting:
More than 27% of the people surveyed said they're more passionate about their side hustle than their regular job.
There's a reason why.
A side hustle isn't necessarily working 20 hours a week stocking shelves. The best type of side hustle is something you start from scratch where you call the shots – like providing a service, selling a product, or learning a skill you can provide.
Something you can work as much or as little as you need to.

Something you can scale as you become more capable.

And something that has the potential to replace, or even surpass your income.
Starting your own side hustle is a perfect way to protect your income anytime, but especially when things are unpredictable.
4. Consider methods to work from home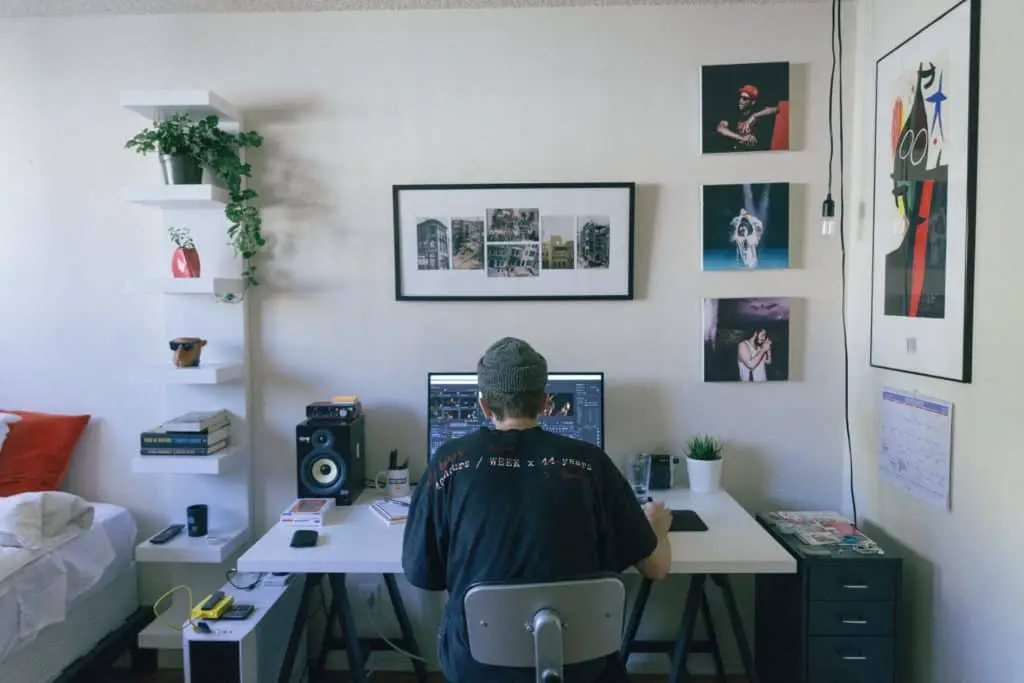 If you're working for a company now, where both you and them are new to work from home arrangements, I can see where the transition might be a bit stressful initially.
I worked in IT where I assisted dozens of employees getting setup to work at home.
For some employees, the transition was a little bumpy. But I've never heard a single one of them say they'd want to return to the office once they were accustomed to working from home.
Suddenly going to the gas station once a week instead of every other day, and spending less on lunches, clothes, and tolls has a dramatic effect on your budget.
I worked from home as an employee for six years, and I calculated that over that time, I saved over 100,000 miles of driving, and the equivalent of over 90 days sitting in my car!
And as a single parent, I was able to get my kids off in the morning, be there when they returned, and had the peace of mind to be working 10 minutes from their schools.
If the company you're working for now is just starting to support working from home, this is a perfect time to show them you can be just as productive sitting home in your sweats.
If your work situation doesn't lend itself to remote work now, then investigating a work from home job could add a lot more balance to your life.
It's amazing how your outlook can change when you're not rushing out the door, driving in bad weather, and fighting traffic delays even before you start work.
5. Downsize your possessions
It may seem odd to declutter your living space as a way to reduce anxiety during an economic downturn. But there's a reason, and it has nothing to do with cleanliness.
2020 has introduced a lot of uncertainty around us. Everything from our job, to our health, transportation, schools, even our ability to get basic supplies.
How often do you see scenes like this in your local grocery store:
I tried Marie Kondo's decluttering method – Konmari, a few months ago, and was surprised that my biggest takeaway from it wasn't a neater home.
The biggest impact her process had on me was learning to create order in my life.
Her plan takes you category by category – not room by room, and by following her process, it's easy to start visualizing how to apply her method to other areas.
Like re-evaluating the goals you've set for yourself.

Re-examining your lifestyle and the way you spend your time.

How you spend your money – what you consider necessary.
I'm not suggesting you should become a minimalist. But it's surprising how many things we accumulate that may have served us at one time, but no longer do.
And keeping it all can anchor you in the past.
Evaluating the things you own, and keeping only the stuff that matters now, (or as Marie says, "sparks joy") will help you to move forward.
And in a time when uncertainty is affecting so many areas of our life, a method to create order will improve your physical space, your mental clarity, and help you to move forward.
6. Consider disconnecting from TV and social media
I used to wonder how my dad could sit in front of the TV watching endless news shows. "How incredibly boring", I thought. 
Well there's a study that says the average male starts turning into his dad at 34, and the average female starts turning into her mom at 33. There must be some truth to it because I too, am now fascinated by news and current events.
But not lately. With 24/7 alarming health and economic news, I'm realizing you can catch up on all you need to know in 10 minutes in the morning and 10 minutes at night.
Anything more than that, and you're watching the same news rehashed over and over.
And in a time of heightened anxiety, when we're already so connected, it's easy to cross the line from being informed to being obsessed.
Cable news would love us to stay glued to our TV, but if we need to be home, it's possible to stay informed and catch up with some of the things we can't always do.
Brainstorm a couple goals you might want to shoot for.

Spend time with someone walking, exercising or just watching a movie. 

Reserve an hour to decompress with your own hobby.

Take the dog for a walk.

Try some new recipes. 

Start a blog

. It's not hard, and if your regular job has become dull and uninspiring, it could be a great creative outlet.

Brainstorm some new ways to generate a side income.
We're all connected enough to know when it's safe to resume our normal activities. But until then, disconnecting and living like it's 1992 again can't be that bad, can it?
7. Lower financial stress in 10 minutes by starting an emergency fund
It's a simple fact. Almost 80% of Americans live paycheck to paycheck for their entire adult life. A big reason is, that we're unprepared for basic emergencies.
So when we're hit with an $800 car repair, or anything we haven't planned for, it sets us back for months. And the next emergency won't wait for you to pay off this one.
Thinking you can't afford to build an emergency fund is a huge mistake. Because you can afford to.
This is one concept that took me awhile to understand:
By dripping a little money into an emergency fund each week, it's not gonna detract from your overall income. You're not "spending" that money. In fact, it'll help you to increase your net worth each month.
How?
When you have the cash to pay for that $800 car repair, you won't be putting it on a credit card and perpetuating your high interest debt.

You won't need to pay for emergencies from your checking account, then have to skip paying your electric bill or fall behind on some other necessity.

A big reason people give up on trying to use a budget is because unexpected things blow a hole in it. But when you separate emergencies from regular expenses, suddenly your budget is predictable – it works. And you can actually manage your money.
You don't need a lot of cash to start your emergency fund, and it's easy to setup. Here's how we set up an emergency fund in 10 minutes that's automated, and doesn't impact my ability to pay bills.
Living paycheck to paycheck was already one biggest reasons for financial stress and money anxiety, even before a global health pandemic.
So if you worry about money now, that 10 minutes you spend starting a simple emergency fund will be one of the most effective ways to relieve your money stress. It was for us.
Related: How to Set up Sinking Funds and Take the Surprises out of Your Budget.
Reducing financial stress is within your reach
As the cure for COVID-19 progresses, businesses everywhere could be struggling for quite awhile. Finding yourself suddenly uncertain about your job, your savings, your ability to buy basic needs, and even your health, is unnerving to say the least.
But when people endure a hurricane, they learn how to build their home stronger.
Being quarantined is a perfect time to take a step back, re-evaluate your lifestyle and position yourself to be stronger.
You're stronger when you control how you earn income, and when you have a plan for the money you earn.

You're stronger when you have a personal goal that reduces your decision anxiety.

You're stronger when you have more balance between work and your personal life.

And you're stronger when you eliminate things that detract from your progress, and surround yourself with only the things that'll help you to move forward now.
We all worry about money to some extent. But looking at it simply as a tool you can gain more control over can put you in a stronger position, financially and personally. 
How about you? Are you, or your family making any adjustments to cope with the health pandemic, or the affects it's had on you?