"This post may contain affiliate links. Please read my disclosure for more info.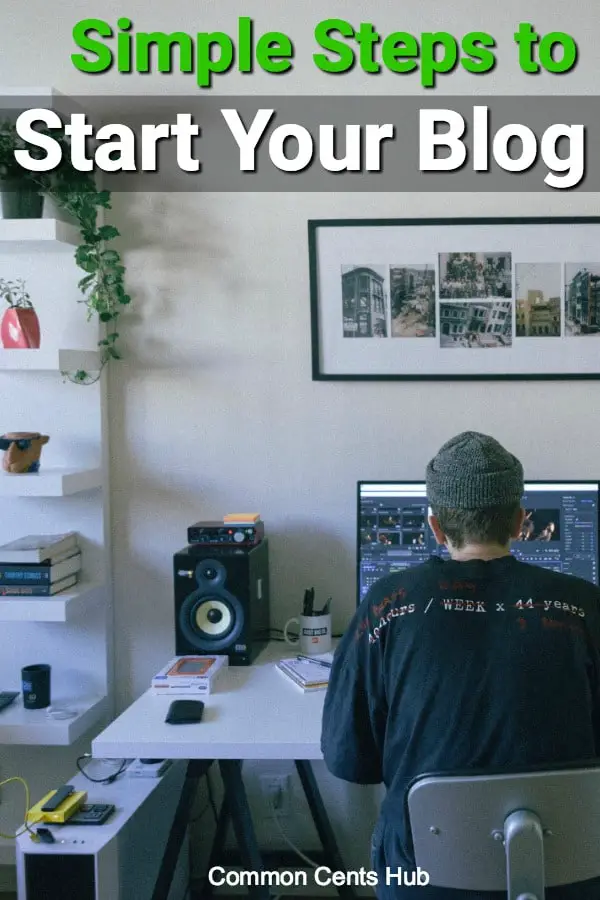 If you've ever felt like you needed to earn extra money, or considered another line of work but never followed through, you're in the right place.
Maybe you could use an extra income to meet your bills. Or just get ahead. Or you're stuck in a job where the only thing you look forward to is the weekend and your paycheck?
Have you ever thought about the idea of having a blog but never followed through because:
You don't know how to create a website.
You're not a computer expert.
It'd be too expensive to have your own website.
You're not qualified to write articles.
Any of these reasons sound familiar?
I've thought of every one of them. In fact, you can toss around ideas to improve your own situation for years without doing anything.
I'll show you here, how to get your own blog up and running in about 20 minutes. You'll be able to jump right in and start working on it without pouring through some boring manual. And it'll cost you probably less than you spend on coffee.
Why is Blogging Such a Great Opportunity?
First, it's one of the few things you can do that has a very low cost to start, and a very large earning potential.
There's essentially no training you need to do to begin. What convinced me was seeing how many bloggers who started less than two years ago, and were earning well into five-figures – per month. And each one says they were a complete novice when they started.
There are no college courses, certificates or anything else needed. You know how I started? I viewed 4 or 5 YouTube videos on using WordPress. WordPress is known as a 'content manager'. It's just the app that you'll use to write your blog posts and put whatever colors or designs on your site. It's all menu-driven, meaning there's no coding to know. WordPress is free, and it's pretty much the standard for most websites.
You can start your blog and work on it at your own pace. An hour here, a couple hours there. But once you see your site starting to take shape – and it will, you'll probably get more and more enthusiastic about adding to it.
What's Unique About Blogging?
Just like self-publishing has revolutionized the book industry, blogging has enabled us to publish our own content and have it read by potentially millions of people.
How many times have you sat down to 'check' Facebook and next thing you know, an hour has passed?
If you had spent that hour on your blog, your friends could still read and comment on your posts. But you'd also be building a readership that could earn you enough in ad revenue to quit your job.
What Would You Write About?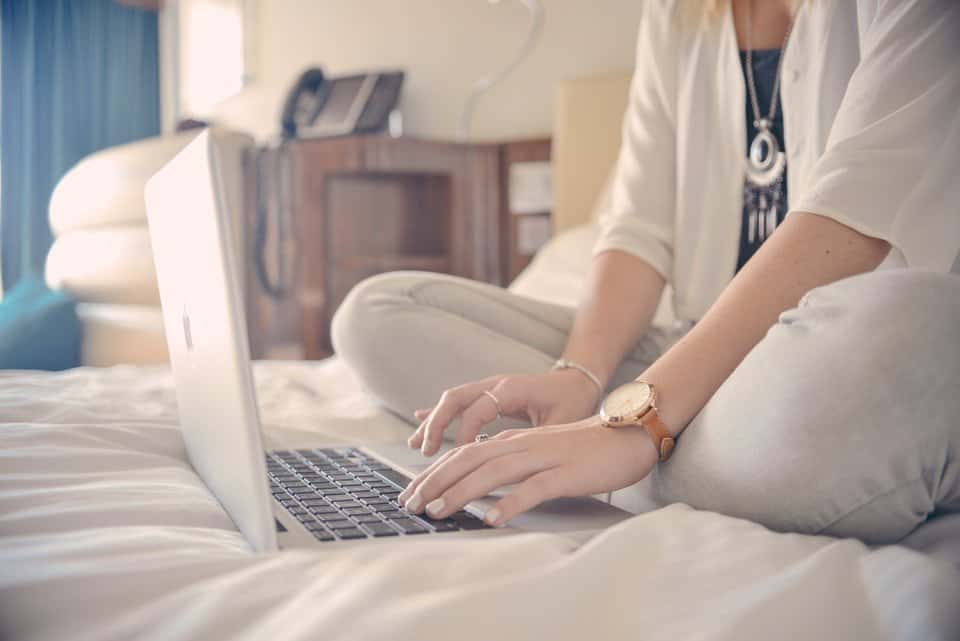 Most people pick a topic that centers around what they're involved with or what's always on their mind.
A new Mom experiencing everything that comes with parenting and motherhood.
Your efforts to get your finances in order by budgeting and saving.
A lifestyle blog where you write about recipes, DIY projects or style tips.
Reviews on certain products.
A travel blog of various places you've been to or plan to go.
You can write a blog post of 300 words or 3000 words – it's up to you. You can post every day or once a week. And once you develop a community of readers you'll be commenting back and forth with each other. They'll look forward to your posts.
Where Can it Lead?
It's amazing how many people will read what you write, which could easily lead to opportunities to guest post on other blogs. This is one of the best ways to increase the readership of your own blog.
Or you could use your blog as an online resume and pitch articles to more well-known sites. You can evaluate certain products and post a review, many of which the company will pay you for. You can run ads on your pages and be paid for them.
Or you can sign up as an affiliate for certain products where you place a link for it in your post and get paid whenever someone selects it and purchases the product.
You get the idea. There's no limit to the content you can provide and the opportunities that can grow from it.

How Exactly Would You Start?
To have your own site, you need 3 things:
You need to select a host. This is a server where your blog will be stored and backed up each night.
From your host (here we're using Bluehost) we'll select a unique website name (our domain name).
You need an app to write your blog and add features (that's WordPress!).
Most people are intimidated by setting up their own site, but it's really something that can be done in about 20 minutes.
Now, you may or may not be aware that are a few ways you can host a blog for free, on sites like Blogger. But those types of hosts don't have the features that enable you to earn money from them.
You wouldn't be able to run ads, place affiliate links, and it'd be almost impossible to approach companies to pay you for sponsored posts when you're using a free blogging platform.
I started with Bluehost because they're one of the most established and responsive hosts I've seen.
Ok if you're ready, here we go!
Step1.
Just click here to go to Bluehost and you'll see the different plans available. I selected the Basic plan (the one for $3.95) and I'm sure you can do the same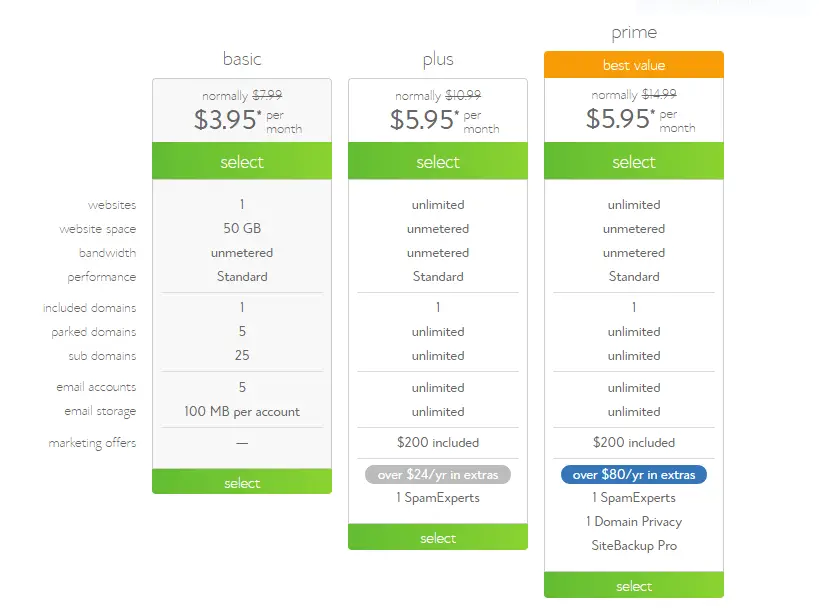 Once you click on the green "Select" button, then you'll see the box below where you'll select your new site's name. Just type the name of your new site in the 'new domain', box, click Next and hope that it's not already taken.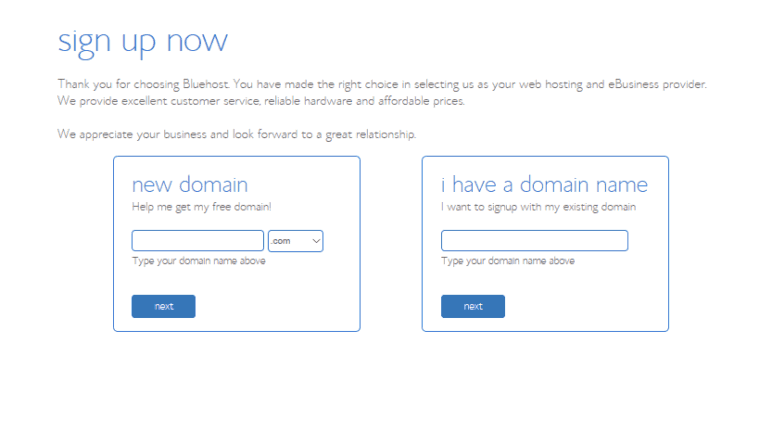 They'll do a quick check to see if the name is already in use and let you know. If that name is already in use, you'll have to alter the name and select one that's unique.
I'll admit, this took me awhile. Most of the names I tried were already in use. If you're using a common word like 'money' or 'life' you'll probably try a lot of combinations before you hit on one that's not being used.
Try something simple and to the point that people will remember.
Bonus: Usually you need to pay to register a domain name, but Bluehost doesn't charge to register your name when you buy your hosting from them.
Once you select your site name, you're prompted to enter your personal info: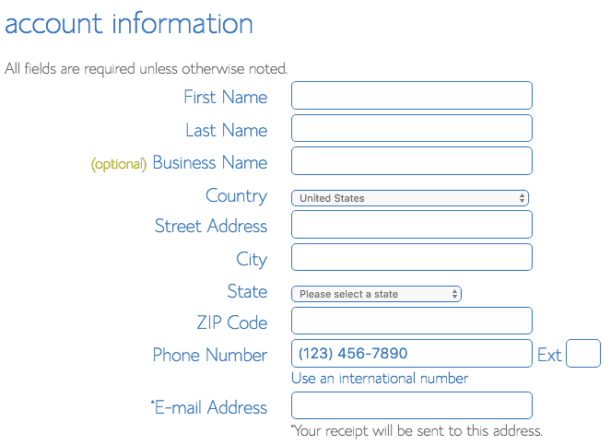 See that field at the bottom for your email address? Get ready to receive an email there in a minute.
Now, you may be presented with some optional add-ons while you're checking out. My opinion is that at this point, the only option you may want to consider is 'site privacy'. Why? When you register your new site name, it's possible for people to look up the owner of the site and start emailing you with sales pitches to customize your site. If you select site privacy for $11.88 per year, salespeople won't be able to see you as the owner.
OK, so once you've selected your plan and registered your site name, you're two-thirds of the way there!
Now check your email!
You should be receiving an email that includes a link to access Bluehost. (This is exciting!) Now, click the link in the email and you'll see the login screen below. Select 'hosting login'. (We're almost done!)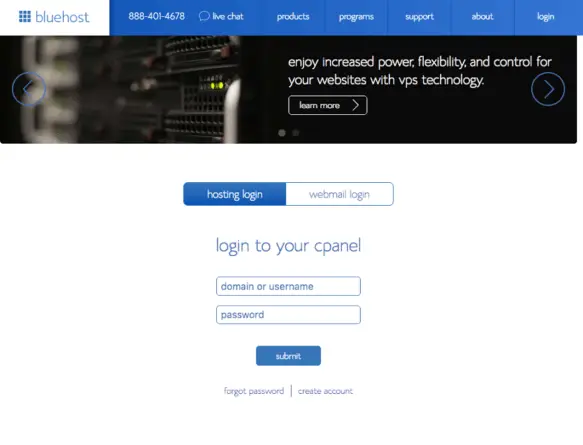 Once you log in, you'll see the Bluehost control panel, or 'cpanel' as they refer to it. This is where you'll install WordPress. See where it says 'Install WordPress' (highlighted in yellow). Select that to begin installing WordPress.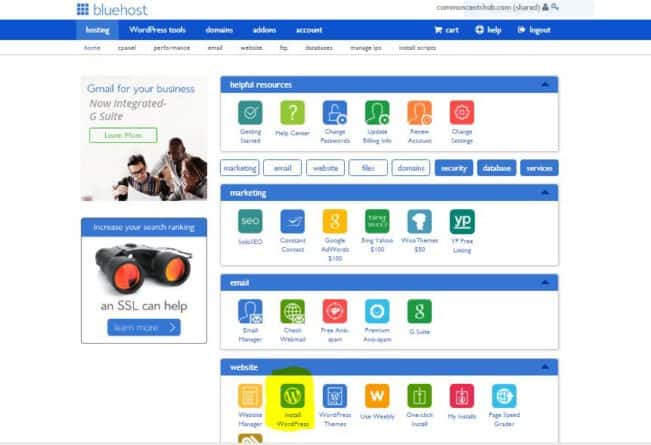 The WordPress install will bring up the Mojo Marketplace, so just click the Start button here: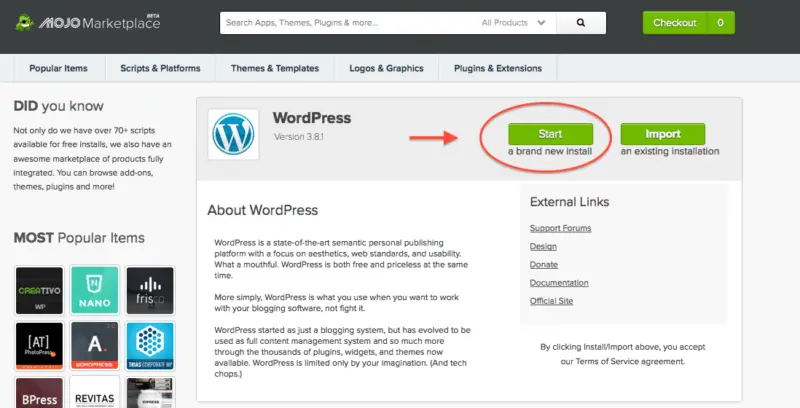 You'll be prompted next, to enter your new site name, an admin name, and a password. Keep these credentials handy. That's what you'll use to access your site as the administrator and work on it: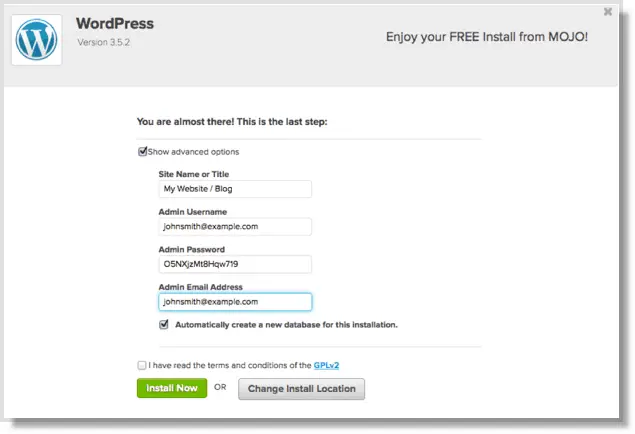 And once you get the 'Complete' message, you're pretty much done! You have your own website now!
Make a note of the 'Admin url' they show you. That's the address you'll use to get to your WordPress dashboard to customize your site. You'll want to bookmark it because you'll be spending some quality time there!
Let's Log In To Your New Site – Here is The WordPress 'Dashboard'.
The screen you see below is the WordPress Dashboard. This is what you'll see each time you log in to your site as the administrator. It's where you'll do pretty much everything to your site.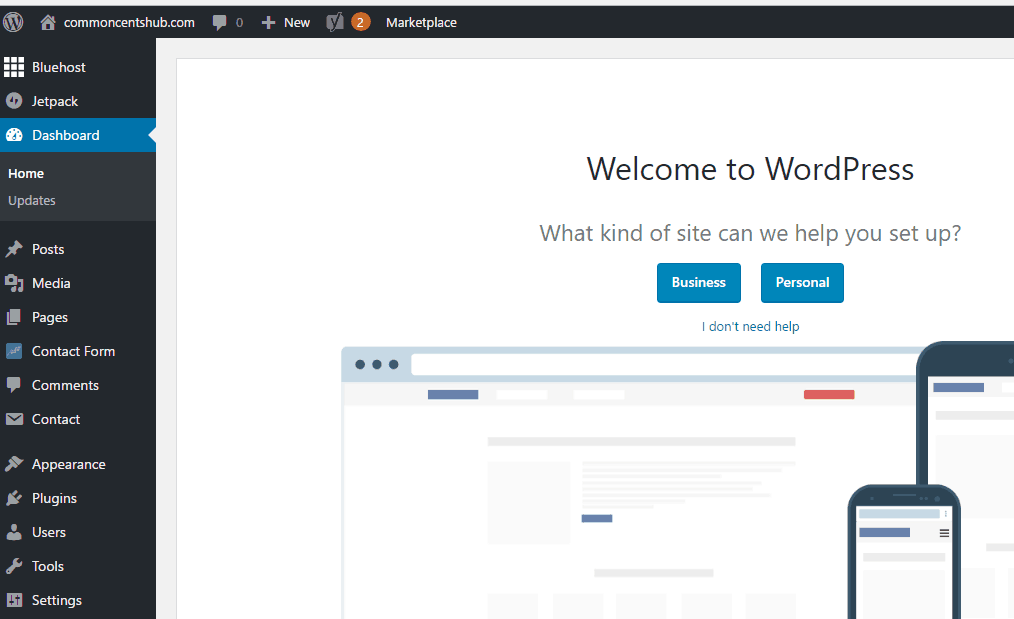 One of the first things you'll do is to select a "Theme".
A theme is how your blog is laid out. The look of it. Depending on what kind of blog you want to write, you can select a magazine style or one that features text more.
Just click on 'Appeara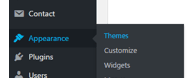 nce' and you'll find Themes within that category.
At the top of the themes screen, you'll see 'Premium Themes' and 'Wordpress.org' themes.  The premium themes are not free, there's a charge for them.
For now, you can select 'Wordpress.org' themes. These are FREE to install and are what most people starting out choose. You can set up a nice functional blog using a free theme.
As you move your mouse over each theme, you'll see the choices 'Install' and 'Preview' appear. Browse through the themes and preview some to compare them. When you settle on one, just click 'Install'.
Two tips:
One of the most popular free themes is 'Genesis'. It's featured in a lot of how-to videos and it seems to have a lot of popular features included.
If you see a particular website that you like and are wondering what theme they're using, this site: What WordPress Theme is That may tell you the theme they're using. Just enter the name of the site you want to check, and it will try to detect their theme and reveal it to you. It doesn't work on all sites because some are professionally customized, but it's interesting to try.
Posts and Pages
Most of the text you read on a blog is either a post or a page. There's a simple difference.
A post is an update that you'd write periodically. It could be every day, once a week or whenever you want. A blog post can be as long or short as you want. You may want to add a few pictures to it so it's not just a long list of text. People can also comment at the end of the post, and you can configure it so you'll get an email notification whenever there's a comment.
A page is something more permanent than a post. You'll setup pages once and usually won't need to change them unless you want to.
An example of a page would be an "About" page, where you may just have a paragraph or two about you and what your blog is about. You can include a photo or two here also. If you want to connect with your readers, they'll want an idea of who is behind your blog.
You'll also want to set up a "contact" page. This is just a simple form that a reader can fill out and send to you with a question or a comment that only you will see.
Plugins
You'll find an option for Plugins on your WordPress menu. Plugins are extra functionality that are not built into the "off the shelf" version of WordPress.
Without adding any plugins your blog will still function. You'll still be able to write posts and share them with your readers.
But as you learn a bit more about how you want your blog to look, you can add various plugins. There are plugins for things like adding a custom contact page, adding certain fonts, adding social media links and hundreds of other things.
Plugins are easy to add. In almost all WordPress themes, you'd just scroll down to Plugins, then click Add New, then you'll see all the available plugins.
They each have a description of what functionality they'll give you. If you see one you want, just click Add, then Activate.
Once you start comparing your blog to others and seeing interesting features they have, you can probably find a plugin that adds that functionality.
Wrapping Up
I'll wrap up by saying that blogging can open up a lot of opportunities for you. If you're working in a 9-5 job and would rather get up each day and do what you want, then blogging is something you should consider. It's a great way to learn, share information and unlike a traditional job, the sky is the limit on your income.
But don't get overwhelmed and think you need to become an expert in the next two weeks. Just take one thing at a time. For instance, learn how to write a post and how to format it with spaces, bullets or bold text to break it up. And maybe on another night learn how to add pictures, or create a contact page. Each time you learn something new, your site will begin to take shape.
It may seem like it's happening too slow, but if you learn one or two new things each night, you'll be surprised at how comfortable you are with posting new content and updating your site within a  few weeks.
And when you're using Bluehost and WordPress, the most popular host and content manager, you'll be able to compare notes with a lot of different Facebook blogging groups.
You can also email me at [email protected] with any comments or questions.
Disclosure: We are a professional review site that receives compensation from the companies whose products we review. We test each product thoroughly and give high marks to only the very best. We are independently owned and the opinions expressed here are our own.
How to Start Your Own Blog - FREE 7 Day Email Course
Over the next week, we'll cover how to get setup, what to write, how to promote your blog, grow an audience, and begin to monetize your site. It's all the information I wish I had when I started.