"This post may contain affiliate links. Please read my disclosure for more info.
We've looked for the best paying food delivery jobs to work for, and found that food delivery apps have really changed the game. 
In fact, the best food delivery services to work for combine a lot of positives – like earning extra cash quickly, and eliminate lots of negatives – like working a rigid schedule.
Over the past year, the idea of taking more control over our income has come front and center. And the gig economy enables us to do just that – work when we want, where we want, and as much as want.
The best food delivery jobs combine a lot of those qualities, so if you're looking to boost your budget without spending months to develop special skills, this should help!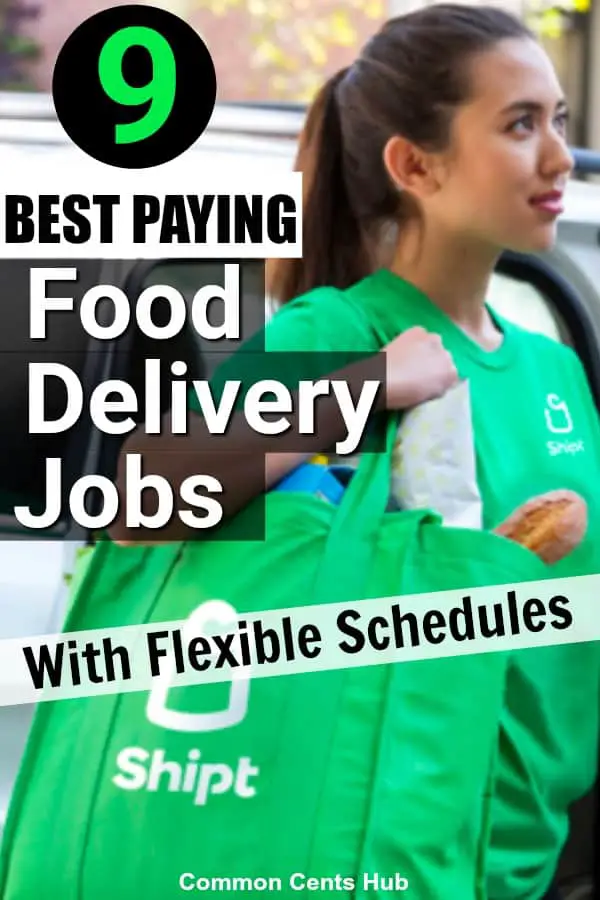 Why food delivery jobs are a great way to earn money on the side
Extra income can mean the difference between paying off debt in a few months, or putting your life on hold for years. It can put you in a position to actually save money.
But while you're at it, why not…
Work your

own

schedule

Start earning

extra money

literally within a few days, with no

special skills

.

Never have to deal with some grumpy manager, and never even handle cash.
According to Market Watch, food delivery jobs have more than doubled since the advent of Covid, as local restaurants have had to adjust. And the best food delivery apps can have you earning an hourly wage of over $20 an hour with a very short learning curve.   
Food deliveries are more of a side hustle than a part-time job, because as an independent contractor, you're making good money as your own boss, and your hourly rate is determined by you, nobody else. 
Maybe you have kids with crazy schedules so you have a few morning hours one day, and a few afternoon hours another day. You can deliver food whenever it's convenient for you.

And maybe your car has seen better days. There's no shame in wanting to avoid car payments, but maybe you'd hesitate to drive people around for Lyft or Uber. To deliver food, it just needs to start up and go.

Or maybe you need a way to make money, but you'd rather not spend hours inside some business with a manager hovering over you. Food delivery jobs let you be your own boss. No punching a clock, no boss, and the harder you work, the more you make.
How much are food delivery drivers paid?
Almost all the food delivery jobs have a base pay per delivery, plus any bonuses in effect that day, and customer tips. According to a recent survey by Indeed, the average pay for food delivery drivers is $20 per hour.
But which food delivery job pays best?
The best paying delivery jobs pay as high as $25 per hour. And the good thing is that your hourly wage is determined by you, not some manager.   
With most food delivery services, your pay rate will vary depending on how much you work, whether you're working during peak times, the specific area you work in, and how much you hustle.
You should be able to earn competitive pay quickly, but once you're comfortable and can recognize which customer orders are most profitable, food delivery jobs can be pretty decent money.
What's the best food delivery service to work for?
I looked at the 9 most popular food delivery apps, and spoke to two drivers, who together, have worked for five of them. Overall, the best food delivery service to work for is a close call.
They all shine in certain areas…
DoorDash and Postmates seem to pay the best.
But some of the others are pretty close in pay, and offer a more flexible schedule and have other perks like bonuses or guarantees.
Lots of times your pay rate will hinge on the specific area you choose to work in and the hours you choose to work. It shouldn't take long to settle on the right combination of customer orders and short deliveries.
So let's narrow down the best delivery service to work for!
One of the original food delivery driver jobs, DoorDash lets you use your car, bike, motorcycle or even your own two feet!. And you can do it in over 4000 cities in the U.S., Canada and Australia.
DoorDash has a flexible schedule, with one caveat. You'll need to select your work hours ahead of time. This is to make sure certain areas aren't saturated, which could lower your pay.
It's an easy process through the DoorDash app. Just tap on Schedule and you'll see a map of your area. Tap on the area you'd like to work in, and DoorDash will reply with whatever shifts are available for that day. 
When you're ready to work, just select Start Dashing, and you'll begin to see available pickups. You'll always see where the pickup and delivery locations are.
Once you accept a job, you'll go pick up the customer order and drop it off. That's it. You don't need to handle cash at all!
DoorDash delivery drivers

need to be at least 18

years of age

.

It doesn't matter whether you drive a Tesla or a '72 Buick. If your car runs, you're good to go.

Have a valid driver's license, and

auto insurance

on your vehicle.

Own a smartphone.
You can apply here, or through the app, and they'll start the approval process which includes a DMV background check. The approval process takes about a week.
Once approved, they'll ask you to either schedule an orientation or be sent a start-up kit. After completing the orientation or going through the start-up kit, you'll be all set to start dashing! 
Drivers are paid by direct deposit to your bank account once a week. According to Indeed, the average pay rate reported by 188 DoorDash drivers was $17.75 per hour. This includes the delivery pay plus tips.
The delivery base pay is based on distance and time of day, which is why the pay for delivering an identical food item could vary from order to order.
You can also maximize your hourly wage by qualifying for bonuses – things like making 30 food deliveries within 30 days, or referring new drivers.
Pro Tip:
One nice feature in the DoorDash app is that it'll show you multiple customer orders from the same restaurant. So if a popular diner or pizza shop has several orders going to the same general area, you can earn more by 'batching' several orders.
Like Door Dash, Grub Hub drivers can make money delivering food orders with any vehicle you have, as long as it runs.
Grub Hub is partnered with over 300,000 restaurants and convenience stores, and has a presence in over 4000 U.S. cities and London.
Grub Hub issues drivers a debit card to use only when the order has not been prepaid. Once you accept an order that hasn't been prepaid, Grub Hub instantly loads the card with enough money to pay for the order. You'll activate the card through the Grub Hub mobile app.
To earn money delivering food with Grub Hub, you'll need to be at least 19

years of age

.

Have a

valid driver's license

and insurance on your vehicle.

If you're a bike rider, you'll need a valid state issued ID.

Have at least two years of driving experience (you don't need delivery experience).

Smartphone (iPhone with iOS 11 or later or Android with 5.0 or later).
You can apply here, or by downloading the Grub Hub app.
You'll submit your personal information, then wait a couple days while they do a DMV background check. Once approved, you'll go through Grub Hub's on boarding program where you'll get familiar with their app, scheduling, and picking up orders. They'll also supply you with a warming bag.
Then you can make your own schedule and hit the road!
Grub Hub does direct deposit and offers one of the best pay rates for food delivery drivers. You'll always see the delivery pay in the app before you accept the job. You're guaranteed a minimum base pay of $3.25 per job, plus 100% of the tip.
Grub Hub's website also encourages the customer to tip, and says the standard rate is 20%, but never less than $5.
Grub Hub drivers receive a "minimum pay per hour" and guarantees that if you don't make the minimum pay rate, they'll adjust your pay so that you do.
Like any food delivery job, the amount you earn will depend a lot on the area you work, and the time slots you're available.
Grub Hub is one of the most popular food delivery apps, so you can expect steady customer orders in most residential areas, cities or a large college campus.
Pro Tip:
The Grub Hub app will show where certain "hot spots" are, so you can maximize earnings by focusing on those specific areas. Another nice feature of Grub Hub is that you'll always see the pickup and delivery locations of food deliveries before you agree to accept the order.
Postmates is one of the best paying food delivery apps because you can make money delivering not just food orders, but things like alcohol and groceries. So even if you're not available during peak times for food deliveries, you can still earn money on your own schedule delivering other items.
Postmates offers food delivery driver jobs in all 50 U.S. states, and they're in around 400 cities. 
You'll need a

valid driver's license

and insurance on your vehicle.

Be a licensed driver with at least one

year of driving experience

.

Like most other

food delivery jobs

, Postmates will do a DMV check when you apply.
You can apply here to be a Postmates driver, and begin the process. Once the background check is complete, they send new drivers a delivery bag and simple instructions to get started.
Postmates drivers are paid once a week on Monday via direct deposit. They offer one of the best pay rates for food delivery jobs, with drivers averaging between $14 and $25 per hour. 
You'll see weekly minimum pay guarantees, so while you're learning the ropes, you'll still earn a decent hourly wage.
The Postmates app shows exactly how much you've earned after each delivery and how your earnings were calculated.
You can opt for weekly direct deposits, or if you need extra cash, have your earnings deposited to your bank account each day.
Pro Tip #1
The Postmates app, like Door Dash, enables you to 'batch' multiple food orders from the same restaurant. So if you see several food deliveries for a specific area, you can maximize your pay!
But keep in mind, Postmates advertises an under 1-hour delivery time, so you'll want to be sure the drop-off locations are fairly close.
Pro Tip #2
One Postmates driver did an experiment, where he tracked tips and total income on 9 orders where he did not offer the customer their receipt. For those orders, he received tips on 3 of the 9 orders.
Then he tracked 7 other orders where he handed the customer their receipt while saying something like, "Here's your receipt just in case there's any problem." For those orders, he received tips on all 7 orders.
This could be because Postmates doesn't prompt the customer to tip until after the order is delivered. Just food for thought. 
Uber Eats is one of the most popular food delivery apps, and if you check their website you're likely to see most of the restaurants in your town are partnered with them.
Like most food delivery jobs, you can drive for Uber Eats on your own schedule, and you can choose to accept or reject jobs as they're offered.
Customers placing restaurant orders through Uber Eats have the option of selecting, 'Leave at Door' as they check out, so many of your deliveries will be contact free.
You'll need a vehicle made after 1998.

A

valid driver's license

, and insurance on your vehicle.

Depending on the city, you may be able to use a bicycle, or a scooter with at least a 50cc motor.

New drivers

need to be at least 19

years of age

and have a minimum of one year driving experience.
Uber Eats is one of the easier food delivery apps to get started with. You can apply here. Just fill in the form with your email, name, phone number, preferred password, and location.
Then select your mode of transportation – car, bicycle or scooter.  Depending on your selection, now you'll be asked for proof of insurance, license etc.
Once completed, Uber will review everything. And if you're approved, you can start earning extra money immediately.
For every successful food delivery, you will earn about $3 which translates to $10-$20 per hour with tips. 
You'll get a weekly earnings statement from Uber Eats, but your pay frequency is very flexible.
You can have your earnings direct deposited to your bank account each day, or even up to 5 times a day.
Pro Tip:
You can maximize your base pay several ways, like driving during peak times and also during Uber's "boost" periods, or by trying to focus on mostly on curbside deliveries.
One downside I've heard from several Uber Eats drivers who work several apps, is that their Uber Eats tips tend to be lower than other apps.
Instacart is one of the best paying delivery jobs but it's a bit different than other food delivery apps. As an Instacart shopper, you still work your own schedule as an independent contractor making food deliveries, but…
Instacart is a grocery delivery service rather than a delivery service for prepared, local restaurant meals.
The Instacart app offers two options:
You can choose to be a

full-service shopper

, where you go in the

grocery stores

, purchase the food on the customer order, then deliver it.

Or you can be a

store shopper

where you only select the items, bring them to a designated spot in the store, where someone else will take the order and deliver it.
I have two friends making extra income as Instacart delivery drivers. One is my next door neighbor who tells me she has work anytime she wants it. 
My other friend, Sarah, has done so well she was featured here on Fox Business because she was able to pay off all of her credit card debt within her first month or work! 
To be a

full-service shopper

you'll need:

To be at least 18

years of age

.

Have a

valid driver's license

and

auto insurance

.

A vehicle.

A smartphone.

You need to be able to lift 30-40 pounds.
To apply, just install the Instacart app on your phone and it'll walk you through the application process.
They'll ask for your driver's license number to do a check. It'll take a few business days to receive a response.
Once you're approved, they'll send you a getting started packet in the mail. The packet will include an Instacart debit card along with instructions on how to activate it. 
You'll use this card to purchase the groceries, so you'll never use your own money.
Once you've done that, you're good to go. You can start receiving jobs through the app.
Your hourly wage with Instacart can range anywhere from $10-$25, depending on the jobs you accept, and whether you do food deliveries, since that would include tips. You'll be paid once each week by direct deposit.
If you're looking for jobs like Instacart, where in addition to food orders, you can be a full-service shopper you might want to check out Deliv. There's a constant need for store shoppers in both the cities and suburbs so Deliv can help you to make extra cash delivering almost anything from businesses in your area.
I'm including it here because jobs delivering food have really expanded recently. So if your specific area becomes saturated, you can still make extra income with Deliv.
Deliv operates the same as if you were delivering restaurant meals through a food delivery app. You'll install the app, decide on your own work hours and choose whatever pickups you want.
You might pick up someone's dry cleaning or a bottle of cough medicine. Then you might pick up flowers or a gift basket and deliver them locally.
You don't need to shop or purchase anything. You'll just pickup customer orders and deliver them. There's no cash exchanged, and the idea of working during "peak hours" isn't as critical.
At least 18

years of age

.

A car (2004 or newer).

Valid driver's license

and insurance.

At least one

year of year of driving experience

.

A smartphone with a data plan.

Speak English fluently.

Be able to lift up to 50 ibs.
You can signup here to start working with Deliv. First, they'll ask where you live to verify they operate in your location – they're currently in 35 markets in the U.S.
Then they'll ask for some details about yourself and your car. (Currently the only on-foot deliveries are done in Manhattan).
Once you complete the short application they'll do a DMV check and respond to you within a couple business days.
Deliv pays a bit different than some of the food delivery jobs. They assign an hourly pay rate for each block of time during the day. In addition, they compensate you for your miles driven.
Your pay is direct deposited once a week, and you'll receive a statement showing the breakdown of your pay.
Deliv advises that you'll make up to $22 per hour delivering for them.
Shipt is also similar to Instacart, where you'd provide a grocery delivery service, but Shipt also delivers household essentials. So you can earn extra money by picking up and delivering customer orders from places like Target or CVS.,
Shipt doesn't have quite the reach of Instacart, but they're expanding rapidly. In fact, since early 2020, they've added over 100,000 delivery people.
As with food delivery jobs, you'll work your own schedule as an independent contractor with Shipt. They'll even supply you with gloves and masks to use while you work.
At least 18

years of age.

Have a

valid driver's license

, with auto insurance.

At least one

year of driving experience

.

A reliable vehicle, at least 1997 or newer.

You'll need to be able to lift at least 25 pounds.

An iPhone (iOS 10 or newer) or Android (5.1 or newer) smartphone.
You'll apply on Shipt's website, where you'll submit your name and email, and they'll ask what delivery area you'd like to work in. Here, you'll be able to see if they serve your area. When your application is submitted, it's reviewed and you'll be contacted for an online interview.
You could potentially be asked some questions about food shopping, so you'll want to make it clear that you can distinguish between things like parsley and cilantro.
(Of course produce is labeled, but they'll just want to know that you have the sense to read the label.)
Delivery jobs with Shipt offer an average pay of $15-$25 per hour. They advise that once you get the routine down you should average about $22/hour. They send a direct deposit to your bank account once a week, on Friday.
The average full-service shopper can shop and deliver an order in about an hour. But if you focus on one area where you're familiar with the stores, you'll maximize your pay rate. Recently, they've been giving bonuses of anywhere from $50-$200 a month to the most active shoppers.
Shipt's delivery app will help out by recommending certain stores depending on the customer's location.
Saucey is a delivery service that specializes in liquor deliveries. They operate similar to a fast food delivery app, in that you accept jobs through your smartphone. Then you'd go pickup the order and deliver it.
As of 2020, Saucey operates only in select major cities and their surrounding areas New York City, Chicago, Los Angeles, Dallas, San Francisco, San Diego, Fresno, Houston, Jacksonville, Miami, Orange county, Orlando, SF East Bay, Sacramento, San Jose, Seattle, Silicon Valley, South Bay LA, Tampa and Washington DC, but they're rapidly expanding.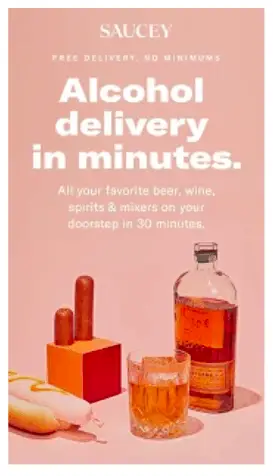 To deliver for Saucey, you'll need to be at least 21

years of age

.

Have a vehicle 2007 or newer.

Have a

valid driver's license.

A smartphone.

You cannot have any DUI charges within the past 5 years.
You can apply here to be a Saucey courier, and they'll verify whether they serve your specific area.
One caveat with Saucey is, that delivery is not contactless. The customer needs to show proof of age when they place the order, and when it is dropped off. So the driver will scan the customer's ID using the Saucey app before handing the item over. 
Saucey pays via direct deposit and advises that you should make at least $7 per delivery, which average about 30 minutes each. In fact, they guarantee that for every 50 orders, you'll make at least $350 which works out to $7 per delivery. You'll also be eligible to receive customer tips.
Pro Tip:
Saucey places a high value on customer service, so they want you to maintain a customer service rating of at least 4.8 out of 5.
They'll supply you with training, a cooler bag, and a hands-free mount for your phone.
Working with Eat Street is another way to make money delivering food, but they operate a little differently than other food delivery apps.
You'll set your own schedule, get paid daily, and always keep 100% of tips like other food delivery jobs. But rather than working as an independent contractor, Eat Street would hire you as a W2 employee.
A

valid driver's license

and insurance.

Clean driving record and smartphone.

A reliable vehicle.

Ability to work nights and weekends is preferred.
You can apply here to deliver food for Eat Street. You don't need a resume or a cover letter. The application process is similar to other food courier jobs and would take a few days to a week.
If you're hired as an employee, you would work with a team leader who'd help you to access training, driver benefits and opportunities for advancement!
Eat Street guarantees you'll make a minimum of $10 per hour, and has built-in incentives that could increase your pay rate up to $25 per hour.
You'll get paid by direct deposit daily.
They offer voluntary dental and vision insurance, as well as voluntary accident insurance.
Eat Street provides company discounts to places like Verizon, Anytime Fitness, Valvoline, and Jiffylube.
How to maximize your earnings as a food delivery driver
The 9 apps here are best food delivery services out there, but even so, some may work better than others in your personal situation. Some might appear to pay better than others, but maybe another app's pay model works better in your situation.
Here are are some common strategies you can use with almost all food delivery apps to maximize your side hustle pay:
1. Work with more than one app
Once you get your feet wet and feel confident, a great way to maximize your hourly wage is by working more than one app simultaneously.
It shouldn't take long to feel comfortable, and since you're your own boss, you can pick and choose whatever food orders you want. It's a great way to maximize your income.
2. Become familiar with where, when and how to work
Specific areas may have more consistent orders, but maybe those food deliveries are more time consuming. For instance, having to park and go into a high rise apartment building takes longer than a quick front porch delivery in the suburbs.
Or sometimes rather than jumping at every fast food order, it could pay to sit tight for a restaurant order where a bigger check yields a better tip.
Becoming familiar with peak times for various apps and the bonuses they offer can really help to jack up your hourly wage.
3. Take a few seconds to verify the order
One mistake new drivers tend to make is grabbing your food orders quickly and rushing out without taking a few seconds to check it. it's tempting to run in, grab it and go.  But if someone's receipt shows they ordered an extra egg roll with their Kung Po chicken and it's not in the bag, it'll affect your tip.
Customer tips are a big part of your pay rate, so those few extra seconds are well worth it. It'll also help you to maintain a high customer satisfaction rating.
4. Bad weather = More tips
I'm not encouraging anyone to drive during a blizzard, but when it's uncomfortable out – like hot weather or a rainy Saturday, people tend to stay home and order food more.
5. Be flexible with the area you work in
If one area appears to be getting saturated with drivers, it could be worth your while to drive a little further and work in another area. More deliveries in a closer proximity equals higher pay. 
Is a food delivery driver an employee or an independent contractor?
With most jobs in the gig economy, you're considered an independent contractor. This has some pro's and cons – the pro's being your ability to work whenever you want. You're basically your own boss.
In exchange for this freedom, the responsibility of withholding taxes shifts from the employer to you, but don't worry, it's not anything you should have trouble with.
Instead of the 'employer' issuing you a W2 form at the end of each year, they'll send you a 1099 form. The 1099 shows the amount of money paid to you throughout the year.
Since the 'employer' isn't withholding taxes throughout the year, you'll want to set aside a portion of your pay each week.
Here's a great article written specifically to help couriers handle taxes. It lays things out very clearly.
Keep in mind also, that you can deduct a LOT of your side hustle expenses with food delivery jobs. Everything from your phone, charger, a portion of your phone plan, car washes, AAA membership, parking fees, tolls and more.
The best delivery apps to work for can be the catalyst for big change
Earning extra cash is a great way to re-position yourself from paying debt each month, to paying yourself in the way of savings and investment.
The gig economy provides a way to do that and still be your own boss, working your own schedule.
Food delivery jobs in particular, provide a level of autonomy that you won't find in many other side hustles.
Some food delivery apps pay on a daily basis, so if you're trying to whittle away at debt imagine how quickly your debt payoff can begin to snowball – like our friend Sarah, who paid off an entire credit card after her first week.
I've heard of a few couples who tag team with their food deliveries. One drives, and the other runs in for the customer orders and navigates. How many other jobs let you hang with your girl or guy – or dog, while you drive around listening to music?
If you're looking to get paid to drive, these 9 companies are the best food delivery services out there. So if your budget can use some extra money, hopefully this helps you to get started.
MORE GREAT WAYS TO EARN EXTRA MONEY