"This post may contain affiliate links. Please read my disclosure for more info.
Transcription jobs from home have become a popular way to escape office life. One reason, is the recent explosion of audio content on the internet.
Thousands of of businesses, universities, websites and professional offices produce audio and need it converted into written form.
Another reason to consider work from home transcription jobs, is because it's a skill that not everyone has. But spending a little time practicing it can mean permanently leaving cubicle life behind.
Picking up an in-demand skill, especially one that can be done electronically, can mean big changes in your life.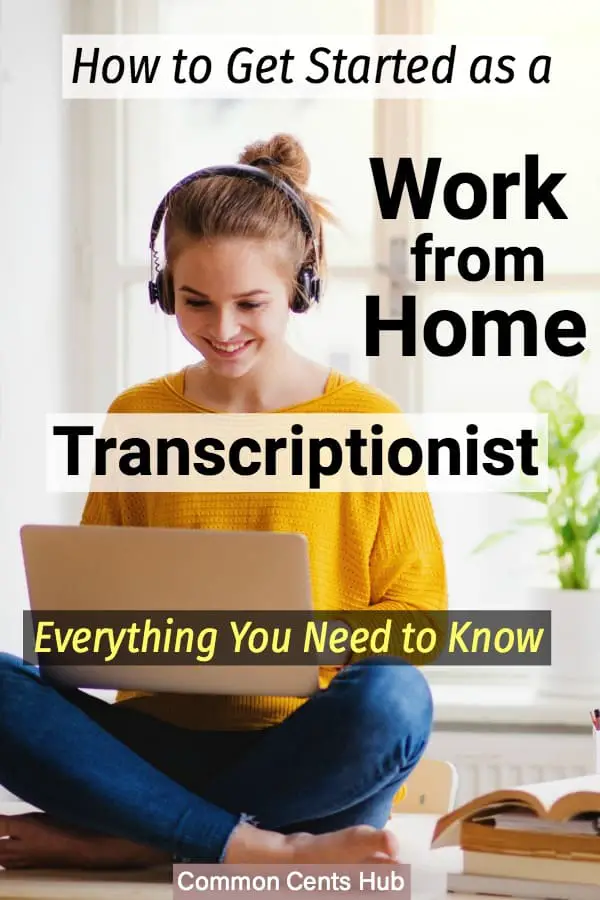 When you can subtract commuting, gas and tolls, micro-managing bosses, and having to be somewhere when they say you do, suddenly your life has more balance. 
So how do you become a work from home transcriptionist?
We'll outline four steps you'll want to take to do transcription from home. 
Transcription is the practice of listening to an audio recording and typing the speech into a written document. It's usually divided into three specialty areas – legal, medical and general transcription.
The need for general transcribers has exploded in the last decade.
Audio content has become so popular – things like YouTube, webinars, podcasts, town meetings, business meetings, speeches – every medium under the sun is either making more use of audio or planning to.
And many of them want that audio transcribed into a document.
Thousands of blogs now feature video content because people respond to it well. But one problem with that is, Google can't crawl video content. So if the author wants his/her post to rank and be searchable, they'd want to include a written transcript.
There are so many areas you can provide your services to – meetings, speeches, lectures, instructional videos, podcasts… The truth is, there are so many niches to work in, that once you become a transcriptionist and gain some experience, you may actually need to turn work away.
A popular way to do online transcription jobs from home, is to work with a transcription company who'd supply you with regular work. You can also work directly with townships and municipalities, schools, universities, content creators and others to fill your schedule.
More on this below!
Is transcription like data entry?
The only common skill that would enable you to excel at both is typing ability. With a typical data entry job, you'd work from a written document, typing that content into some other format.
Transcription is more nuanced. You'd be listening to audio and typing (or transcribing) the voice into written content. So in order to get the right meaning, you'll need a fairly good grasp of the English language.
Of course, you'd have a chance to proofread your document before submitting it. And you can also use a device to pause the recording as needed while you're typing.
One similarity between online data entry and online transcription jobs, is that some of the companies that would hire you to do transcription jobs from home, also hire people to do data entry jobs from home.
How much do transcriptionists make?
According to Zip Recruiter, the average work from home transcriptionist makes $58,202 per year. 
Of course this varies, usually with the large transcription companies paying on the lower side of the scale. But someone with training and a bit of experience, can find plenty of work independently with a little networking.  
Training and experience comes into play because a lot of transcription companies will pay by the audio hour. For instance, if they pay $50 per audio hour, that means you'll make $50 for each hour of audio you transcribe.
If you can transcribe that one hour of audio in two hours of your time, you've made $25 per hour.
So it's like most other freelance work. When you're at home, nobody's looking over your shoulder micro managing you. The quicker and more skilled you become, the more you make.
And there's enough transcription work available, that many experienced transcriptionists won't accept work that pays below $45 to $50 per audio hour.
One thing to consider too, is the aspect of working from home. Working in an office say, 30-40 minutes from home means you're paying for gas, tolls, wear and tear on your car, clothing, lunches, not to mention the time you're away from home.
So $25-$30 per hour working from home helps your monthly budget work much better than the same income in an office job.
CASE STUDY -1
How Kandee went from corporate sales, to owning her own transcription business:
Kandee worked for several years as an inside sales rep for a large manufacturing company. When the company was acquired by a larger company, Kandee was optimistic that a few new opportunities would open up soon. She had the longest tenure of anyone on her team, and she trained each one of the current team members.
But when a new position opened up – one she knew she was qualified for, she was turned down. She thought it may have been due to the fact that she lacked a college degree, but she considered it a slap in the face. And a wake-up call.
"I decided to stop making money for other people's dreams and to start making money for my own".
Kandee says she had the same fear and anxiety that most of us have when we're faced with a life change… "What do I really want to do? What do I like to do? What am I good at?", she wondered.
After some soul searching and some research, she decided to become a transcriptionist and work from home. It's an in-demand skill, and she'd be able to say good-bye to commuting every day.
Kandee googled "how to become a transcriptionist" and decided to try Transcribe Anywhere's free mini-course.
She eventually decided to take the full course, and took a couple months working through it.
One week after completing the course, she got a job with a transcription company. Two weeks later, she got a second job with another transcription company, and still another job with a private client.
A year after getting trained, Kandee has a full schedule of transcription jobs from home, and is even branching into things like proofreading.
What's her favorite thing about making the change?
"I get to work from anywhere, any time. I get to challenge myself every day to be better. And I help other people in both my work and my personal life — the freedom to be able to do this is amazing."
What qualifications do you need to become a transcriptionist?
To begin your transcription business, it'll help to have a good grasp on a few things:
Have a decent command of the English language, and be able to listen well enough to use the proper punctuation. 

Be able to distinguish between homophones (words that sound alike but have different meanings) like there, their and they're. But a good transcription course would help to strengthen your grammar skills.

Have the capability to organize yourself so you'll be able to keep track of jobs you're working on and their due dates.

Even at home, it's possible to be distracted by family or neighbors. You'd want to make your best effort to work in a quiet area, or at a time when you'll have the least distractions.
You've probably developed most of these are skills working in other jobs. But apart from soft skills, becoming a transcriptionist does require some specific skills. Transcription isn't a gig where you can fake it till you make it.
You'd want to get some training, preferably by someone who's actually earned a living doing transcription.
Being a quick typist helps, but the reason there's so much work available in transcription, is because not everyone is qualified to do it.
What type of transcription training is available?
I've looked at several training curriculums, and the one that impressed me the most, is Janet Shaughnessy's Transcribe Anywhere.
Janet has worked as a transcriber for over a decade, and currently runs her own transcription business.
So her course covers everything from getting started, using the right equipment, how to actually do transcription, how to get jobs and then how to start increasing your salary.
There's actually seven different levels of practice audios with tests.
How to start your home transcription business - in 4 simple steps
Aside from actually learning transcription, the most important part of starting your own transcription business (or anything new), will be your mindset. Your attitude.
You're gonna make mistakes. It's inevitable.
But just know, that people start businesses every day, who've never worked a day in their life in that area.
I started painting houses as a teenager, and showed up to do my first estimate at a customer's home with absolutely no idea what to charge. So yea, I under-estimated it and ended up working my first job for peanuts.
But the point is, don't be afraid to start something new. Just because our parents, and their parents commuted to a 9-5 job for 40 years, doesn't mean you need to live in a cubicle too.
With that said, you can do certain things to prepare yourself before jumping in totally clueless like I did.
I assumed anyone can climb a ladder and swing a paint brush. I found out pretty quick that taking on a new venture is fine, but to be profitable, you just need to be prepared.
So to hit the ground running as a transcriptionist, here are 4 steps that'll ensure you're prepared.
Step 1. Learn the skills you'll need to be successful
To start your own business – and this could apply to anything….
You wouldn't want to just do photography. You'd want to become a photographer.

You wouldn't want to just do electrical work. You'd want to become an electrician.

And here, you don't want to just do transcription. You want to become a transcriptionist.
Learning transcription isn't rocket science, but to do it right, you'll want to learn the best practices right from the start.
The speed will come, but learning to do it correctly, and submit what clients expect, is what's gonna bring you the best transcription jobs.
Usually, there are three main ways to break into a new field:
Learning method 1 - Self taught
Learning transcription isn't something you can learn from a book or a YouTube video and expect to take on jobs with enough proficiency to make it profitable.
It's not like slapping paint on the side of a house. It's a specific skill that's best learned from someone who earns a living doing it.
But once you know it, you'll have a skill that's not only in demand, but one that can be done from virtually anywhere.
Leaning method 2 - Take a college course
This is a possibility, but not always the best way in my opinion.
I've never taken transcription courses, but I've taken plenty of computer courses, and in several of them, the instructors had been there for years. That means they hadn't actually worked in the field for a long time, and to me, that's a big disadvantage.
You're also taking the course on their terms, not yours. You need to drive there, on whatever day and time they say. And you'd take the course with 15-20 other students, so the class would be paced to suit the majority of the students.
If you're a quick learner, or you need to go over things several times, it could be difficult. And once class is over, you're done. Maybe you'll keep a textbook, but other than that, the learning is over.
Learning Method 3 - Take an online course
Of the three learning methods, to me, an online course is the best alternative. I've taken several online courses to learn about various blogging topics, and in every case, they've been taught by people who are actually working successfully now, not 8 or 9 years ago.
You learn at whatever pace you're comfortable with, in your own home.

You'd have practice tests you can take over and over, at whatever time of day you want.

Most online courses feature ongoing access to updates as the industry changes.
The reason Janet's course is rated one of the best online transcription courses is because it covers virtually everything you'll need to know to become a transcriptionist.
She takes you from a complete novice, through seven levels of practice sessions and tests – all self-paced, but she's available for questions.
Then she teaches you how to actually get work, and the best practices that'll impress your clients.
It's one of the few courses approved by the American Association of Electronic Reporters and Transcribers.
And yes, her course does have lifetime support, so you'd always be able to log in and refresh yourself on any aspect of transcription. 
Her free mini-courses are a good way to get an idea of what a transcriptionist's day is actually like:
Step 2 - Get setup at home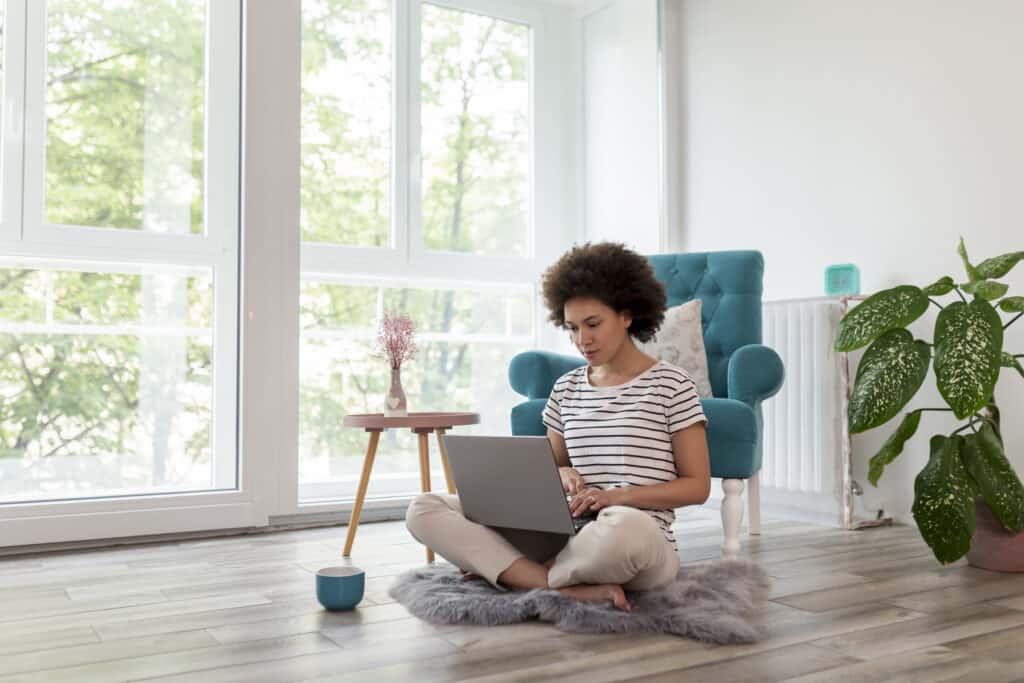 Once you've got the skills, you're probably itching to get your first customer, but there are a few things you'll want to do first to set yourself up for success.
It's a given, that working from home, you'll need a decent computer and a broadband internet connection.

For transcription, you'll also want a decent pair of headphones. The stethoscope style is usually fine.
You can secure work from one of the major transcription companies, (below) but you'll also want to start getting your name out there and advertise your services:
Setup a LinkedIn profile noting the services you offer.
You may want to setup a basic website – it doesn't need to be elaborate, just enough to list your services and contact info.
Since you'll be working as an independent contractor, you'll want to select the appropriate structure for your business.
Most likely, you'd operate either as a sole proprietor, or as an LLC.  Whichever one you choose, will have an affect on your tax liability, and how you pay yourself.
Here's an article that describes the characteristics and advantages of each one.
Step 3 - Get your first customer
This is the moment we've been waiting for! You're trained, you're ready, and now it's time to make your efforts pay off.
Once you get that first customer, you're no longer "learning transcription". You're a professional transcriptionist!
So where can you work as a transcriptionist?
Janet's course has a step by step guide that covers everything from where to find the best transcription jobs for beginners, how to prepare for the interview, and how to impress your client once you get the job. 
Here are some of the major transcription companies, most of whom are a good source for online transcription jobs for beginners:
As you get some experience, you'll be ready to go after the best transcription jobs – places like municipalities, schools, universities, content creators like podcasters or bloggers – there are dozens of places that pay for freelance transcription work.
Step 4 - Grow your transcription business
Like any freelancer, you'll gain more experience and knowledge with each new job. You'll probably start developing a preference for a particular type of online transcription.
Maybe transcribing podcasts, lectures, meetings or any number of mediums. 
Niching down and honing your skill in a particular area is a great way to become more profitable.

Another way to gradually become more profitable, is to always be on the lookout for your next job, even when you've got regular work.

Have some business cards made up, and be on the lookout for local gatherings where you can network. True, it may feel uncomfortable at first, but really, everyone there probably felt the same at one time. 
You never know, you could make a great business connection right in your home town!
When you interview for a new position, listen carefully for their expectations. You'll not only gain knowledge about the transcription business in general, but you'll gain some insight into their business, and how you can deliver over and above their expectations.
The interview is a good opportunity for you to ask questions too. Someone deciding whether to pay for your freelance services will feel more comfortable if they see you making an effort to clarify their expectations.
And it's a good chance to see if this is a company you want to work with.
CASE STUDY – 2
How Allyson started her home transcription business while caring for a newborn:
Allyson was a theatre major in college, specializing in stage makeup and hair design. She graduated in 2014, and wasn't quite sure what she wanted to do.
She didn't want to move to New York City or Los Angeles, so for the time being, she worked jobs like retail, call centers, and was a receptionist at urgent cares and vet clinics.
Life took it's course when Allyson and her husband married in 2016, and she found she was pregnant shortly after. She was nervous about having a child so soon since they were still paying off student loans.
Allyson wanted to find a way to bring in some income while she was home, and during her search she came across transcription.
"I thought that this could be an easy career to have at home. I found Transcribe Anywhere and enrolled in the General Course."
Once she worked through the course, she was hired by a transcription company where she was able to get some real-world experience. And when she felt comfortable with her skills, she began to reach out to businesses.
Before long she had enough higher-paying home-based transcription jobs that she was able to phase out transcription companies and work completely on her own. 
One tip Allyson has about growing your own business:
Networking.
Her husband works in the legal field, and he mentioned her name at his company. So when she eventually reached out, they gave her a trial run.
"After a few weeks, the organization reached back out to me and asked if I could help them since they were inundated with podcasts that needed be transcribed. I helped out, and they liked my work much better in comparison to what they were getting at the firm—hence, the training pays off."
After her networking paid off to get the job with the legal firm, she doubled down.
"Lots of places need transcriptionists and don't even know it. Law firms. Businesses. Government agencies. Doctor's offices. Make phone calls. Write emails. Print business cards and go to industry events. Be proactive. It all paid off."
Allyson says it took her about two months to recoup the cost of her training. She feels it took a bit longer since she had a newborn at home, but that's just how it worked out.
Asked about any advice she'd give someone thinking about becoming a transcriptionist, and if her training was worth it, she says:
"Training sets you apart. There are so many cheap, knock-off transcription services out there. And you have to compete with them. Being able to say that you have training and a credential in the field signals to clients that you know what you're doing and that you're worth the rates you charge."
How long does it take to become a transcriptionist?
I wish I could say you'd be ready to get an online transcription job and start working from home next week, but you just can't.
Becoming a transcriptionist doesn't require a college degree, but it is a learned skill. With the right training, you should be able to start earning money within a couple months.   
And with the right training and a little experience, there's no reason you can't compete for some of the best transcription jobs.
What makes a good transcriptionist?
Using the same analogy as above, I was able to throw a ladder on my car roof, buy some paint brushes and call myself a house painter.
But I wasn't nearly as profitable as I could be, until I learned a few tricks of the trade – things like how to do an estimate, how to do prep work, and how to work fast. 
Here are three key things that'll set you apart from people just "doing transcription" and really ramp up your earning ability:
1. Get the right training: 
Think of training as an investment that's going to help you to hit the ground running. You'll feel more confident applying for jobs, and more comfortable knowing you can deliver quality work.
It's also an investment that should pay for itself within your first few months of working.
2. Don't hesitate to market your skills
If you've got general transcription training under your belt, then you've got a skill that's in demand everywhere. You won't have a problem getting work from some of the big transcription companies, but you also want to market yourself to get higher paying jobs.  
It's not hard to set up a LinkedIn profile, a basic website, and have some business cards made up that you can distribute at local events.
You don't need to have sales experience. You've got a valuable skill, and a service to offer. It's just about getting your name out there. 
3. Know where to market yourself
You'll find regular work with the large transcription companies, but your income will really ramp up when you pitch your services directly.
There are literally hundreds of places that need transcription services that pay higher than what a transcription company will pay you.
Places like police departments, claims adjusters for insurance companies, law offices, businesses who need conference calls or speeches transcribed, copywriters, town council meetings, entertainment companies, schools, authors… the list is endless.
If you're on the fence about whether it's worth spending your time and money to become a transcriptionist from home, consider this…
Transcription jobs are plentiful for the same reason electricians and plumbers will never run out of work. It's an in-demand skill that not everyone has, but they've taken the time to learn it.
I recently called an electrician for a ceiling fan that I've looked at about 3 times and couldn't get to work. He diagnosed the problem within 5 minutes. And I waited over a week to get him to visit.
Whatever time and money he spent to get qualified has been paid back a hundred times over. And he could probably move anywhere in the country and find work the next day.
It's natural to be hesitant about investing time and money on something new. In fact, Janet Shaughnessy, the owner of Transcribe Anywhere says herself, that her course isn't something you can just blow through in two weeks and expect to be successful.
She says without a doubt, you'll work hard for that transcription certificate, but once you get it, jobs are everywhere. You'll work when you want and wherever you want.
How about you? Are you considering transcription?
MORE WAYS TO BRING IN EXTRA INCOME