I'm sharing my recommendations here, for various money saving apps and products I've used, and I hope they help you in your evaluations.These are all products that I've used or are using now, and I'd recommend them if you're evaluating similar products. Feel free to contact me if you have any questions about any of them. I'll be happy to help.
SERVICES AND EQUIPMENT TO HELP YOU SAVE MONEY

I stayed with Verizon for years only because I knew the coverage was good. But I was also paying a fortune – about $275 for three phones, including finance charges and various fees. With Republic, I'm paying less than $100 and I've never once experienced any coverage issues. If you're serious about cutting your expenses, Republic is a dependable, inexpensive option who I've been happy with for almost a year now. Check out Republic Wireless.

Yes, managing your money this month is urgent, but managing it for the long term is important. We really need to know whether our net worth is rising or falling. But it's tough getting all those figures together every month. Personal Capital enables you to see every one of your accounts under the same dashboard and shows your net worth immediately. It's really cool to check anything from your budget, your 401k, or loan status from where ever you are. On any device. I use Personal Capital almost every day, and I'm amazed that it's FREE.

When I decided to finally terminate Comcast cable, I purchased a Roku Express streaming box for each TV. The advantage is that a streaming box is a one-time charge. I eliminated almost $500 per year in hardware rental charges from Comcast. Roku has multiple models, depending on your needs. Another thing I was impressed with, was how simple it was to setup. It literally took about ten minutes from the time I unboxed it until I had it setup. We now watch Roku's free content, Netflix and Hulu Plus, so we're not only saving almost $500/ year in rental fees but over $1000 per year in cable charges too.
WEBSITES TO HELP YOU SAVE MONEY

If you're not using eBates when you shop online, you're leaving money on the table. It's free, and they're associated with over 2000 stores. It's as simple as pulling up eBates, and typing your store of choice into the eBates search bar. Then you'd just make your purchase like you normally would. And right away, a percentage is rebated to your PayPal account. You don't pay anything extra to use eBates. Stores give eBates a percentage of the sale in return for bringing customers, and eBates shares that with you. Check out eBates.
  
In my post 12 Keys to Drastically Reduce Your Grocery Budget I explain how planning your meals (even just your dinners) is one of the quickest ways to save several hundred dollars each month. If you're short on ideas, and want the complete ingredients and shopping list produced for you, $5 Meal Plan will do just that. You'd spend $5 each month, and in return you'll eliminate extra trips to the store, multiple take out orders, and the hassle of coming up with meals. For us, it paid for itself multiple times over in the first month. Check out $5 Dollar Meal Plan.

In early 2017, when we made a real effort to whittle our food costs down, Ibotta is one of the ways we did it. Never in my life have I cut a food coupon. Ibotta is a simple, free app that gives me the same discounts as coupons without the hassle of fumbling around with paper and scissors. Once you have your shopping list, check Ibotta to see if anything you need is being rebated. They offer a lot of generic rebates, like 25 cents off any brand of bread. Just mark whatever you're going to buy. Then when you get home, use the Ibotta app to scan that item, take a picture of your receipt and submit it. You're rebated right away.
Most people's food bill is one of their largest expenses each month. But between meal planning and apps like Ibotta, it's also the biggest opportunity to save significantly. An added bonus is that Ibotta rewards you $10 just for signing up! Check out Ibotta.
APPS TO HELP YOU SAVE MONEY


Having an emergency fund is probably the most important step in getting out of the paycheck to paycheck mode. But almost 80% of people don't have one. The idea of Digit is to take almost all the thinking out of it. You spend a few minutes setting it up and attaching it to your checking account. Then Digit will monitor your spending and deposit patterns and transfer small amounts to your Digit account when it sees you have the money.
Digit will never overdraw your account, and you can put it on hold any time. I receive a text from Digit every morning at 9AM showing my checking account balance, and how much it's changed from yesterday. I can reply asking Digit for my last three transactions or any number of inquiries. In the first three months of using Digit, I've accumulated over $800 in my emergency fund. The key to moving past paycheck to paycheck life is having a predictable budget each month. And the way to do that, is to separate the cash you'll use for unexpected things.
Here's my Digit review that'll show exactly how it works.
BLOG RELATED RECOMMENDATIONS

I chose Bluehost to host Common Cents Hub, and so far I've had zero issues. Setup was a breeze even though at that point, I had never setup a site before. They've been responsive to any requests I've had, and their site is very straight forward and simple to use for anything I need to do. They notify me regularly, anytime they're conducting any maintenance, and so far I've experienced no noticeable downtime at all. I'd highly recommend Bluehost to anyone who's starting a blog.
If you're ready to start your own blog, check out my tutorial that'll walk you through setting it up in about 10 minutes. It'll cost you less than $3 per month to have your site.

It's no secret that being active on Pinterest is one of the best ways to promote your website to literally millions of people – for FREE. The problem is, that you can't sit and manually submit pins all day and all night. But Tailwind can do that for you. Their board lists feature enables you to schedule a pin in less than a minute to go out to multiple boards at any interval you choose. And Tailwind's analytics gives you detailed info on every pin, so you know exactly where to focus your efforts.
 
PicMonkey and Canva are both great products to create pins to use on Pinterest. I started with Canva, and found it really easy to jump right in and create quality pins. I didn't try PicMonkey until several months later, but once I did, I preferred it over Canva. There was virtually no learning curve, and I was able to create good looking pins right away. It's got great capabilities and an easy to use, simple interface. Check out PicMonkey.

I started my blog, trying to pinch pennies using the free Mail Chimp service. But the more I used it (several months), the more I realized I was being penny wise and pound foolish. I don't believe in spending thousands of dollars on your blog before it's bringing in some income. But being able to build a subscriber list is one of the most important things you can do for your site. The entry-level price of ConvertKit has been worth every penny. ConvertKit offers so many more features than Mail Chimp, and it's an absolute pleasure to use. I was able to build a welcome sequence of emails with tags, literally the first night I used it. Hands down, ConvertKit has been one of the best things I've added to my site so far..
EDUCATION & TRAINING
If you're working in a traditional job, and you're looking for something to either supplement your income, or even transition to, freelance writing is a great option. You don't need an English degree – or any degree. Holly Johnson's course, Earn More Writing walks you through each step she took to transition from her 9 to 5 to working from home earning well over 200k each year.  She covers everything from getting ready and having the right mindset, to putting some samples together, to pitching your first jobs, and then leveling up from there. Her course is full of real-world, practical experience that's geared to getting you steady, well-paying work. Check out Earn More Writing.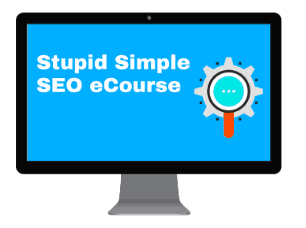 If you want long-term, sustainable growth for your blog, the best way to do that is for people to find your site through Google search. To rank your content on, or close to page one in Google's rankings, you'll need to get comfortable with SEO, or search engine optimization. Most people hesitate to learn about SEO because the learning curve may be a bit longer than throwing some pins up on Pinterest.
But Mike Pearson's course, Stupid Simple SEO is true to it's title. In simple lessons and assignments, Mike walks you through everything from structuring your site correctly, to creating SEO focused content, to researching your competitors, deciding whether you can rank for certain key words, and how to start growing backlinks.
It's a very comprehensive course, but Mike lays out each concept by examining real sites and showing you exactly how they're generating traffic. The course also comes with access to Mike's Stupid Simple SEO Facebook group, which is a goldmine of helpful information.
One thing I was surprised at, was how many of us new students made the same comment… we were all amazed at some of the key things we didn't know until we were in the class.
If you're on a budget, and trying to decide what course will give your blog the biggest boost, Stupid Simple SEO will give you a great foundation of SEO concepts. It'll help to position your site for growth, and is well worth the money.