"This post may contain affiliate links. Please read my disclosure for more info.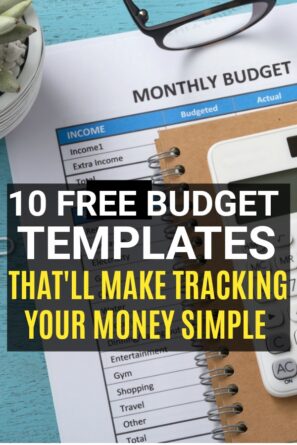 Creating a budget is the most impactful thing you can do to reach your financial goals. Regardless of your income level, a personal budget is the first step you'll want to take to get on solid ground on a monthly basis, as well as longer term.
Contrary to popular belief, budgets aren't just a tool to deprive ourselves. When you can get control of your finances, lots of other things start to fall into place.
We've rounded up 10 free simple monthly budget templates here, and at least one of them should help you to get control of your finances.
What is a Budget Template?
A template in general, is a tool that makes repetitive tasks easier. A budget template is usually a spreadsheet, or an app, that you'll use on a monthly basis to track your spending habits.
And the easier your money management is, the more likely your financial health will improve.
Budget templates make controlling your finances easier because they'll show you an apples to apples comparison each month over the course of the year.
Because budget templates already have categories laid out, it's quicker to record your monthly expenses. When you see how much money you spend in each category you'll then be able to start targeting expenses one by one.
How Else Can a Simple Monthly Budget Template Help?
Most of the budget templates here have customizable category names, so you can add or edit some of your own personal expenses. And once you start to track your spending habits, the black holes in your monthly income will start to appear.
You might see how

credit card bills

are

making it impossible to save.

Or

car payments

make it tough to have any kind of a social life.

You'll recognize those

variable expenses

that always come up at the worst time.

If you have

irregular income

, a budget template can help you to adjust your spending habits.
There's a variety of different templates here, but any of them should help you to get control of your finances and stop dreading the end of the month.
10 Easy Budget Templates to Track Spending Easily

If you're just beginning to budget, or you just prefer writing it out, this one is a great first step!
It's a simple personal budget that'll make it easy to track your spending habits. Sometimes a handwritten budget like this can be a great first step before you move on to something fancier.
Just the basics. It's a household budget that'll record your monthly income, monthly expenses, and give you an idea of how much money you're spending in each area. And it's free!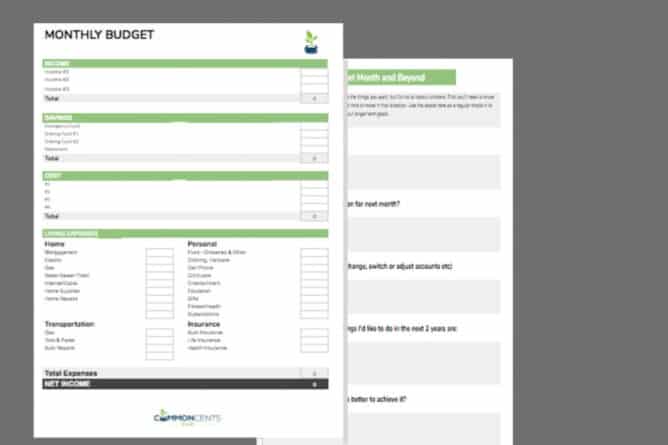 Google Sheets is one of the easiest spreadsheets to use. This personal budget will help you to easily track your monthly income and expenses. And if you're a "new month new goals" type, there's a second page where you can record any notable events during the month, and any areas you may want to focus on for next month.
You'll also have space to record your savings goals or your overall financial goals.
RELATED: Values Based Budget: How to Manage Your Money AND Do Things You Love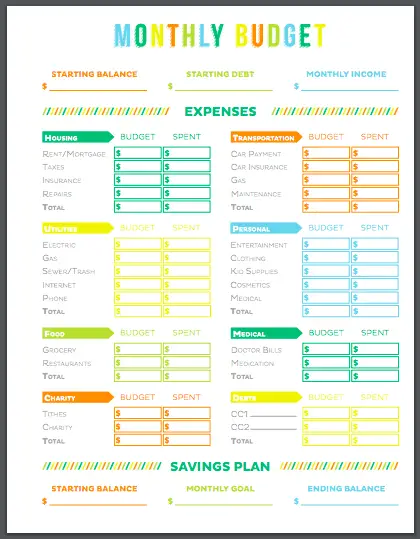 Here's another simple budget template from Printable Crush if you prefer to handwrite your monthly expenses. An easy way to take your first step with money management.
Maybe you're really trying to focus in on your cash flow, so you want to track your expenses weekly instead of monthly. This free budgeting template from Real Advice Gal is an easy way to take a closer look at your spending habits over the course of a week.
Whether you're a college student or taking the first step toward a household budget, this one will  enable you to see where you're spending too much money pretty quickly.
RELATED – 12 Cheap Ways to Live Alone – Where and How to Live Lean
Here's a simple budget planner worksheet that'll make it much easier to keep track of your finances. Categories are clearly laid out to show your actual income and the amount of money you're spending in every area.
An added bonus is the net worth calculator (just below). Net worth is the clearest indicator of whether your financial health has improved or declined from last month to this month. So you'll start to get better control on a monthly basis, but also longer term.
Definitely one of the easier budget trackers.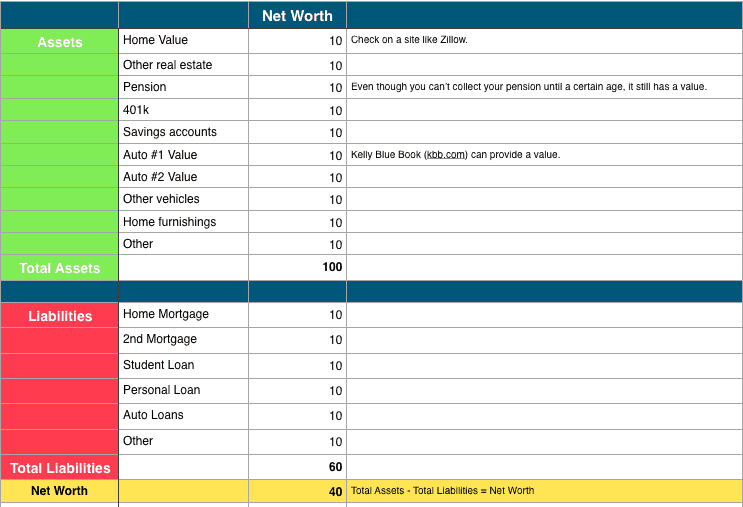 RELATED:
Free Budget Spreadsheets are Great, But What About Budgeting Apps?
Good ol' paper and pencil can be a great place to start your first budget, but once you begin to get a handle on your monthly expenditures, maybe you'll prefer something a bit more streamlined.
A budget app can be a powerful expense tracker that you can access and update from anywhere. On the couch after dinner, or on your phone while you're out.
Here are some of the free budget apps that include a simple personal budget template: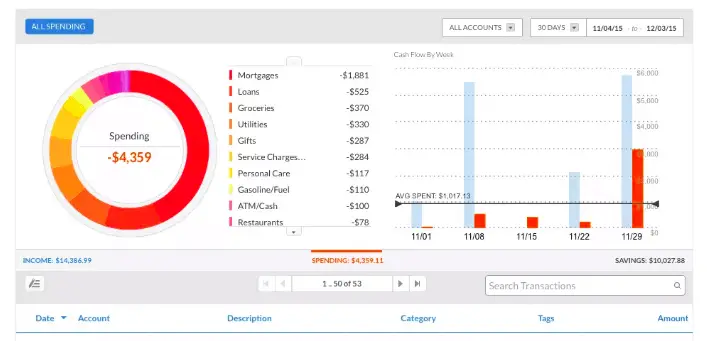 If you're not familiar with Personal Capital, it's one of the best financial products around, and yet it's free. It's got more bells and whistles than just a budget app, but you can use them as you become familiar with it.
What sets Personal Capital apart, is that it'll interface with bank accounts from almost any financial institution, and instantly display your net worth.
Let's say you've got a mortgage loan with one bank, a 401k somewhere else, a mutual fund, a checking account, an emergency fund and maybe a personal loan. Trying to compile all that financial data to see where you stand can be a real headache.
Personal Capital does that instantly. It isn't for moving your money around, in fact it can't do that. But it's a powerful tool to track your personal finances monthly and set goals for your financial future.
Personal Capital does have paid options where you'd be assigned an advisor, but their free budgeting app is a great tool.
Here's my review of Personal Capital.

Mint is another easy to use, streamlined version of your monthly budget spreadsheet. I like the flexibility and the intuitiveness of it.
As you're setting up budget categories, it's smart enough to ask you questions, and flexible enough to let you create new budget categories. Maybe you'd like to add childcare, or various utility bills or other sources of income. It's easy to do with Mint.
Mint is also one of the best free apps to use on a mobile device. So if you're window shopping on the weekend, you can whip out your phone and know right away whether you can afford those shoes.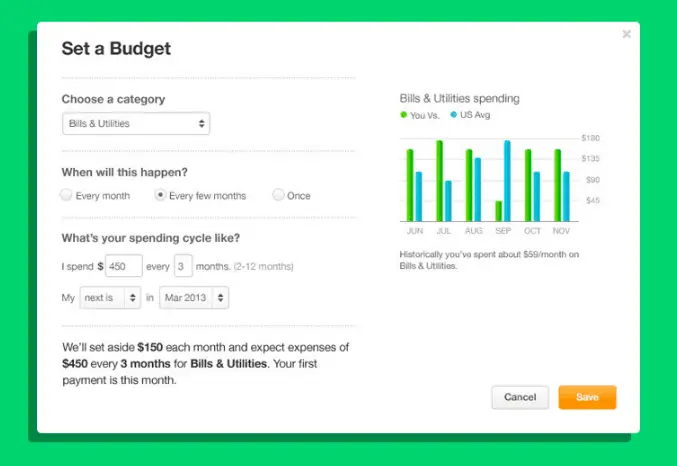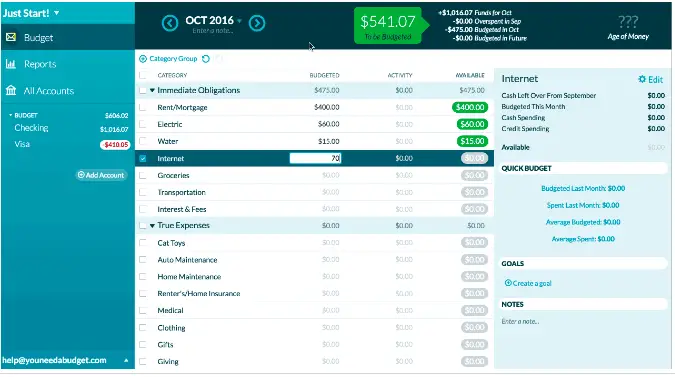 YNAB or You Need a Budget, likes to say they "give every dollar a job". So in other words, it's a zero-based budget tracker. It'll prompt you to budget every dollar of your monthly income.
So it's more of a hands-on budget app that'll help you to eliminate whatever black holes your money seems to disappear in each month.
Some of the features I like are:
You add or edit categories to fit your own

financial situation

.

There's a summary at the top of the screen, with the total you've budgeted until the

end of the month,

and your

total expenses

for the month.

You can import transactions straight from your

bank account

. Once the transactions are imported, you'll be prompted to assign them to categories.

You can split imported transactions into multiple categories – for instance, $100 to Target might be split between your food and household categories.

YNAB also enables you to setup multiple

savings goals

, and track your progress.
YNAB will also help you to track variable expenses like car maintenance, or a water bill. It'll then help you to set aside money each month to prepare for it.
One caveat though, YNAB isn't free. It costs $6.99 a month, but they do include online support and a full money back guarantee.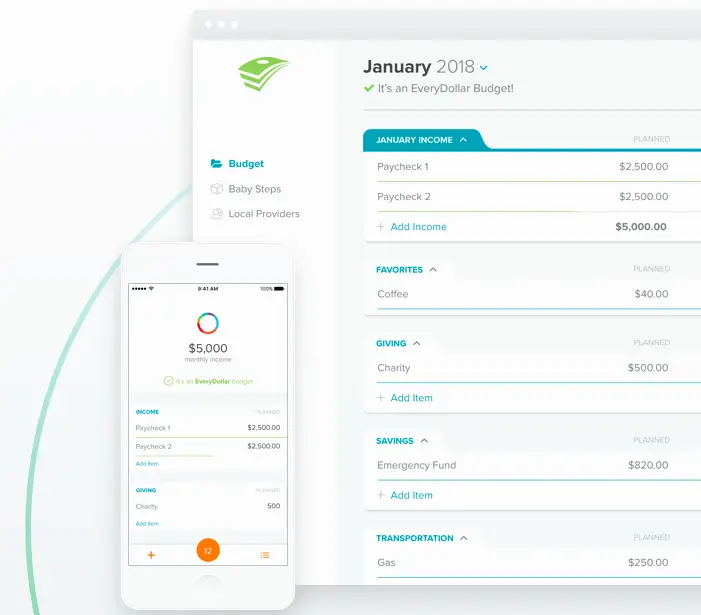 Dave Ramsey's Every Dollar app does just what the name implies. It's another zero-based monthly budget planner that guides you through entering your total income, monthly spending, then helps you to assign every dollar.
Like YNAB, Dave Ramsey's Every Dollar is a budgeting tool that helps you to get control of your finances by forcing you to assign your total income. It helps you to recognize where the money leaks are and to develop good spending habits.
Dave Ramsey is a rags to riches, to rags, back to riches story. After hitting hard times in the 1980's he was able to rebuild substantial wealth by developing what he calls his 7 Baby Steps to building wealth.
Here's my review of Dave Ramsey's 7 Baby Steps and how we were able to complete them.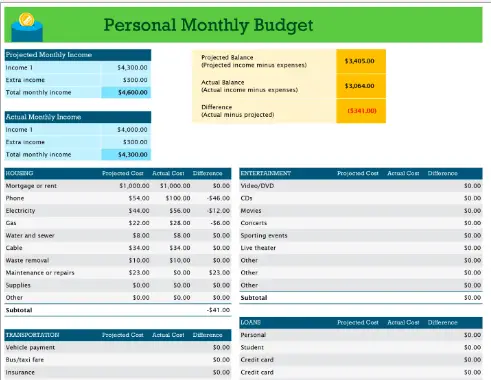 If you prefer Microsoft Excel, it contains plenty of free printable budget templates, and an Excel spreadsheet can be customized to fit your own expenses.
Whether you're looking for a family budget, student budgets or just a simple budget worksheet, Microsoft Excel is one of the originals.
One caveat though. Microsoft Excel is part of Microsoft Office which isn't a free app. You can either buy the entire suite of Office apps, or buy an annual license for Excel, or if you're a student, download it for free using your student ID.
3 Keys to creating your personal budget
The budgeting apps and free budget templates here should help anyone track your monthly expenses. But there are a few key parts of any personal budget that you'll want to keep in mind.
My first attempts at tracking my spending habits ended in frustration until I understood these three key parts of budgeting:
1. An emergency fund helps your budget remain predictable
My attempts at budgeting never worked until I paired it with an emergency fund. Budgets should be for regular, predictable monthly expenses and by nature, emergencies are not predictable.
Things may work for a few months until your car needs a $700 repair, or your clothes dryer dies.
One of the first steps to creating a budget should be to create a separate emergency fund – apart from your checking account.
Even if it doesn't contain thousands of dollars initially, getting it started is key.
Here's how we started our emergency fund that automatically drips a few dollars every day or two into our account. I haven't needed to touch our checking account for emergencies since we opened it.
2. Sinking funds eliminate surprise (but not emergency) expenses
Another gotcha that can trip up any budget are unexpected expenses that aren't true emergencies, but still need to be paid for.
For us, it was things like the quarterly water bill, a school expense for one of the kids, or a birthday gift, or unexpected travel. Where do you pull the money from if it's not budgeted?
Setting up sinking funds is a perfect solution to make sure you're not caught by surprise. They're just free accounts that you drip money into for a specific purpose.
Sinking funds are also perfect for things you'd like to plan for – like some backyard improvements or a new living room set.
Just like an emergency fund, sinking funds help to make your monthly budget predictable. And that makes a huge difference, regardless of what template you're using.
Here's how you can setup a sinking fund.
3. Values based budgeting helps you to make spending decisions
Budgeting gets a bad rap sometimes because it's interpreted as cutting back, or doing without.
But it's really a tool that helps you to afford the most important things in the short term, and maybe the most important thing in the longer term – your freedom.
So what are the most important things? What portion of your monthly income should go toward dining out, or personal care, or streaming services?
A values based budget helps you to drill down to what you value most in your life. The things you want to do or accomplish. Or the places you want to go.
Sure, budgeting might mean making some tough decisions, because as David Allen says, "we can do anything, but not everything".
Here's how a values based budget can help you to decide what you want.
Final Points
Hopefully, one of the free printable budget templates here is the right one for you. The bottom line though, is whichever one helps you to fine tune your own spending habits is the right one.
Knowing how much money is coming in on a monthly basis and controlling where it goes at the end of the month will have the most impact on the trajectory of your finances.
Sure, money can't buy everything, but it does determine a lot of what we get to do in life.
How about you? Is there a budgeting method that works well for you?
More ways to get better control over your money:
Join to Receive Your FREE eBook. 50+ Ways to Save All Year Long.