"This post may contain affiliate links. Please read my disclosure for more info.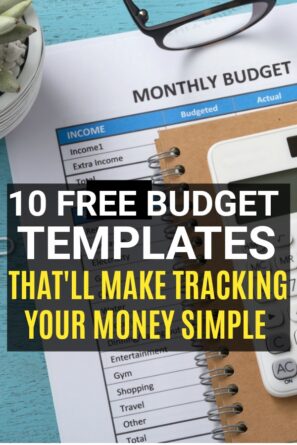 A monthly budget template seems simple enough, but it's a powerful tool. Because making more money isn't what'll help you escape paycheck to paycheck life – the key is managing your income vs spending.
Overall, almost 80% of us never escape paycheck to paycheck life. But believe it or not, a recent Market Watch study found 20% of people making over $100,000 dollars per year, still live paycheck to paycheck.
We were amazed to find that using a simple monthly budget worksheet over the course of a few months, showed right away, where our money leaks were.
Yogi Berra once said, "If you don't know where you're going, you might end up someplace else." Kind of a head scratcher, I know, but using a monthly budget template actually forced us to think about where we were going.
We can all do some things, but not everything. And since money is the key to so much of what we get to do in life, controlling it can open up a lot of doors.
How Will a Monthly Budget Template Help You?
Budget templates will help in two ways:
They'll save time. You'll track your spending in a fraction of the time.
You'll see an apples to apples comparison of your expenses each month, to see your progress.
Even though using a budget is the key to moving past paycheck to paycheck, most people don't use one. Whatever the reason is, the end result is that almost 80% of us live paycheck to paycheck our entire career.
How Would You Use a Budget Template?
A monthly budget template is just a listing of every expense, organized into categories.
You'd choose whatever format you're comfortable with. A spreadsheet, an app, or a pre-printed sheet.
Then each month, just scan down your bank statement, and add your spending into the categories.
Seeing your spending patterns for things like food, clothing or entertainment is really eye opening, and having each month side by side is a perfect way to spot opportunities to save.
10 Easy Budget Templates to Track Spending Easily

If you're just beginning to budget, or you just prefer writing it out, this one should do the trick.
It's got simple budget categories on one page, that you'll fill out each month, and then compare it to last month's.
You can track your spending, and start zeroing in on categories you can save on. Apps and spreadsheets are nice, but if you're a paper and pencil person, this'll still help you to move beyond paycheck to paycheck.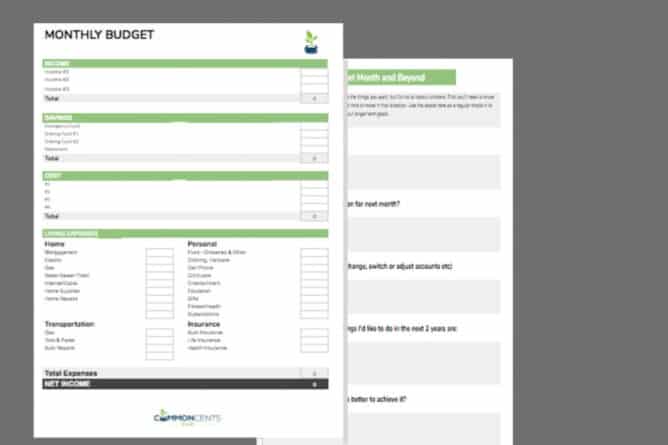 Just fill in your income, savings and expenses, and automatically see your net income display below. Then scroll down to page two and record what went well, what areas you'll target, and what goals you're budgeting for. It's laid out simply, and is one of the easiest budgets on Google Sheets you'll find!
RELATED: Values Based Budget: How to Manage Your Money AND Do Things You Love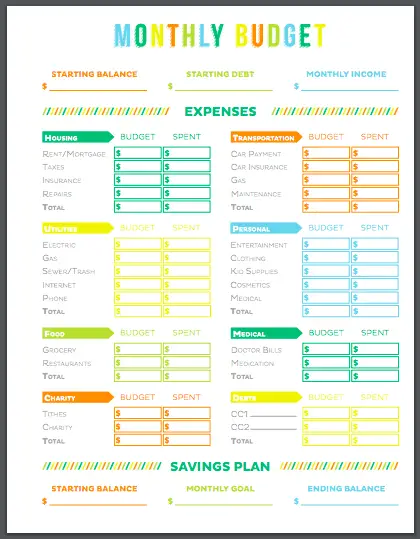 Here's another option from Printable Crush if you prefer to write in your expenses. There's no shortage of categories and it's laid out clearly.
Maybe you're really trying to focus in on your cash flow, so you want to track your expenses weekly instead of monthly. Here's a nice simple weekly budget template from Real Advice Gal that'll help you to budget your money on a day to day basis.
Budgeting will be a breeze with this simple budget planner spreadsheet. Fill in your budgeted amounts, then enter your actual amounts each month. The actual amounts will auto-total, along with the grand totals at the bottom.
Then just click the "Net Worth" tab, and use the handy auto-totaling net worth calculator: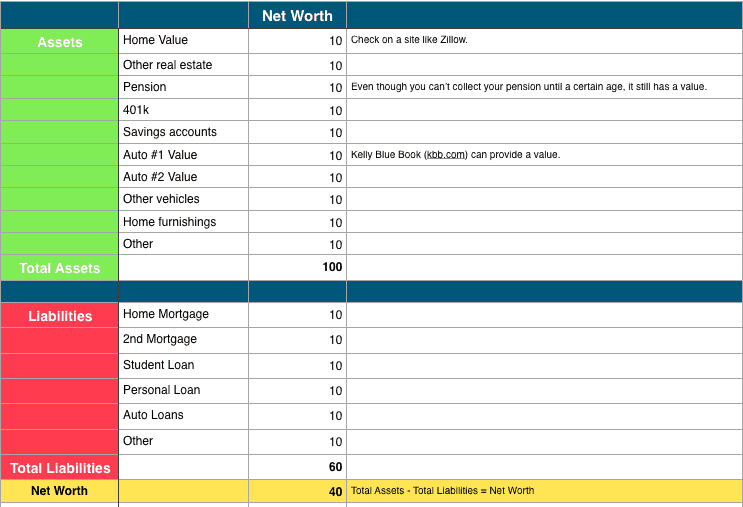 RELATED:
Free Budget Spreadsheets are Great, But What About Budgeting Apps?
To get started budgeting, sometimes it's best to keep things simple. All of the free budgeting spreadsheets above are easy to download and use right away. But if down the road, you're looking for things like reminders, forecasting or charts and things, here are some of the more popular budgeting apps: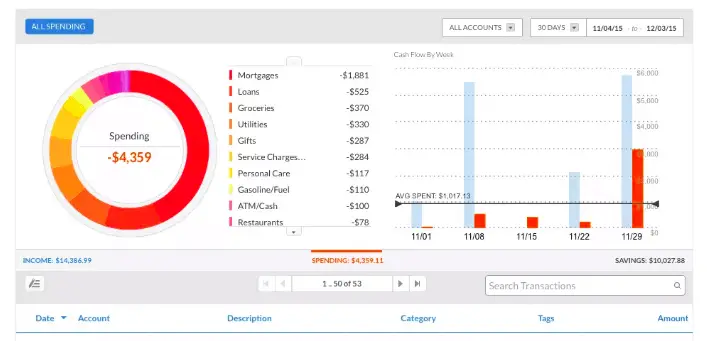 If you're not familiar with Personal Capital, it's pretty unique, and easy to use. It features not only a simple budget planner, but it monitors all your accounts – savings, checking, investments and debt. And from them, it'll calculate and display your net worth under one view.
That's key, because your net worth is the quickest indication of whether you're building wealth, or sinking further into debt. Tracking your net worth on a monthly basis enables you to spot issues before they become problems.
So it helps you to maintain that gradual upward trajectory.
You can do projections on when you'll be able to retire, and see what'll happen by increasing your savings or eliminating debt. It'll also analyze your investment fees and alert you if you're paying too much.
There's two ways you can use Personal Capital:
You can just download the app and use it FREE, which is how I use it.
Or you can pay to have someone actively manage your money. But there's no obligation at all.
The free app isn't a stripped down version that blocks you from many of the features. It's a complete tool, that can help you balance this month, but also give you a better grasp on your overall financial health.
Here is my review of Personal Capital if you'd like to check out it's main features.

Mint is one of the most popular apps for budgeting, because it's really easy to navigate, you can use it from anywhere, and it's FREE.
You can setup or maintain your simple budget worksheet from your laptop at home, but it's nice to be able to whip out your phone at the mall and make a quick budget check before you splurge on those new shoes. 
Setting up categories is simple, and Mint will ask you all the right questions.
Here's Mint's typical expense setup screen: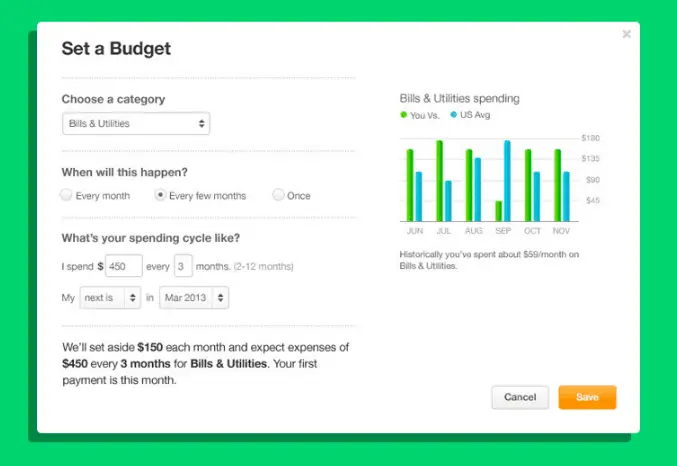 Mint does more than just budgeting. It'll help you manage your money by reminding you of an upcoming bills. Or if you're considering a purchase, it'll give you a heads up if you'll be spending beyond your category limit.
I like how intuitive it is when you add new expenses. It'll suggest a certain category, but you can also make your own choice, or even rename categories. Mint can make budgeting much easier, and I'm surprised it's still FREE.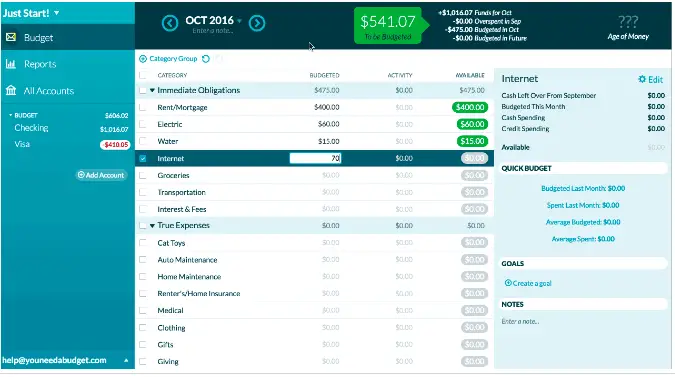 YNAB likes to say they "give every dollar a job". so in other words, it's a zero-based budget. It'll prompt you to budget every dollar of income, right down to zero.
Some of the features I like are:
It's flexible to get started, letting you add or edit categories to fit your own situation.
It gives you a nice summary at the top of the screen, with your total cash flow for the month, the total you've budgeted for the month, and your total monthly activity.
You can import transactions straight from your bank. Once the transactions are imported, then you'll need to assign them to categories.
You can split imported transactions into multiple categories – for instance, $100 to Target might be split between your food and household categories.
YNAB also enables you to setup multiple savings goals, and track your progress.
YNAB will also ask you about expenses that may not occur every month, like car maintenance, or a water bill. It'll then help you to set aside money each month to prepare for it.
YNAB isn't free, it's $6.99/month. But they do offer online support, and a full money back guarantee, for any reason.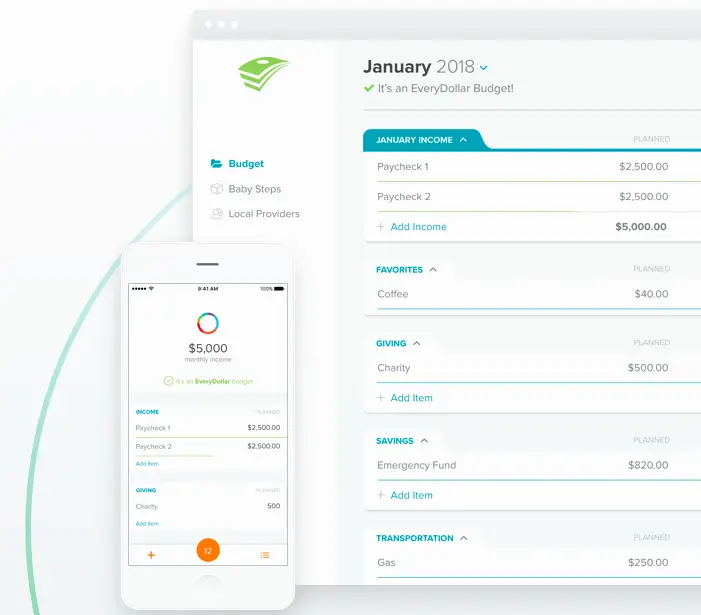 Dave Ramsey's Every Dollar app does just what the name implies. It's another zero-based budgeting tool that guides you through entering your income and expenses, then gives every dollar a job.
Whether your paycheck is split between bills, debt, saving or spending, it'll show you exactly where everything is going. I like a zero-based budget because it immediately pinpoints those "leaks" where somehow you can't account for several hundred dollars each month.
If you're struggling to piece together an emergency fund, then you see that you've spent $200 at Target, or $300 on restaurants and take-out, it's a big wake-up call.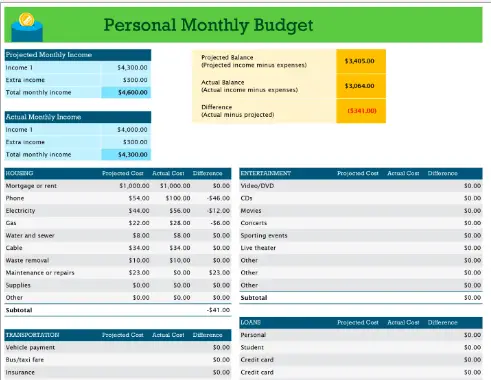 If you're a Microsoft Office/Excel user, there are dozens of budget templates available for download from Microsoft.  Everything from personal budgets, family budgets, Christmas or vacation budgets, home construction, events, college expenses… well let's just say they have a lot of them.
Final Points
Using a monthly budget template can turn an unpleasant chore into a simple one. The process of spotting your money leaks, and then seeing your net worth tick up a bit each month is motivating. But even before you start plugging in your numbers, there's a step you don't want to skip.
Budgets are a valuable tool, but they're not just about crunching numbers..
How do you know how much to spend on things like housing, or utilities, or entertainment? Your sister might budget $200 a month for entertainment, but what's right for you?
What criteria do you use to plan your lifestyle – things like where you live, what you drive, what you eat, and how you spend your time?
The only way to have a personal budget template that works, is to first figure out what your goal is for the next few years.
Is it to finish school, to buy a home, to move, to become debt free, to start a business, or maybe to travel? According to Investopedia, the number one reason to use a budget, is because it forces you to decide what your goals are.
Where do you want to be in 3-5 years?
Once you know that, a lot of other spending decisions will fall into place.
What you want to accomplish will factor into your choice of an apartment or a home.

Your goal will be a motivator to pay yourself first each week.

You'll prioritize things like a brand new car, cable TV or your weekend plans differently. 

You'll become more intentional about spending on anything from food to fitness.
So using a simple budget will help you to move from just paying the bills, to actually getting what you want in life.
But you've gotta decide that.
And once you do, one of these printable budget planners will make the process easier.
How about you? Are you using a budget now, or would any of these help?
More ways to get better control over your money: