"This post may contain affiliate links. Please read my disclosure for more info.
I can accept the fact that life is a series of struggles, but sometimes we make life harder than it should be.
School may qualify us to get a job, but it doesn't teach us how to navigate life. Juggling things like finances, career and parenting aren't easy, and sometimes failing to recognize our own obstacles can make life more difficult than it needs to be.
Here are five ways we make life harder, that with a little course correction, could help us swim with the tide.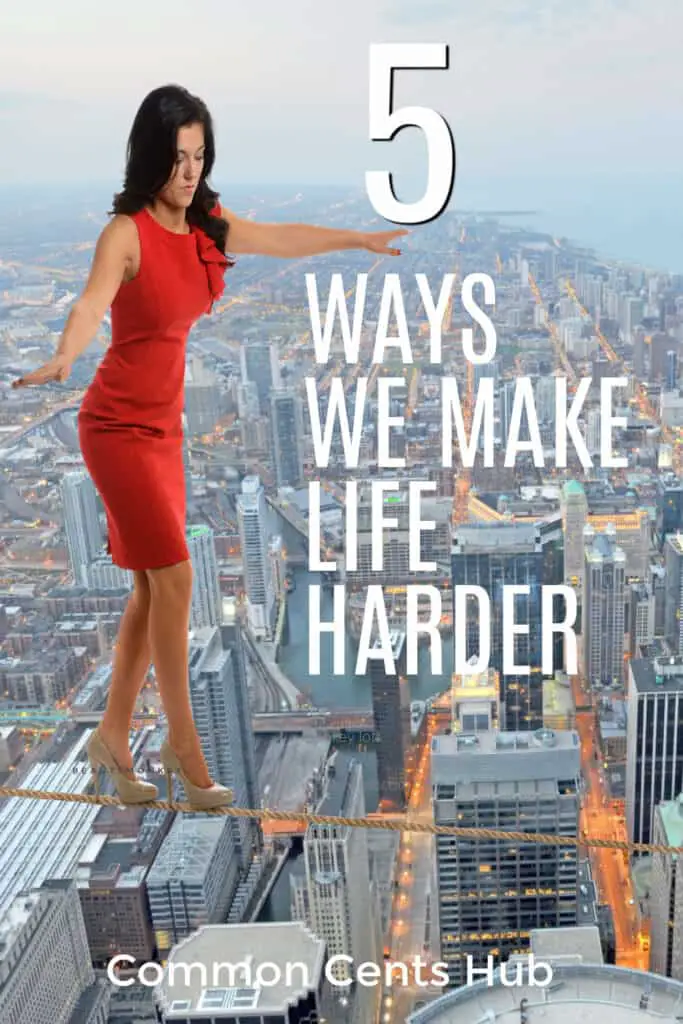 Have you ever wondered why each year seems to be a repeat of last year?
You're still struggling with bills. You're still in the job you can't stand, and another year has passed where you've traveled no further than work and the grocery store.
One of the most expressed regrets in life is this very feeling. That you never got around to doing the stuff you wanted to do because you got stuck in the routine of doing what other people expected of you.
One way to help with indecision:
Could the reason you feel stuck be that there are just too many options?
We're so inundated with visions of what our life should include, that it's easy to start second guessing our decisions and end up making no decision at all.
Greg McKeown talked about feeling paralyzed in his book, Essentialism – The Disciplined Approach to Less. He said we'll always be bombarded with options – where to live, where to work, what to wear, what to eat… and if we don't select the few essentials for us, and filter out the rest, then it's possible to default to no choice at all.
Try writing down two things would have a positive impact on your life if they were to improve over the next year.
What would you need to do to accomplish them?

What's preventing you from taking those steps? Other time commitments, money, education…
Making just one or two key decisions could not only change your trajectory over the next year, they can help you to live with a lot fewer regrets.
2. Living With a Scarcity Mindset
It's easy focus so much on your immediate "needs" and rationalize that longer term goals can sit on the back burner. And to compound the effect, it's easy to confuse your needs with wants.
Your neighbors just bought a brand new SUV and they go out to dinner twice a week. Maybe you're beginning to feel inadequate as you pull out of the driveway in your eight-year old Kia.
In my first "real job" I was offered a 401k plan with a 100% employer match. But I was so focused on fitting car payments, rent and my social life into may paycheck that I went over a year before realizing how short-sighted my priorities were.
Focusing too heavily on what you "need" now can make life hard because taking care of the urgent stuff only helps you to tread water. It's the longer term, important stuff that helps you to build a life.
One way to combat a scarcity mindset:
Look around your home or apartment. Are there lots of things that don't serve a constructive purpose in your life, but you hesitate to toss because you "might need it someday" or because you spent money on it?
How much of what you own is really helping you get from where you are now, to where you want to be?
What if you were to let go of, or just stop buying some of the things that aren't helping you to move forward. Just the exercise alone will help you to weigh your longer term values more when you're deciding whether to acquire more stuff.
Your future doesn't depend on the economy, or your employer or the government. It depends on you.
It depends on you taking stock of where you are, deciding where you want to go, and then putting the pieces into place to get you there.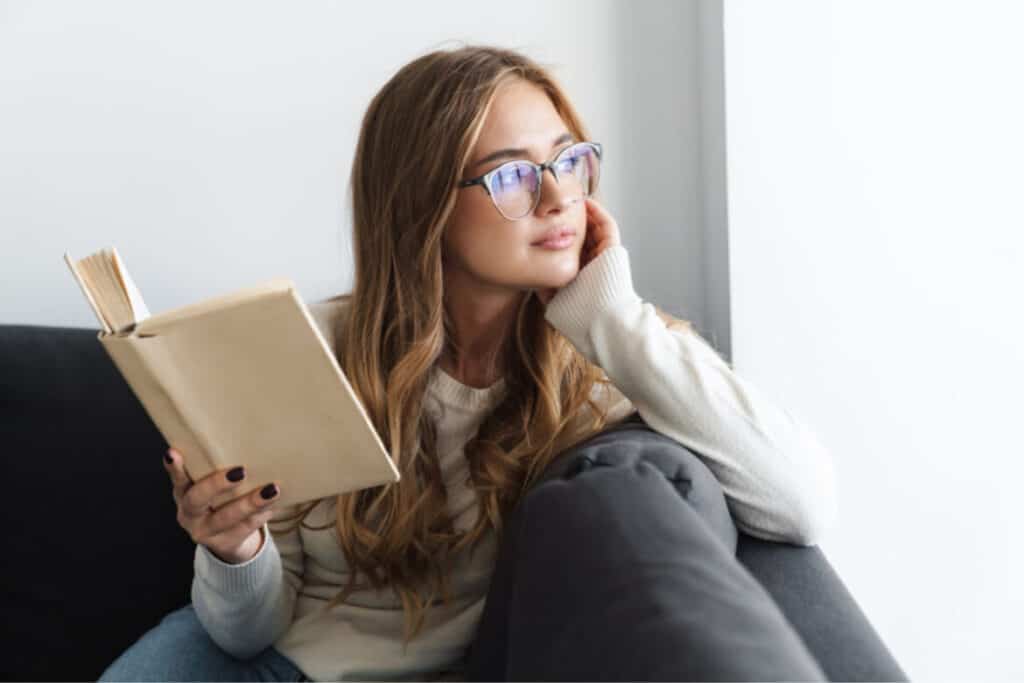 If there's anything that a pandemic has taught us, it's that life can be turned upside down within just a few weeks. So many things we took for granted – our health, how we earn a living, our kid's education, even toilet paper, were now suddenly uncertain.
One saving grace, is that we've all endured this together, so we've helped each other adapt. 
Even without a world-wide pandemic, we still encounter daily obstacles on a personal level. Maybe it's a shakeup at work, or a new job that requires you to get up and speak in front of people. Or you're laid off, or break up with your partner… if you're unable to adapt, and keep re-inventing yourself, life can be difficult.
When the mother of my children succumbed to leukemia, I finally understood the dozens of things she, like any mom, handles on a daily basis. It was uncomfortable taking on some roles that she made look easy. 
One of my kids had been having issues with a bully on the school bus. One day, things came to a head, and I found myself in a screaming match with the parent of the other kid. I'm not normally confrontational, but this time I came away with a strange sense of satisfaction knowing that where my kids were concerned, I could adapt from mild-mannered dad pretty quick
The author, Anatole France said, "If we don't change, we don't grow. If we don't grow, we aren't really living."
Change is uncomfortable, but resisting it means life is harder than it needs to be. When you live in reaction mode you're not open to the opportunities that change can bring.
It can help to periodically reconsider what you value in your personal and professional life. When you began your career, maybe you valued a nice salary and a certain job title. But five, or seven years down the road, maybe you value more balance, or the opportunity to travel.
Taking stock of your values periodically, can help you to adapt to unexpected changes.
Losing a family member put us in survival mode for a couple years, trying to find a new normal. During that time, I questioned everything about our life. I thought about what I wanted for my kids, myself and our family.
I wanted to give them the time, and the opportunities they deserved, so I transitioned to a work at home position. And after years of feeling unfulfilled by my 9 to 5 job (even working from home), I started this site. I knew nothing about blogging, but it seemed like a way to create something of my own that could open up other opportunities, which it has.
Whether it's your career, or your relationship with your partner, your kids or yourself, each time you can adapt and adjust, you build the confidence to embrace more growth.
4. Remaining Stuck in Debt
It's hard to establish yourself these days without taking on at least some debt. But falling into the get it now, pay later way of life, and living that way for decades makes life much harder for two reasons:
Your lifestyle options shrink dramatically when a big chunk of your paycheck goes to debt payments.

Sales people will bend over backwards to make your monthly payment "work". But if paying hundreds a month in debt means you can't save anything, then you're literally spending money you'll need in retirement.
The idea of a new car, or new furniture is hard to resist, but at what opportunity cost? The things you can't do with that several hundred dollars each month becomes more critical each year.
To illustrate how debt can make life harder in your later years:
Imagine one person saved $300 a month from age 20 until 40. Then he stops saving completely until retirement at age 65.
A second person saves nothing until age 40. Then he saves the same $300 a month from age 40 until retirement at age 65 – five more years than the first person.
Assuming they each earned the same 10% interest, the person who waited to save until age 40 would retire at age 65 with $400,000. And the person who started 20 years earlier would have $2,500,000.
But here's the bottom line – if they each withdrew the recommended 4% of their savings per year of retirement, $400,000 would yield only $16,000 a year to live on. While $2,500,000 would yield $100,000 year to live on. 
One way to avoid being stuck in debt:
Using a budget is something most people avoid, but it's a big reason why almost 80% of us live paycheck to paycheck our entire lives. Whether you're making six figures or minimum wage, managing the relationship of your income and expenses has the single biggest impact on your financial life – and in turn, your options in life.
So if budgeting is so powerful, why don't more people do it?
Writing down your income and expenses isn't hard. It's simple math. But seeing the numbers forces you to make decisions. Like David Allen said, "you can do anything, but not everything".
Monitoring exactly what you're spending throughout the year may seem like an exercise in cutting back. But it's really a tool to help you avoid debt and begin to build wealth. And over the next decade or two, less debt means more options, less regret, and more of your bucket list checked off.
5. Not Having Personal Goals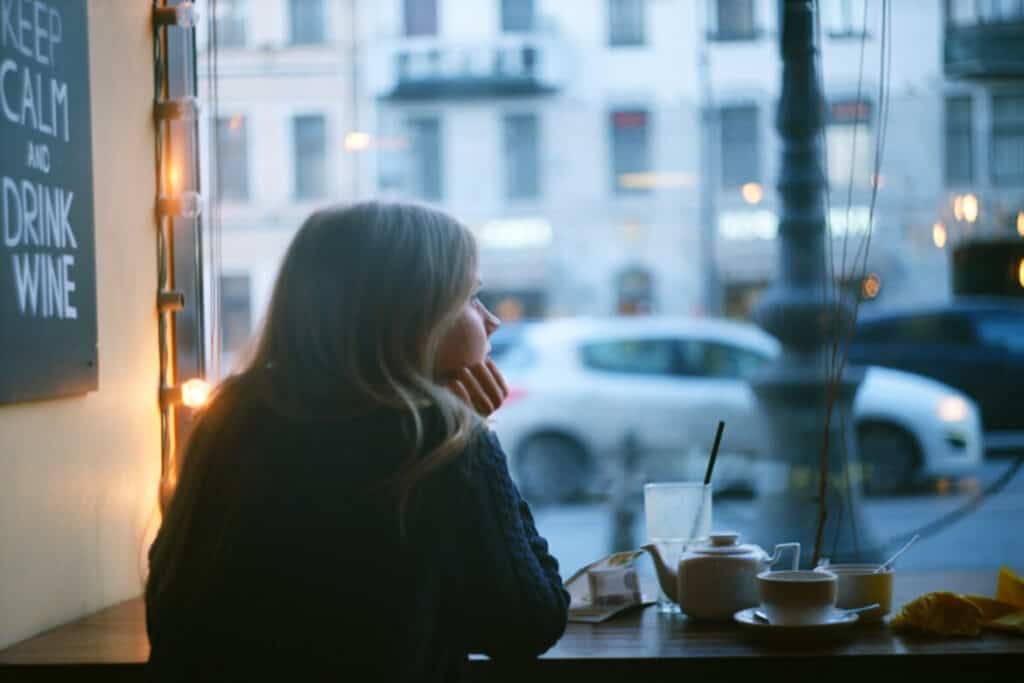 There's a reason I left this one for last. It's because with any to do list, there's usually one item, that if completed, will make the other ones easier. All five issues here make life harder than it needs to be, but having one or two personal goals can help each of the other four issues here.
Your personal goal will probably change from year to year. But having one overarching mission can be your north star that helps you to navigate other challenges we all face. 
Having a personal goal for the year can help to clarify any decision from spending money, to how you spend your weekend, or even your food choices. If you, or you and your partner can agree on a few long-term goals, it's surprising how a lot of other decisions fall into place.
Living with a scarcity mindset:
Goals can help you to move from a scarcity mindset (my options are limited) to viewing life in terms of abundance (my options are unlimited). Even if you view your options as unlimited, sometimes it's tough to stay focused. But a goal can help you to avoid instant gratification.
If your goal is to travel to South America next year, you're less likely to spend $150 on odds and ends today.

If your goal is buy your first rental property, you're more likely to focus on eliminating debt.

If your goal is lose 20 pounds, you're less likely to down five slices of pizza.
Whether your goal is to improve a relationship, your health, your finances or your career, a worthwhile goal will most likely push you out of your comfort zone at some point.
And each time it does, you'll grow a bit more confident and more likely to challenge yourself in other ways.
Establishing goals is the best way to eliminate debt, but also to provide the motivation you'll need to avoid the buy now, pay later way of thinking in the future. Methods like the debt snowball or debt avalanche will help you systematically eliminate debt while giving you a target date to be debt free.
When you set your goals, keep in mind that your goal is only as good as the process you setup to achieve it. 
The idea is to gradually adopt habits that won't turn your life upside down, but will gradually introduce a change in behavior. 
Drastic improvements might look good, but they're hard to maintain. If you can focus on developing habits that lead to the change you're after, you're more likely to see lasting results.
Just Identifying the Issues That Make Life Harder is a Good Start
I purposely kept this list short, with just five items. We can all probably identify with lots of issues that make life more difficult, but these are some of the most common. And in a year when so much has changed around us, it can be helpful to take stock of what's working, what's not working, and how to make life easier.