"This post may contain affiliate links. Please read my disclosure for more info.
Living alone can be a great experience. Sure, paying for your own place is more expensive, but if you can figure out the cheapest way to live alone, the independence and freedom you'll gain can be well worth it. 
My first solo apartment was one of the cheapest housing alternatives I could find – a tiny attic apartment that resembled a train tunnel. I slept on a fold-out sofa, but it was only a three minute walk to the beach.
The rent and utility bills were cheap, but I never considered two other cost effective ways to live alone.
If you're looking for the least expensive way to live by yourself, there are three big factors to consider. And even if your budget is tight, if you can nail all three, maybe you really can afford to live alone. 
The Cheapest Way to Live Alone: Focus on 3 Areas:
Money Habits to Live Below Your Means
A study by Lending Tree found that 44% of millennials earning between $100,000 to $149,000 still live paycheck to paycheck. 
Living alone inexpensively doesn't have to mean eating Cheerios every night. But without a strategy for saving and spending, it's easy to get sucked into lifestyle inflation. Where each pay increase means more spending and more debt.
In fact, Bloomberg also did a study and found that 1/3 of all consumers making over $250k are also living paycheck to paycheck. Crazy isn't it? So it's not just a phase. It's possible to be "rich" and spend all your earning years unable to build wealth if you don't manage your income. 
Here are five ways to manage money that'll help you to live cheaply now, while still looking out for future you:
1. Control Your Cost of Living with a Simple Budget
Whether you're living alone or not, the best way to keep living expenses low is to know and control where your money is going. 
Using a budget isn't an exercise to restrict your life. Sure, it'll help you to control your cost of living, but it's also a great way to force yourself to make decisions.
You may not be able to afford everything, but you can afford some things. 
A budget will motivate you to focus in on what's most important for you over the next year or two. Once you do that, it's easier to say no to the things that aren't helping you to get there.
As you continue to adjust living expenses, you'll gradually increase the gap between what you earn and what you spend. And soon you be paying cash for those things that matter most.
Here are 10 free budget templates that'll all help you to easily track your expenses each month.
2. Having a Goal Helps You to Avoid Debt
Living cheaply can be tough when you see one friend driving a new car, and another buying a sofa that'll seat an entire family. But buying that stuff on credit is like strapping on a pair of ankle weights. 
The more debt you take on, the less flexibility you have. Your choices in life begin to narrow until your only choice is to work your 9 to 5 for the next two decades to pay everything off. 
One way to avoid this trap is to decide where you want to be in 2 or 3 years.
In a certain career, a different home, start a family… once you're clear about your direction, spending decisions become easier. FOMO is a thing of the past. 
You'll still enjoy watching the game on your friend's 70 inch, but you can do it knowing that you're working each day for something worthwhile – not just to pay bills.  
3. Pay Yourself First: An Easy Way to Decrease Expenses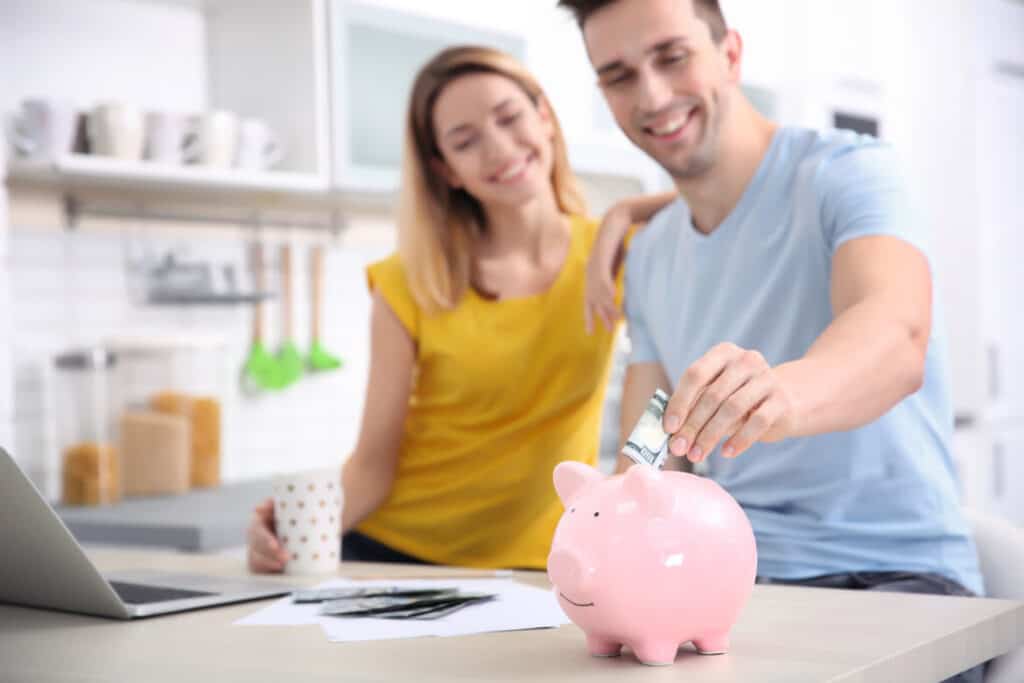 When you're trying to live cheaply, savings is one of the first things to go. "It's too hard to work it into the budget. Maybe after my next raise".
One of the biggest reasons budgets fail is because of surprise expenses. That car repair, dental expense or that emergency trip to see a family member can all blow a hole in your budget. 
Emergencies are always around the corner. But if you can pay for them from a source other than your checking account, suddenly your budget becomes predictable. 
Even if it seems like you can't afford it, opening a separate account and dripping a small amount into it each week will have a big impact. It'll help to ensure you always have enough money for monthly expenses like rent, utility bills and food, and you'll rely less on credit cards.
Once you start an automated deposit into en emergency fund, it's surprising how quick you'll have a good amount of money in it. And when your budget is predictable, you'll incur less debt.
Here's how we setup our automated emergency fund so we barely notice the deposit. 
4. Food Costs: An Easy Target to Lower Monthly Costs
What's your biggest expense each month?
Probably your rent or mortgage, but I'll bet food comes in second or third. 
That's because "food" covers a lot more than just groceries. Restaurant meals, take-out, convenience stores, work lunches and snacks can inflate grocery spending by several hundred dollars each month. 
Buying everything you need in one grocery store trip eliminates the need to buy food anywhere else. It's the quickest way to lower your living costs immediately.
We were able to save $300 a month right away by shopping with a plan for meals and snacks rather than just buying what we thought we needed. 
Planning meals doesn't need to be complicated and expensive. We use $5 Meal Plan. For $5 each month, they send new recipes each week, along with ingredients and instructions. Once I select the meals I like, the app composes a shopping list of ingredients to make all the meals.
Now I just compare that list to ingredients I already have. I'll make one trip to the store and come back with everything we need for meals and snacks for the next week or two. The meals are all $2 or less per person per meal, and almost none take more than 20 minutes to make.
Planning meals is a good idea that'll immediately reduce most budgets by a few hundred dollars.
5. More Stuff = Less Freedom
The idea of living cheaply may not seem desirable, but when you consider these stats, are the efforts we make to be "rich" really something to aspire to?
The average family today lives in a home that's triple the size of homes 50 years ago, and has roughly 300,000 items stuffed into it.

Most people who live in homes with two-car garages have no room to park cars in them.

One of the fastest growing businesses are storage facilities.

And while we struggle to acquire all that stuff, the average credit card debt is around $15,000.
To put that in perspective, if you were to pay the minimum each month of about 3% of the balance, payments would start at $450 a month, and take 19 years to pay off. 
Most people don't have the cash on hand to pay for a $400 emergency, so I'm guessing there's also lot of meaningful things on our bucket lists we'll never get to do either.
Living cheaply doesn't have to be about depriving yourself. It can be about intentional spending on the things that inspire you or help you to move forward instead of anchoring you.
Cheap Living Alternatives
Here are some of the cheapest ways to live with almost no living costs. After that, we'll follow up with some of the best ways to live cheaply if you're paying rent or a mortgage.
House Sitting: One of the Cheapest Ways to Live Rent Free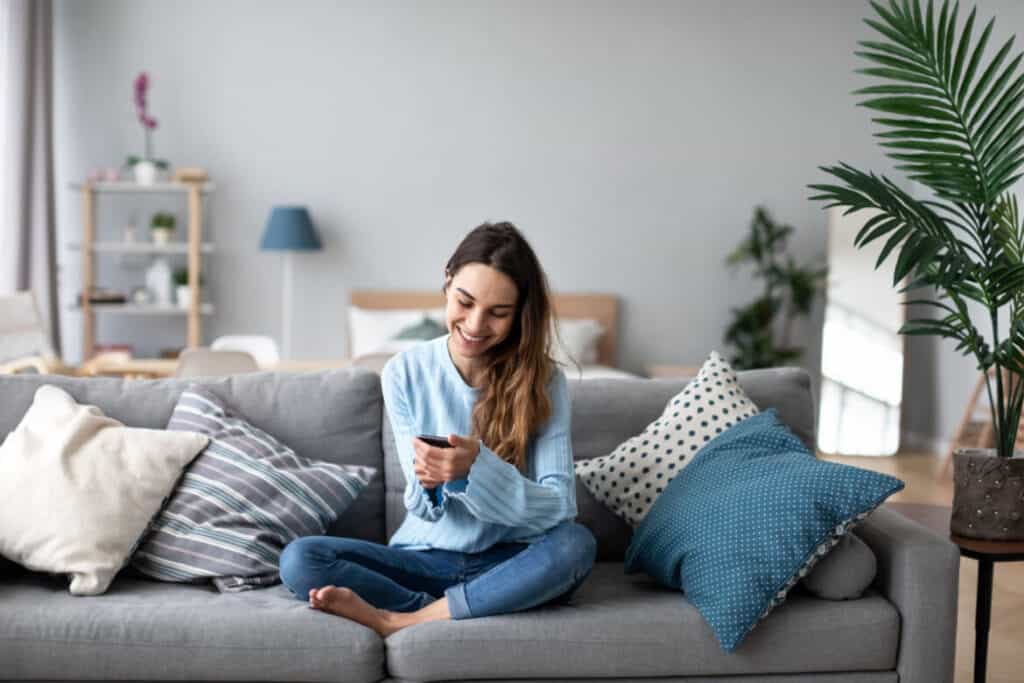 One of the cheapest ways to live alone is to live in someone else's home while they're away. If you don't own lots of stuff and you need a place for a short period – maybe several weeks to a few months, house sitting is a way to keep your living costs way down.
This may not be totally without cost – you may need to look after pets or plants. But lots of people just want their home to appear lived in for security reasons. 
You'll have almost no living expenses other than food. The homeowner pays for things like electricity and the water bill while your living costs are as close to zero as you can get. 
So if you don't have lots of storage needs, and can possibly work remotely, house sitting can be done anywhere in the country.
Check out HouseSitter to get an idea of what's available.
Become a Live-in Caretaker in Exchange for Living Space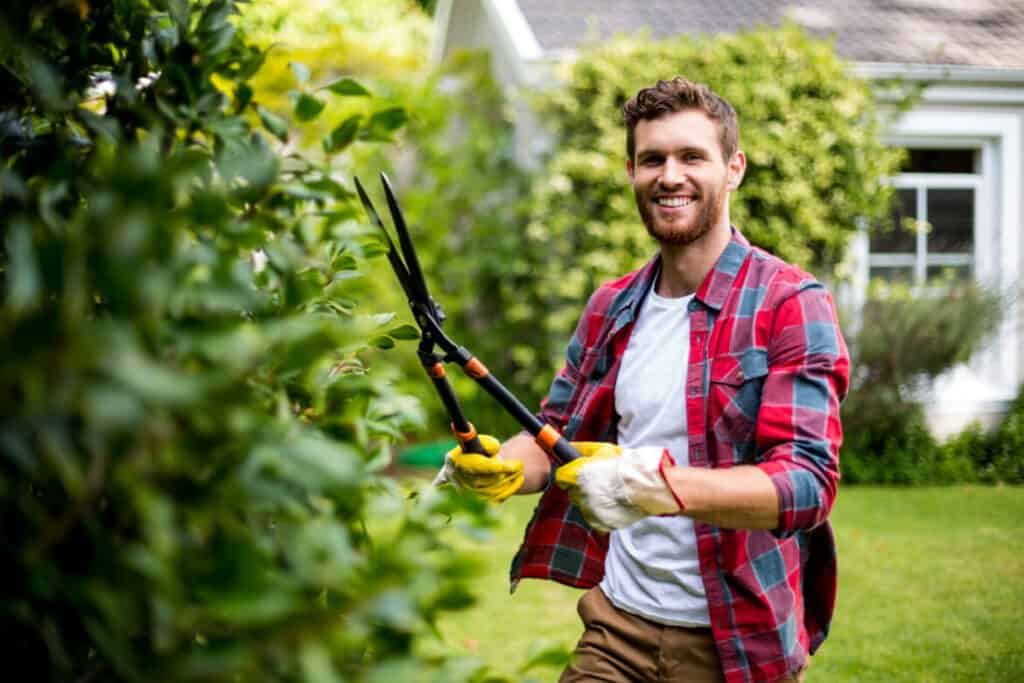 Becoming a live-in property manager is similar to house sitting, in that your housing costs won't require you to fork over cash. You'll be provided a living space in exchange for housekeeping, gardening or maintenance on the property.
You'll usually find this type of gig at a large estate that needs care, where the owner can save the cost of hiring people for multiple tasks.
One thing to consider is, how much of your time will be required for your property management tasks. If it's full-time, then how will you earn money for other expenses?
Live Expense Free as a Live-in Nanny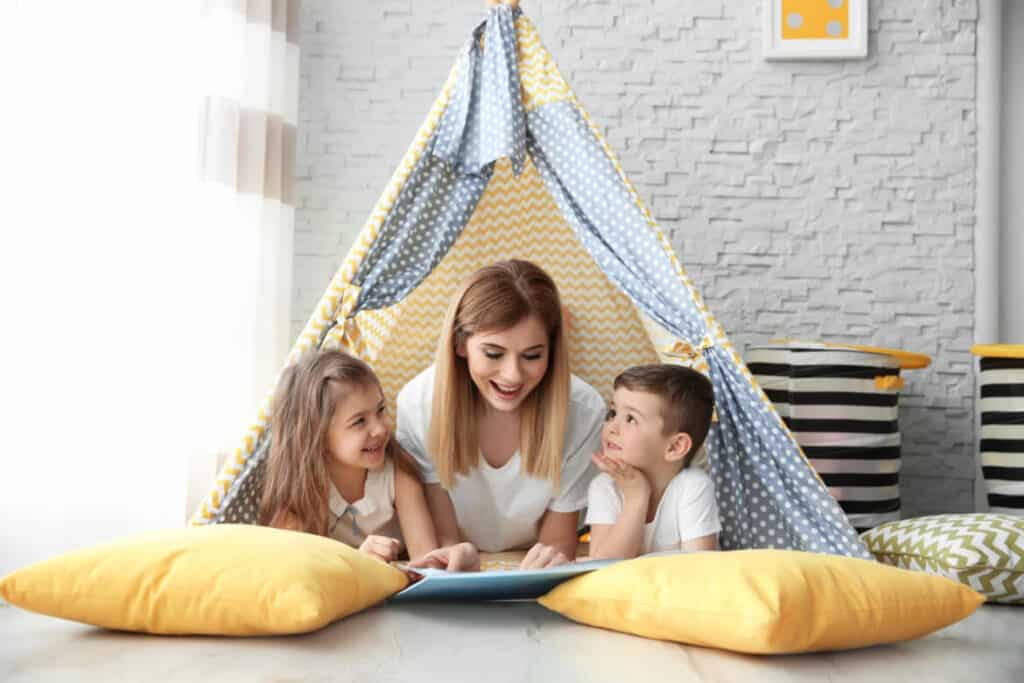 Live-in nanny's still have almost no living expenses. You'll pay for your housing costs by providing care for kids, elders, or maybe even pets.
Most likely, you'll undergo a background check if you'll be caring for young people or seniors. This could be a good gig if you're considering some kind of caregiving career.
Two places you can start looking are Care.com and Zip Recruiter.
Get Paid to be an Outdoor Adventure Guide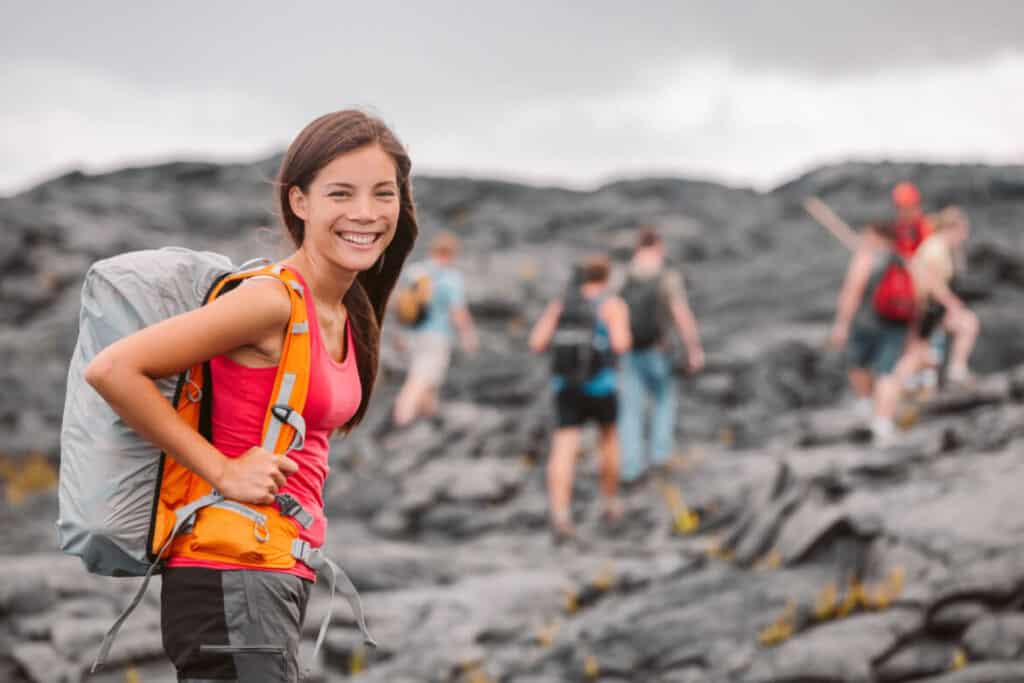 I met a guy hiking in the Great Smokey Mountains who was leading a group of 8 people up Mt LeConte. He worked for a company that flies him all over the country to do this. His room, board and flights are all paid for. 
As an outdoor adventure guide, he's been to almost every national park in the country. If a hike extends over a few days, he's also paid to help setup campsites and prepare meals. 
If you love hiking and yearn to see the country, this could be a cheap way to live with almost no housing costs, while you make new friends.
Learn more about becoming an outdoor adventure guide.
Live Cheaply While Working on a Cruise Ship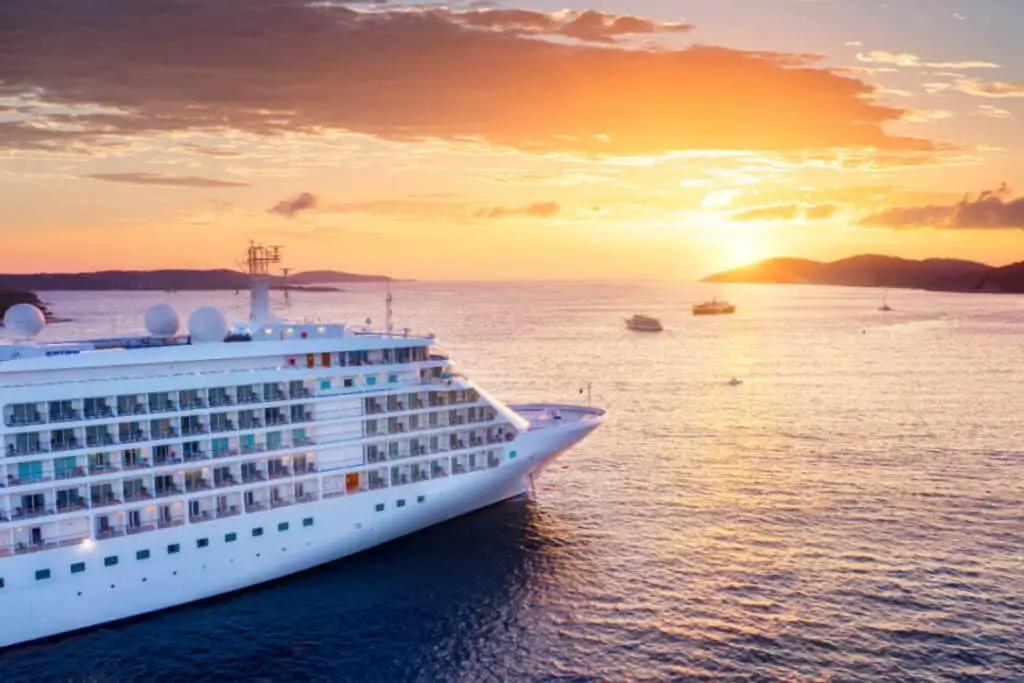 If you're into a nomadic lifestyle at the moment, working for a cruise line could be a way to see far-away places while you build up your savings account. You'll be away for several months at a time, and you'll work lots of hours, but your room and all meals are paid for. 
Working on a cruise ship for a few months is a great way to save almost all your salary and set yourself up nicely for your next adventure.  .
Check out the recruiting pages for some of the biggest cruise lines:
Volunteer for Military Service with Free Room and Board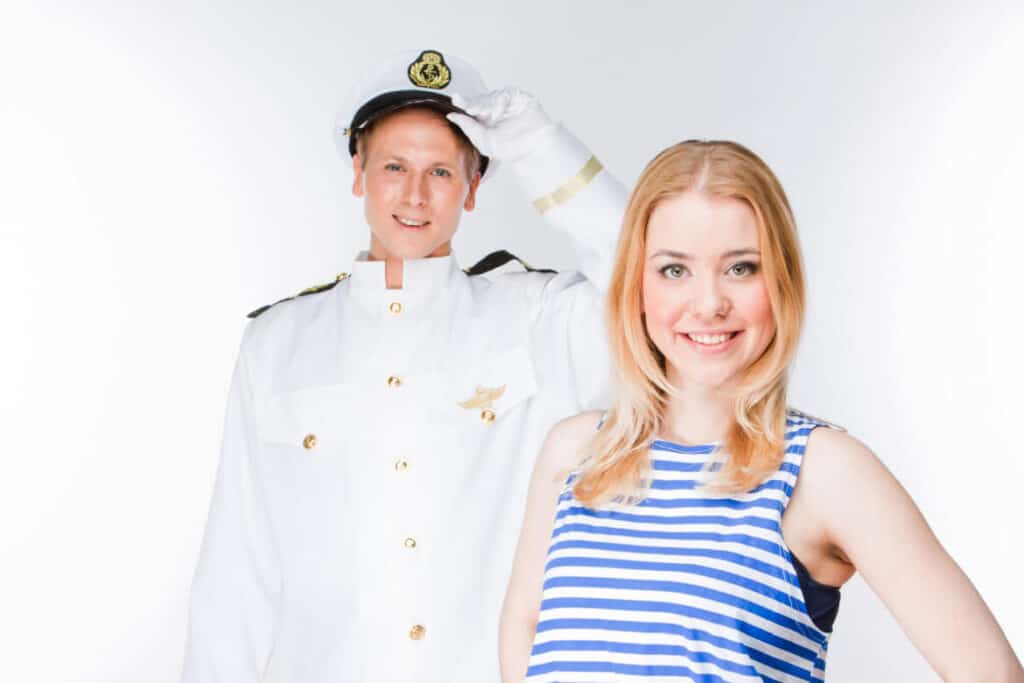 Joining the service isn't technically living alone. But if you're a single person unsure about your future, joining a branch of the service is not only a cheap way to live, it's pretty much free. 
You'd be paid to learn a skill, you'd definitely do some traveling, and then leave after a few years with money for college.
I know two people who were looking for a direction as a twenty something. They joined the service and came away with a skill they could earn a living with. 
They traveled the world for four years and made life-long friends. They had no debt, and left with college benefits and the opportunity to buy a home when they were ready, for no down payment.
Cheap Places to Live With a Very Low Payment
The last options were cheap places to live that have almost no living expenses. The next options do require a monthly payment, but your cost of living can still be very low.
Rent a Room in Someone's Home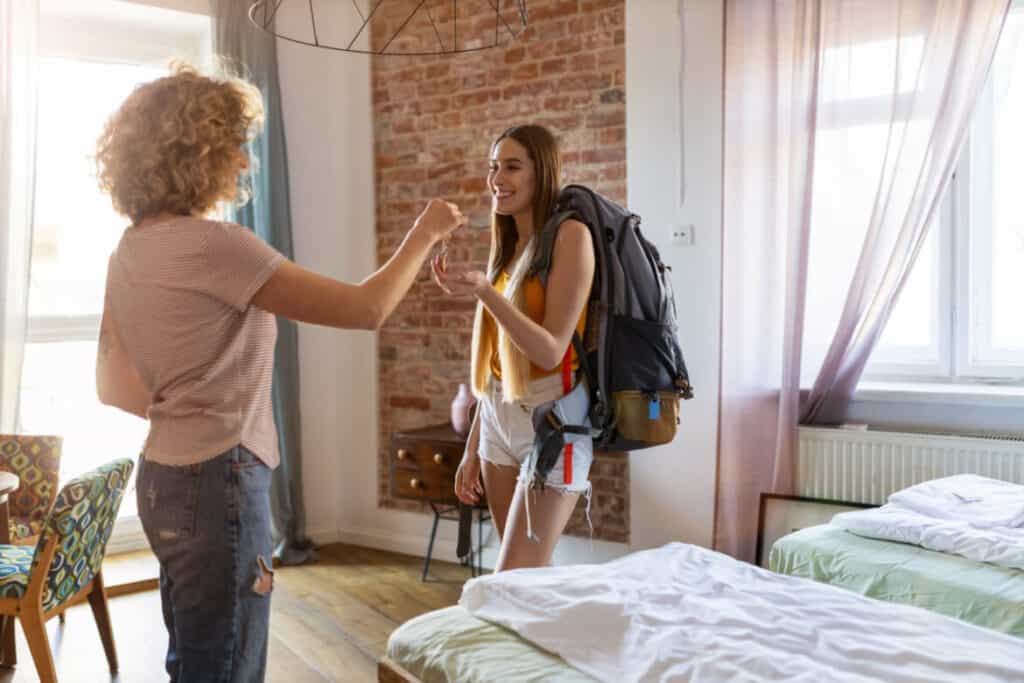 One of the most affordable places to live would be to rent a room in someone's home. If you can fit all your possessions in a closet and under your bed, this is a very cheap housing alternative.
It's one of the best ways to live where you need to be, while keeping your expenses very low.
One downside of course, is that you'll probably share a kitchen and bathroom. But if living cheaply is your top priority, that may be an acceptable trade-off.     
One place you might try is Spare Room, where you can search by zip code, rental cost and other options. 
Couch Surfing: Live Cheaply and See the World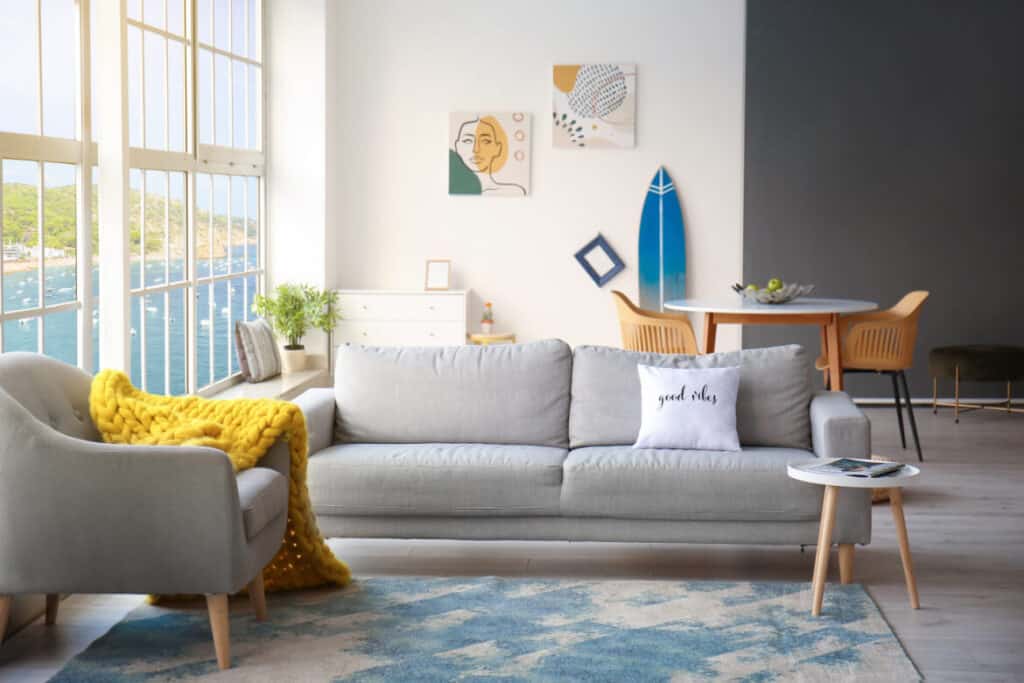 I bet you thought couch surfing was a cheap way to temporarily crash with a family member or a friend. It turns out you can couch surf in over 200,000 cities all over the world!
CouchSurfing can help you to live cheaply as a nomad. Just create a profile, then browse hosts in whatever cities you want to visit. 
When you find a suitable host, just send a Couch Request. The Couchsurfing site contains lots of details on what to look for in a host and how to be safe.
You can also list your own couch as a host, and toggle it from available to unavailable whenever you want. And if there's lots of hosts in a particular city, there are get togethers where you can connect with other couch surfers and hosts.
Buy a Duplex: Have a Tenant Help Pay Your Mortgage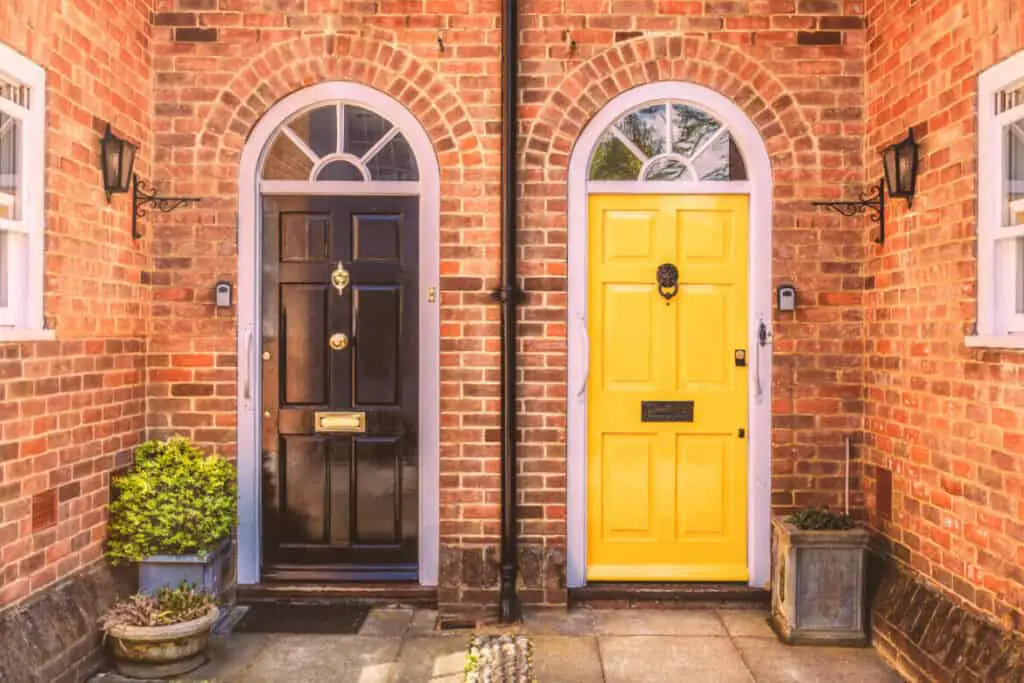 Buying a duplex does require money up front, but it's definitely a way to live cheaply. Collecting rent on a second living space in your home means a good chunk of your mortgage is being paid by someone else.
The rental income may free up enough of your own cash to:
Build an emergency fund for the home.

Build an emergency fund for yourself.

Pay off debt.

Get a head start on investing.
Not to mention he tax deduction for the mortgage interest on your loan, and also the appreciation in value of the property. Talk about living cheaply!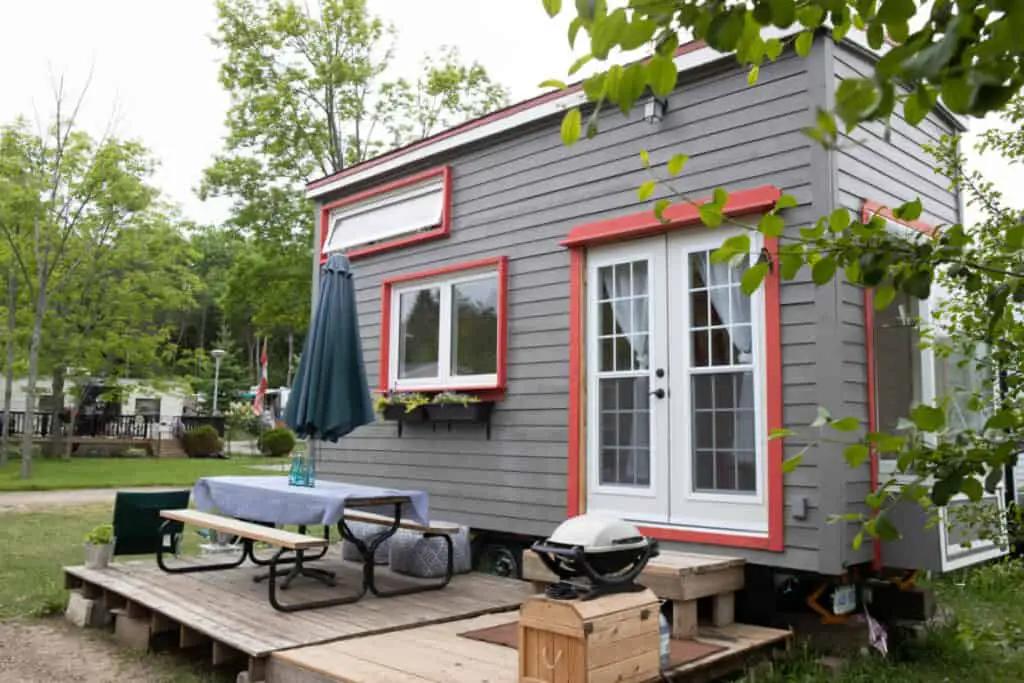 Compared to renting an apartment or a townhouse, which could easily cost over $2000 a month for a small space, a tiny home could be about half that. 
But just how small is a tiny home?
Well, the average family home these days is around 2400 square feet, and the average tiny home is around 400 square feet. That's about the size of an average two-car garage.
If you're aim is to live cheaply, I think 400 square feet can be setup pretty efficiently.
You'd want to be sure though, that you're ok with a minimalist lifestyle. Renting a storage facility for the stuff you can't fit in your tiny home could defeat your aim of low-cost living.
Not sure if you could downsize to a tiny home? Here are a few ideas that might help:
Try renting a tiny home on AirBNB to get the feel for it.
Or check out Marie Kondo's book, The Lifechanging Magic of Tidying Up. It's intended to help you organize your possessions, but her process of creating order does a lot more than tidy up your closets. It'll probably make you to consider why you buy so many things, and why you still own so many things that no longer serve a purpose in your life.
Can Konmari Help You to Find Money Success is a quick overview of her process. It shows the five steps you'll go through, and how the process leaves you with more clarity about what you want in life.   
Efficiency or Studio Apartments: A lower-cost option than a one-bedroom.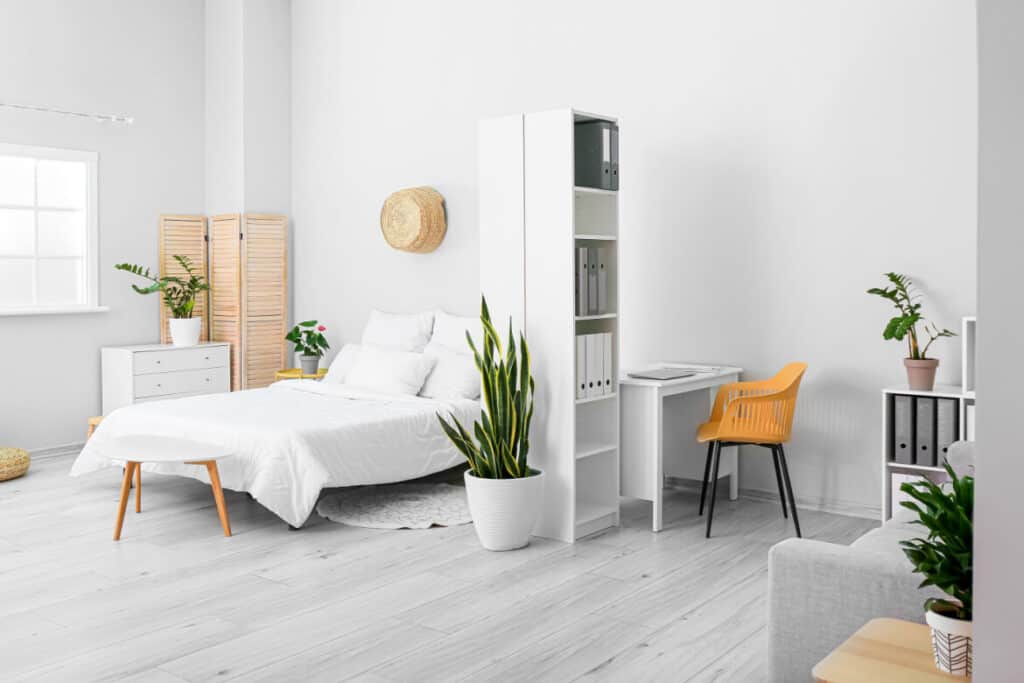 If you're moving into your first solo place, an efficiency or studio apartment is one way to live cheaply with just the basics. It's also a low-cost way to live closer to where you want to be.
Efficiencies and studios generally combine the living, sleeping and eating space. Studios may be a bit larger than an efficiency, but they're both cheaper than a one-bedroom apartment.
My first place was an efficiency with a pull-out sleeper sofa, a little kitchen area with a two-person table, and one bathroom. Most nights my only dinner guest was my dog, so it was a cheap way to live for two years.
You can find efficiencies or studios in lots of towns where the homeowner divides a bigger home into several small apartments. You may not have lots of storage space, but less clutter can be a good thing.
Rent Out Part of Your Home to Lower Expenses
Maybe you're on the other side of the fence. You have your own place, but your budget is so tight that you're unable to save anything for the future. 
You could consider renting a room to lower your living expenses.
If you're not sure whether you're ready for a month to month tenant, you could try renting your room through AirBnB to get the feel of it first. Their site will give you all the details you'll need.
Depending on the amount of equity you have, it might even pay to use some of it to make some alterations like adding a small bathroom or a separate entrance.
Living Alone Costs Less if You Can Manage Time Well
"The only real asset you have is your time. The hours of your life."  – Vicki Robin
In Vicki Robin's book, Your Money or Your Life, she talked about the importance of integrating your personal values with how you actually live your life.
So many things we want to accomplish involve both money and time. But we have a finite amount of both, and almost unlimited choices.
So unless you can define what's most important to you, it's easy to reach in lots of unrelated directions, wondering why you're never truly satisfied.
Creating a budget is easy. But fine tuning it over time will probably involve thinking about how you spend your money and your time.
If your income falls short each month, you could pick up some shifts at a local store. But that means spending more hours away from home for a low wage. Starting your own

side hustle

from home

has a much higher income potential, and it's on your schedule.

The proximity of your home to your employer can have a big impact over time. An hour or more commute is a big budget expense, it consumes your personal time, and makes it harder to spend time developing any other skill.

It's possible to spend so much time trying to be "rich" that you'd never have the time or resources to build wealth. Taking on too much debt can narrow your choices because you're locked into paying sky high bills each month.
The average American spends 3.1 hours a day watching TV. If you consider that sleep time and an average work day consume around 16 of your 24 hours, that leaves about 8 hours. Spending almost half of that on the couch means a lot of life is slipping by each week.
When I had the idea to create this site, I procrastinated for a year. As a single parent with a full-time job, I didn't think I had time to learn something new. But taking a hard look at my own time showed me that squeezing in even an hour a night can have an impact. Developing a habit, even gradually, can bring big changes.      
What kinds of things consume time in your day? Commuting, waiting in line, TV or social media, over-commitment to various activities, not having boundaries…
As important as budgeting your money is, being frugal with your time can change the trajectory of your life in a big way. Robert Kiyosaki said, "The only difference between a rich person and a poor person is how they use their time."
Priorities change from year to year. But there does seem to be a connection between how you use your time, and whether you can afford to do the things you want in life.
Related: Values Based Budget – How to Manage Money and Do the Things You Love
What salary do you need to live alone?
Figuring out what salary you'll need to live alone depends on where you plan to live, but you'd want to start by creating a simple budget. 
List all your monthly expenses now, other than your rent and utilities. Things like food, cell phone, clothing, commuting costs, debt payments, personal care. All your regular expenses.
Now you can look around at various housing options and see if the rent and utilities combined with your other expenses fall under your monthly income. Don't forget to include regular savings into an emergency fund because that protects you against taking on debt.
What is the Cheapest Way to Live Alone
Don't commit to an apartment or a living situation where your finances are so tight that you can't afford to regularly contribute to an emergency fund. 
One of the easiest ways to get into financial trouble is to not have the cash for emergencies. Once you need to start charging expenses on a credit card, it can spiral pretty quickly.
Living alone will almost definitely require a few lifestyle adjustments. You'll want to figure out where your personal money leaks are. Maybe it's eating out at restaurants, your social life, expensive hobbies, personal care… whatever area continues to trip you up, there's probably a cheaper alternative.
Where Can I Afford to Live Alone?
The most affordable place to live alone depends on a few things:
Where you work, and how close do you need to be.

How you travel to work, to shop or visit family or friends – your own car, public transportation, walking?
You'll want to know exactly what your income is, but also about your lifestyle to know what area to start your search, and the type of living space to look for.
How do people afford living without roommates?
The best way to afford living without roommates is to figure out your income and expenses, then track it for a few months and see where you can make adjustments.
It may take several months to tweak your budget, adjust your lifestyle, and start your emergency fund with small, but regular contributions. That's important because it'll remove any surprises from your budget and help your expenses to remain predictable. 
After that, you'll want to do quick, 15-minute budget checkups once a week to anticipate any surprises and just stay on top of things.
How can I make enough money to live by myself?
Chances are, you already do make enough money to live alone, but the only way to know for sure is to know exactly what your income is, and your anticipated expenses. 
If it turns out your income can't support living alone right now, there are dozens of ways to bring in more income. 
Here are some side hustles you can look into that can be done on your own schedule:
How Do I Live Alone With No Money?
Living alone with no money may seem impossible, but there are a few options. They may not have been your first choice, but if you're in a jam, sometimes taking a step back helps you to take two forward. 
A few of the options above would provide room and board in exchange for your labor. Things like working as a live-in nanny, getting a job on a cruise ship, or joining a branch of the military service are three ways you'd be able to live cheaply with almost no living expenses.
How Do I Afford an Apartment by Myself?
The first thing you'll want to consider is how much money you have available to spend on rent and utilities. Hopefully, you've already created a budget listing your regular expenses, and had a few months to make some adjustments.
If you haven't created your budget yet, here are 10 Free Budget Templates you can download.
When you're calculating how much you have available to spend on rent and utilities, don't forget to add in an expense for a contribution to your emergency fund with every paycheck.
When you finally do get your own place, the feeling of independence and freedom is great, but it comes with a new sense of responsibility. Nobody is there to tap your shoulder and remind you that maybe you shouldn't go out to eat again this week, or buy those shoes.
But once you're able to make those lifestyle adjustments, and manage your own place successfully, it'll all be worth it.
Living Cheaply Can Be the Road to a Rich Life
Living cheaply will probably mean different things from year to year as your goals change.
The goal isn't to live cheaply for the sake of being frugal.
It's to have a plan, both financial and personal, so you'll know when your money and your energy are moving you closer to it.
The danger of not having a plan, is that it's hard to be intentional with your money when you don't know what your priorities are.
Living cheaply doesn't have to mean decades of paycheck to paycheck. It could mean forgoing cable and a few less nights at the bar so you can take a course you've wanted to take. Or getting the efficiency rather than the one-bedroom apartment so you can afford to fully fund your Roth this year.
Being intentional with your income might involve some hits and misses before you get it right. But I'll bet once you hit on your own version of cheap living, you'll probably have fewer regrets than your "rich" neighbors.