"This post may contain affiliate links. Please read my disclosure for more info.
If you're the one paying utility bills in your home, then you're probably interested in ways to save electricity. So we've gone right to the expert on ways to spend less on your electric bill – Energy Star.
All of the tips here are easy to implement. And as you'll see, you can lower your electric bill and feel more comfortable, while saving thousands of dollars over the long run.
I'll also give you the low down on how your state could even help you to save money on electricity. We took advantage of a program in our state that enabled us to upgrade our entire HVAC system for a lot less out of pocket money than you'd expect. Details below! .
Simple Ways to Lower Your Electric Bill
Energy Star is a joint program between the US Department of Energy and the EPA. They rate various products, and will only add their seal of approval to a product if it passes their rigorous tests.
But if an appliance is Energy Star rated, you can bet it's a good way to save electricity.
According to Energy Star, the average American household spends around $2,060 per year on utility costs. And they estimate the breakdown of your costs are pretty close to this:
29% – Heating
21% – Electronics
13% – Cooling
13% – Water heating
12% – Appliances
12% – Lighting
Let's see where we can save electricity in each area. Lowering energy costs is really just a matter of making a lot of minor changes that together, have a huge impact.
1. How to Save Money on Heating Costs
Heating is probably the biggest chunk of your utility costs so lets see how to reduce that first. The efficiency of your furnace, the biggest appliance in most homes, is affected a lot by a cheap filter that can be changed without any tools.
All you need to know is the size, and it's clearly visible. Here's a photo of ours, and your should be similar:
The filter should be changed about every other month, so if you can't remember the last time you changed it, it's time. Just slide it out, and slide the new one in. It's that simple.
We buy packages of 3 or 4 filters on Amazon, priced in the $20-$30 range. When you purchase them, just be sure the dimension listed is the same as your filter. Click here to check for your filter on Amazon.
Another way to save electricity, is to install a programmable thermostat. Adjusting the inside temperature just a few degrees when you're not home or when you're sleeping will have a big impact over time.
We installed the Nest thermostat because it's not only programmable, but it can actually "learn" your schedule and adjust to it.
It has some cool features like remote access, so you can view and adjust it from your smartphone.
It also connects to a lot of other devices – anything that's labeled "works with Nest". For instance, certain carbon monoxide and smoke detectors will work with Nest, and if they detect carbon monoxide, they'll signal Nest to turn off the furnace.
Most utility companies offer an energy conservation rebate to install a programmable thermostat. The rebate combined with the energy savings would pay for a thermostat within a few months.
One caveat though… a programmable thermostat will only save money if you actually program it. They're very simple to adjust, and when you do, you'll be just as comfortable while you save money.
2. Unplugging Devices Will Reduce Your Electric Bill
I used to think saving electricity just involved shutting off lights. I guess I'm not the brightest bulb in the box, because I never realized that just unplugging things is a big energy saver.
Even when electronic devices are turned off, they're still pulling enough electricity, that it actually has a name – phantom energy.
According to the U.S. Department of Energy, an average home can have 20-40 things, all drawing phantom energy. And by the end of the year, you'll spend an average of one month's electricity bill, just to power things that aren't being used.
Things like lamps, TV's, toasters, blenders, coffee makers, game consoles, tools and other things are all costing money just by being plugged in.
For things like an entertainment center, or a desk with multiple devices, save electricity by connecting them to a smart energy strip.  Now they'll stop drawing power with the flip of one switch.
Remember, it's the combination of a lot of small adjustments that'll reduce your energy consumption the most. And make a big dent in your bill.
3. Cool Ways to Reduce Utility Bills to Air Condition Your Home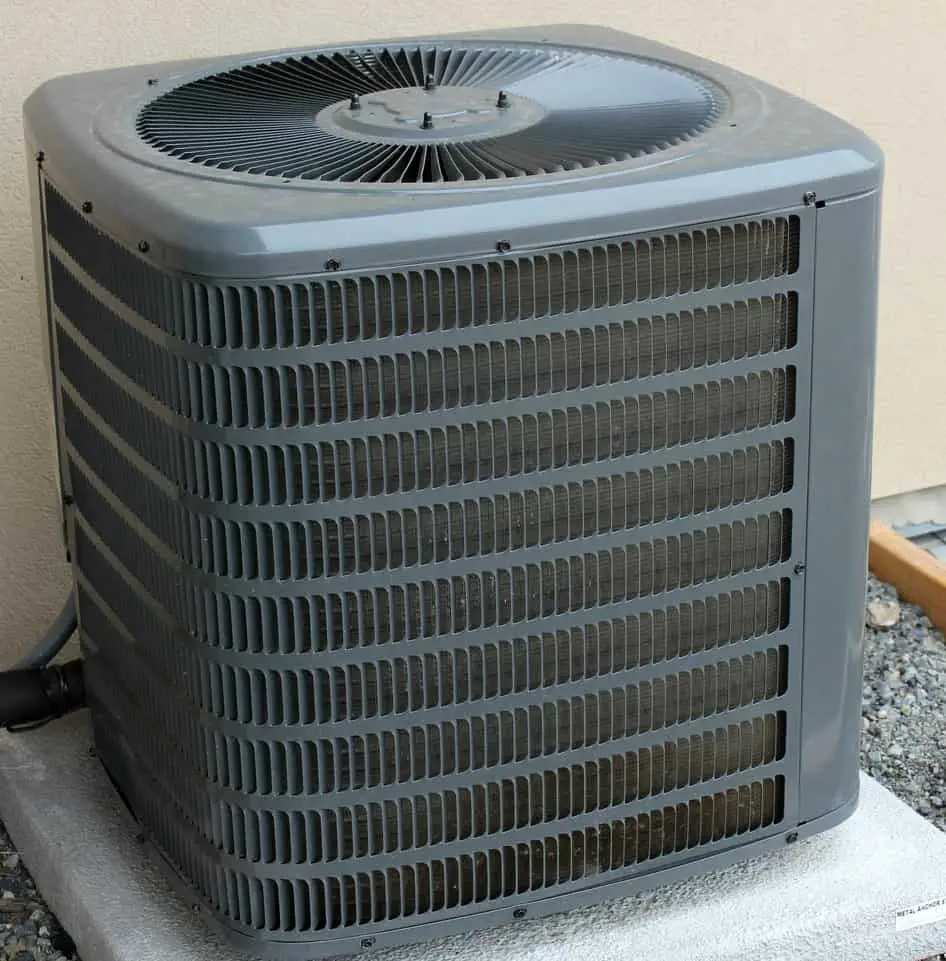 As a society, we've become so accustomed to our indoor temperature maintained between 68 and 72 that we immediately flip on the air or the heat when the temperature varies a few degrees.
You can always wear less clothes, but there's also a few things you can do to delay the time it takes for your house to heat up.
If you have windows on the east and west sides of your home, using some heat blocking shades or drapes in the morning and afternoon might help to delay turning on the air.
Or consider planting a shade tree outside the hottest corner of your home.
And as we mentioned, changing your furnace filter every month, or at the minimum, every other month will save money on cooling as well as heating. A dirty filter will slow down airflow and cause the system to run longer to keep you cool.
It's also a good idea to have your air conditioner checked and tuned up before the cooling season. I've always had the attitude that "if it's not broke, why spend money on it?"  But when I had our furnace replaced, I asked the tech what they actually do to tune up your furnace that the average home owner wouldn't do .
Here's what a trained HVAC tech would do to tune up your air conditioning unit:
Clean the evaporator and condenser air conditioning coils. Dirty coils reduce the system's ability to cool your home and cause the system to run longer, increasing energy costs and reducing the life of the equipment.
Check the refrigerant level and adjust if necessary. Too much or too little refrigerant will make your system less efficient, increasing your costs and reducing the life of the equipment.
Clean and adjust blower components to provide proper system airflow for greater comfort levels. Airflow problems can reduce your system's efficiency by up to 15 percent.
Tighten all electrical connections and measure voltage and current on motors. Faulty electrical connections can cause unsafe operation of your system and reduce the life of major components.
Lubricate all moving parts.Parts that lack lubrication cause friction in motors and increases the amount of electricity you use.
Check and inspect the condensate drain in your central air conditioner, furnace and/or heat pump (when in cooling mode). A plugged drain can cause water damage in the house and affect indoor humidity levels.
Check controls of the system to ensure proper and safe operation. Check the starting cycle of the equipment to assure the system starts, operates, and shuts off properly.
OTHER WAYS TO SAVE MONEY:
4. How to Save Money on Your Water Heating Bill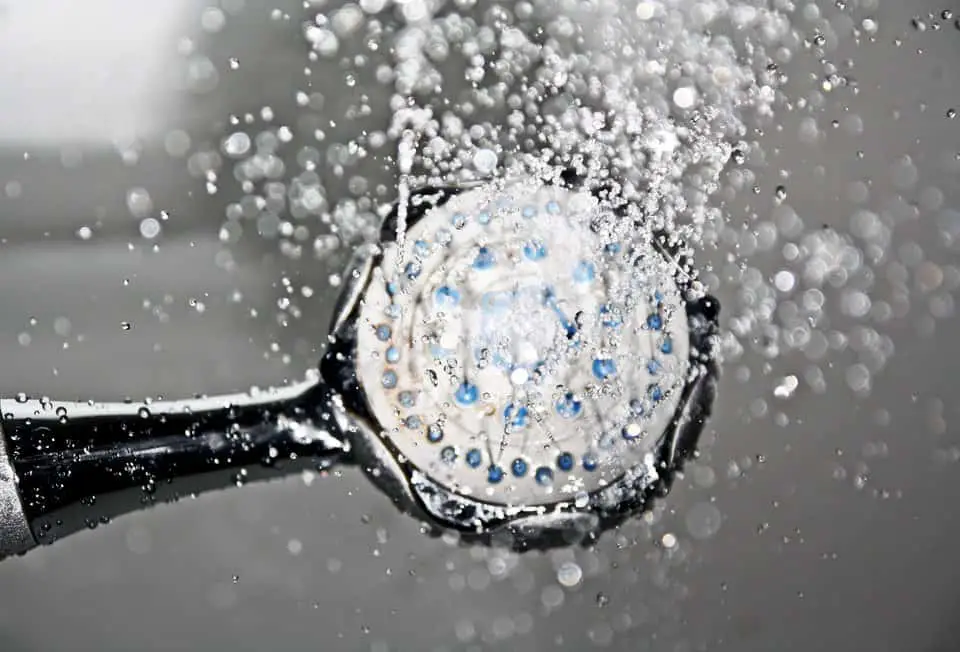 Most people never check their water heater to see what the exact temperature setting is. It's great to have a steamy shower and wash your dishes in scalding water, but adjusting the temperature just a few degrees is a great energy saver.
The average household spends up to $600 a year on water heating, so this is a good way to lower your energy bill. Energy.gov recommends lowering the temperature on your water heater to 120°F.
Use cold water for most laundry loads – Your clothes will still get clean if you wash them in cold water. If something's especially dirty that needs warm or hot water, go for it. But I've used cold water almost exclusively and have no complaints. Also, pre-soaking can help dislodge stains.
Use the dishwasher only when needed and at certain times – Dishwashers use plenty of hot water, but there are a few energy saving tips that'll minimize the cost to run them.
One obviously, is not to use it with only a few things in it. Try to rinse things and run it when you have a full load. Also, certain times of day or night are designated as "peak periods" where you're charged more for the energy you use. Since a dishwasher cycle can run for an hour or more, using it at non-peak hours – usually at night – can save on energy costs.
Install low-flow fixtures. Federal regulations now require new shower heads and faucets to have low flow rates, but if you have an older fixture it's worth the small cost of upgrading it to a low-flow fixture. Shower heads and faucets that pre-date 1992 can use more than twice as much water as new ones.
Upgrading to a low-flow fixture is a great energy saver. It'll save you 25%–60% of the water you use, and you probably won't even notice the difference in your shower.
The location of your water heater also makes a difference. If it's located in an unheated garage, it should be wrapped with a water heater blanket to reduce heat loss. Even if your water heater is located inside the home, if it's warm to the touch, a water heater blanket can reduce that heat loss by 25-45% and save an average of 7-16% on your annual cost. They're inexpensive and will easily pay for themselves in under a year.
 5. Ways to Save Electricity to Run Your Appliances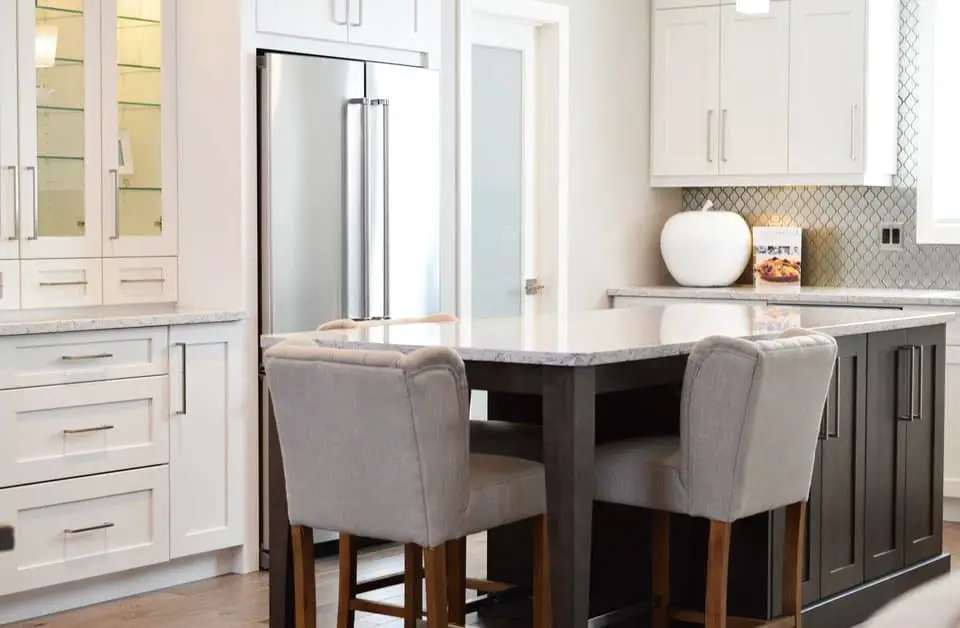 Refrigerators
Older refrigerators are one of the biggest energy hogs. If yours is more than ten years old, there's a chance it's using double or even triple the energy that a new Energy Star rated refrigerator.uses. (You can calculate your savings with this refrigerator retirement savings calculator ).
You can save electricity by adjusting the temperature just a few degrees. The recommended temperature setting is 35°-38°F for the fresh food compartment, and 0° F for separate freezers for long-term storage.
Check the refrigerator temperature by placing an appliance thermometer in a glass of water in the center of the refrigerator. Read it after 24 hours. Check the freezer temperature by placing a thermometer between frozen packages, then read it after 24 hours.
Make sure your refrigerator door seals are airtight. You can test these by closing the door over a piece of paper or a dollar bill so it is half in and half out of the refrigerator. If you can pull the paper or bill out easily, the latch may need adjustment, the seal may need replacing, or if that's not possible, you may want to plan on replacing it.
Another thing that drives up a refrigerator's energy usage is how many times a day it's kept open. With several people in your house, your refrigerator could be opened 30-40 times a day.
Like any Mom says, think about what you want before you open it. Or when you bring groceries home, stack all the cold items next to the fridge before opening it. And maybe once a week or so, clear old stuff out so it'll be easier to find what you want.
Dishwashers
If you're shopping for a new dishwasher, an Energy Star label means it'll save electricity over models without the Energy Star rating.
Federal standards now require dishwashers to use 4.25 gallons of water per cycle or less. To give you an idea of how they save electricity over older models… a dishwasher purchased before 1994 used more than 10 gallons of water per cycle.
And check to see if your dishwasher has an internal heating element – most fairly new ones do. This will enable you to adjust the temperature. Many dishwashers are set as high as 170 degrees, but it should operate fine between 120-150 degrees.
If your dishwasher has an air-dry setting, that will save on energy more than if you use the heat dry. If it doesn't have an air-dry setting, you can always just leave the door slightly open once the cycle finishes.
6. Ways to Save Money on Lighting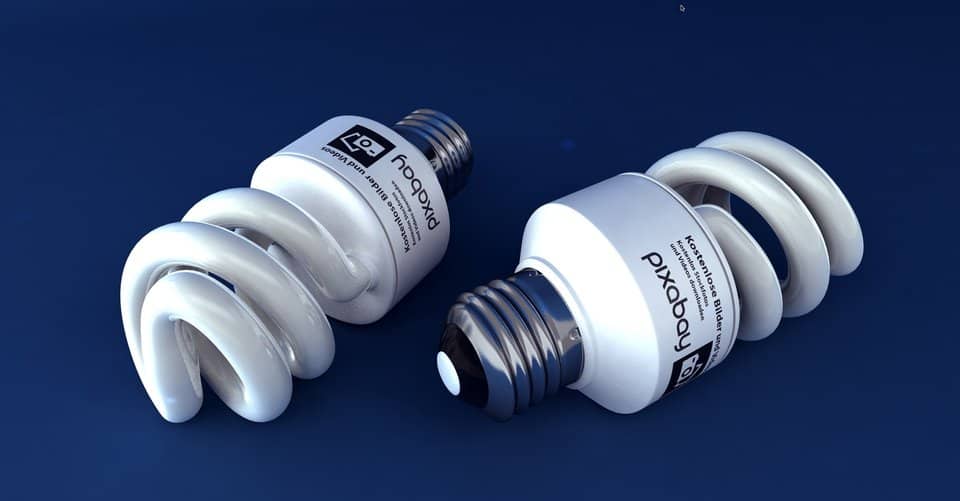 I admit it. I was penny wise and pound foolish for awhile. Every two weeks or so, I'd spend around $8 on a package of the old incandescent light bulbs.
Not only do they burn out in a fraction of the time compared to compact florescent bulbs, but can you believe this?
90% of the energy from an older incandescent bulb is given off as heat!
Spend a little more on CFL bulbs, and there's a good chance that once you install it, you'll never touch it again. CFL bulbs save electricity by using 70-90% less energy, and they last up to 12 years!
CFL bulbs should save $50-$75 in energy costs, as well as the cost of buying bulbs every few weeks.
Another great energy conservation tip if you're considering remodeling, is to add a skylight. It'll dramatically brighten up a dark room, and is a great energy saver. Or even if you're not doing a major remodel, consider a skylight for a room you spend a lot of time in.
Save Money by Taking Advantage of Rebates in Your Your State
The heart of your home's HVAC system (heating, ventilation & air conditioning) are the three appliances – your furnace, water heater and air conditioner.
If they're more than 10-12 years old, they're on borrowed time. And the older the equipment, the less efficient and more expensive they are to run.
Sure, nobody wants to shell out money to upgrade something that's still working. But when they do eventually fail, you'll be in a jam.
It'll be either the hottest or the coldest period of the year. And when a repair person tells you that your unit is either shot, or not cost-effective to repair, you'll need to scramble. You won't have time to shop around for rebates or discount programs.
Do yourself a favor by checking with your energy supplier to see if they're offering rebates or incentives to replace them. It's a lot less stressful having a plan, and you might be surprised to see that your out of pocket expenses could be a lot less than you'd expect.
Here's an example of what may be available in your area
Our state of New Jersey is offering a program called Save Green. It's an energy conservation program designed to provide incentives to homeowners to upgrade their HVAC systems – the furnace, water heater and central air conditioner – to high-efficiency units. The point being, that homes with high-efficiency equipment require them to deliver less energy, and enable you to save you a lot of money.
The incentives to upgrade are almost too good to pass up. They offer an immediate $5000-dollar rebate, and a zero percent loan of up to $10,000 dollars, payable over ten years. The cost is paid back by adding it to your monthly utility bill.
To take part in this incentive, the customer has to agree to replace all three units – the furnace, water heater and air conditioner because their aim is to increase the efficiency of your entire system. Only replacing one or two, and leaving a 15-year old unit to work with them detracts from the overall efficiency.
The typical process of a rebate program:
You contact the company running the promotion – in our case, NJ Resources – and apply for the program, which takes a few minutes. Then they instruct you to get an estimate from a contractor of your choice who is participating in the program.
Almost all contractors in the area are aware of the program and participate because it means money in their pocket.
The contractor comes out to your house and conducts a home energy audit, checks your installed systems and then within a day or two, will provide you with a written estimate. (This is where I noticed a huge difference between two different contractors).
Once you settle on a contract, you'll receive the $5000 rebate which covers your down payment to the contractor. This is why most contractors participate – it's guaranteed business.
The remainder of the cost can be paid out of pocket or financed over 10 years at zero percent. To give you an idea of how that would affect your gas bill if you were to finance the maximum, $10,000 – it would add $83 to your monthly bill.  That can also be pre-paid at any time.
Getting the Estimate
The first estimate I got was from a company who had a huge presence in the area because of this program. I saw multiple signs in front yards all over my neighborhood where they were doing current jobs.
He came in and spent about 15 minutes checking the layout of the house. Then he opened the stairways to both attics and shined a flashlight into them. He advised me that the house would benefit from the program, told me I'd receive an estimate and then left. He was here a total of about 20 minutes.
My neighbor happened to go through this program a year earlier and recommended his contractor highly. Their office was 45 minutes away, but I called anyway just to get a second estimate.
The second contractor showed me what a real home energy audit should look like. He proceeded to check every single vent, return, checked outside, went into the crawlspace, went in (not just poked a flashlight into) both my attics and then asked me to accompany him in the attic.
In the attic, he pointed out several pieces of ductwork that were either sized or routed incorrectly, and explained how he would correct them. He pointed out the inefficient insulation, and also pointed out places in the home that had cavities where cold air existed against bedroom walls.
I was expecting 30 minutes at the most, but he was there a full 90 minutes!
So, my lesson was, don't just go with the first contractor, or hire one because he happens to be doing a lot of jobs in your neighborhood. Get a few estimates.
The Typical Cost
Now, for the bottom line – my house at the time was about 18 years old, so all three units in my HVAC system were due to be replaced. He gave me three estimates, that ranged from $14,000 to $16,000. Basically, the good, better, best of equipment.
The estimate included a new central air conditioner, furnace, water heater, programmable thermostat, all labor, some new ductwork, and all new insulation in two attics. He would also bring in another company that specializes in testing and sealing homes.
Getting the Work Done
The process took three days. The first two were for the installation and testing of all the equipment, and on the third day, the sealing company spent the entire day gluing one-inch foam boards on every square inch of our crawlspace and every attic wall that faced an interior room.
He actually cut a hole in the wall of my daughter's bedroom, climbed through, and insulated the opposite side, then patched the wall perfectly.
They insulated all pipes in vulnerable areas. And they replaced all insulation in two attics as well as several pieces of ductwork.
They also performed a seal test before and after all the work was done. This detects any leaks around windows, doors, attics or other vulnerable areas. It takes about 15 minutes and involves closing all windows, and sealing plastic sheets across every vent in the home. Then they attach a fan at the front door which is connected to a monitor. They should see a significant improvement once the job is completed.
Consider the Long Term
There's no question that our home is more comfortable after getting a thorough energy audit, and upgrading to high efficiency HVAC equipment. I shiver just thinking about our first winter here, sitting around in sweatshirts.
But aside from the immediate comfort (and lower bills), you may want to look into some local rebate programs with your home's resale value in mind.
The major appliances are one of the first things a home inspector will look at. And if they've surpassed their useful life, it's enough for a potential buyer to pass on it.
If you'd like to find out if there's a similar program in your state, here's an interactive map. Just click your state to check the available programs.
Final Points
Don't assume you can't have much of an impact on your utility bills. Just by making a number of small changes you can save on energy costs to the tune of hundreds of dollars per year.
First, evaluate the main components of your HVAC system. If they're less than ten years old, you'll probably want to make all the changes you can around the house to ensure they're working at peak efficiency.
Installing new insulation in the attic may be a bit uncomfortable, but it's a great way to lower energy costs and can be done by almost anyone.
Unplugging electrical devices, installing a smart thermostat and sealing and caulking air leaks are all easy things that will make a noticeable difference in your energy bill.
Remember, sometimes spending a little money can save a lot of money. So investing in things like caulk, pipe or attic insulation or a smart thermostat will more than pay for themselves during the first year.
How about you? Have any ideas to save electricity in your home?