"This post may contain affiliate links. Please read my disclosure for more info.
One of the largest expenses most people have each month is at the grocery store. And several hundred dollars per year is usually spent on cleaning products.
Many of those products are not only expensive, but contain known toxins.
Bleach can affect your respiratory system, ammonia can irritate your eyes, nose, throat, and lungs and if mixed with bleach, can even be fatal. Even popular air fresheners contain formaldehyde.
Here below, are mixtures to clean any part of your home with ingredients that are not only safe around your family, but they'll cost a fraction of the price of brand-name cleaners.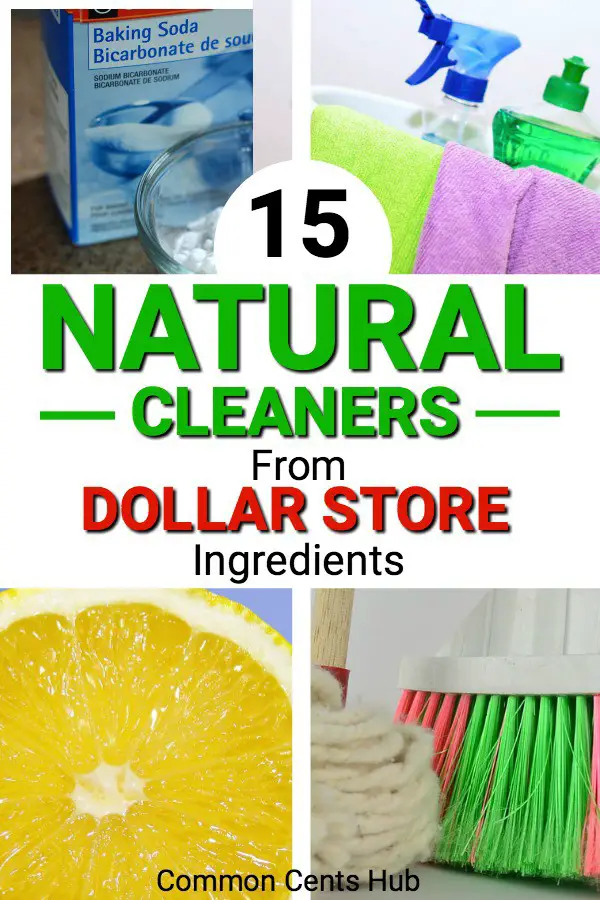 Another bonus is that several of these cleaners are made from the same ingredients. So you'll have much lesss clutter. 
Below is a list of ingredients you'll need for these mixtures. You may already have some, but if not you can pick them up at the dollar store. And if you buy the larger containers you'll probably have supplies for well over a year.
2 or 3 spray bottles. If you have a label maker, great. Otherwise, a piece of tape and a marker will do fine to label your bottles.
A package of sponges and couple scouring pads.
Baking soda.
White vinegar – I'd buy a gallon.
Liquid dish soap – any size bottle.
Hydrogen peroxide.
Rubbing alcohol.
Essential oil – whatever scent you like.
Olive oil.
Natural Cleaners for the Bathroom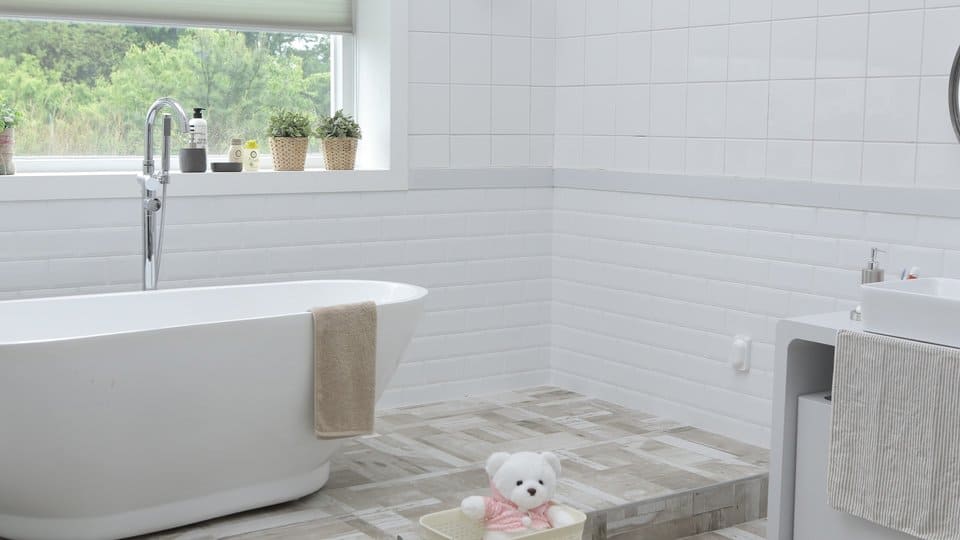 Ingredients:
About 2 Tbsp. of Hydrogen Peroxide
About 1/4 Cup Baking Soda
Sponge
Lightly wet the sides of the sink, then sprinkle on some baking soda. You don't need a lot, just a dusting. Scrub the sink using a sponge. It's crazy how good this works to remove stains so quickly. Then add the hydrogen peroxide to your sponge and scrub some more.
You may see some of the scratches on the sink surface starting to disappear. It's ok if there are a few remnants of baking soda left in the sink. After you scrub the sink with the hydrogen peroxide, just leave it for a few minutes and then rinse.
Ingredients:
Vinegar
Baking Soda
Spray Bottle
Spray some vinegar around the bowl of the toilet, and let it sit for several minutes. Then sprinkle some baking soda into the bowl and work it around the bowl with your toilet brush. The abrasiveness of the baking soda is a great cleaner. Now just flush and you're done!
Ingredients:
White vinegar
Liquid dish soap
Just use a 50/50 mixture of the vinegar and dish soap in whatever amount you need. Some people like to use the mixture in a soap wand, but a regular spray bottle works fine too.
Just spray your mixture around the shower walls, let it work for a few minutes then wipe down with a sponge. Dryer sheets also work great for shower walls.
Ingredients:
Hydrogen Peroxide
Baking Soda
Toothbrush
Small Bowl or Tupperware container
In your bowl or container, mix enough hydrogen peroxide and baking soda to form a paste. You may want to add the hydrogen peroxide in slowly until you get a pasty consistency, kind of like toothpaste.
Once it's mixed, use a toothbrush to scrub it onto the grout. Be careful about straight hydrogen peroxide getting on other areas because it tends to bleach it so clean, that areas around it will look dirty.
After you've scrubbed the cleaner into your grout, let it sit for about 30 minutes. Then vacuum or sweep the excess and clean the floor as you normally would. Your grout should look new again.
Natural Cleaners for the Kitchen
Cleaning the Oven Glass Door
Believe it or not, baking soda alone can get the baked on grease off your oven door glass. You'll have to put it on pretty thick but it's cheap. All you do is totally cover the inside of the glass.
Be generous. Once it's covered, wet a scouring pad and move the baking soda around to form a thick paste. You may need to add a little water if it's not forming into a paste.
Once you've scrubbed the paste around the glass, then let it sit for about an hour. Now continue to scrub and you should see it becoming clean. If there are still stubborn spots, repeat the process and let it sit overnight this time.
Ingredients:
Aluminum Pan (It needs to be aluminum. Find these in the grocery baking aisle)
Baking Soda
Boiling Water
Start by laying the silverware in a single layer in your pan. Then sprinkle about 1 cup of baking soda over the silverware.
Don't scrimp on it, you need to cover the silverware. Now pour enough boiling water into the pan to cover the silverware.
Wait about 15 minutes for the water to cool, then wipe the silverware with a clean cloth and the tarnish should come right off!
Natural Cleaners for the Laundry Room
Homemade Stain Remover for Clothing
Ingredients:
2/3 cup liquid dish detergent
2/3 cup ammonia
2 cups warm water
6 Tbsp baking soda
Stain removers come in handy for kid's clothes, sports uniforms, grease stains and everything else that normal washing can't get out.
This homemade mixture is cheaper than products like Shout and works just as well. Just combine the ingredients in a spray bottle, shake it up to mix, and spray on.
Let it soak in for several minutes and if the stain remains, give it some gentle scrubbing. Then wash normally.
Natural Cleaners for the Living Room or Family Room
Carpet and Upholstery Cleaner
Ingredients:
Baking Soda
Essential Oil- whatever scent you choose.
Air tight container – Tupperware or a mason jar to store it.
This is a simple formula where the baking soda absorbs odors, and the essential oil will give a pleasant scent.
Just mix about 12 drops of the essential oil per half-cup of baking soda. Store it in your air-tight container, and to use it just sprinkle on your carpet or furniture, leave it for about 15 minutes and then vacuum up.
Ingredients
1 cup water
1 cup rubbing alcohol
1 Tbsp. vinegar
Just add each ingredient to a spray bottle, shake it to mix and it's ready.
Ingredients:
2 cups water
½ cup white vinegar
1 tsp dish soap
1 tsp baking soda
Mix together in a spray bottle, spray the surface and wipe.
Natural Cleaners for any Other Area
Here are several natural cleaners, disinfectants, insect repellents and weed killer.
Ingredients:
1 cup water
1 cup rubbing alcohol
Just mix in a spray bottle and you're all set.
Ingredients:
1 cup linseed oil
½ cup lemon juice
In a spray bottle.
Just mix the ingredients in a spray bottle, apply to the wood surface and use a soft cloth to clean.
We've seen this work like a charm. Last Spring we suddenly began seeing black ants appear in the kitchen. 
We mixed about 2 tablespoons of peanut butter with the same amount of Borax and left it on a small piece of wax paper on the floor. 
The peanut butter attracts them and when they bring it back to the colony the the Borax will kill them. We let them swarm on the peanut butter until it was gone and we haven't seen one single ant since.
Ingredients:
1 Gallon white vinegar
1 cup table salt
1 Tbsp liquid dish soap
Mix the ingredients in an empty gallon container and then just spray on weeds. This is a big money saver, as name-brand weed killer sells for almost $10 per quart. And there's no worries about pets being in treated areas.
Ingredients:
1 part baking soda
1 part vegetable oil
Just mix the ingredients together, then apply to the area and let sit for 5 or 10 minutes. Rinse with warm water. I've found for extra stubborn goo, a plastic scraper (that won't damage the surface) works well.
Manufacturers would love us to believe that we need an individual cleaning product for every single surface in our home. 
That's not only not true, but it exposes our families to cabinets full of chemicals
If you're trying to trim expenses, you can cut down on cabinets full of clutter at the same time. There's no need to spend several dollars on bottles of chemicals to spray around the house when you can use safe natural cleaners that work just as well. 
Give some of these a try and let me know how they work for you!