"This post may contain affiliate links. Please read my disclosure for more info.
How to save money on groceries might not be your first thought when you're trying to cut expenses. You might look at your rent or mortgage, your car payment, or the actual bills you get in the mail each month.
But it's pretty common for food to be second only to rent or mortgage in an average family budget.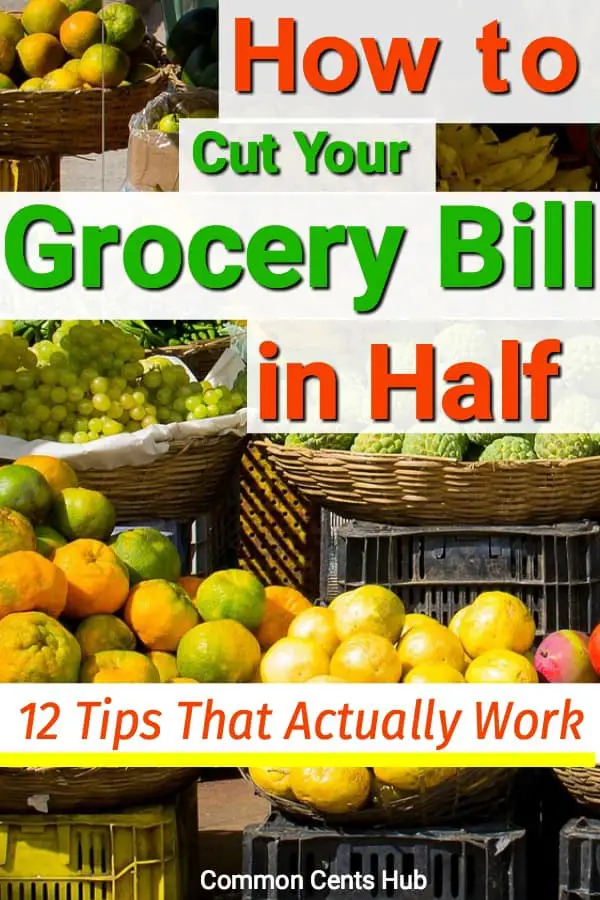 But here's the good news:
While most bills aren't very flexible, your food expenses are. With a little planning, you can drastically reduce your grocery budget, and in the process, have several hundred more dollars in your budget each month.
We reduced our grocery budget from almost $900/month to less than $500 using these 12 simple keys.
You don't need to use every single one to significantly reduce your food budget. But if you can incorporate several of these into your routine, you'll save on groceries every month.
If your food store is anything like mine, every month it seems that the prices go up and the size of the package goes down. So, by doing nothing, you're not only not lowering food costs, but you're falling further and further behind.
Before you put these tips into action you'll want to get a benchmark. This way you'll know exactly how much you minimize your grocery budget.
Check your bank statements or your online account and total whatever you've spent on food over the last few months.
But don't just total groceries. Include:
Take-out food
Restaurants
Convenience stores
Work lunches
It's all food, and it comes out of the same paycheck. So if you can bring home what you need in one trip to the grocery store, a lot of those $10-$25 purchases can magically disappear. 
12 Keys to Drastically Reduce Your Grocery Budget
1. Cut your grocery bill and still eat healthy by planning your meals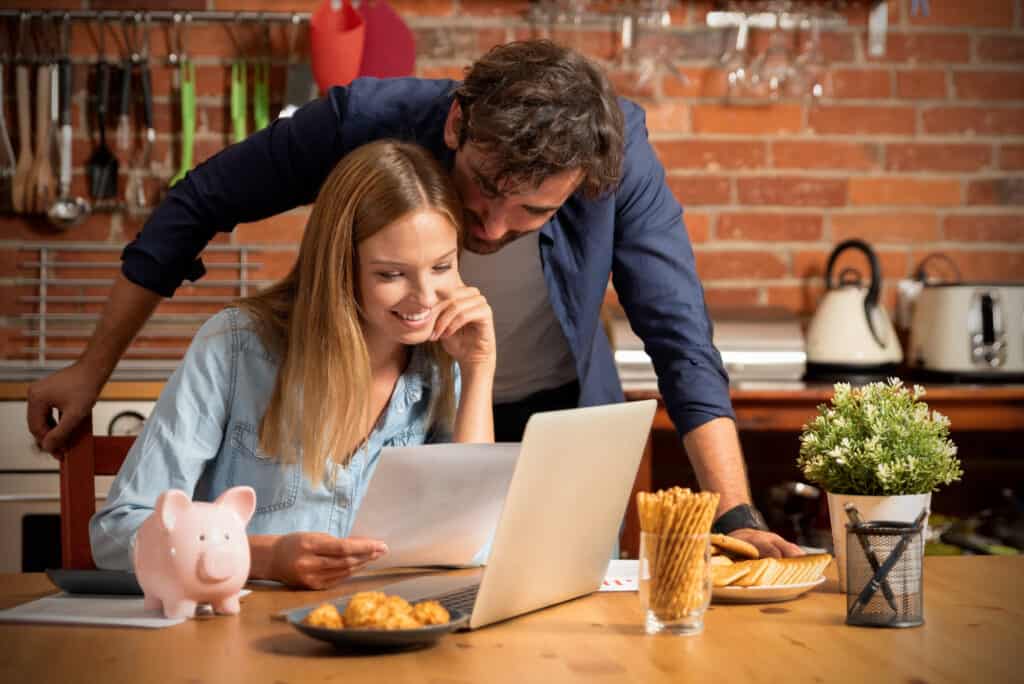 Planning meals is the single most effective way to drastically reduce your grocery budget.
It's not as hard as you might think, and the reason it's so effective is because we tend to buy food in so many different ways – that's what drives the monthly cost so high.
I'm not suggesting you never order a pizza again.
But what if you could eliminate those $7 work lunches.
Or the convenience store breakfasts.
Or those "quick trips" to the store for 2 things, when you spend $35.
Or the take-out orders two nights after you grocery shop because you can't find anything to make.
Here's what makes meal planning so effective:
When you think in terms of meals, rather than bread, milk, cereal etc, you eliminate those extra trips to the store, and the need to buy take-out, but you also eliminate the stress of trying to figure out what to make with what you have. 
It's not hard to come up with a simple system to plan a week or two of cheap, healthy meals.
The DIY Method:
Grab a calendar or your planner and look over the next week or two. Just note which nights you'll need a quick dinner (or no dinner) and which nights you'll have more time.
The object is just to write down a dinner for each night, and maybe plan for leftovers for lunch. Breakfasts should be fairly simple.
If it's written down, all you'd need to do is check the ingredients you already have, and write your shopping list from that. 
A More Automated Method:
If you prefer a quicker solution, you might want to check out $5 Meal Plan.     
It's not one of those premium plans that send you pre-packaged food where you're paying extra for packaging and delivery.
The idea is to spend $5 each month, in order to save a few hundred.
We know that planning meals will save a lot of take-out orders, extra trips to the store, and save you from buying work lunches. 
$5 Meal Plan just does the planning for you. Each Friday, they introduce new meals to their database of hundreds of complete meals. 
So all you'd do, is log in once, scroll through and select your meals. Then you can either print or save:
A menu you can share with the family.
The directions to make each meal. (most are 20 mins or less.)
A complete, combined shopping list with every ingredient you'll need for the next week or two.
I took advantage of their two-week free trial when I joined, and you can see screen shots of what I encountered here in my $5 Meal Plan review.
2. Pre-Packaged or "Convenient" is Anything But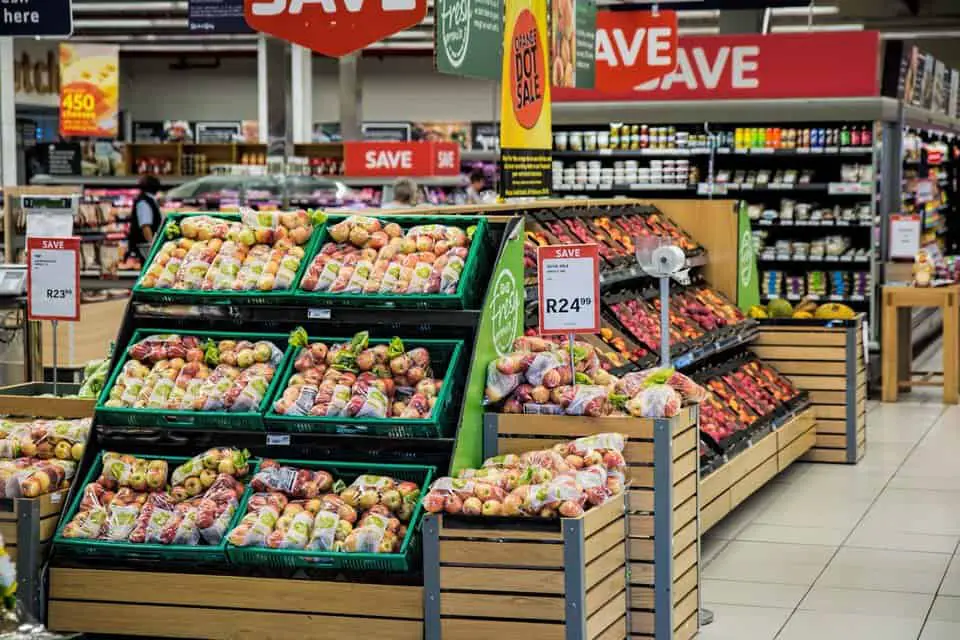 Some of the most expensive foods in the store are the pre-packaged items labeled for "convenience".
Things like granola bars, individual serving sized packages of cookies, chips, and lunch meat/cracker combinations. You pay for the extra packaging, so the per ounce price is a lot more than buying the same foods in bulk. 
You'll reduce your food budget by buying a large bag of pretzels for instance, and bagging them yourself.
And speaking of "convenient", that ready-made food at the supermarket costs double or triple what you'd pay for the ingredients to make it.
It may seem easy to buy six prepared chicken fingers at the deli counter, but it costs a lot more, and it's also made from their own food that's probably about to expire.
Buy a large bag of the store brand pretzels or crackers and bag them yourself for brown bag lunches.
Avoid pre-cut fresh fruit. Spend a couple dollars on an apple slicer to slice your own apples. Make your own snacks like granola bars, rice crispy treats, cookies, brownies, or trail mix from scratch.
There's a reason why the prepared food section is near the entrance. It's tempting to walk by, and it's also much more expensive.
3. Develop a Freezer Meal Strategy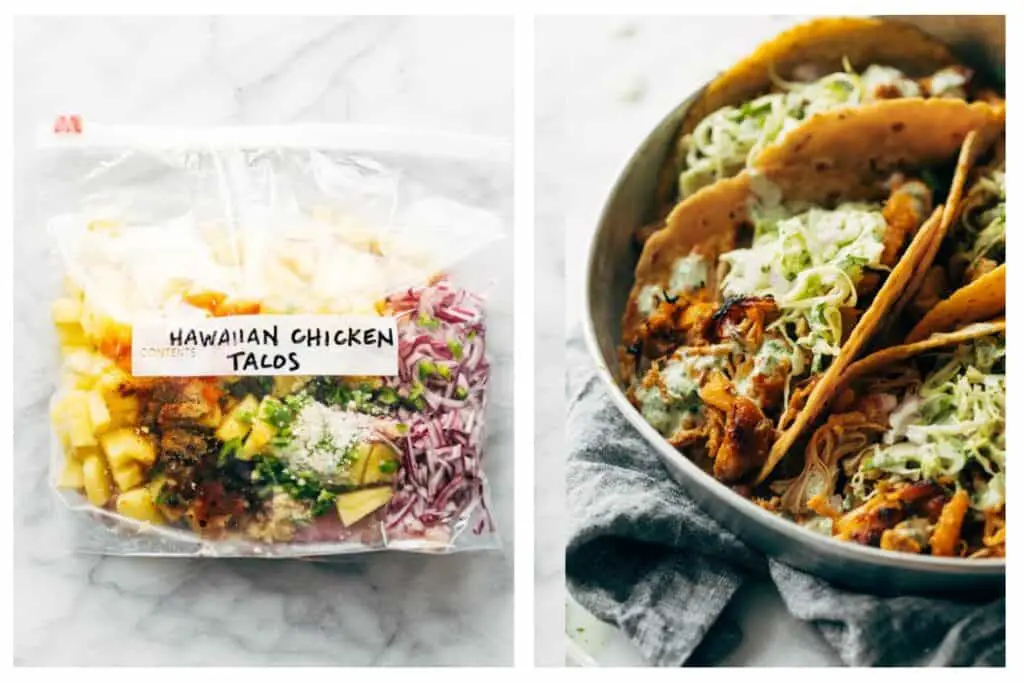 Preparing freezer meals is not hard. And if you try it a few times, you'll see they have more benefits than just saving money.
Imagine coming home after your kid's soccer game, or a tough work day and having your choice of 4 or 5 different meals to just pop in the oven while you sip a glass of wine.
Or better yet. Pick up the phone and say, "Hey honey, can you pop that casserole in the oven? I'll see you in 45 minutes." 
Or just open the fridge and pick one of 4 or 5 pre-packaged slow cooker meals and drop it in on your way out the door. 
When you batch prep several freezable meals ahead of time, you'll spend about the length of time to prepare one meal, but will store up to a week's worth.
You'll eat healthy, flavorful meals, while eliminating the stress of nightly dinner prep… and you'll eliminate the excuse of ordering take-out or going to a restaurant because nothing is planned.
Here are 28 easy freezer meals that'll help you to trim grocery spending and reduce your overall time preparing meals.
If you haven't tried crock pot cooking, they really simplify dinner. Being able to drop some ingredients in, turn it on and come back in several hours is amazing! And instant pots take it to another level.
4. Reduce Your Grocery Budget by Knowing Where to Shop
We're all rushed, and going to more than one store may seem like a hassle. But again, planning is key.
One of your local stores may be cheaper for things like coffee or paper products, but more expensive for other things.
In our local store, cereal has topped $5 for a decent sized box. Or for $3.50 you can buy the box that'll be gone in two days. But a mile down the road at Target, Walmart or Aldi I can get the huge box for $3.
It's these few things, week after week that add hundreds more dollars for the year. 
Saving money is really about being more intentional about our spending habits. Over the course of a year, those "small differences" can add up to several thousand dollars.
Even if you're saving only $10 each week, you'll have reduced your grocery budget by over $500 for the year.
Certain stores like Aldi can really make it worth your while to make an extra trip. Many of their items are 30-40% lower than what you'd find in other stores. For someone who spends $150 per week in their local store, shopping at Aldi can easily save over $2000 per year!
Making an extra stop will be easier if you time your trip for a day and time when the store isn't crowded.
If you can breeze through, you'll be more inclined to make another quick stop. And once you familiarize yourself with prices you'll know exactly what you're going to each store for and won't be wasting any time.
5. Buy Large Quantities for Certain Items
For some items, even if they're not on sale, you'll save money by buying a larger quantity. If it's something that'll keep ok, like pasta, paper goods or cleaning supplies you'll save two ways.
You'll pay less, and you'll shorten your shopping list for a few more trips.
If you shop regularly, you probably have a pretty good idea of the prices you pay for your regular items.
Keep an eye out for their weekly flyer because it'll always have deep discounts on certain items. That's when you'll want to stock your pantry or your freezer.
Since the object is to reduce spending over a monthly basis, you can still double up on a sale item one week and come out ahead for the month.
6. Reduce your grocery budget using easy apps like Ibotta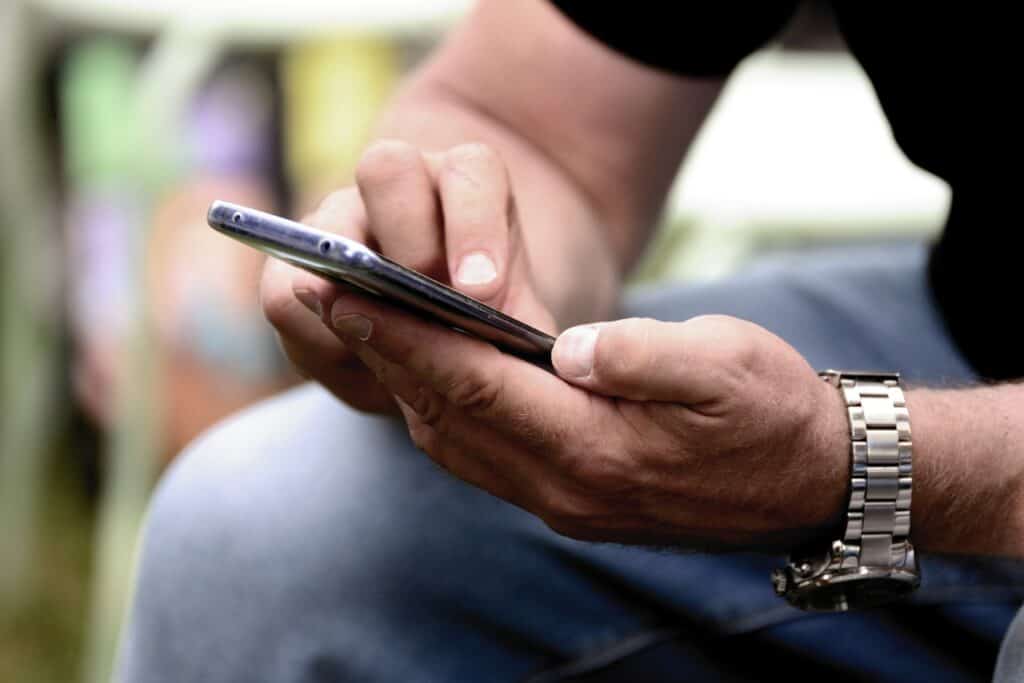 Ibotta is the next generation of couponing. You no longer need to scour ads with your scissors and carry a fist full of paper to the store. 
It's an easier way to consistently reduce your grocery budget.
Here's how it works:
Ibotta is a free smartphone app where every Wednesday they release new discounts for the week through the app. 
Once you have a shopping list, check Ibotta to see what products they're offering rebates for this week. Just select them in the app.
By the way, they'll rebate you for things like liquor and restaurants too.
After you return home from shopping, use the app to scan the product, take a picture of your receipt and tap submit. Ibotta will deposit the rebates to your PayPal account. It's that easy.
So, you don't need to spend time bringing paper coupons with you. But a nice bonus is, that even if you do cut and redeem manufacturer's coupons at the store, you can still receive a rebate from Ibotta.
Many of the discounts aren't brand specific. They may say, save $0.25 on any brand of bread, or shampoo. You have up to a week after you shop to claim your rebates.
Ibotta features discounts on almost anything you can buy in a typical grocery store. And they've recently expanded into a lot of other merchants like Walmart, CVS, Aeropostale, Kohls, Hanes, Chili's, Ruby Tuesday, Buffalo Wild Wings and a long list of others.
Some of the restaurant offers are generic too. For instance, there's one where you can save $4 on any meal if you order a Bud Lite.
It doesn't cost anything to use Ibotta, in fact, they pay you $10 just for signing up! So not using it is really like leaving money on the table.
7. Have a Few Fallback Meals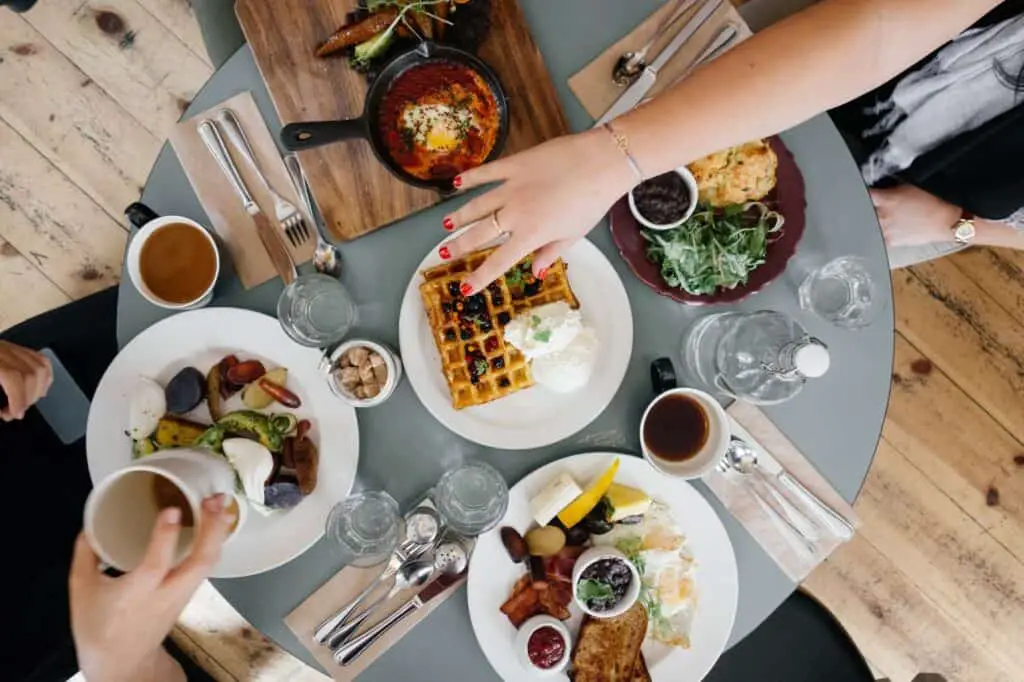 No matter how we try to plan, there are going to be those days when it's 5 PM, and you need to decide:
"Do we have something I can make quick, or do I just call for take-out?"
It's "convenient" to drop $20-$25 on pizza and wings, but even at once a week, that's around $1000 per year.
Having a few fallback meals – things you know you have the ingredients for, and can make in 15 minutes, can save hundreds of dollars.
What You Can Do:
Once you start planning meals, try to stock extra ingredients that'll either keep longer, or that you regularly buy.
Things like pasta, eggs, pancake mix, frozen burgers.
It may not be your first meal choice, but having a little stockpile of staples will help two ways:
Cut way down on take-out orders.
Eliminate extra grocery trips that always result in more than "just a few things". 
8. Buy Meat Sparingly or De-Emphasize it in Your Meals
Meat is one of the most expensive things in your cart. And if it's your main course for every dinner that can easily be 20-25% of your entire shopping trip.
One way to reduce your grocery budget is to de-emphasize meat as your main course. Reduce the portions of meat, and emphasize other foods. Or limit it to a few times a week, and substitute another protein like beans in its place.
Believe it or not, there are plenty of meatless meals you can make. Last week we found a recipe for meatless chili that was delicious.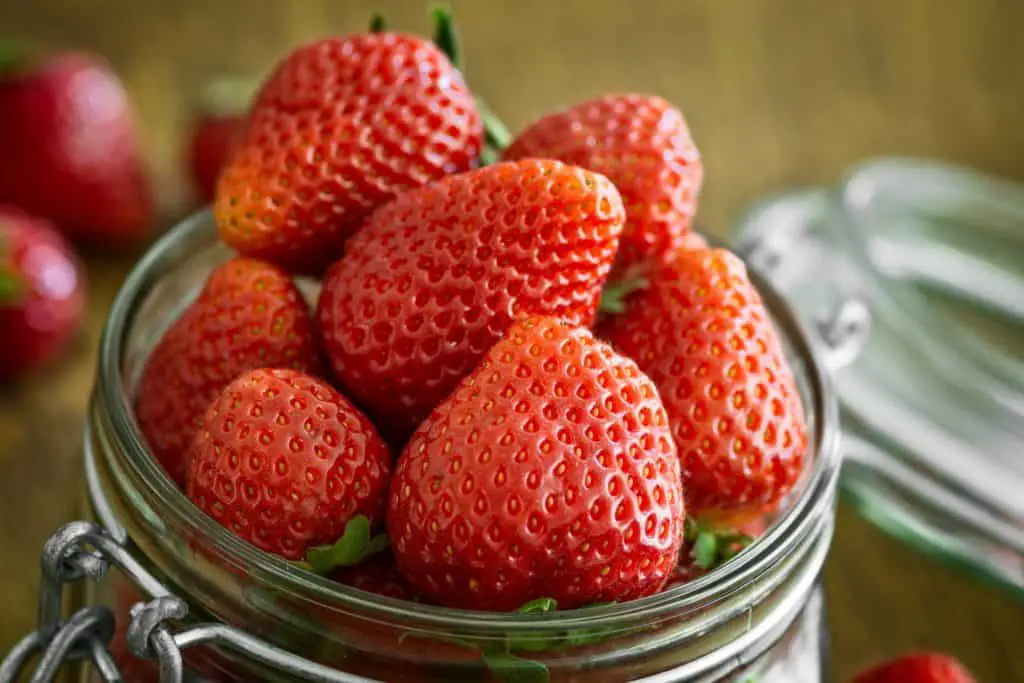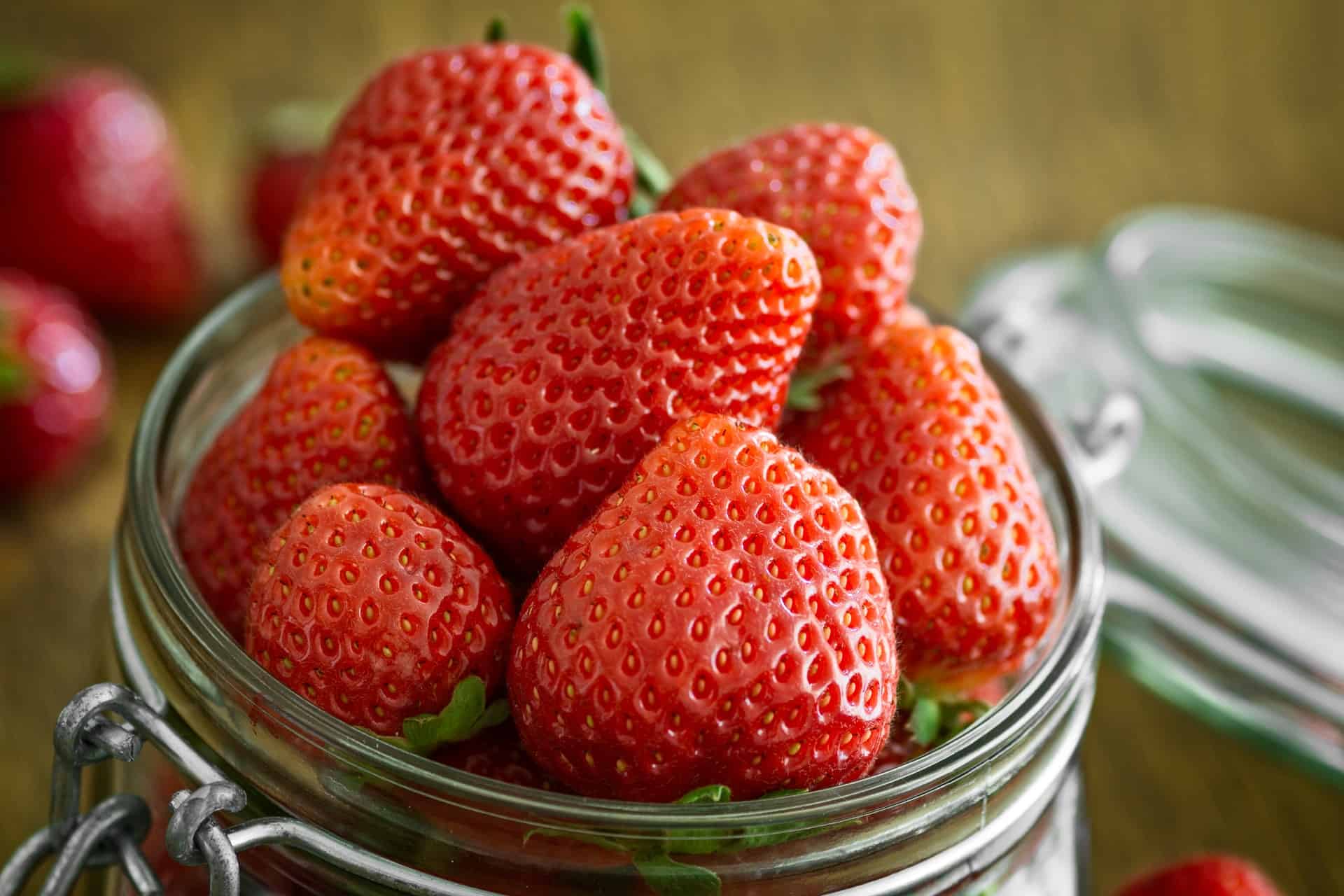 We think of meat as the most expensive thing in our cart, but things like strawberries, blueberries and avocado's can add up too.
So if you have an area to dedicate to it, and a little time, planting a garden is a great way to reduce your grocery budget and eat healthier.
If you're new at gardening, you may want to start small and stick to a handful of plants that'll give you the best bang for your buck.
Lettuce and spinach. The leafy varieties of lettuce and spinach are one of the quickest growing plants and are harvested within about a month of sowing your seeds. And it replenishes itself quickly after you pick it.
Tomatoes. However you serve them, there's nothing like a fresh tomato right from the garden. Growing tomatoes will also reduce your grocery budget because they're great fresh and are also perfect for canning. You can be enjoying homemade tomato sauce, salsa, and juice for months.
Herbs. If you use fresh herbs from the store, you already know the great flavor they add to your recipes. Herbs are also great to grow because they need such a small spot. My neighbor grows herbs right under her living room window and you wouldn't even notice them from the street.
Cucumbers, zucchini, and squash. These three are great producers so give them plenty of room to grow. Pretty soon you'll be sharing them with friends and neighbors and using them for everything from salads to bread.
Bell peppers. Peppers are expensive in the store, so growing your own is a great money saver. You'll have an entire bag of peppers for the price you'd pay for one at the store! Grow all kinds of colors from just one variety.
Green beans.  A great low maintenance plant, green beans will grow as long as you have sun and warmth. Like tomatoes, they'll need something to support them so plant them along a fence or use a small cage or home-made trellis.
If you've never grown a garden before, you may surprise yourself and find you have a green thumb. It'll also be surprising to see just how much you can harvest from a small piece of your yard.
And it's great getting kids involved so they can see where their food comes from. Maybe they'll even be inclined to eat a salad.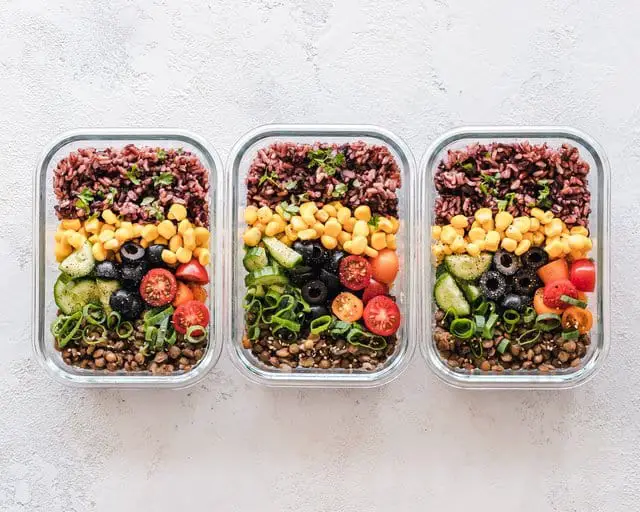 It's nice getting a fresh piece of fish or a single steak, but making a single serve meal isn't always an economical use of time or money.
Batch cooking (and freezing) things like chili, pasta sauces, stews or casseroles is a great way to save money, time, and to always have something on hand for unexpected company. Or after a long day at the office.  
11. Think Twice About Bulk Buying Stores
Buying in bulk is advertised as being cheaper, but it's not necessarily. Some items may be cheaper, but it all depends on the things your family uses.
Do you want to store a six-month supply of peanut butter to save $4?
I've seen some products like certain auto supplies or tires cheaper than other local stores. And some of the meats are a cut above local supermarkets – but not cheaper.
The membership fees of stores like BJ's, Costco or Sam's Club average $80-$100 per year. It may seem like the fee is to avail yourself of their cheaper prices, but I think it's also to create an air of exclusivity. 
Your best bet is to know your prices, plan your meals, and use a rebate app that'll pay you to use it.
12. It's Ok to Keep it Simple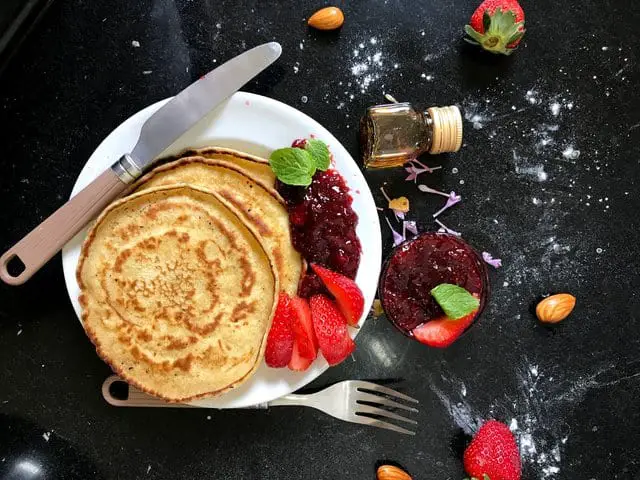 Cooking can be a fun way to spend time with family and friends, but it's easy to over-complicate things with multi-step recipes and a cabinet full of ingredients.
So many delicious meals around the world are made with simple ingredients and a few spices.
If you choose to go with $5 Meal Plan, all their meals are designed to be made in 20 minutes or less, and average about $2 per plate.
The Keys to Reduce Your Grocery Budget
Remember, food is very likely your second highest expense each month. But it's also the one you have the most control over.
The keys to reduce your grocery budget by several hundred dollars a month aren't complicated. And once you get your own system down, you'll not only save a lot of money, you'll save time also.
Some of the keys to remember:
Total Everything You Spend on Food
When you're totaling food expenses, consider everything you spend on food – groceries, take-out food, restaurants, convenience stores, and work lunches.
Take your schedule for the week and plan meals before the week starts. Try using an app like  $5 Meal Plan that suggests meals and provides you with a shopping list and step by step directions.
The objective is just to come up with a list of meals that fit your schedule, and a shopping list that'll cover all meals and snacks for the week.
Use Couponing Apps to Receive Rebates
Check Ibotta to see what products they're offering rebates for this week. If any are on your shopping list, great! Scan them when you get home and have money deposited in your PayPal account.
We get used to certain brands and automatically pick them up, but many of the store brands have almost identical ingredients.
Especially things like over the counter medications, frozen foods, and even snack foods.
If you spend an average of $100 each week and can save 15% by mixing in some store brands, you've saved almost $800 throughout the year.
Don't be intimidated by planning a week of meals at a time. Once you get your own system down it'll become second nature.
And in addition to saving money, you'll also free up a lot of time:
No more emergency food trips.
No more 4pm worries about what to make and wondering whether you have the ingredients.
No more fumbling around with unfamiliar recipes.
Trying new restaurants is fun, and we all need a break sometimes. But if you can eliminate the trips solely because "there's nothing to make", it'll go a long way to drasically reduce  your grocery budget.
How about you? Is your food budget out of hand, or have you found a good way to keep it in check?
TWO GREAT WAYS TO MAKE EXTRA MONEY EACH MONTH