"This post may contain affiliate links. Please read my disclosure for more info.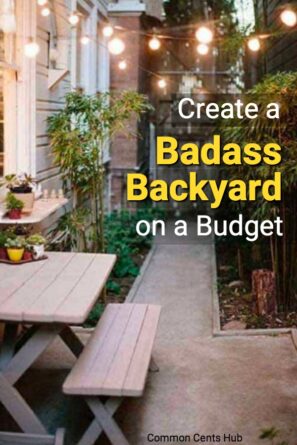 When the weather's nice, there's nothing like having your own outdoor space to kick back and relax in. Whether that's a backyard, a patio or just a private space isn't that important.
What's important, is that it works for you. That it's setup as a place you can't wait to come home to.
You don't need a waterslide from your bedroom to your olympic sized pool to be badass.  Your space is badass when you've got everything you need without draining your budget to pay for it. 
A $2000 patio set or a $1200 grill are nice,  but not if you can barely afford hot dogs to grill on it. 
Maybe the "couch" you're sitting on is resting on reclaimed pallets, and your outdoor bar is cut into the side of your tool shed. Maybe you busted your butt for a few weekends putting your own patio in, and built your own fire pit.
But if your kids can go outside and occupy themselves, and you can be comfortable cooking, relaxing or hanging out with friends, and your money is going into investments rather than credit card payments, that's badass in my book. 
10 Badass Backyard Ideas on a Budget
Let There Be Light
Have an old chandelier, or are you upgrading with a better one? Instead of tossing the old one in the trash, give it a second life outside. Disconnect the old cord, spray it with a new color and outfit it with solar lights. These types of solar lights are just a few dollars at your local Target or home center. Gently remove the stem and hot glue the bulb onto the chandelier.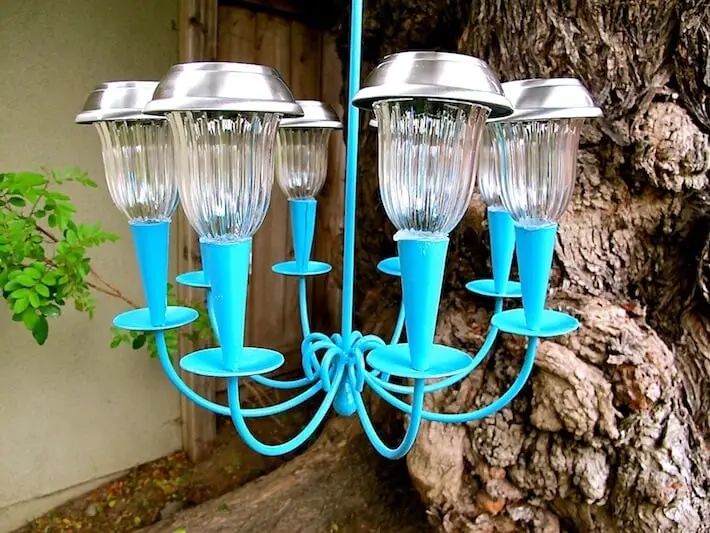 Found on Homejelly
Create a Sitting Area for Next to Nothing
Pallets are used to deliver pretty much everything to stores and warehouses. Many businesses have stacks of them on hand and may be glad to clear a few away. Think of some of the smaller businesses around your town, like garden centers or supermarkets – but ask first. Also, some places like Home Depot and Walmart will sell them pretty cheaply. You may have to tap a nail in here and there, but a few nail taps and a can of paint is a lot cheaper than new furniture!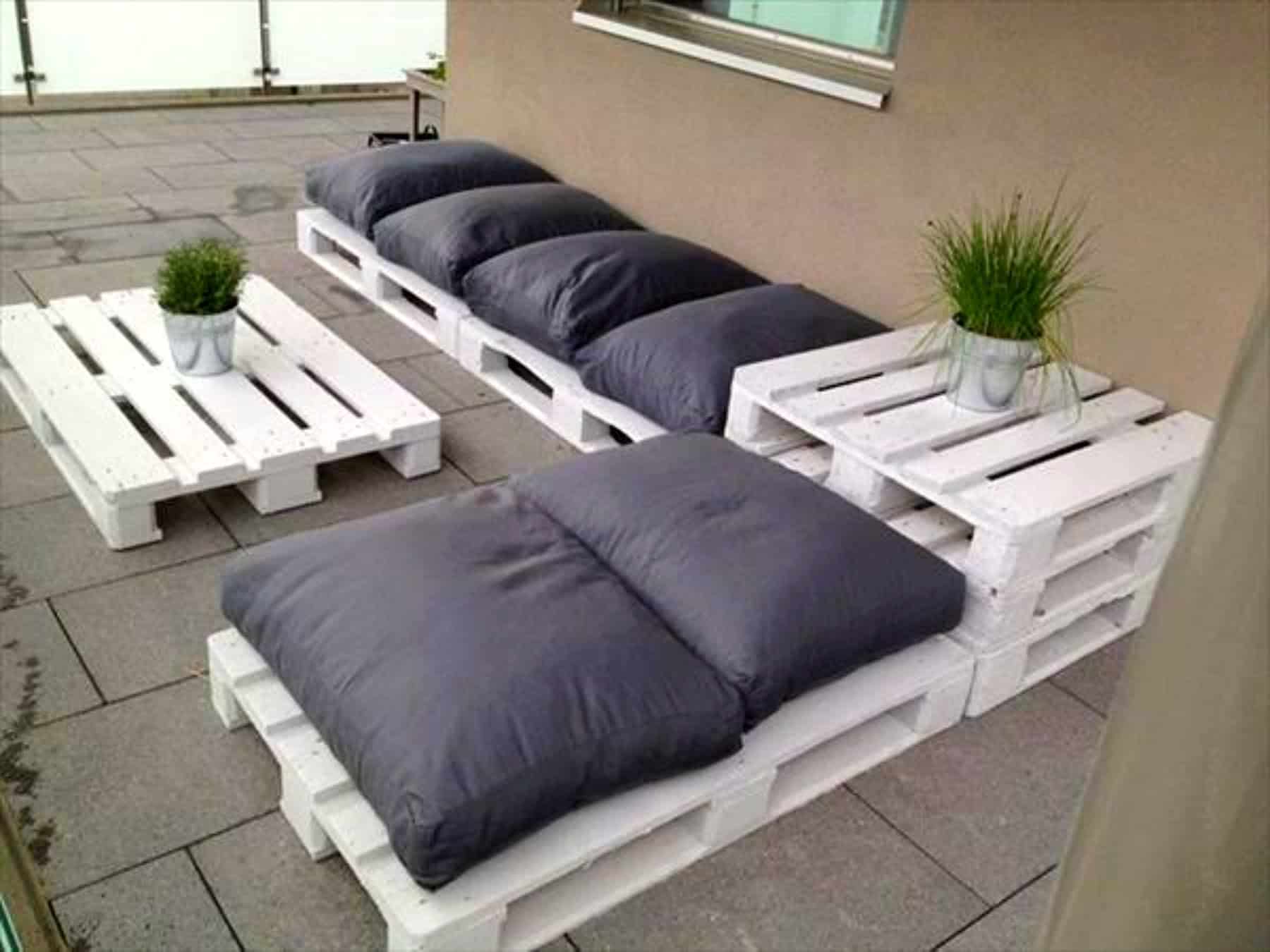 Found on Curso de Organization
Here's another variation of a pallet base couch: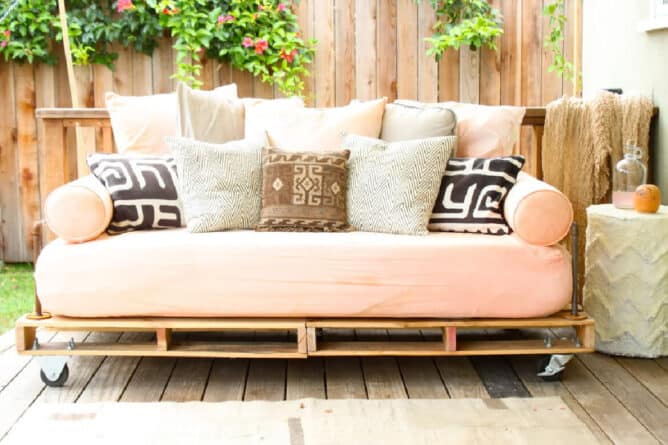 This one from Pretty Prudent is a little more involved than throwing cushions on painted pallets, but you can make it in just a couple hours with cheap materials from your local hardware store. What makes it different, is they have it mounted on locking wheels, which provide mobility and let it sit up a few inches higher.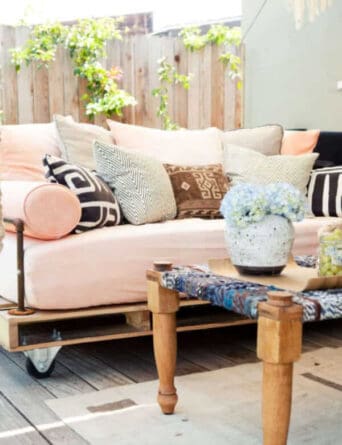 Found on Pretty Prudent
It also has armrests made of pipe sections that you can find at any home center. The pipe ends are pre-threaded so it's just a matter of screwing each section together just hand-tight. The pipe will hold pillows in place. Looks pretty comfy to me!
Drinks Are on the House!
Your house that is. Your own bar is a nice place to hang out. It's a great addition to your outdoor space and you can't beat the price of the drinks! You also can't beat the price of this bar. It's built with nothing but concrete blocks and Trex decking which makes it maintenance free.
You can pickup the materials at your local home center for less than $100 and have it done in time for happy hour!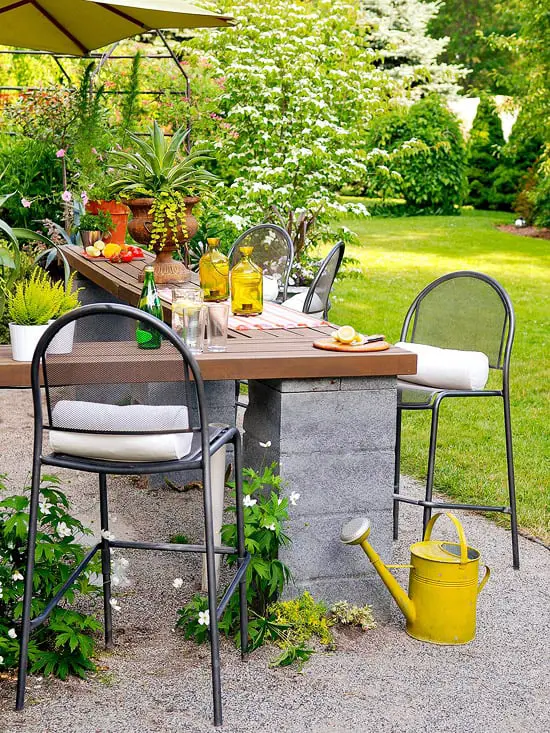 Found on  BHG.com
Homemade Barrel Planters are Easy to Make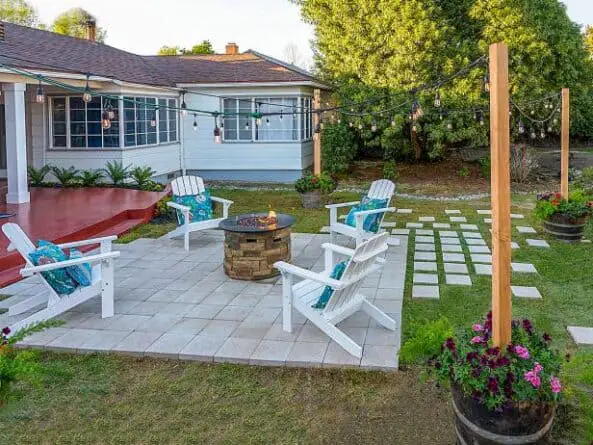 Barrels are great for planters, but they can do double duty to hang strings of party lights. It's a nice backyard idea to add some color and interesting light at the same time.
Here's how to make them on DIY Network
What's More Beautiful Than a Back Yard Trellis?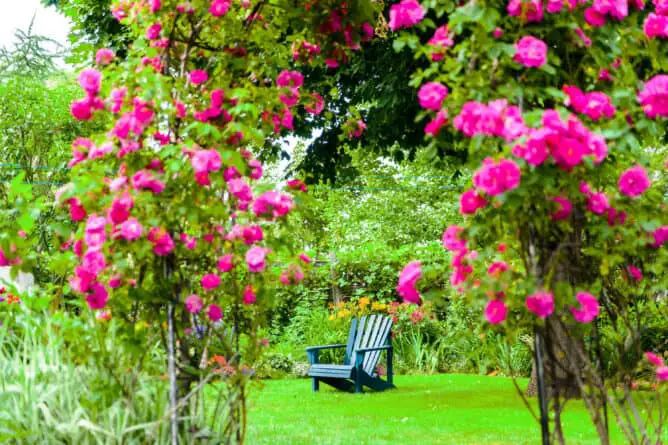 A trellis immediately adds some old world charm to your space, and they don't need to be expensive. Sure, if you're a skilled wood worker you could spend a fortune on teak and weeks planning and building it.
But once your plants grow up around it, nobody sees what's under them. Imagine just sitting back with a drink and enjoying the smell of honeysuckle, lavender, or some gorgeous roses.
Here are a few options you can setup this week:
First, an arched trellis that'd look beautiful with your choice of plant. You can assemble it more narrow and high, or a bit shorter and wider.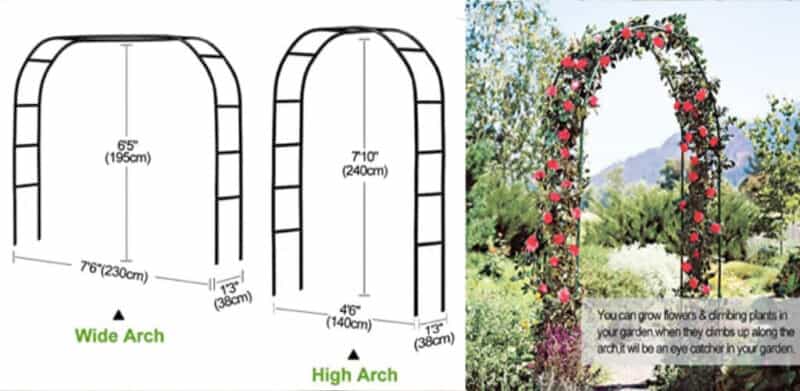 Check out the arched Back Yard Trellis on Amazon. 
Here's smaller back yard trellis that'll look great in a pot or in the ground near your patio or deck: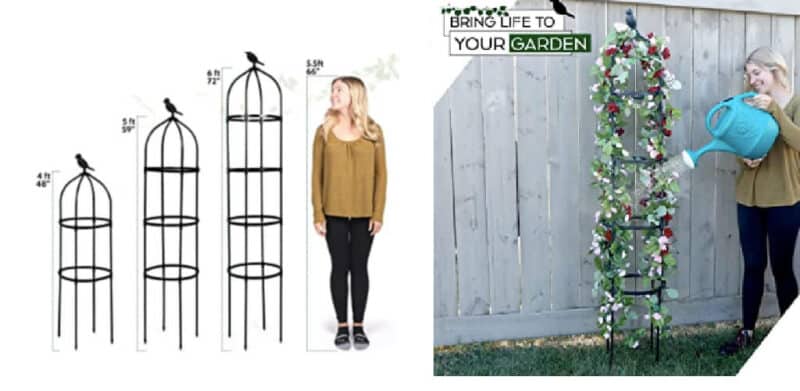 Check out the Compact Backyard Trellis on Amazon.
Have a Chilly Outdoor Floor? We've Got You Covered
Bringing some inside comforts to your outside space can make it a welcoming place to hang out. This rug is actually made of recycled plastic fibers so you can just shake it out or wash it. It's also reversible.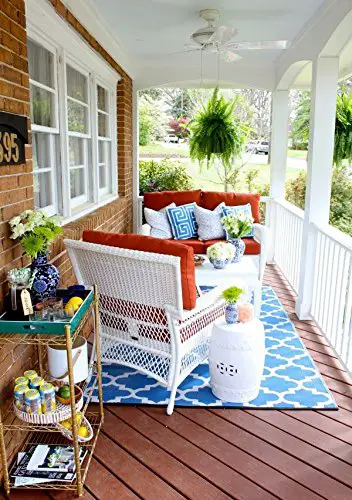 This one found on Pop Sugar. And here's where you can get it on Amazon.
Here are some more great ways to make your home more comfortable and affordable:
Any Artist's in the House?
You'll never hear those three dreaded words… "Mom, I'm bored" if you have plenty of creative activities around. An outdoor chalkboard is a great way to inspire creativity. And get some fresh air.
If you don't want to buy a large board, try using chalkboard paint on a sheet of plywood.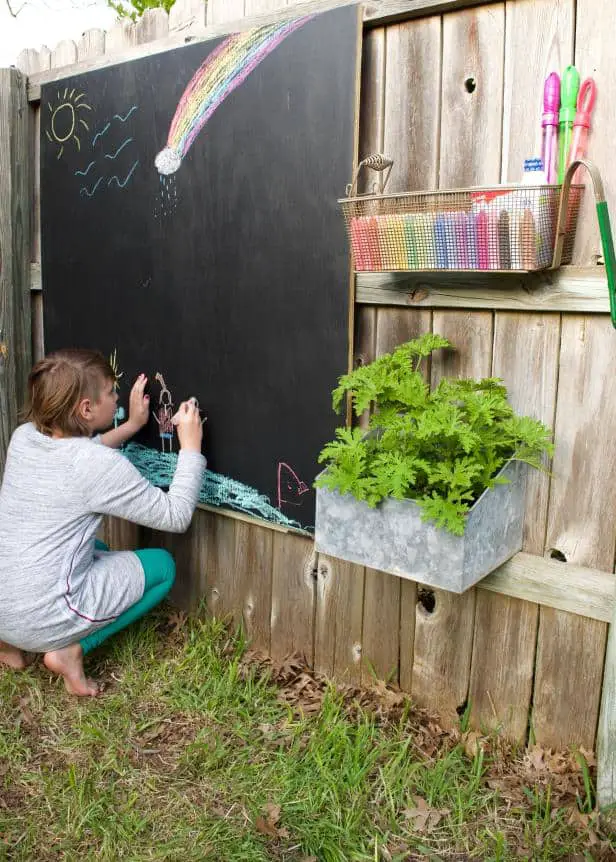 Found on DIY Network
A Fire Bowl Can Fit Your Smaller Outdoor Space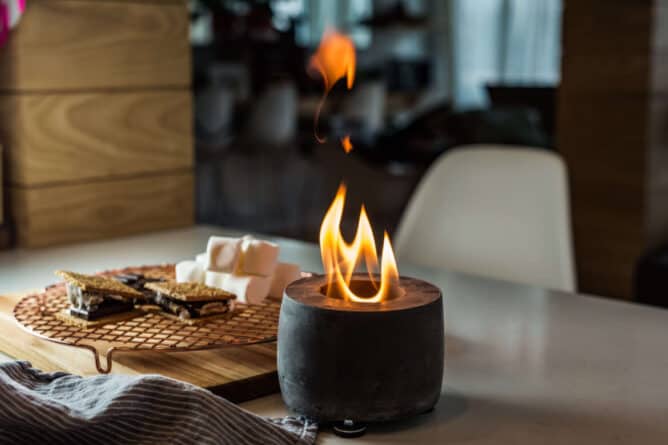 Have you been dying to add a fire feature to your outdoor space, but just don't have the room, or the money?
Maybe you have an apartment balcony, or an outdoor space that's just not big enough for a full sized fire pit.
Then there's the issue of firewood. Buying it in the city or at a home center could run you $15-$20 for a tiny bundle that might burn for 25 minutes.
But there's no reason you can't still cozy up around your own smaller scale fire.
A fire bowl is a great way to do it inexpensively. You can place it on a table top, and enjoy the ambience for hours for just pennies in fuel. I can taste the s'mores already!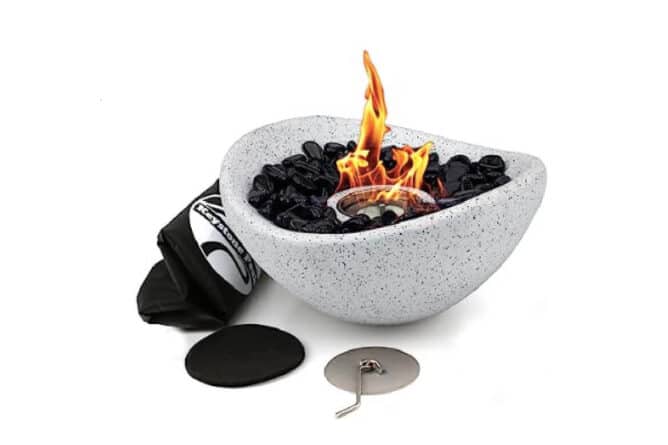 The fire bowl above is the one my niece bought on Amazon. It lights quick, extinguishes quick, and burns clean and smoke free. It comes in white or black and is made of concrete so it won't tip easily.
Plants That'll Smell Good And Repel Mosquitos
When you're looking for backyard ideas, consider plants that'll thrive in your region but also repel mosquitos. Plants like Mint, Lemon Grass, and Lavender look good, smell nice and are some of the best mosquito repellent plants around.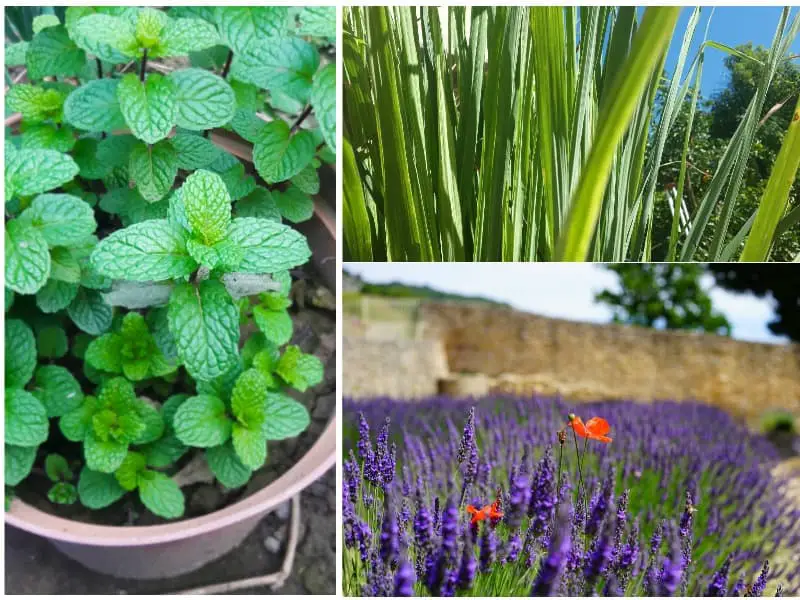 Starry, Starry Nights
However small your space is, a string of lights is a cheap way to add a special look.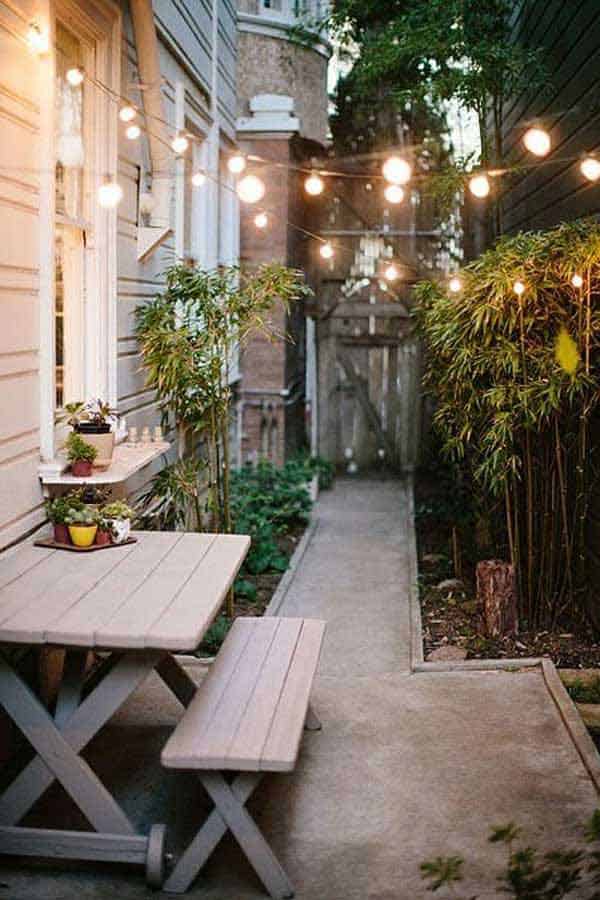 Found on Wioo Home
Puppet Show Starts Now!
Another great use for free pallets is to use them as the frame for a cool clubhouse. Or your own garden shed.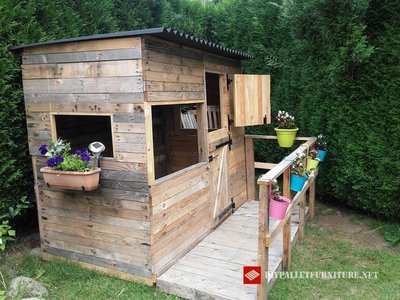 Found from DIY Pallet Furniture
Bring a Boring Shed Alive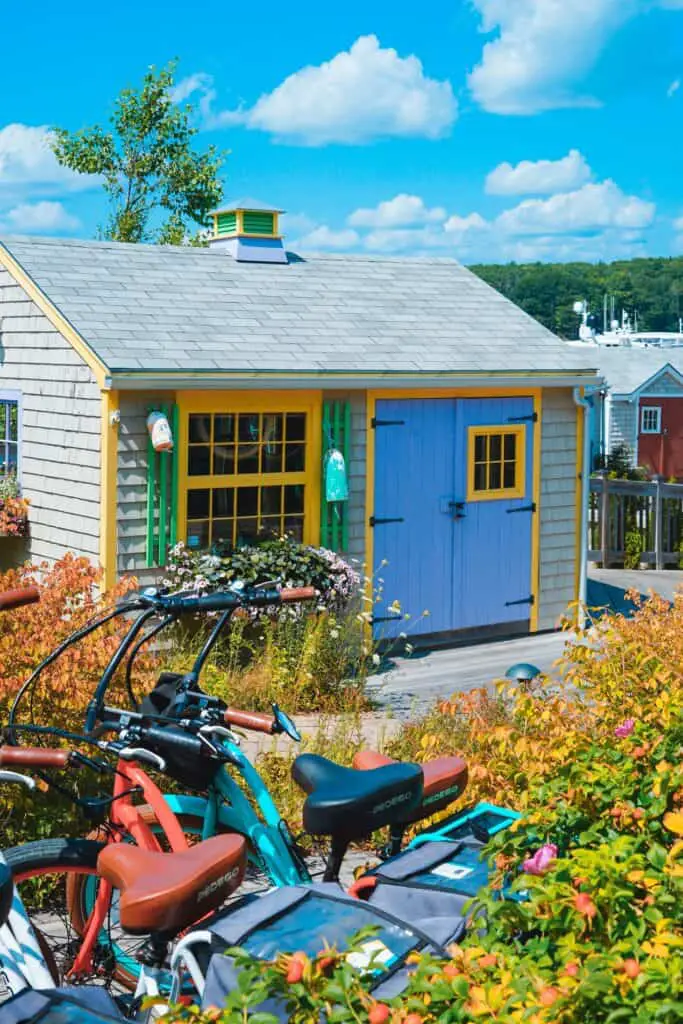 With a bit of paint and some DIY shutters, this boring shed can transform into a colorful and inviting focal point.
Can You See Yourself Hanging Some Mirrors?
A great way to add some dimension to your space is by inserting a few mirrors into some retired window frames.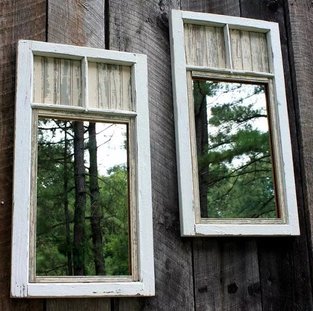 Found from BuzzFeed
Watts Up?
If you're not into buying an expensive set of landscape lights and running wire throughout your property, solar lights are a great alternative. They can be moved anytime, and with a cheap bracket or two, can be put pretty much anywhere.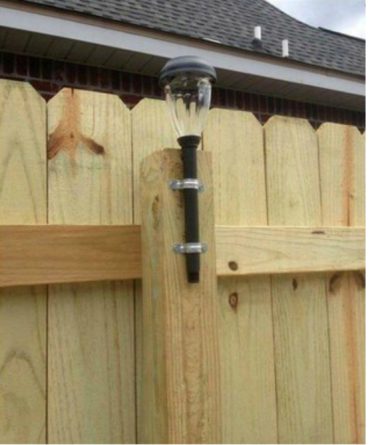 Found on Princess Pinky Girl
Hopefully, a few of these backyard ideas give some inspiration for your outdoor space. The weather's getting warm, and since everyone is staying close to home these days, it's a perfect time to make your outdoor space feel like somewhere you want to hang out in.
If you've been able to make your outdoor space a bit more badass, let me know!.
Like some of these ideas? Try pinning it for when you're ready.