"This post may contain affiliate links. Please read my disclosure for more info.
Which is better for drivers, Postmates vs DoorDash? They're both great ways to make money on your own schedule, but there are some key differences that might make you prefer one over the other.
The way you receive orders, the way you're paid, and the way you decide which jobs to accept are all things you'll want to compare before hitting the road.
Either one of these side hustles will help you to pay off debt, save for retirement, or fund your next vacation a lot quicker.
You can be making money with either one by next week, but here's what you'll need to know to pick one over the other.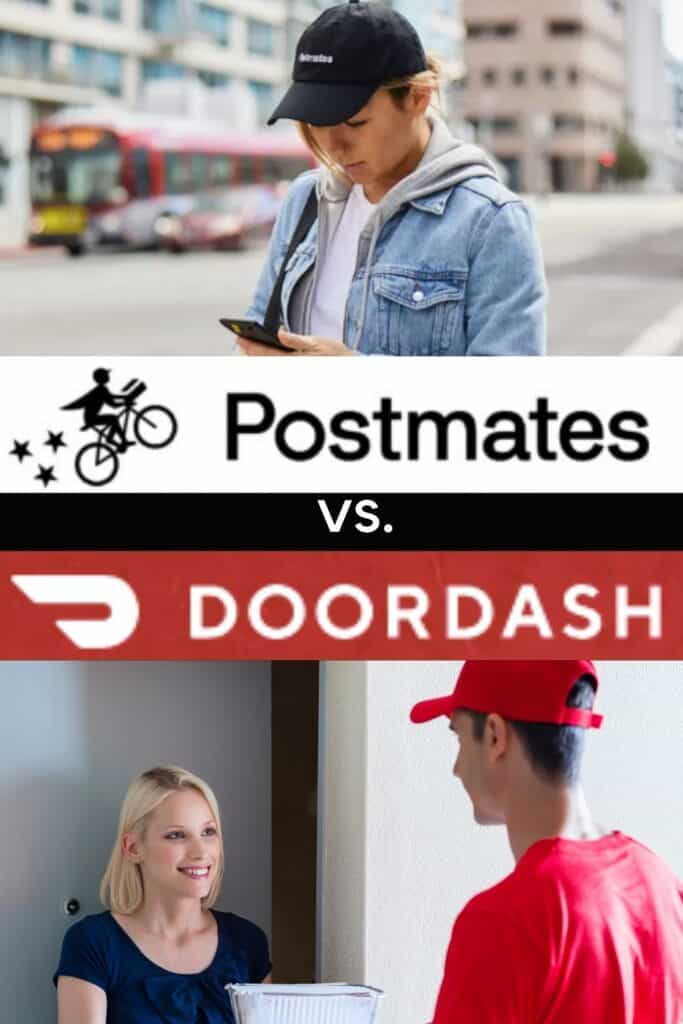 Is DoorDash Better Than Postmates?
Let's compare them  head to head. How much each pays, what a typical day is like, and what the company is like to work for. You should be able to see which one works better for you.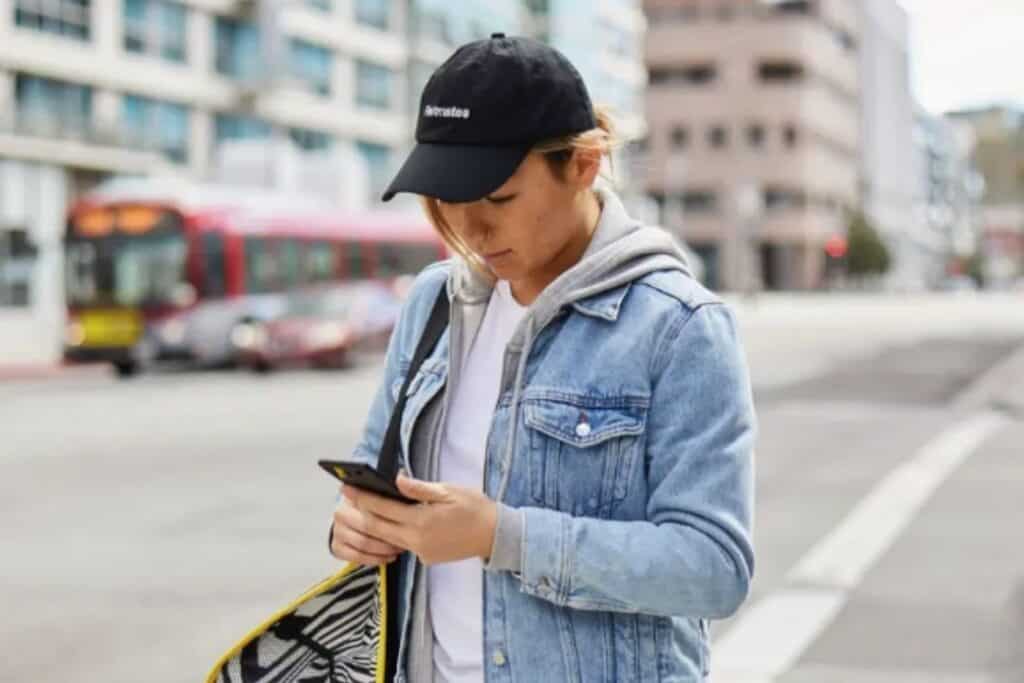 Postmates is one of the the largest, on-demand delivery services, enabling customers to order not just food, but items from your local Walmart, Target or other stores.
Postmates is partnered with dozens of retailers, so if a customer places a large order from a Postmates partner, the courier (you) won't need to shop for it. The store will already have it ready and waiting for you.
They serve 80% of households across all 50 US states. And they pay over 500,000 independent drivers, known as Postmates to deliver for them.
Doordash is an online delivery service that enables customers to order food from almost any local business quickly and easily. Doordash pays independent workers, known as Dashers to pickup and deliver food.
In 2020, Doordash was responsible for over 45% of all food delivery orders, so as a food deliver driver, you're not gonna be sitting in your car wondering where the work is.
How does Postmates pay you?
Postmates drivers are paid once a week through direct deposit to your account. They send the payment at 11:59pm on Sunday night, so it's available once it clears your local bank.
You can also choose to cash out each workday for a fee of $0.50 a day, and the money should be in your account within 15-30 minutes.
Tips from customers are in addition to your base pay. Those are added to your pay after the order since the customer isn't prompted to tip until the order is complete. 100% of the tip goes to the driver.
Your base pay can also be raised during "blitz hours" where the delivery rates are increased during busy times of the day.
How is Postmates base pay calculated?
Base pay for each Postmates delivery is based on a rate for the pickup, drop-off, time spent in the store, and the mileage from the store to the customer.
The rates vary by location, and the chart below shows rates for various cities. To give you an idea of the total base pay, I'm assuming for this example, you wait 3 minutes in the store, and drive 3 miles to the customer.

In addition to your base pay, you'll also receive 100% of the tip, and any blitz pricing. Blitz pricing is when Postmates elevates your base pay during busy times.
How does DoorDash pay you?
DoorDashers are paid weekly for deliveries completed between Monday – Sunday of the previous week (ending Sunday at midnight PST). Payments are then direct deposited to your bank account. They usually take 2-3 days to appear in your bank account, so payments should be available by Wednesday night.
Dashers can optionally choose Fast Pay which enables you to cash out each day for a fee of $1.99 per day.
How is DoorDash base pay calculated?
DoorDash pay is also based on a pay model that combines base pay, promotions and tips.
Base pay will range from $2 to $10 depending on the time and distance of the order. And it won't change based on the customer's tip amount.

Promotions can add to your base pay in a few ways:
Peak Pay – When it's busy, peak pay means you earn a bonus for each delivery. When peak pay is available, you'll see it in the app when you're offered a delivery.
Challenges – Challenge bonuses are aimed at rewarding more active Dashers, and also to help Dashers meet specific earnings goals for the week.
Drive – DoorDash Drive pay is higher earnings that are offered to drivers if they meet these criteria:
Customer rating of at least 4.7

Completion rate of at least 95%

Acceptance rate of at least 70%

100 completed deliveries during the last month

At least 200 lifetime deliveries completed
Who pays better DoorDash or Postmates?
Even though the pay structures are different, one app doesn't stand head and shoulders above the other. You should be able to earn in the neighborhood of $20/hour with either app. The factors that'll push your pay above that depend on a few things:
Postmates is more established and many drivers report more jobs are offered in most cities.

But Doordash is better at showing you exactly how much you'll earn before you accept a job so you're able to avoid lower paying orders.

Your hourly pay with either app is also affected by the time of day you work, how well you know your local area, and to what degree you hustle and take advantage of bonuses. 
Also, even though both apps are in most markets, just by chance Doordash may be hopping today, and Postmates could be slamming tomorrow. That's why getting to know both apps and using them simultaneously could help to raise your overall hourly rate.
Related: The 9 Best Paying Food Delivery Jobs
Is DoorDash or Postmates better at scheduling and flexibility?

DoorDash has always required you to schedule your shift in a specific area at least one week in advance. This may seem like a loss in flexibility, but it's to avoid saturating areas, which would decrease your hourly pay.
You do have the flexibility of picking the number of hours you'll work, and you can pick multiple shifts on a certain day, as long as they're at least 30 minutes apart. 
Recently, DoorDash has added a feature called Dash Now, that enables you to hop on and work immediately in areas experiencing a sudden increase in orders. 
Postmates gives you the option of scheduling your shifts, but you're not required to. If you decide to work on the spur of the moment, just open your app, make yourself available and you'll start receiving orders.
Depending on your location and time of day, you'll see orders populate as soon as you launch the app. You'll want to keep an eye on orders coming in while you're working, because they're taken by drivers on a first come first served basis.
Are orders pre-paid, or do you need to use a debit card?
Both apps have three types of orders:
Pre-paid orders are the most common, where all you need to do, is pick up the food and deliver it to the customer.

Orders that have been placed, but not paid for yet. For these, you'll pick up the order and pay for it using a debit card issued to you by the app when you're hired. 

Orders that the driver (you) will need to place at the restaurant, and pay for with the debit card. (Usually fast food)
The debit cards have no money connected to them unless, and until you accept an order that isn't pre-paid. Once you accept the order, the app will instantly load just enough money to pay for that order onto the card.

Most orders are pre-paid. For these, you'll just pick up the food and deliver it to the customer.
DoorDash also issues drivers a debit card known as a "red card". You'll use the red card only for orders that haven't been pre-paid. If you accept a red-card order, the app will instantly load the amount of the purchase onto the card so you can pay for it.
You'll always know whether an order is either pre-paid, or a red card order before you accept it. It'll say, Red Card Order right on the offer screen.
Postmates issues a similar card that's only used for orders that are not pre-paid. Once you accept the order, just enough money is added to the card to pay for the order alone. You do not pay any tip with the card.
Which app is easier for drivers, Postmates or DoorDash?
Since the nature of the jobs is almost identical, both apps have very similar functionality. One difference though, is on the order acceptance screen.
This what you'll see when an order is sent to you. DoorDash provides more complete information about the order so you can decide quickly, whether to Accept or Decline.  
The Order Acceptance screens are slightly different.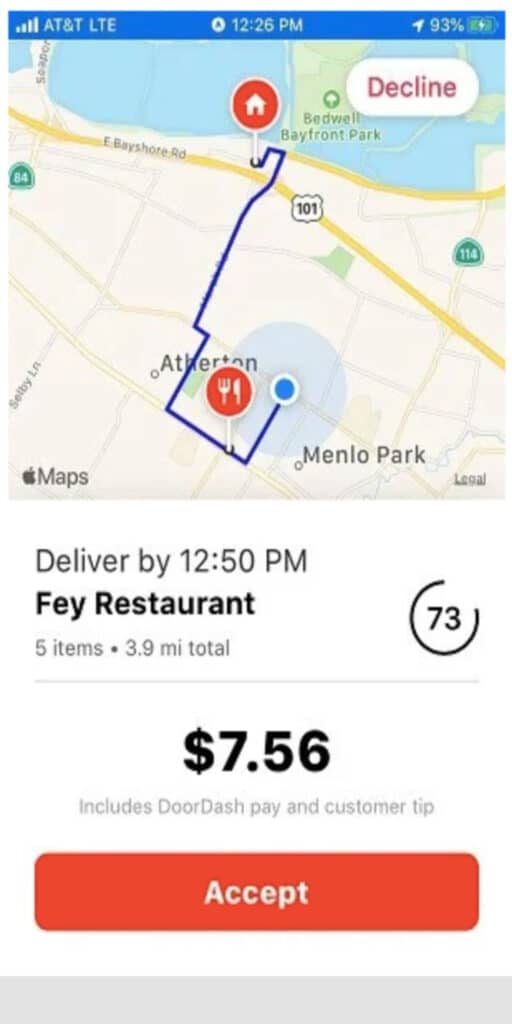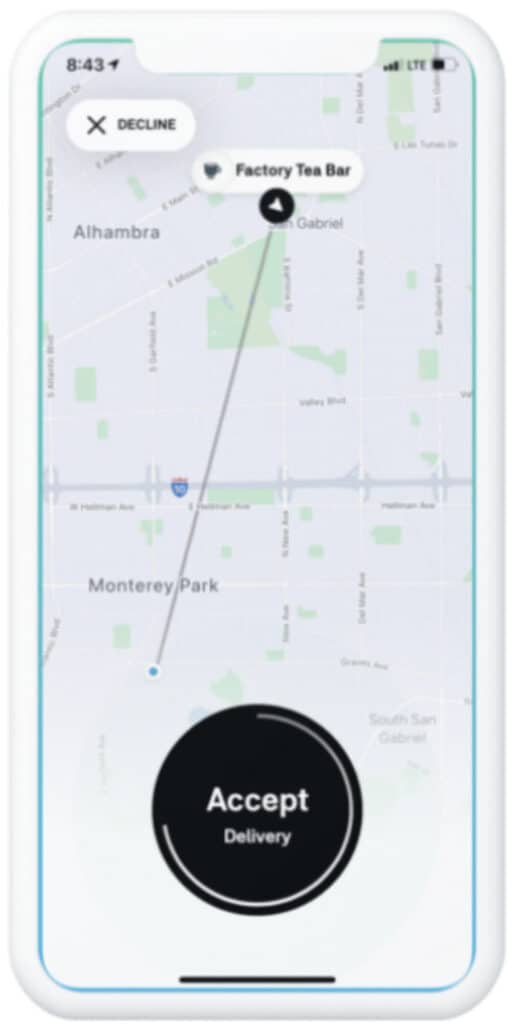 The DoorDash app displays everything you need to know to decide whether to Accept this order:
The location of the pick-up and drop-off.

The distance in miles.

The payout for the order.

Whether the order is pre-paid or you'll need to use your red card.
The Postmates app looks pretty straightforward, but notice what you're NOT able to see before you click Accept:
The distance in miles. An eight  mile ride

for a $4 fee wouldn't be worth it.

The payout for the order.

Whether you'll need to use the Postmates card. Pre-paid orders take less time.
The DoorDash app provides more info to decide quickly whether to accept this order. Postmates doesn't show the exact mileage or payout. You can make an educated guess, but you'll need to be familiar with the pay model and the area you're working in, then make a quick decision. 
In either app, just tap Decline. You won't be terminated for declining offers, but drivers report that keeping your acceptance rate above a certain percentage qualifies you for certain priorities. 
For instance, DoorDashers earn Top Dasher status when they have an acceptance rate above 70%. A Top Dasher is is offered certain bonuses for orders during busy times.
In DoorDash, just click Pause Your Dash to take a break. Just keep in mind that if it exceeds 35 minutes the app will end your Dash. 
In Postmates, just click Go Offline at the bottom of the screen.
You just can't escape big brother right? Well, delivering food is one of the better side gigs, but they still want to make sure it's done right. And you'll probably see right away, that maintaining good performance is not only pretty simple, but it translates directly to better pay!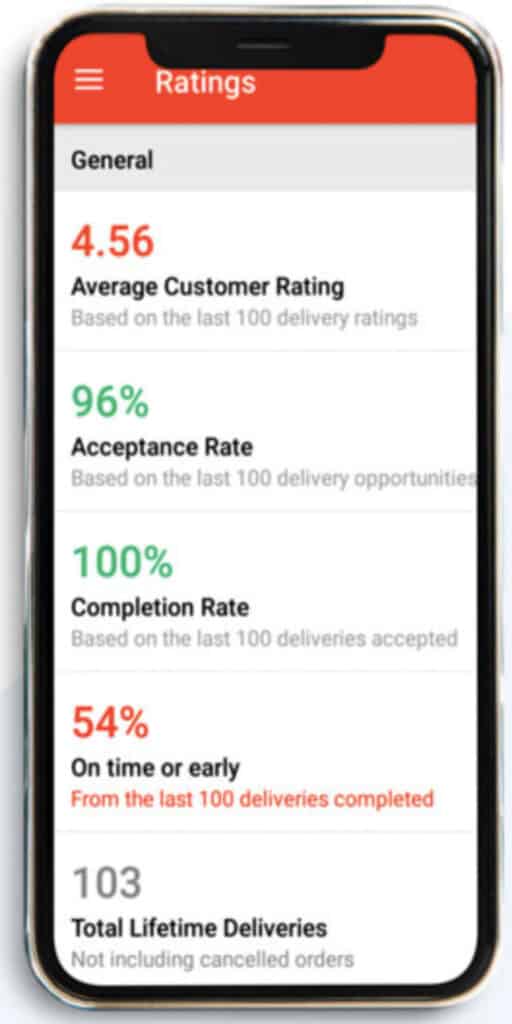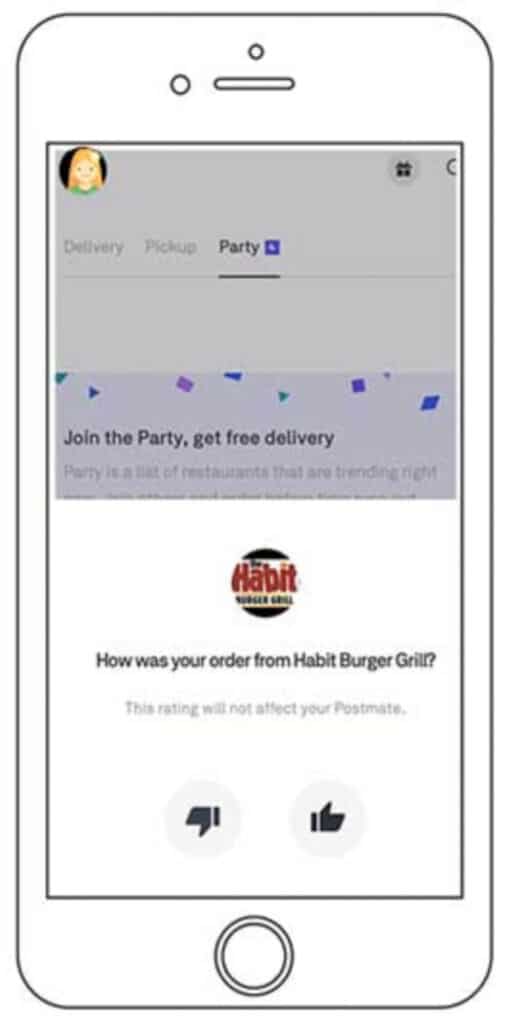 As a DoorDash driver, you'll receive a rating in four categories. You can access your ratings in the app:
Customer rating: Customers rate your performance on a 1-5 scale. Your overall rating is an average of your most recent 100 deliveries. Drivers need to maintain a minimum of 4.2 or risk being deactivated.
Completion rate: The percentage of completed deliveries calculated from your most recent 100. You'll need to to maintain a minimum of 70%. If a delivery was cancelled by the customer it won't count as an incomplete delivery.
Acceptance rate: The is percentage of deliveries offered to you that you accept. You don't need to maintain a minimum, but you can view it any time.
On-time/Early rate: Calculated from your most recent 100 deliveries, this is how many were on time or early. There's no minimum enforced, but this is a stat that's good to know, especially when you're working for tips.
In summary, only the Customer and Completion ratings could jeopardize your job. But you'll still want to be aware of your Acceptance and On-time/Early rate so you can monitor your own performance.
Postmates driver ratings:
Postmates prefers a simpler approach to rating drivers. Rather than calculating each area, they just ask the customer for a thumbs up or thumbs down for the overall delivery.
Here is their statement on it:
"We believe that this helps you avoid being held responsible for circumstances outside of your control (for instance, if an item was prepared incorrectly). Instead, customers rate their delivery as a whole with a "thumbs up" or "thumbs down." The customer's choice will never affect you, your standing, or your ability to stay on the platform."
Since Postmates doesn't use numerical ratings, the Postmates Fleet app doesn't have any ratings to view.
The basic requirements for both apps are pretty similar:
Be at least 18 years old.

Have a valid driver's license and access to an insured vehicle, or a bicycle.

You must own a smartphone to use the app.

Have one year of driving experience.
Be at least 18 years old.

Have a valid driver's license and access to an insured vehicle or bicycle .

You must own a smartphone to use the app.
How to apply for DoorDash
Go to the DoorDash signup page and fill out your Dasher profile. They'll ask you to consent to a background check during the process. They'll also ask you to either schedule and orientation, or have an "Activation Kit" mailed to you. 
The activation kit will include your insulated bag, your DoorDash Red Card, along with instructions on activating your Red Card, and setting up your direct deposit.
The whole process could take about a week, and then you're ready to roll!
How to apply for Postmates
If you meet the basic requirements above, you can apply on the Postmates website in just a few minutes. They'll ask you to upload a photo so customers will know who to expect when you arrive. They'll also ask for your permission to do a background check. 
Once you're approved, they'll send you an insulated bag and a Postmates Prepaid Card. When you activate the card, it will initiate the background check which takes 24-48 hours. Then you'll receive an email notifying you that you're ready to hit the road!
Postmates vs DoorDash: Which is Better?
Postmates and DoorDash are both great ways to make money quickly, but which one is better?
As of 2020, Over 600,000 merchants use Postmates in all 50 US states. They serve over 80% of households, and their service has become popular enough to pay more than 500,000 drivers.
According to a recent study by Zip Recruiter, the average Postmates driver earns $18.31 an hour, or $732 per week. That's not bad, when you consider you can apply today and be making money in less than a week.
On the other hand, the same study says the average DoorDasher earns $25.97 an hour, or $1039 a week.
Of course, these are averages, but the bottom line is that food delivery jobs have become a lot more popular this year. How many other jobs offer you the ability to make money whenever you feel like it?
Since Postmates and DoorDash are so similar in practice, your best bet might be to just pick one and work it for a week or two until you're comfortable. Then try the other, and work them simultaneously.
Pretty soon, you'll be able to recognize the profitable deliveries right away, and maybe you'll see a pattern with one app or the other. 
Hopefully you've got a bit more insight into both apps here, and if you get started, or are already driving, let me know how it's going!