"This post may contain affiliate links. Please read my disclosure for more info.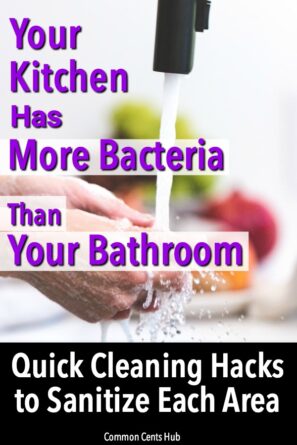 I researched some of the best kitchen cleaning hacks, because believe it or not, it's the dirtiest room in most homes. Even dirtier than most bathrooms.
It can look tidy, but still be brimming with salmonella, listeria, yeast, E. Coli and mold.
And some of the most toxic areas of the kitchen, are places I wouldn't even have thought to clean.
So here we'll give a rundown on the best way to clean everything from surfaces, drawers, sinks, sponges, and a few places most people never clean.
Here are the grossest things in your kitchen – and quick ways to ensure they're sanitary.
10 Kitchen Cleaning Hacks That'll Keep Your Family Healthy
Washcloths and Sponges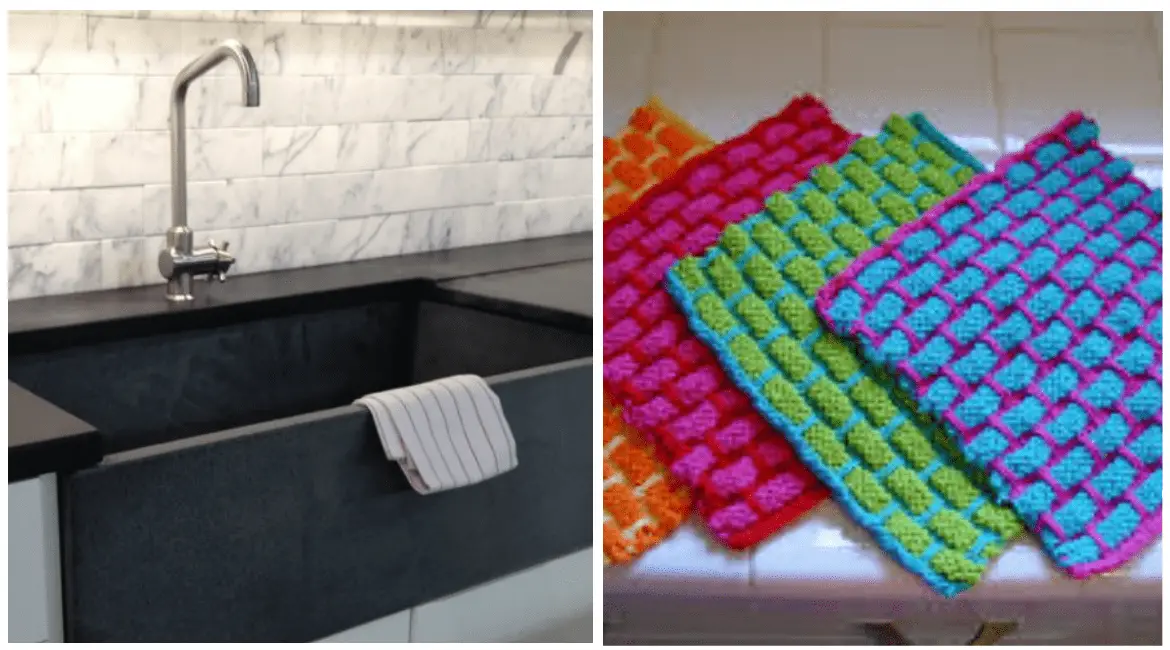 Reusing a sponge or dish towel for days at a time might be economical, but it's one of the easiest ways to spread bacteria. Cleaning cups, plates and wiping down counters with a sponge full of bacteria can easily get your family sick. But thankfully, sanitizing them the right way isn't all that hard.
Good Housekeeping worked with a testing lab to see which of six different cleaning methods worked best. They had consumers use sponges for a week in their kitchens, and they also used some sponges that were purposely tainted with salmonella, E. coli, and pseudomonas.
They tested the following cleaning methods to see which one removed the most bacteria:
Dishwasher
Microwave
Washing machine
Bleach soak
Ammonia soaks
Vinegar soak
And the Winners Were…
Best – The bleach solution killed 99.9% of the three bacteria strains from all of the test sponges.
How to Clean it with bleach: Mix 3/4 cup of bleach in one gallon of water, and soak the sponge for five minutes.
Next Best – The microwave and the dishwasher were the next most effective, killing 99.9% of germs. But on the lab-treated cellulose sponges, microwaving was a little less effective for E. coli (99.83% reduced). The dishwasher didn't get every bit of the Salmonella (99.88) or E. coli (99.86%).
How to clean it in the dishwasher: Put a sponge into a regular dishwasher load, using the "heated dry" setting.
How to clean it in the microwave: Saturate the sponge, then heat it on high for one minute (scrub) or two minutes (cellulose).
The Others: Soaking it for five minutes in full-strength vinegar averaged 99.6% bacteria elimination. Doing the same in full-strength ammonia, 97.0%. The washing machine was least effective, killing on average 93.0% of bacteria.
When Should You Replace Them
It doesn't matter how thorough you are, even if you clean them weekly they'll be ready to be replaced after about a month or two, depending on use.
Some More Great Tips For Around the House:
Refrigerator Drawers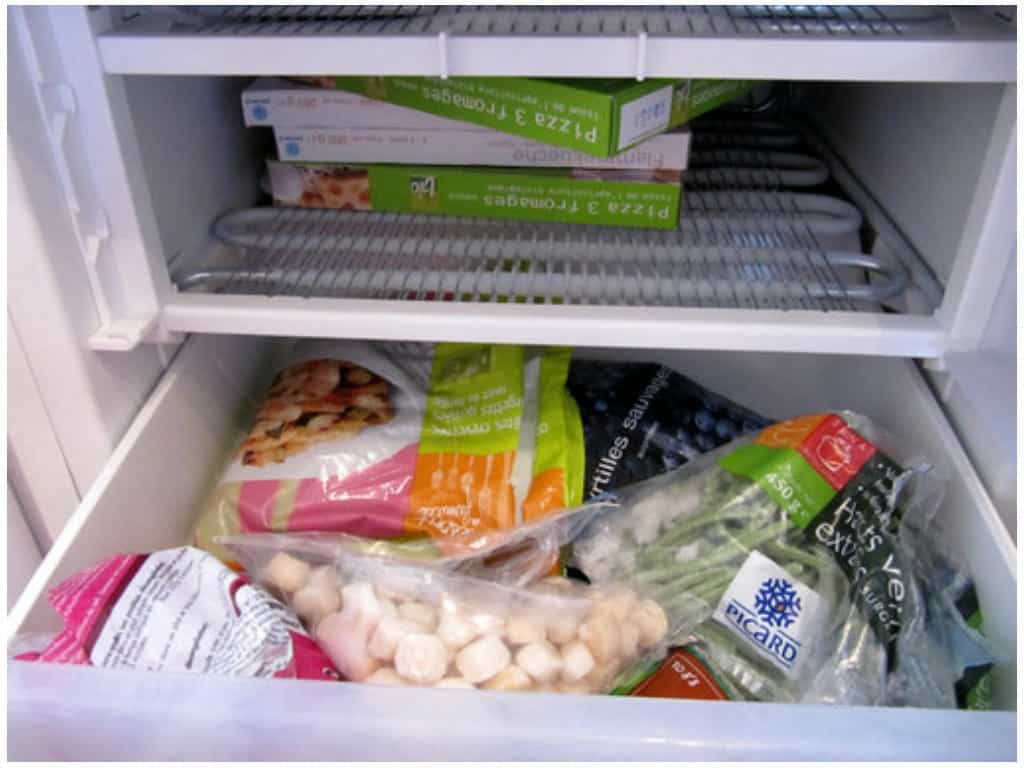 Vegetables have a lot of moisture in them and if you stuff your fridge drawers with lettuce, tomato and an assortment of other veggies it's hard to see the bottom of the drawer. Until you go to grab something one day and you can't tell whether those dark colored objects sitting in a strange liquid are potato's, tomatoes or what.
How to Clean it:
The best way is to remove the drawer and take the contents out of it. This also gives you a chance to throw out expired food. Once the drawer is out, you'll probably notice the area under the drawer is pretty nasty also.
Spray the inside of the fridge with a solution of vinegar and water, concentrating on soiled areas and let it soak in. Wash the removed drawer with warm soapy water and set it aside to dry. Then back in the fridge, wipe everything down with a rag. Once everything is dry you're good to go.
Silverware Drawer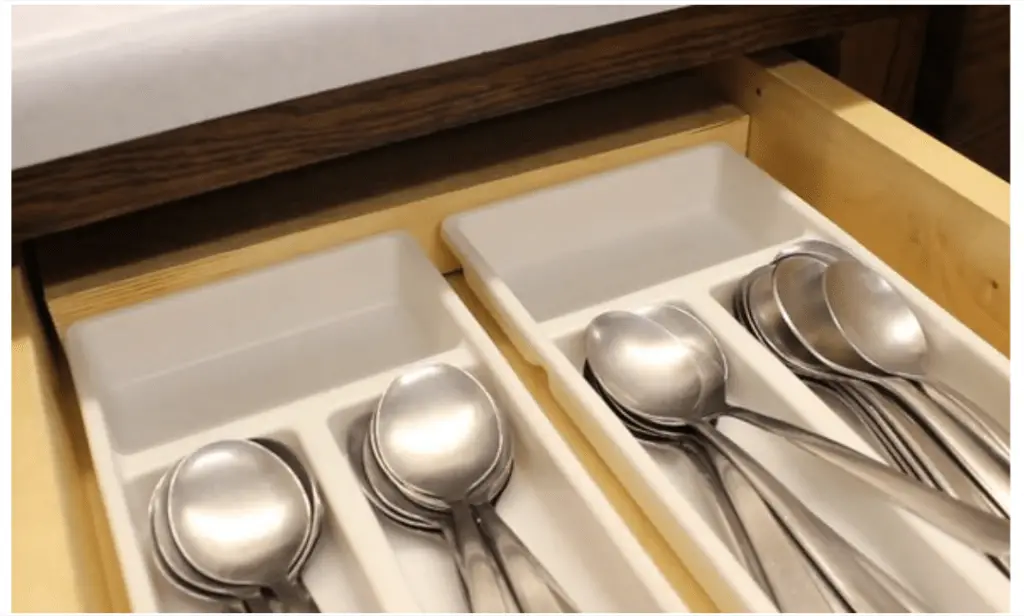 Silverware drawers are over-looked because you may not notice how filthy it is unless you remove everything from it. Once you do, you'll see all the stale food crumbs, coffee grinds, and stains.
How to Clean it:
If it's removable and dishwasher-safe, you can load it into the top rack. If it's made of bamboo or wood or isn't removable, you can wipe it clean with a cloth dipped in warm, soapy water. Then let it air-dry. Next, you can use one of your vacuum's attachments to pick up crumbs in the drawer.
Appliance and Cabinet  Knobs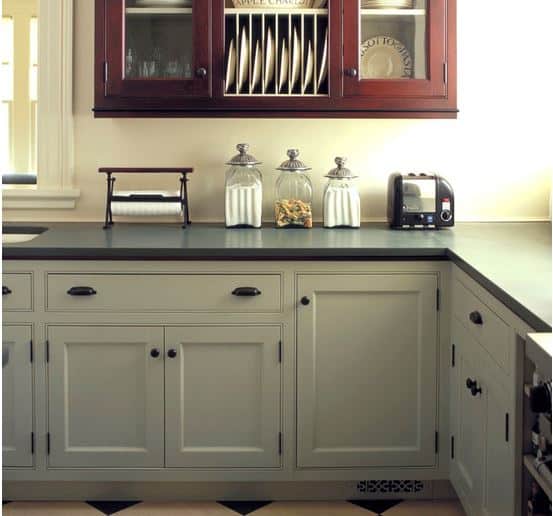 Whether you have metal cabinet hardware, plastic, stainless steel or something else, it requires regular cleaning. Dirt and bacteria from your hands and grease from cooking can leave your hardware looking and feeling nasty. They also attract germs, which can easily be transferred to anyone who touches it.
How to Clean It
If the hardware is extremely dirty or tarnished, you might need to remove it to get it thoroughly clean. But most of the time, you can dip a washcloth in some warm soapy water to get them clean. It may help to keep a toothbrush with your cleaning supplies to use in the hard to get areas.
Reusable Grocery Bags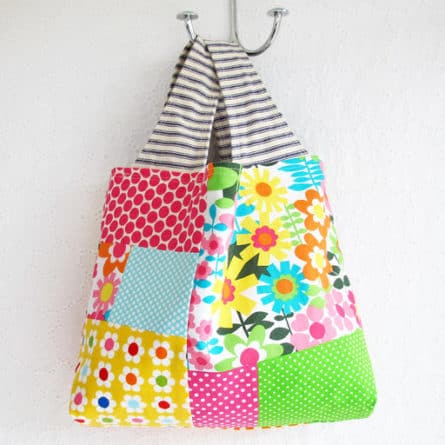 This is a fairly new kitchen cleaning hack, but one we'll be using a lot more, since so many towns are doing away with single-use plastic bags. Reusable bags are great for the environment, but if you don't clean them, things like chicken can leak and leave it full of bacteria.
How To Clean Them:
Canvas bags
Canvas is the easiest to clean since you can just toss them in the washer in hot water with detergent. Then toss them in the dryer and they're ready to go.
Insulated shopping bags
If you're carrying raw meat in these, wipe them down with a disinfecting wipe after each use.
Nylon bags
These can be turned inside out and washed in warm soapy water. Alternatively, you can toss them in the washer on the gentlest cycle. Then allow them to air dry.
To remove odors – Odors can develop in shopping bags by folding them up and stuffing them in a drawer when they're still wet inside. If something leaks, just clean and dry it before storing it. Another thing that can make them smell is storing them in a hot car. The heat will cause bacteria to grow faster than it normally would.
Refrigerator Drip Pan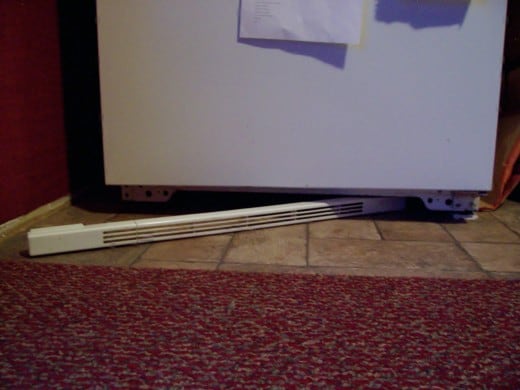 I admit it. This is one kitchen cleaning tip that never occurred to me. But every refrigerator has a drip pan underneath to catch condensation from the cooling system so it doesn't leak onto your floor. Since it's not in plain sight, many people never check it, but it's a prime source for mold growth.
To Clean it:
You can usually access it usually by removing the kick panel down at the bottom front of the fridge. Sometimes you may need to loosen a couple screws but not always. Then gently pull the tray out. It's about the size of a cookie sheet. If you can't locate it, try calling the service number for your refrigerator or just Google the model number which should be on the inside door.
If access to the pan happens to be in the back, it may be a two-person job pulling out the fridge. You may also want to wear rubber gloves since the pan may contain mold.
Once you get it out and empty it, mix one part bleach with two parts warm water in a clean spray bottle. Spray down the pan and let it soak for a few minutes. Then scrub it with a rag or sponge and rinse it under hot water. You can also use a vinegar solution or household disinfectant for colored drip pans.
A Nice Oven Cleaning Hack
If the glass window on your oven door is so dirty you can barely see through it, here's an easy way to clean it. Believe it or not, baking soda alone can get the baked on grease off your oven door glass. You'll have to put it on pretty thick but it's cheap.
Just cover the inside of the glass generously. Once it's covered, wet a scouring pad and move the baking soda around to form a thick paste. You may need to add a little water if it's not forming into a paste.
Once you've scrubbed the paste around the glass, then let it sit for about an hour. Now continue to scrub and you should see it becoming clean. If there are still stubborn spots, repeat the process and let it sit overnight this time.
Kitchen Cabinet Cleaning Hacks
We see our cabinets every day, so we may not notice how greasy and dirty they get. Here are two methods that should get them looking almost new again:
Pour a few drops of dish soap like blue Dawn, into a bowl of warm water. Dip a sponge into it and squeeze the sponge to form suds. Liquid dish soap, especially Dawn, cuts grease really well, even on surfaces. Just wipe the greasy area with the suds until it is removed. Then dry it immediately to avoid streaks.
White vinegar can be used for dozens of things around the house, and it works great on greasy cabinets. Just wet a clean cloth with undiluted white vinegar, and wipe down the cabinets. Then rinse your cloth with warm water, wring it out, and wipe them again to rinse. Use a paper towel to dry them.
Cutting Boards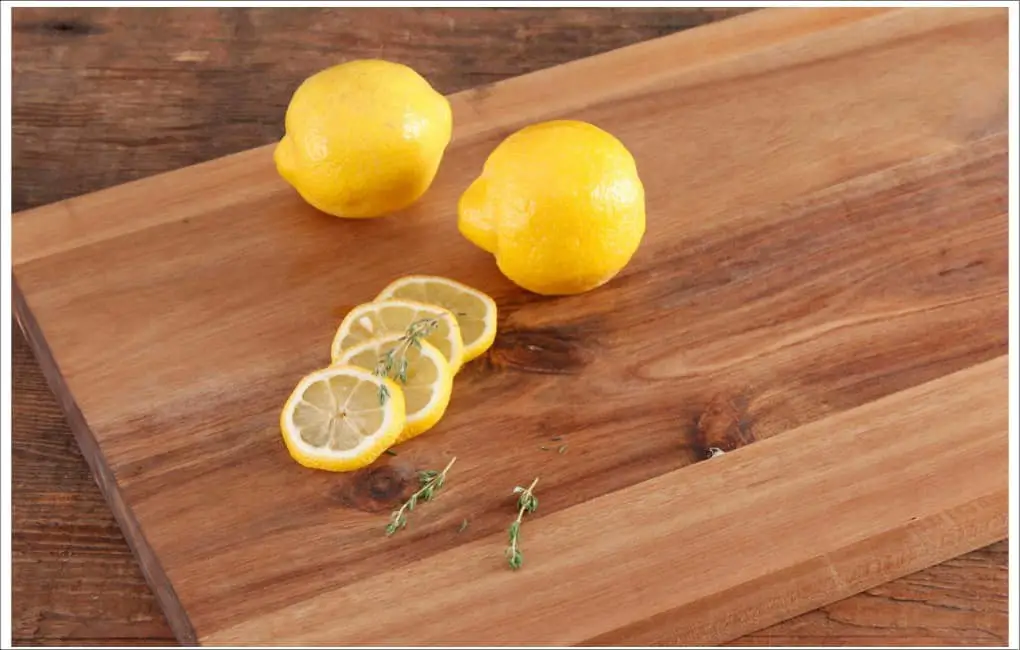 For Wood Cutting Boards
Using water and dishwashing soap can eventually weaken the surface wood fibers on cutting boards and butcher block countertops.  A great way to clean and disinfect wood cutting boards is to wipe them with full-strength white vinegar after each use.
The acetic acid in the vinegar is an effective disinfectant that eliminates things like E. coli, Salmonella, and Staphylococcus. If your wood cutting board needs deodorizing also try spreading some baking soda over it and then spray with undiluted white vinegar.
Let it foam and bubble for five to ten minutes, then rinse with a cloth dipped in clean cold water. Another method is to rub the board with a cut lemon and then let it dry.
For Plastic Cutting Boards
One method that works great for plastic cutting boards is to scrub it with a paste made from 1 tablespoon each baking soda, salt, and water. Then rinse thoroughly with hot water.
Can Openers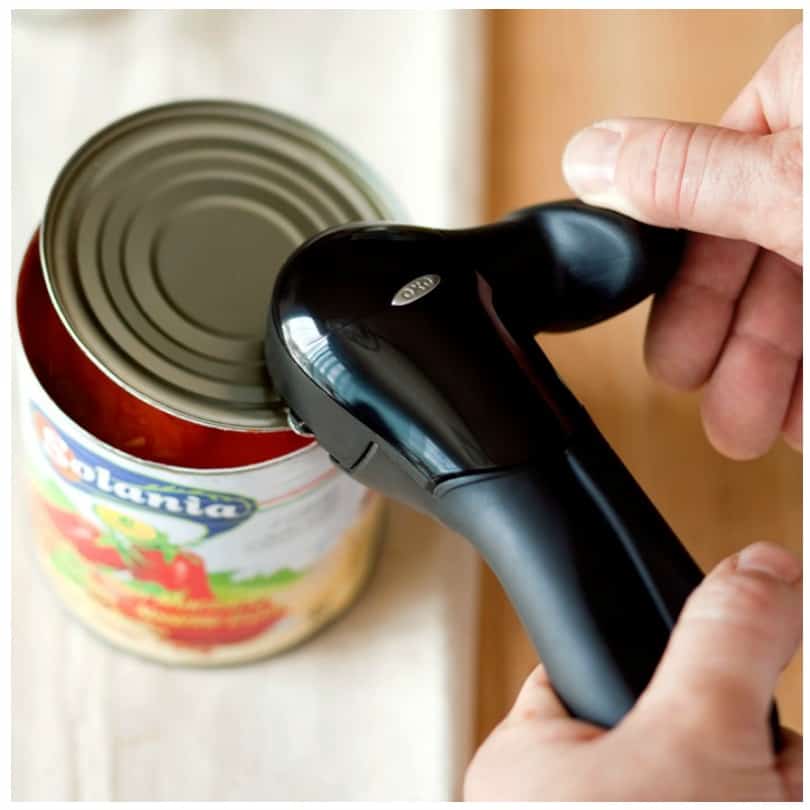 The blade on a can opener comes in constant contact with foods like meat, fish and sugary liquids. If it's never cleaned it can easily develop E. coli, mold or salmonella. Manual can openers can go in the dishwasher along with the regular load. For an electric opener, use a brush with some soap and hot water, then dry it.
Cleaning the Kitchen Sink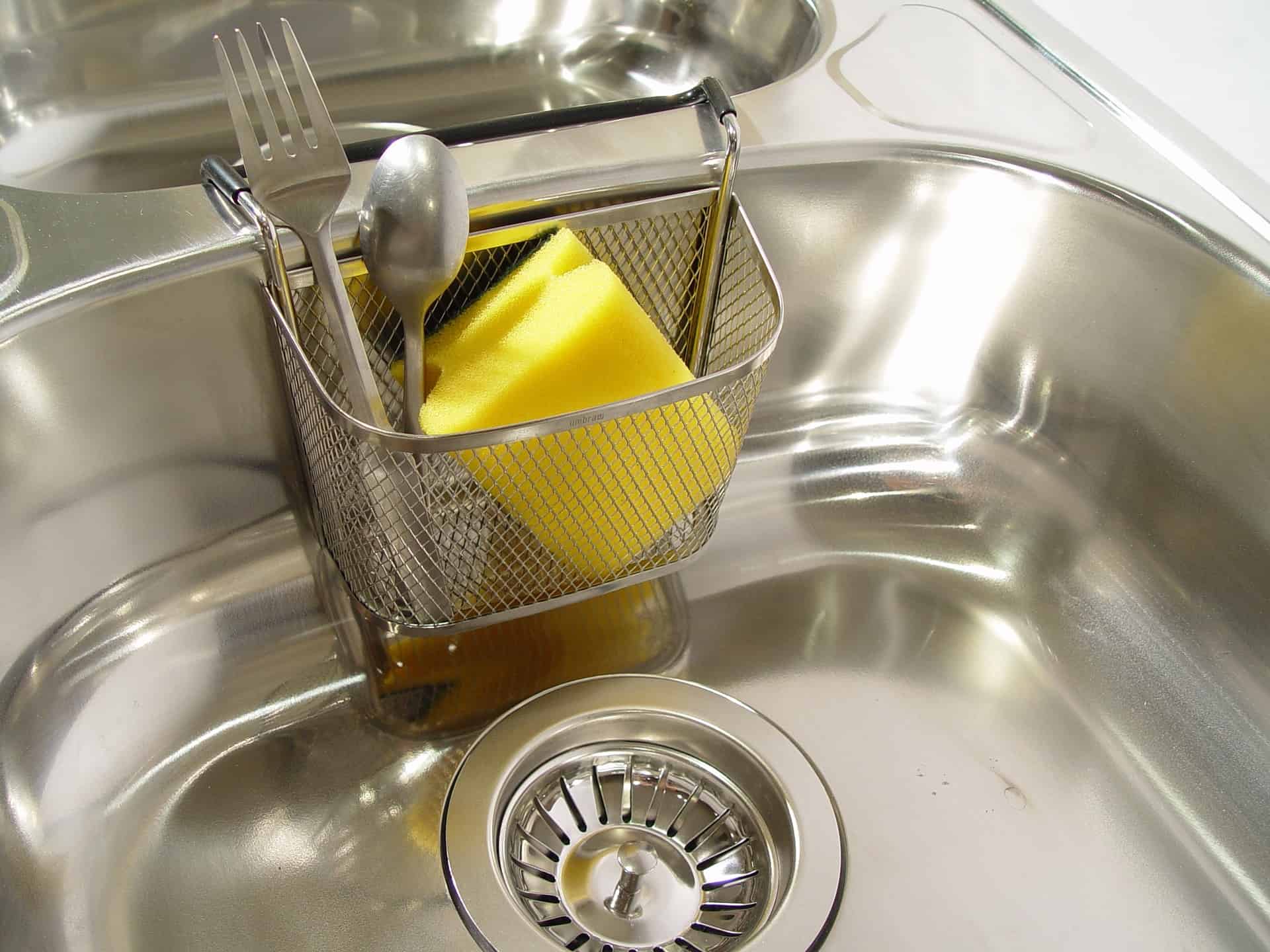 The kitchen sink is a catch-all for everything from washing your chicken, to washing your hands after working in the garden or on the car. It's easy to give it a quick spray rinse and consider it clean but that doesn't remove bacteria that can sit in small scratches.
How to Clean It
To remove marks – The quickest way to remove marks is to use an eraser-type sponge like the Mr. Clean Magic Eraser . Tough spots may need a spray of an all-purpose cleaner with bleach, then more erasing, then rinse.
How to Sanitize it
To sanitize the sink after cleaning it, plug the drain then fill the sink with about a gallon of warm water. Mix in a tablespoon of bleach, then dip a sponge in and wipe down the faucet. Let the water sit for five minutes, then rinse it and allow it to air dry.
If you keep some baking soda nearby it'll help eliminate stains after dumping things like coffee or red wine. Just sprinkle a little on, wipe it and rinse. And sprinkling a little in the drain is great for eliminating odors.
What eventually makes a stainless steel sink look worn is the accumulation of scratches. You can smooth away small scratches (which also hold bacteria) and keep it looking new with a powdered stainless-steel cleaner.
Keeping the Garbage Disposal Sanitary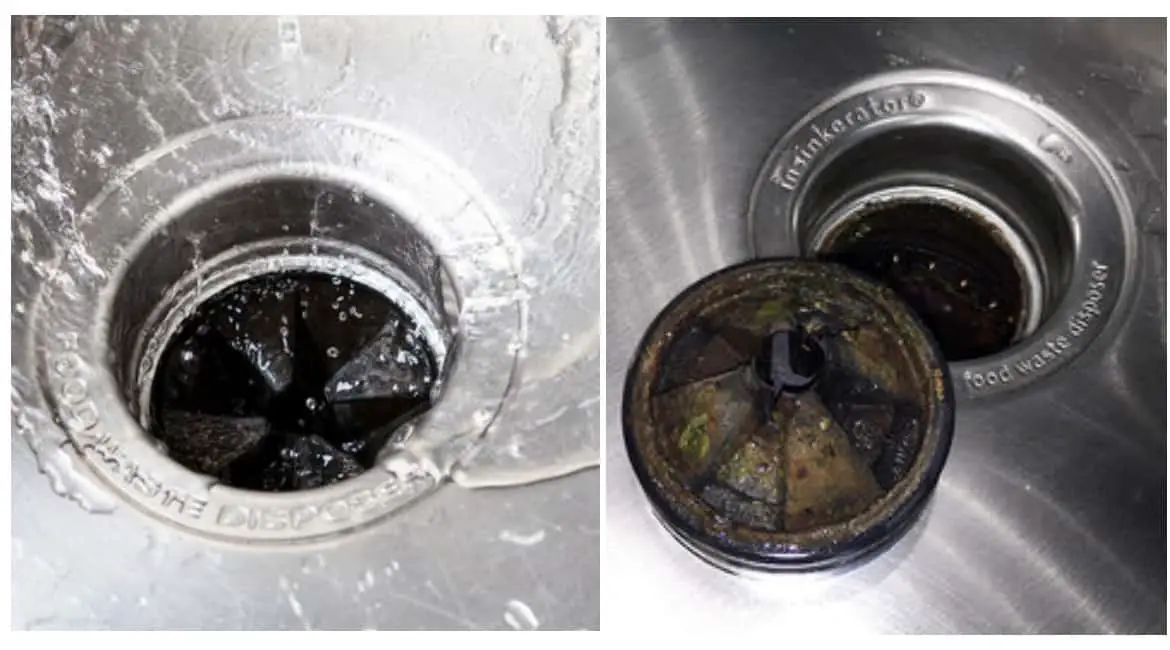 The garbage disposal was such a great addition to kitchens, saving you from having to throw wet food scraps into your kitchen garbage. But without regular cleaning, it's also one of the worst breeding ground for bacteria also. Just running water to rinse it isn't enough. You also have to sanitize it.
Here's How
Sprinkle about a half cup of baking soda down into the disposal then add one cup of white vinegar. The mixture will fizz and make a little noise. Allow this to work for a few minutes while you boil a kettle of hot water. Pour the boiling water down the drain.
Now fill the drain with two cups of ice. Pour a cup of salt (rock salt is great if you have it, I improvised with coarse sea salt) over the ice cubes. Run the cold water and turn on the garbage disposal until the ice is gone. The ice/salt mixture will help loosen the grime and debris from the grinding elements
Cut a lemon or lime in half. With the water on and garbage disposal running, add the fruit halves, one at a time, to the disposal. The fruit will help clean and deodorize your drain.
Final Thoughts
The methods here don't take a lot of extra time, but they'll go a long way to keep your family healthy. Just incorporate them gradually as you tackle certain areas and the routine will become second nature. If you have any kitchen cleaning tips that work great for you, feel free to leave them in the comment area.
RELATED POSTS