"This post may contain affiliate links. Please read my disclosure for more info.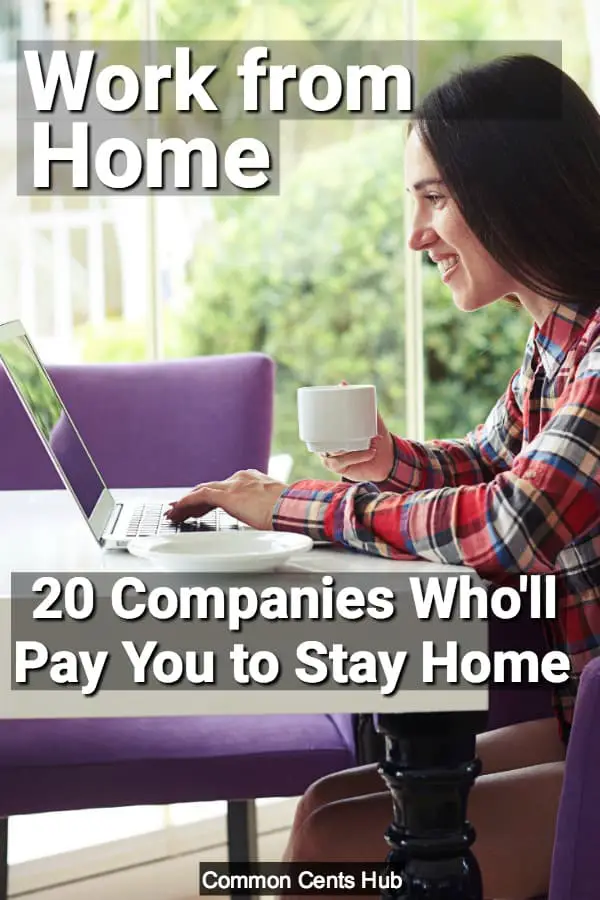 Thousands of people have been transitioning to home worker jobs during the past decade, and they're not all self-employed. It used to be hard finding a legitimate work from home job, but now many companies prefer you to work from home.
The company saves money, and they're able to evaluate your performance electronically, just as if you're in the office.
Sometimes in life, we need to be in two places at once. We need to be at home, but we also need to earn a paycheck.
I've been able to make money from home since 2008, Whether it's kids at home, a sick family member, or you just want a break from the commute – working from home can offer some huge benefits.
Here, for this list, I've compiled only well established companies with legitimate work from home jobs hiring now.
How Hard is it to Work From Home Full Time?
Just a decade ago you'd be lucky to find a company that supported home workers. Now many companies hire the majority of employees for work-from-home jobs. Working from home does have its perks.
You'll save thousands in gasoline, car repairs and maintenance.
You'll sleep later.
You'll save on your wardrobe, lunches and other incidentals.
You'll eliminate the aggravation of commuting in all kinds of weather and traffic.
If you have kids at home you'll be there to see them off to school and be there when they return.
You won't have the usual interruptions, and will be able to concentrate on the task at hand.
You can work in your PJ's.
Getting Started in a Work-From-Home Job
Most companies have realized over the last ten years or so that to be competitive, they need to offer some work/life balance to employees. And developments in technology have enabled them to gauge employee performance whether they're sitting in the office or 45 miles away in their home.
You may not want to work at home your entire career. But if you're at a stage in life where you need to make money and also need to be home, you can't beat it.
One thing to keep in mind – some companies will supply home workers with everything you need to work at home -even a laptop. Others may require you to have your own laptop, a broadband internet connection, and a land line.
Just check their site and it'll tell you everything you need to apply.
Posts Related to Earning Money: 
Here are 20 Legitimate Work From Home Companies Hiring Now :
1. 
Appen is a global company that specializes in speech and search technology services. They provide detailed insight into the relevancy and accuracy of search results queries, photos, ads and more. So they offer home worker jobs as social media evaluators using apps like Facebook, Instagram, and Twitter. They offer short-term and full-time opportunities. The hours vary per project, and you'd answer a questionnaire to qualify for each project. Appen has been included on Forbes Magazine's list of the top 100 Companies Offering Flexible Jobs for the last three years.
Check Appen's available jobs.
2. 

LiveOps is primarily a call center where you'd provide support over the phone. They currently have over 20,000 people who work in various support areas, like roadside assistance, inbound or outbound sales, healthcare and others. You can work as many or as few hours as your schedule permits. You can schedule your time in blocks as small as 30 minutes, and choose times that work best for you.
The pay rate varies depending on your specific assignment but a typical arrangement might be 25 cents per minute of talk time, which translates to $15 per hour. Some other arrangements may pay a base rate in addition to a bonus. Some programs pay entirely on commission
Check LiveOps available jobs.
 3. 
Based in Bloomington, Minnesota, Edmentum provides educational solutions to more than 8,000 school districts throughout the country. Edmentum's product line includes courseware, test preparation, assessments, reading programs, college and career preparation, and virtual academies.
Some of the home worker jobs at Edmentum would be in virtual teaching in a variety of subject areas, a customer relationship manager where you'd have a territory and work to ensure customer needs are met, new product development and account management to name a few.
Check Edmentum's available jobs.
4.
TeleTech hires people to work from home using their proprietary technology to support customers with a variety of customer service and technical needs. This could include helping customers over the phone, via chat, or on social media. TeleTech hires people from anywhere in the country
Check Teletech's available jobs.
5.  
 
Working Solutions was created in 1996 to provide legitimate work-at-home opportunities. They partner with clients from different industries, providing them with educated and experienced work from home contractors. To apply at Working Solutions, you'd fill out an application online, then you'd be contacted to schedule an online basic skills assessment. Once you pass the assessment, you'd be able to choose a project to work on.
Each program is paid differently. Some pay by the record or entry, while others pay by talk minutes, sales, or a combination of both. Some agents may be paid a set amount per program. Agents have earned the equivalent of anywhere from $9 an hour to $30 an hour, depending on the program. Your income will vary, based on the work you are doing, your performance, how much work is available, and how much time you put in.
Check Working Solutions available jobs.
6. 
Kelly Services has been around since 1946 and they're one of the most well-known agencies to supply contractors and temporary workers to businesses. They offer businesses a variety of outsourcing and consulting services as well as staffing on a temporary, temporary-to-hire, and direct hire basis. They hire people from a variety of backgrounds and experience so the pay rate varies depending on the type of job.
Check Kelly Services available jobs.
7. 
Sutherland has 38,000 employees in 19 countries. They're currently hiring people to work from home on the phone supporting residential customers with technical assistance and responding to general inquiries. Some of the things you may be involved with are dispatching a visit to a residential customer, checking a database for information, answering billing inquiries or placing follow-up calls.
Sutherland sends you the equipment you'd need to work and it if breaks, they overnight replacements. They're known to have good tech support staff available for software related issues. They would train you for whatever position you're hired for.
Check Sutherland's available jobs.
8. 
UHG has been around since 1997 and has over 10,000 employees. They are a Fortune 6 group whose stated mission is "to help people live healthier lives while improving the health system and expanding access to quality care." They hire for a variety of work at home positions like sales, marketing, technology, and healthcare.
Check United Health Group's available jobs.
9. 
Hilton is one of the most recognizable names in the hospitality industry. Current employees have noted that Hilton has good family benefits, especially maternity leave and that they're really ahead of its competitors with technology.
A lot of Hilton's work from home positions are in the reservations and customer support areas. They offer training, benefits and describe their home worker jobs as "stable, year-round, not seasonal". If you're looking to work from home legitimately, Hilton is an outstanding company.
Check Hilton's available jobs.
10. 
Cactus is a leading global provider of scientific and medical communication services to researchers, authors, scholarly journals, publishers, academic societies, and pharmaceutical and device companies.
They offer editing, publication support, medical writing, translation, and transcription to help businesses with their communications. Most of the work from home positions with Cactus would fit someone who may have some experience in the health or scientific field and wants to work from home. Former employees have said that Cactus is very flexible and sensitive to the fact that you may be doing this in your spare time.
Check Cactus Global's available jobs.
11.
Kaplan specializes in training and development programs. They offer higher education programs online and at campuses, test preparation, and professional training. The opportunities for working remotely with Kaplan would be things like a content developer, an instructor, a technical editor, classroom operations coordinator, an academic consultant, a test question developer, client services manager or a researcher, among others.
Employees have said that Kaplan offers training and development programs for their employees, they have flexible scheduling, and their pay is fair. Everything needed for training is paid for unlike other tutoring and teaching companies. Many people in upper management are former teachers, so if you have a teaching background there's definitely room for growth at Kaplan.
To see Kaplan's work from home opportunities, just click the filter for "Remote/Nationwide".
Check Kaplan's available jobs.
12.  
Who hasn't heard of Dell? We all know Dell as one of the leading providers of desktops and laptops. But they're really a family of businesses that provide the essential infrastructure for organizations. They provide hardware, software, maintenance, consulting among other services.
The home worker jobs at Dell would be in areas like technical support, sales, product managers, training, and others.
Check Dell's available jobs.
13. 
Chances are, you've used a software product produced by Intuit. They're one of the leading developers of financial software that helps users take charge of their money. Employees at Intuit have said that there are lots of opportunities to learn and grow here, and they stress innovation in all areas of the company, not just in the products they sell.
Check Intuit's available jobs.
14. 
 VIP Desk Connect has been around since 1997 and they provide outsourced customer service 24/7. So these opportunities would primarily be working from home probably wearing a headset and answering customer calls.
One caveat: In order to hire people, a company must be licensed in the state that they're hiring. Currently, VIP is licensed to hire in these 15 states: AZ, CO, CT, FL, GA, IL, IN, MD, NJ, NV, NY, OH, TX, UT, and VA.
When you apply, you'll be given a questionnaire which will match you with the opportunities they have available.
Check VIP Desk's available jobs.
15.
Are you into digital media and photography? If so, Shutterstock could be a great place to work. They're one of the largest suppliers of royalty-free photos, music, videos, and illustrations. They serve media organizations, business, creative professionals, and marketing agencies around the world. Some of the work from home jobs they offer are image reviewer, metadata editor (editing the descriptions for sorting and categorizing), picture editor, social media manager, among others.
Check Shutterstock's  available jobs.
16. 
Direct Interactions was founded in 2005 and they work with home-based agents to deliver customer support solutions. They're based in Seattle, Washington, and they provide their clients (businesses) with sales and service support. Most of the opportunities to work at home for Direct Interactions would be as customer services reps.
Check Direct Interaction's available jobs.
17. 
If you've signed up for a 5K or other running event in the last several years, there's a good chance that it was done through Active Network. They're an online media company that strives to make it easier for community organizations and individuals to participate in activities and events.
Founded in 1998 as a registration website for endurance races, Active has since grown to include clients in golf, education, recreation, and government, as well as faith-based organizations, sports leagues, and call centers. They handle things like the processing of your signup, registration, results, and memberships.
A lot of their work from home jobs would be supporting customers via phone. You'd be answering questions, handling reservation requests, and troubleshooting issues. Active supports alternative schedules and part-time work.
Check Active Network's available jobs.
18.  
Established way back in 1948, Robert Half is a global professional staffing and consulting firm. They were one of the first and are the largest specialized recruitment service. Robert Half provides businesses with staffing and consulting from their more than 400 locations. They've been listed on the "World's Most Admired Companies" by Fortune magazine as well as to the "Best Places to Work" list in the San Francisco Bay Area.
One tip I'd recommend with Robert Half – since they're so large and have so many offices spread throughout the country, see if there's an office near you. You may want to actually get in front of them and personally meet someone to make an impression.
Check Robert Half's available jobs.
19.  
Maritz Research was established in 1973. They provide marketing research services to their clients and they specialize in areas like automotive, hospitality, information technology, restaurants, retail, financial services, and telecommunications. So, in order to provide that research to their customers, they utilize home workers to reach out and conduct telephone interviews and enter those results into a database. They provide whatever training you'd need.
Check Maritz CX available jobs.
 20.  
Sitel is a subsidiary of Groupe Acticall and they're one of the larger participants in the outsourcing industry. They serve many well-known businesses including many Fortune 500 companies. Sitel is present in nearly 150 sites across 70 countries.
Sitel operates an established [email protected] program that offers employees medical coverage, ample career advancement opportunities, paid time off, and a world-class virtual team. A lot of their work from home jobs would be in telephone customer service for various businesses. Depending on your skillset and experience, you could work in a variety of positions at Sitel.
Check Sitel's available jobs.
Two Other Ways to Work at Home:
Working from home for an employer is a great option if you can make it work. But there are still more ways to escape the commuting rat race, and sitting in an office for a paycheck that's barely enough to pay the bills.
Start a Side Hustle That You Can Scale to Full-Time.
One thing that stops so many of us from ever escaping paycheck to paycheck life, is the belief that we're only qualified for a narrow skill set. Haven't you heard of people around you who've built home businesses and are now finally able to do some of the things you struggle with, like putting money away for the future?
For instance, I knew absolutely nothing about blogging or how to get my own website when I started this site. One night I just decided to do it. I figured I'll learn a little each night.
You can do that too! In fact, I've put together 20 Side Hustle Ideas to Make $100 a Day. I specifically looked for ways to start making money that don't require experience, that you can start this week. People jump in and start new ventures every day and just figure things out as needed. That's the only thing that separates them from you and I.
There's no shortage of money out there, so why shouldn't it be coming your way?
Earn Money from Home as a Freelancer
Another way to become a home worker – and to earn several times what you might earn from an employer, is to freelance. Working at home for an employer will save commuting costs, but freelancing will save commuting costs and have no income ceiling.
I've been able to earn money by freelance writing, and it's something you too can break into. I don't have a journalism degree, and didn't even major in English. I took one course, Earn More Writing by Holly Johnson, and learned enough in one month to get my first job.
Holly worked a 9-5 job like the rest of us, and struggled to balance time between work and home. She decided to pitch a blog post to one website, which led to another…and another. Over the next several years, she learned things like:
How to pitch a job.
How to set yourself up for success at home.
How to impress an editor enough to offer you repeat jobs.
How to price jobs, and how to gradually raise your rates.
Within just a couple years, Holly was able to quit her 9-5 job and freelance full-time. She now regularly earns well over $200,000 a year, and her course details each step she took to get there.
The course also gives you access to her private Facebook group, which isn't like any other group I've been a member of. She's the most active person in the group, and interacts with members literally every day. This isn't a course you buy and then struggle alone with. She wants you to succeed, and has made herself available virtually every day in her group.
It's nice to work from home, but it's even nicer to determine your income, and Earn More Writing can help you do that.
Final Thoughts on Working at Home
The way to make money has evolved so much in the past ten years. We watched our parents commuting for decades, and assumed we'd do the same. Honestly, I never gave a thought to making money from home, until I became a single parent.
But faced with the situation, I was forced to think of ways to make money from home. I was lucky, because the management at the company I worked at permitted me to transition to a home worker.
Over the last several years, dozens of people at my company are now working jobs at home. Most companies – even the smaller ones have learned that to retain good employees, they need to get on the bandwagon.
After saving so much money, and seeing the quality of life with my kids improve so much, I thought it would be helpful to put together this list of twenty legitimate work from home companies, hiring now.
If your life is at a point where you need to be home, or you just like the idea of working in your PJ's, check some of these out. I'm pretty sure that somewhere in this list, you too can find a job to work at home.
Good luck, and let me know if it works out for you!