"This post may contain affiliate links. Please read my disclosure for more info.
Cable TV is dying. And if you're one of the dwindling group of people still subscribing, we'll show you here, how to eliminate cable TV and save thousands of dollars. And still watch the same content.
If you ordered a meal in a restaurant and the waiter said, "I'm sorry but you have to order three salads with your meal so we can afford to pay our produce provider", you'd probably walk out and go somewhere else. If you still subscribe to cable TV, that's exactly how you're being charged. Most people watch less than 10% of the content that they pay for.
That works great for the cable company to spread their costs across their entire customer base, but why should you pay for over 100 channels that you never watch? For a long time, there weren't any alternatives. But now there are.
Why Is Cable So Expensive?
Have you ever gone to the mall looking for a shirt or a dress for a certain occasion, looking to spend as little as possible? And the minute you walk in, sales people approach you offering their 2 shirts for $99 deal or their 2 dresses for $125?
But you only needed one. And you didn't want to spend an arm and a leg.
Or that car you're shopping for has a certain type of wheels you like. But they're only available as part of the "sports package " for an extra $2200.
The average cable customer watches only about 10% of what they're paying for.
The Introductory rate is deceiving
Cable TV sounds like a bargain when they promise you a low introductory rate. Then the bill arrives and you see another 30% tacked on for hardware rental fees. And once that introductory rate expires, your cable bill will creep up like a wedgie in August.
You can call the cable company and diplomatically ask for a price reduction. If you've been a subscriber for several years and hint that you're considering other options you might just receive a reduction. But by next year you'll be back up to the same rate. And they count on the fact that you won't get around to calling again.
What Else Drives Up the Cost?
Cable companies also count on a steady revenue from hardware rental fees. Everything from cable modems to DVR receivers, to remotes, represents a never-ending income stream for them. And those charges will increase each year. Where does it all end?
Well if you live in a town like me, where FIOS has never been installed, the price increases for cable never will end. I had a Comcast rep tell me once that I live in a "non-competitive area".
So in other words, I can expect their prices to rise every year. According to NPD, a firm that provides business analytics, the prices for pay TV are expected to rise by 6% every year. Don't you wish your salary rose by 6% each year?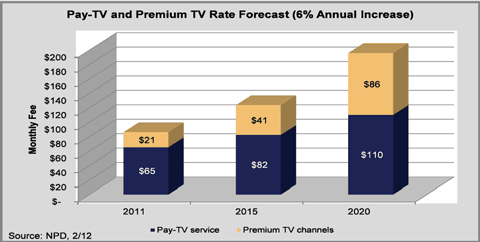 Comcast used to require a cable box on only the TV where you wanted to receive premium channels. Any other TV's in your home could receive a signal for basic channels by installing a splitter on your cable wire. So in addition to your monthly cable charge, you might spend around $9.99/month to rent one cable box.
Several years ago, they started issuing small boxes for every TV in your home – and began charging you to rent them. Around $1.25 didn't seem bad at first. Fast forward about 3 years, and now they're $5.99 per month – each!
Our house happens to have four TV's. So let's add that up.
$19.99 – Main cable box with DVR capability.
$17.97 – Three additional boxes @ $5.99 each for non-premium TV's.
$43.95 – Total.
$43.95 just to rent their equipment every month. And that's before we even buy any cable TV!
To see if you'd benefit by cutting out cable, think about what you actually watch. Chances are, it's only a handful of channels. In my case, I watch a few of the cable news channels, sports on the local affiliates and an occasional movie.
But I pay for Telemundo, BET, TBS, QVC, The Cooking Channel, and about 2000 "free on-demand movies". And none of these movies seems to have been made after 1983.
If the thought of ditching cable – and the several-thousand-dollar annual cost has ever crossed your mind, there is a way to do it without suffering too much.
So How Can You Eliminate Cable TV?
The two most popular ways to cut the cord and save thousands of dollars are:
Plug in a streaming box at each TV.
Use a digital antenna.
What's a Streaming Device?
A streaming box is like the cable box, but smaller. It connects to your TV in place of the cable box and enables the TV to receive digital content from the internet. So you'll still need an internet connection, but the streaming player will then send content to your TV.
Some of the popular streaming players and price points are:
$35 -Google Chromecast
$39 – Amazon Fire TV Stick
$49-$129 – Roku (several models)
$129 Apple TV
What Can You Watch Through a Streaming Device?
For starters, anything you'd watch on your internet connected laptop could be streamed to your TV. If you subscribe to Netflix ($7.99/month) any of that content is viewable, or if you're an Amazon Prime member, any of the thousands of movies on Amazon Video can be streamed.
You can also subscribe to providers like HULU, where you can pay as little as $7.99/month for their content or $11.99 for commercial-free content. Hulu offers some of the same channels as cable and they offer a one-week free trial.
Some of the streaming players, like the Roku also offer free channels and premium channels. Try going to their site and check the content they offer to see if it meets your needs.
Is Everything Free Through a Streaming Device?
No. Some of the streaming players, like Roku, do offer free content along with your ability to watch subscription service you already have, like Netflix, Amazon video, HULU or anything on the web.
But one distinct difference from cable subscriptions is that you'd purchase things ala carte. You wouldn't need to pay each month for a "Sports Package" or buy 9 channels of HBO every month if you only watch a few movies here and there.
Here's a Cost Comparison between Cable and Streaming
I have the Roku 3 so I'll compare the Roku 3 to what we were paying for Comcast Cable:
Comcast:
$169.00 – Monthly charge for Comcast's bundled "triple play" option – telephone, TV and internet service.
$19.99 – Monthly charge for one Hi-def cable box with DVR.
$17.97 – Monthly charge for 3 smaller boxes for 3 additional TV's.
$206.96 – Sub Total
$18.04 – Taxes & Fees
$225.00 Total Monthly charge
So we were paying $37.96/month or $455.52/year to rent their equipment. That $169/month rate suddenly becomes $206.96/month, and with taxes and fees, is a ridiculous $225/month. To watch TV.
$2700

– Comcast Annual Cost.
Streaming:
The first year:
$360.00 – Cost of 4 streaming boxes. (We could have purchased devices in the $30-40 range and saved $200).
$55.00 – Cost of internet service.
$7.99   – Monthly cost of Hulu service.
$422.99 Total for the first month. Then $62.99/month, for Hulu ($7.99) and internet service ($55.00).
$1115.88

– Streaming Annual Cost 

for the first year.
Subsequent years:
$55.00 – Cost of internet service.
$7.99    – Monthly cost of Hulu service.
$62.99 – Total per month.
$755.88

– Streaming Annual Cost for subsequent years.
So even though I purchased 4 streaming boxes, I saved $1584.12 the first year ($132/month) and in every other year I'll save $1944.12 ($162/month) from what I was paying for cable.
The big difference when you cut out cable and go with a streaming player is that you're no longer paying for services that you don't use, and you eliminate hardware rentals.
You can select just how much content you need – and what you want to pay for.
What Can't You Get Through a Streaming Device?
Until mid-2017, you couldn't get your local affiliates of CBS, NBC, ABC and FOX through a streaming box. So you'd be able to watch news and weather, but it just wouldn't be the same broadcasters you were used to.
In May 2017, Hulu launched their Hulu Live option which finally does offer your local channels. It's priced at $40/month, which is still probably lower than basic cable.
And since the average cable consumer pays an additional $40/month to rent cable boxes, Hulu Live, even at $40/month, would end up costing a fraction of what cable does.
Eliminate ALL Subscription Costs – With a Digital Antenna
If you're really determined to cut your monthly costs to absolutely zero, there's a way you can do that and still watch your local TV stations. You won't see any cable channels, but if you're ok with local channels, and renting videos or borrowing them from the library, there's a way to do that too.
You can buy a digital antenna. These aren't the old, ugly things that used to be on everyone's roof 30 years ago. You can get a digital antenna that's only about a foot wide for around $50.
It's a one-time cost, which will allow you to watch your regular local channels for free. And the picture you receive through a digital antenna isn't the grainy one like old antennas prior to cable. In many cases, the picture is better than cable.
The most popular digital antenna is made by Mohu and it's delivered in a box a little smaller than a pizza box. They're very simple to setup in your house, but you may want to do a little experimenting to pick the best placement. Mohu has a nice feature on their homepage where you can enter your zip code and it'll determine the correct model, depending on what transmitters are near your home.
A digital antenna would enable you to watch sports, news or anything broadcast on CBS, NBC, ABC, or FOX without paying for cable. Now that's a way to cut costs!
How to Try Before Switching
So the choice is all about what's right for your family. But if you're serious about cutting out unnecessary expenses, this is one area where you can save literally thousands of dollars.
One way you can dip your toes into this and try it first is to buy one streaming box and just connect it to one TV in place of your cable box. See for yourself what content is available and evaluate what you might be buying ala carte.
See if it meets your needs and compare the price to what you're paying now. If it does, then convert the other TV's in your house. And start hanging on to thousands of more dollars over the next few years.
To make it easy to evaluate different options, I'll list some of the more popular streaming players here. To reiterate, each one of these streaming players would enable you to cancel your cable subscription AND the rental of your cable box. You'd be able to view numerous channels through your home wifi connection.
These are Some of the Popular Streaming Devices
Amazon Fire Stick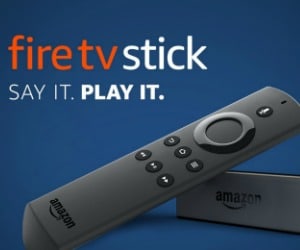 The Amazon Fire Stick sells for $39.

Watch thousands of channels, apps, and use Alexa to access to over 500,000 movies and TV episodes from Netflix, Prime Video, Hulu, HBO, SHOWTIME, NBC, and more. Access any website on your TV.
With Alexa so you can say, "Play Game of Thrones" or "Launch Netflix". Heck, you can even order a pizza through this.
If you subscribe to Amazon Prime, you'd have access to

 thousands of movies, TV shows, Thursday Night Football, Amazon Original Series, Prime Video Channels, and millions of songs on Prime Music.
Several Roku models.
The Roku Express is the most inexpensive option and would be a huge cost saving over cable.
For $29 you could say goodbye to monthly cable bills. The Roku Express can connect to your TV's HDMI port or with the supplied AV cable for older TV's.
A step up from the Roku Express is the

Roku Streaming

Stick

.
It's twenty dollars more at $49 because it's has a more powerful processor and a more full-featured remote.
If you have multiple TV's in your house, either one of these is inexpensive enough to buy for one TV, try it and decide if you'd like to go ahead and ditch your entire cable bill.
The Roku Ultra (below) is still another step up at $129 but has a lot more cool features built in, like voice search, a quad-core processor, gaming controls built into the remote, and a host of other options.


There are other Roku models available but these are some of the more popular models. The thing to keep in mind is that the cash you spend on a streaming box is a one-time cost. It would pay for itself within a couple months and from then on, save you thousands of dollars in cable bills.
So what about you? Are you still paying for cable? Are you looking for alternatives?
What would you do with an extra $2000 a year?
RELATED POSTS
Join to Receive Your FREE eBook. 50+ Ways to Save All Year Long.