"This post may contain affiliate links. Please read my disclosure for more info.
Trying to save $10,000 in one year may seem like a tough challenge, but it's more realistic than you might think. Saving $10,000 in 12 months means coming up with an average of $833 each month, but with a bit of strategizing, it's a goal worth pursuing.
If you're living paycheck to paycheck now, then finding an extra $833 every month may seem as likely as wining the lottery.
But we found a way to do it that didn't require us to live like monks for a year. Sometimes it's not a matter of pulling money out of thin air, but rather pulling it from places you're spending it now.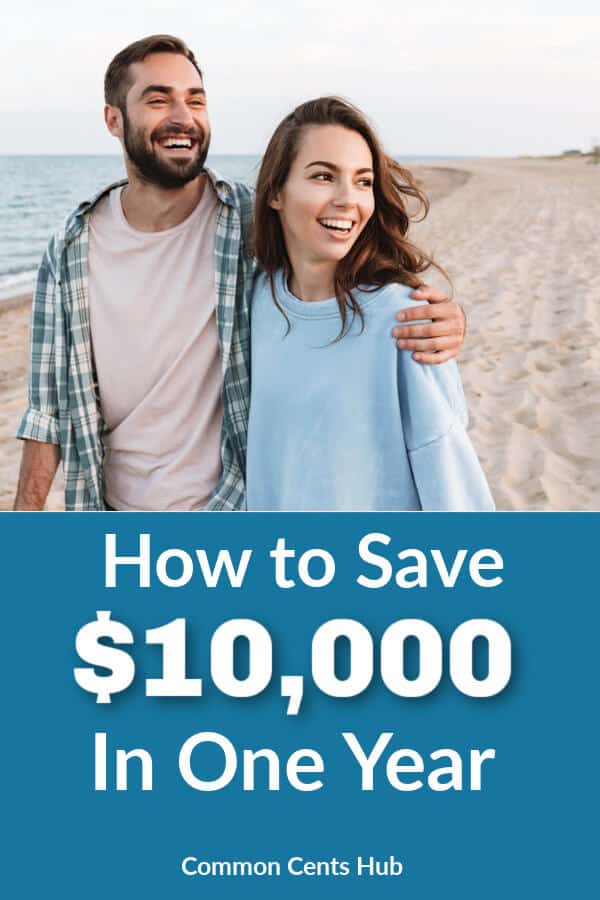 I don't mean sacrificing and doing without either. What enabled us to save not just $10,000 in a year – but over $15,000 over the course of 12 months, was reviewing each regular expense and finding a way to get the same value for less money.
Check out the expenses below, and see if, rather than trying to pull $833 a month out of thin air, you too might be able to redirect it from somewhere you're spending it now, to your savings goal.
Some of these may not fit your situation, but if they do, you'll start to see that $833 monthly goal come into much better focus. 
Here are the 7 steps we used to save $10,000 in a year, and how we were able to make our goal much easier:
Step 1 - Save for a specific goal
The author, Bill Copeland said,
"The trouble with not having a goal is that you can spend your life running up and down the field and never score."
Likewise, running to and from work each day, especially to a job you're not crazy about, can take an emotional and even a physical toll. Especially if there's no "why" behind it. There's gotta be something to look forward to other than successfully paying the bills another month.
You can save $10,000 in the next 52 weeks, but it'll be easier with a goal other than just accumulating cash. 
Do you want to travel? Buy a home, or make improvements to yours? Start a family, pay off debt, or start a business? Your goal will be your motivation, and it'll help you to ignore the things your friends and family might be reaching for while you're on a saving mission .
Step 2 - Break it into manageable steps
When you realize that saving $10,000 in a year means coming up with an average of $833 every month, it seems intimidating.
Here's the actual breakdown of what you'll need to save, depending on how your income is structured:
$833.00 Each month.

$384.00 Every other week.

$192.00 Each week.

$27 Each day.
Suddenly coming up with an extra $192 a week might seem impossible, but not if you look at it another way:
$192 a week, or $833 a month, is the amount you'll need to put toward your goal each month in order to save $10,000 in a year. But who says that entire amount needs to come from your paycheck?
What if you could pull money from other areas that'll decrease the amount you'll need to come up with?
We'll talk about how to do that below, but before that's possible, you need to know what you're working with. Let's see where the money's being spent now, so we'll know where we can pull from.
Step 3 - Create a budget to control spending
We know now, what we're saving for. We have a goal. And we know how much we'll need to deposit each month in order to save $10,000 over the next year.
Since this is a one-year goal, a budget will let us look at the yearly total of every category of spending. That's when things we might take for granted start to jump out. "I spend that much on…."
Then we can drill down on certain expenses and come up with some of that $833 every month. I don't mean just cutting things out and sacrificing, but finding ways to get the same value for less money.
But the key to it is… once we find a way to decrease a category of spending, we'll immediately start directing that amount to our savings goal. This will decrease the amount we'll need to find in our paycheck.
For instance, suppose you found a way to decrease food spending by $150 each month. Right away, we setup a weekly or monthly automatic transfer to your savings goal that totals $150 per month.
Finding savings in one area and immediately applying it to your goal avoids having the savings swallowed up somewhere else.
So we have two tasks:
Create a budget to record each spending category.

Create a method to track our savings progress. 
Luckily, most of the work is already done!
Here are 10 free budget templates you can choose from to record your spending with. If you're not using a budget now, then getting it written down is usually pretty eye opening.
Step 4 - Find the best vehicle for your savings
Once we zero in on expenses and find ways to get the same value for less money, we want to divert that savings immediately to our $10,000 fund. The quicker we do that, the less we need to find in our paycheck.
A dedicated savings fund should be a separate account. One that's readily accessible, but also earns interest.
The best option available now, especially for a savings goal, is the CIT Savings Builder account. It's an online only account with no fees, and pays one of the highest rates of any savings account.
Once your account is open, setup an automatic, weekly transfer from your checking account into your online savings account. We initially set ours up for $25/week in order to get CIT's highest rate of return. 
And as we went through each spending category and found more money, we increased the amount of the transfer.
Remember, the key is to find savings and immediately redirect it to your $10,000 fund before you're tempted to spend it. Pretty soon, you'll be surprised to see how much less than $833 a month you'll actually need to come up with.
Step 5 - Save $10,000 in a year by redirecting it from other areas
It's funny how we become accustomed to certain spending habits that eventually aren't adding any value to the life we want. Or maybe it is adding value, but there are cheaper alternatives.
Here are 8 expenses we were able to either eliminate or find a cheaper alternative that offers equivalent value.
The savings totals are the amount we saved. Granted, yours will be different, but taking the time to do this will really bring your goal into focus. It'll show how achievable it really is to save $10,000 in a year. 
It's easier than ever to save on insurance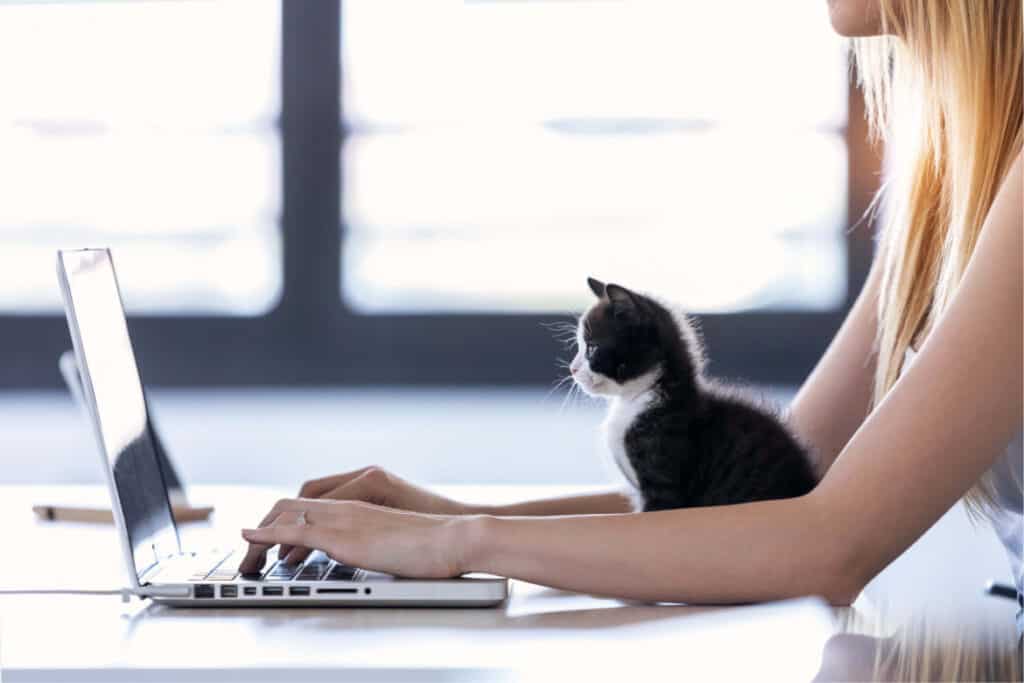 Insurance costs are easy to overlook because they're usually setup to auto-deduct. When you don't write a check or schedule a bill each month, this can slip under the radar for years without making sure you're getting the best value.
I spent about an hour recently, checking other companies for our auto and home policies. And for us, it paid off to the tune of $2700/year, combined.
Shopping for a better policy no longer has to mean giving your phone number out and then fielding phone calls for the next two weeks. 
Just grab the declaration page for your current policy and go to an independent site like Policygenius. They'll do the checking for you, free of charge, and email you within a day with the best quotes they're able to find. Without a single phone call.
Yearly Savings: $2700.00     Monthly Savings: $225.00
Is an $1100 phone a necessity?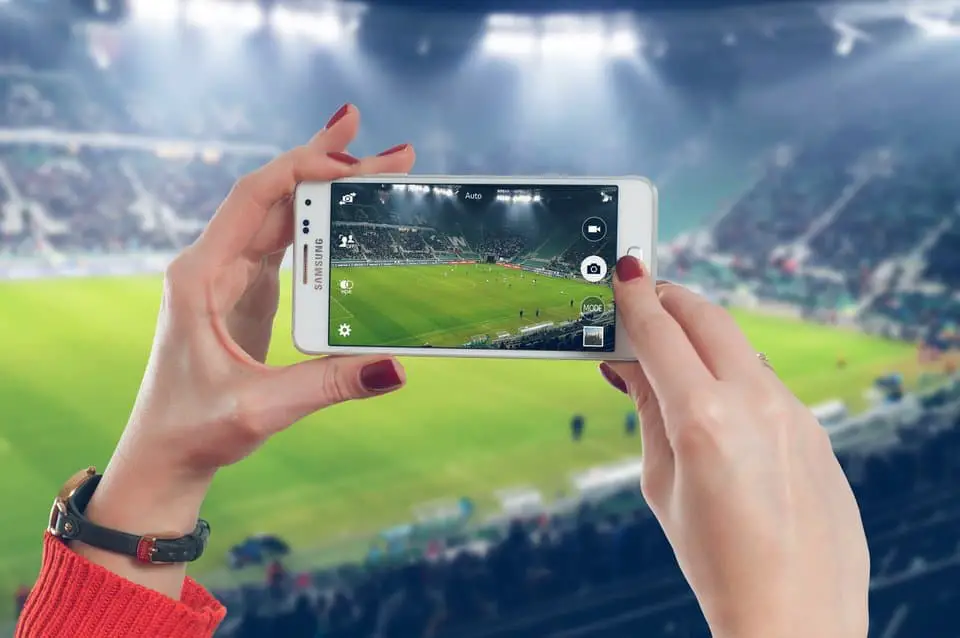 Isn't it funny how some things that didn't exist 20 years ago, are now things we wouldn't leave the house without?
Cell phones can call for help when we're stuck, give us turn by turn navigation, take photos, or access the internet from anywhere.
And the major companies like Verizon and AT&T want you to believe you should be doing it all with the latest iPhone.   
But just like millions of people are discovering that cutting cable in favor of streaming can save thousands of dollars, we now have phone options available that can do the same things for a lot less money.
You don't need to spend $80-$100 a month per phone – on top of never-ending finance payments for an $1100 phone. 
Any smartphone can do the same basic functions – call, text, take a decent picture, run apps, write notes and browse the internet.
If you're ok with getting the same functionality and don't need the status of an iPhone, you can save serious cash – like $100 per month by going with a company like Republic Wireless.
Their plans start at (and this isn't a typo) $15 a month. Then you'd add on as much data as you need, at $5 per gigabyte. I can't remember the last time I used more than 2 gig in a month, but that's the plan I have, so I pay $25 per month. Total.
So if you're ok using an Android (Republic doesn't support iPhones) you'll be able to keep more of your money.
Yearly Savings: $1200     Monthly Savings: $100
Why finance a depreciating asset like a car?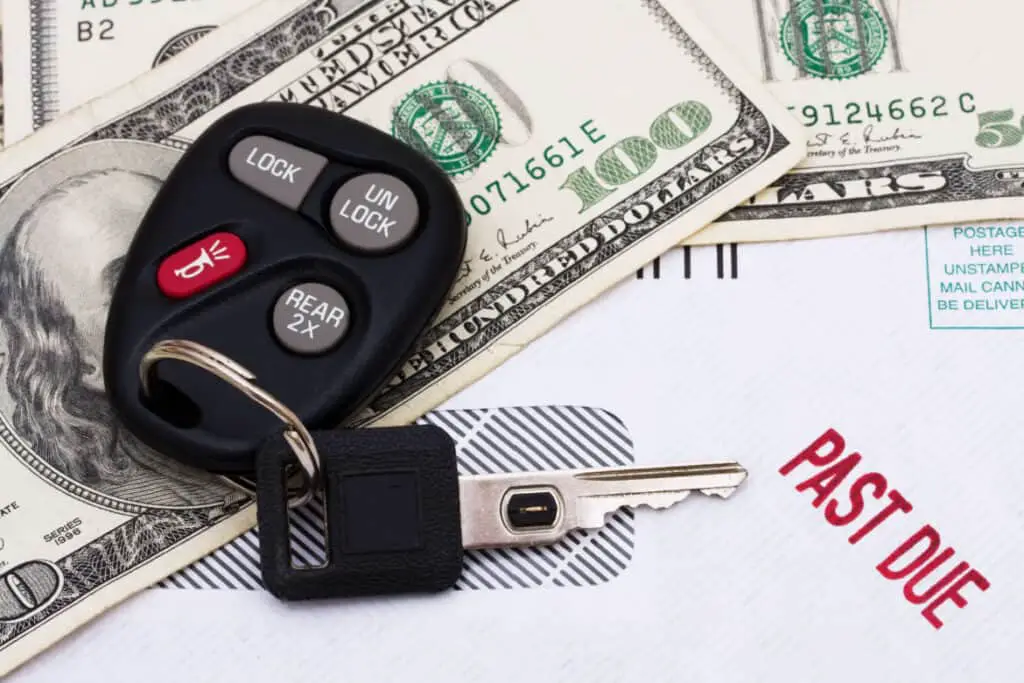 If it makes sense to buy assets that appreciate in value rather than depreciate, then financing a new car is one of the worst things you can buy. They lose 12-13% of their value each year, and even more the minute you drive it off the lot.
I remember writing monthly checks for almost $500, when I had no emergency fund, and was contributing a fraction of what I should have, to my retirement fund.
It's nice driving a new car, but not if your net worth isn't increasing while you shell out payments for it. 
The real cost of high car payments is the compound interest you lose by not being able to pay yourself each month.
I wish I had known Dave Ramsey's simple car buying plan back then. To him, debt is an emergency. Here's how he suggests buying a car:
Save about $2000 and pay cash for a car. No, it won't be the envy of your neighbors, but this part is temporary.

Now, instead of forking over $450-$500 to a finance company each month, save it yourself for about 10 months. Then sell your clunker and combine it with your savings to buy a car in the $6000 range.

Now you have a car that'll last awhile, and if you can keep saving that amount, you'll set yourself up with a nice emergency fund, pay off debt, and then start accumulating savings.

And if you want to upgrade your car then, you'll pay cash.
Yearly Savings: $6000     Monthly Savings: $450-$500
Pay only for the content you want
I'm embarrassed to say that I procrastinated over dumping cable for YEARS. Part of it was just my hesitation to switch from something that was 'working' and going to something new. 
Cable companies know that dangling a 20% reduction in front of most customers, is just enough to delay your cancelation for another year.
But I didn't consider the fact that we were still paying almost $500 per year to rent all their equipment. In addition to the cable charges.
And it bothered me that we watched a tiny fraction of the hundreds of channels they forced me to subsidize.
I finally called them last year and said "no thanks". We're saving over $100/month now, and we watch literally the same shows.
Here's how you can do the same:
Any new TV should be wifi ready. When you turn it on, it'll guide you through connecting it to your wifi. Right away, there's $20/month saved on a cable box.
If your TV is a little older and isn't considered 'smart', you'll need a streaming device, like an

Amazon Fire Stick

. These too, are a five-minute setup.
The streaming device will show a menu on your TV of some of their content, and it'll give you the option of viewing services you subscribe to, like Netflix, Hulu etc.
For a complete rundown on the services you can subscribe to (all cheaper than cable) check out 20 Alternatives to Cable TV. 
When you can reduce expenses (in our case, by $100/month) and get the same value, it's literally money in your pocket!
Yearly Savings: $1200     Monthly Savings: $100     
Buying food with a plan creates huge savings
One mysterious black hole in lots of budgets is the amount spent on food each month. It's usually for two reasons:
We buy food in so many ways – grocery shopping, take-out, sit-down restaurants, work lunches, convenience stores, and those extra grocery trips when we need two items and somehow spend $30.

Not many people buy food with a plan. But if we did, a lot of those take-out trips, work lunches and convenience store trips could be eliminated.
Being more strategic about food shopping is a quick way to create room in your budget (and bring us closer to saving $10,000 a year).
After realizing we were spending over $900/month on food for three people, we were able to save $300/month almost immediately. And not by becoming a coupon nazi, but just shopping with a plan.
Just take 15 minutes once a week and plan the meals you'll need around your upcoming schedule. Because let's face it. Every night isn't the same. Some nights you'll need something quick, some you'll have more time, and other nights you may not even be home. 
Suppose you made a single, planned trip to the grocery store:
You might eliminate several $25 take-out orders.

Or save a few restaurants trips because "nothing's in the fridge."
Or the extra grocery trips for "just two things" when you spend $30.

Plan for leftovers that can be heated for tomorrow's lunch.

Or those 5PM panic attacks when the family asks, "So, what's for dinner?".
RELATED: How to Save Money on a Low Income
There are loads of meal plans that'll help, but the one we've found to be a good combination of cheap, and time saving is $5 Meal Plan. 
It's time saving because I'll just take a look at our weekly schedule, then select from their database of dozens of full meals.
I'll select quick meals or more involved ones, depending on what we have going on that week. Most take 20 minutes or less.
When I'm done selecting, they'll email my plan that includes:
The steps to make each meal.

The ingredients.

And the best thing – they'll give you one combined shopping list that includes ingredients to make every meal you've selected.
The meals average less than $2 each. For us, spending $5 a month to help save $300 was a good move. 
Yearly savings: $3600.00     Monthly Savings: $300.00
Why pay for a shelf full of chemicals?
It's crazy how much the average family spends on various cleaning supplies – usually anywhere from $300-$700 per year!. 
Manufacturers encourage us to buy individual products to clean each and every surface in our home.
So you not only spend a lot, but you'll have an entire cabinet full of chemicals when you can really just buy a few non-toxic household ingredients at the dollar store that'll clean just as well.
Yearly Savings: $240.00     Monthly Savings $20.00.
Yes, those Starbucks trips do add up
You won't get rich from cutting down on Starbucks, and I'd never tell anyone to pass up their afternoon caffeine fix. I've needed it just to drive home without falling asleep.
But when you look at things as a yearly cost, those $3 and $4 lattes add up.
An office I worked in, leased space in the lobby to Starbucks. Every afternoon when I'd start to drag, I'd be down there like clockwork.
I'm no frappuccino connoisseur, but just buying my grande coffee each work day for a year would total over $500!
It's one of those expenses you don't think twice about. But if you're looking over annual expenses, $500 would definitely raise an eyebrow.
Maybe you can make your own and bring it in a Hydroflask. Or if you're a diehard Starbucks addict, one way to pay for your fix is to earn Starbucks gift cards though Swagbucks. 
Swagbucks is a company that conducts marketing surveys for businesses. They rely on the opinions of regular consumers, so they'll pay you and I to fill out brief surveys. 
You can choose be paid in Starbucks or Amazon gift cards.
Surveys aren't something to make a career out of, but if you can devote a few minutes here and there it'll pay for your coffee habit.
Yearly Savings: $500      Monthly Savings: $41.00.
Paying for a gym membership costs more than just money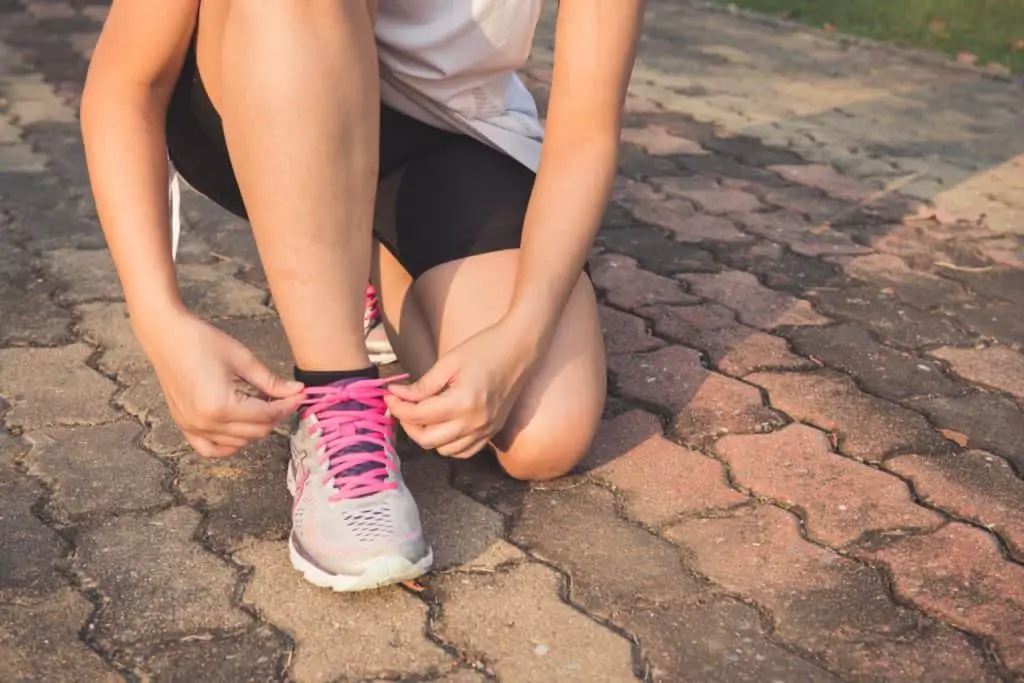 The year of 2020 has forced us to look for alternative ways to do a lot of things, including working out. The social aspect of a gym is nice, but the real cost of a gym is more than just the membership fee.
A 30 minute workout at home probably turns into 60 minutes going to the gym. Not to mention the gas and the cost of workout clothes. If money and time are a big factor, there are dozens of free fitness apps with hundreds of exercises you can do at home.
Yearly Savings: $300      Monthly Savings: $25.00
Step 6 - If you can't find enough savings, create it
Maybe you're living paycheck to paycheck and you've already whittled every expense down to the absolute minimum. But you still have big goals that can't wait for "someday".
Why not save $10,000 over the next year by creating your own savings? Even if you're working a full-time job, there are dozens of side-hustles that'll enable you to generate extra income.
And by side-hustle, I don't mean working at the local dollar store for minimum wage. I mean doing something on your terms. Something you can do when you want, and how you want. 
Here are some ideas you can try: 
Step 7 - Consistency is key
Remember how intimidating it sounded to try and find an extra $883 to save each month? In the 8 examples above, we were able to find over $1200 in savings each month.
But the key to making it work is putting the pieces into place:
Creating a budget listing every category of expenses.
Updating it each month. It'll take a few months to see patterns and make adjustments.
Open a separate account to start capturing savings.
One by one, evaluate categories and determine how to get the same, or similar value for less money.
Pull the trigger and make changes. When you do, immediately adjust your automatic deposit into your savings account.
Saving $10,000 in a year is a great target to set your sites on. It's an amount that can make a difference in your life, but it's not so far out of reach that you can't achieve it in a year.
And if you can save $10,000 in a year, who's to say you can't do bigger and better? Saving $100,000 in your retirement fund is a great milestone to set your sites on, because once you do, the power of compound interest starts speeding things up. It'll take less time to reach $200,000 and even less time to reach $300,000.
But saving $10,000 in one year is a perfect target to start with.
Just make sure of one thing. $10,000 isn't the "goal". Your goal is whatever change in your life that $10,000 will help bring about.
How about you? Are you on a mission to save? How is it going?
MORE WAYS TO GAIN CONTROL OVER YOUR MONEY