"This post may contain affiliate links. Please read my disclosure for more info.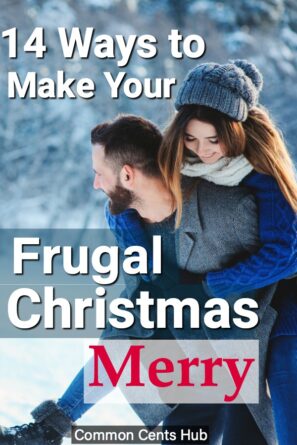 I'll bet you've never seen a TV commercial encouraging you to have a frugal Christmas. But you probably have seen a new car commercial each Christmas season, right? Let's see, last year it was the "Happy Honda Sales Event."
I've seen it so many times, that whenever I hear Lindsey Buckingham's Holiday Road, I'll always picture a smiling family in stocking caps, gathering around their new Honda.
This year Peloton aired what looked like a 30 second Hallmark movie about their exercise bikes. The wife's smile, as she hops on her new bike is priceless, but of course, to see the same joy on your spouse's face will set you back $2200 for their cheapest bike.
I'm not a cheapskate. I love the holidays, and I like exchanging gifts. 
But just because the calendar says it's December, doesn't mean our finances suddenly improve. And it's hard to watch TV or open your email without being convinced that joy = spending lots of cash.
Exchanging pricey gifts is nice if you can, but sometimes the timing just isn't right. Maybe your car is on borrowed time, or you're paying off debt, and the last thing you want to do is add to it.
The term frugal Christmas shopping may seem like an oxymoron, but not if you approach it another way. With a little strategizing, we'll come up with some frugal Christmas gift ideas that are easy on your budget, and more memorable than that pair of pleather gloves.
How to Have a

Frugal

Christmas
Control Christmas Spending with a Plan
When the holidays sneak up and suddenly you have a week to find gifts for family, friends and coworkers, it's easy to cave and find yourself at the mall. It's funny how as a parent, I'll tell my kids not to spend a lot on me because I know they can't afford to. And yet I feel pressured to do just the opposite.
So having an inexpensive Christmas – one you're not paying off till June, calls for a little planning.
Since it's best to pay cash for gifts, try keeping a list on your phone that you can update when a gift idea strikes you in the middle of June. You'll have plenty of time to plan for the least expensive option.

It helps too, as the holidays approach, to keep a spreadsheet of exactly what you're spending on each person and how you paid for it. This not only helps you to control Christmas spending, it's an easy way to make sure there's not a big imbalance among kids.
Try a Few No Spend Weekends (or Weeks)
Part of planning your Christmas spending can be getting ahead of the game in the month or two before the holiday. Whether you're budgeting for Christmas, or some other anticipated expense, a no-spend period is just a designated time when you put a halt to all unnecessary spending.
It's like putting a temporary tourniquet on your spending to help you to get through a tough month.
No restaurants.

No shopping.

No take-out food.

No online purchases. Nothing.
You eat whatever's in your fridge, your freezer or pantry, you save the long weekend drives, and avoid activities that'll cost money. Spend your free time however you want, as long as you don't spend anything.
When I finally got serious about budgeting and saving, I noticed that weekends were one of our biggest money drains. We had a habit of going out every weekend whether we had plans or not, just to get out.
We spent several hundred unplanned dollars every month on things we didn't need, and I wondered why I couldn't afford an emergency fund.   
Forcing yourself to find fun, free things to do together, is a great way to discover places and activities you may not have, otherwise. And squeezing a few hundred extra dollars from your budget ain't bad either.  
RELATED: How to Save $10,000 in One Year
Create Some Frugal Christmas Traditions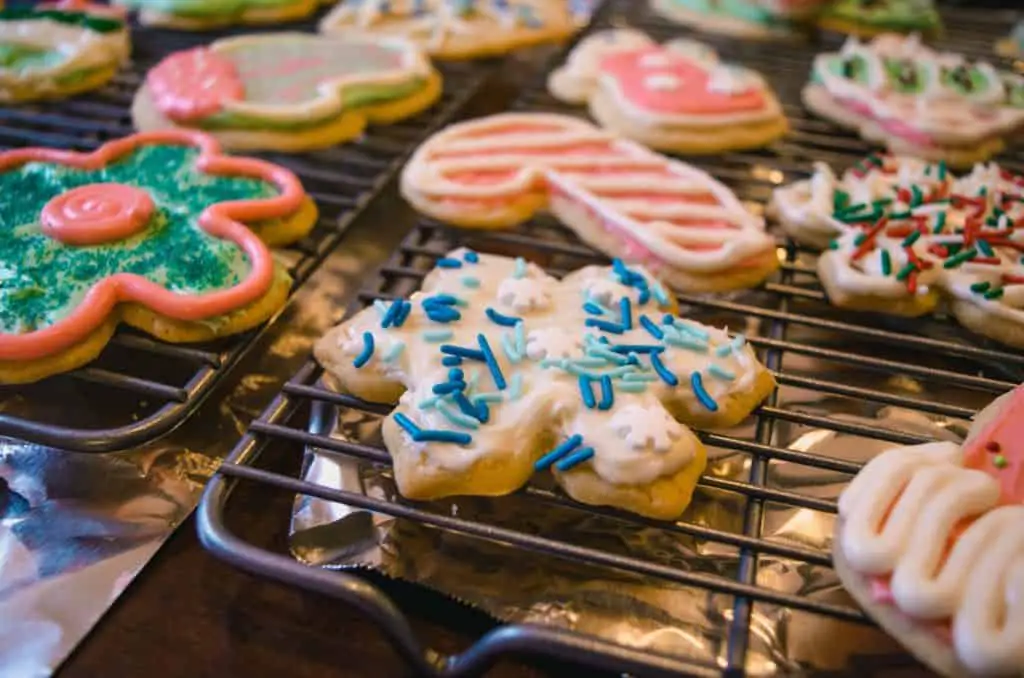 If you had memorable family traditions growing up, it can be fun to pass them onto to a new generation. Or create your own new traditions that'll help strengthen the bond in your family.
A few years ago, I finally tossed our worn out, fake Christmas tree, and we started a tradition of going out to cut our own. I can't remember any of the gifts we gave each other 3 years ago, but I'll always remember us dragging home that monster, 13 foot Norway Spruce while the snow was falling. Now we look forward to taking the trip each year.
Maybe you enjoy baking certain foods, or checking out decorations, or working a toy drive. Or maybe you get together with family and friends while you try new recipes. Chances are, those same family and friends are trying to spend less at Christmas too so they'd welcome a pot luck, BYOB night.
Reduce Christmas Expenses by Having a Spending Agreement
It's nice to surprise someone with an expensive gift you know they'll love. An honestly, it's nice to receive one too! But it's easy to get carried away, thinking you need to top last year.
If you're in a relationship where you have common goals, and you discuss money regularly, then you both know what you can and can't afford.
Having a talk and agreeing to a spending limit is a great way to honor your common goals. And the thought that your partner values your future together is a nice gift anyway. 
Have a Frugal Christmas Grab Bag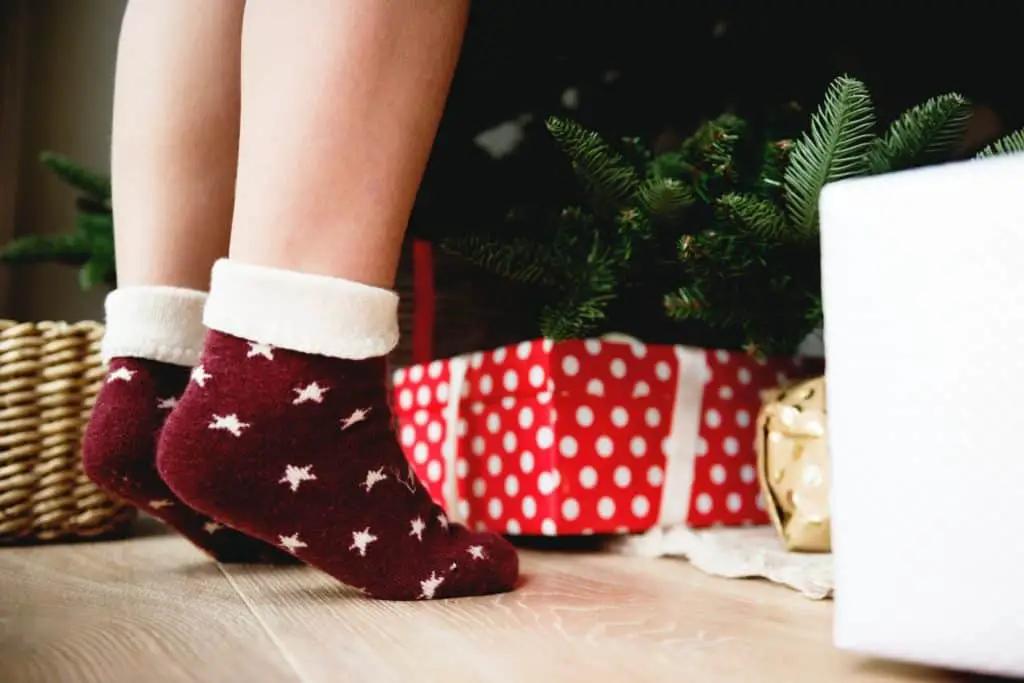 When you only have a few gifts to buy, it's possible to navigate the holidays without busting your budget. But there's a time when many families suddenly expand over the course of a few years.
Kids get older, and suddenly there's a house full of boyfriends, girlfriends, husbands, wives and children.
Families can reach a point where everyone's concerned about spending less at Christmas, but nobody says anything. Having to charge gifts that you can't afford, can turn what should be an enjoyable time into a stressful one.
Our family tried a grab bag for a few years, and picked names on Thanksgiving. If you don't celebrate Thanksgiving, or aren't together, here's an easy way to do an electronic grab bag.
A grab bag might not be your choice every year. But when there's a lot of people on a tight budget, a grab bag is a great frugal Christmas idea. It saves not just money, but time and mental energy.
Two Quick Ways to Find an Extra Few Hundred $$ per Month
We'd all like to spend less for Christmas, and avoid juggling bills the rest of the winter. But sometimes the stars just don't align. Maybe you just paid an expensive car repair, a dental bill, or you just don't have the cash.
If there's no overtime available at work, or any other source of extra income, then the answer could be to squeeze more money out of your budget.
Here are two areas I've been able to reduce our budget by several hundred dollars pretty quickly, which could help you budget for Christmas.
Find money in your food budget
If you're not in the habit of monitoring your food costs closely, then you'd probably be surprised at just how much you spend on food every month. For most families, it's one of the top two or three monthly expenses.
That's because "food" can mean the grocery store, work lunches, convenience stores, restaurants, take-out…
What if you could shop for food one time each week and have everything you need?
You'd have the ingredients for dinner each night of the week.
You'd have food for lunches.
You could eliminate the nights you're caught short and need to order take-out.
You could eliminate the last-minute extra trips to the store for "just 2 things", where you spend $35.
I'm not saying to cut every joy from your life and never go out to eat again. But when we eliminated the times when we ordered take-out, dined out, or made extra trips to the store out of necessity, we immediately saved about four hundred dollars each month.  Here are the steps we took to get there. 
Stop Overpaying to Watch TV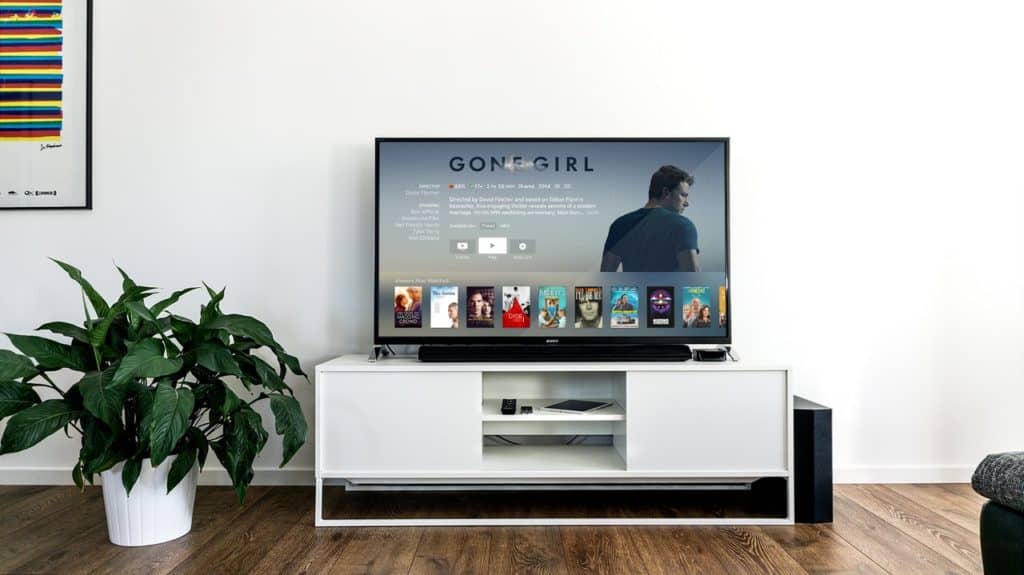 Cable TV has been around since the 1980's, but it's time has come and gone. In fact, Variety magazine says that during 2017, over 22 million people cancelled their cable subscription. And between 2017 and 2018, the rate of people cutting cable doubled.
Why?
Paying for cable is like going to the grocery store to buy 3 avocados, and they tell you, "Sorry, but you'll also have to buy bananas, tomatoes and potatoes. So it'll be $19.99."
Who wants to be forced to buy a lot of things you don't want, to get the few things you do want?
Cable had a monopoly on service for a long time, while they also raked in millions by charging us rental fees each month. But now you can watch the exact same content (without buying what you don't want) for a lot less. And without paying to rent their equipment for the next decade.
Here are 20 cable alternatives that'll save money immediately, and have whatever content you watch now.
An Automated Way to Fund Your Frugal Christmas 
This sounds strange, but I'm one of those people who's both a list maker, and a procrastinator. I'm constantly writing to-do lists, but I still struggle to get things done.
An emergency fund (or a holiday savings fund) is important to have, but I never got around to opening either one for a long time. And even if I had, I'd have a hard time making regular deposits into it. 
So, what finally enabled me to protect my budget from emergencies, and have cash for the holidays?
It was finding a simple app that takes virtually no time to manage, but saves money for me each week in a way that I barely notice it. It updates me each morning, and honestly, it's almost like having a virtual assistant.
Digit was made for people like me. It's a simple mobile app that automates saving into a separate account. Most people use it to accumulate emergency money, which saves you from spending budgeted money. But you can use it to accumulate money for anything.
I've used Digit for about 9 months now, and so far it's paid for 4 different car repairs. And last summer, I even dipped into it to buy plane tickets to go to a family wedding.
Here's how Digit works.
Digit monitors your checking account and 'learns' your pattern of deposits and withdrawals. And when it's safe, usually every few days, Digit will move a few dollars from your checking to your Digit account.
Digit sends me a text every morning around 9am, showing my checking balance. If the balance is different from yesterday, it tells me what transactions caused it to change.
I can reply with 'Recent' to receive more detailed info about my recent transactions. Or sometimes I'll reply with 'Savings' and Digit will respond with my current Digit balance. If I need to transfer money back to checking, I can do that with a simple text too.
I was pretty surprised at how fast I accumulated over $500.
And I can't tell you what a relief it is, to have an emergency and know right away, that I have the cash for it.     
One of the biggest reasons budgets fail, is because you don't have the cash for unplanned emergencies.
Whether you use Digit for an emergency fund or a Christmas fund, it's a nice way to take something off your to-do list. Digit is free for the first 100 days, then they'll charge $2.99 per month. But when I think of the benefits it gives me…
Dedicated cash to pay for emergencies or gifts.

One less thing to take care of each month.

The ability to save where I barely notice it.
To me, any time I can set something up once, then have it help me every day, with almost no intervention, is a win. And to be able to do it for literally the price of one coffee each month, is a no-brainer.
Related: How to Make $1000 Fast
Give Frugal Christmas Gifts That Last all Year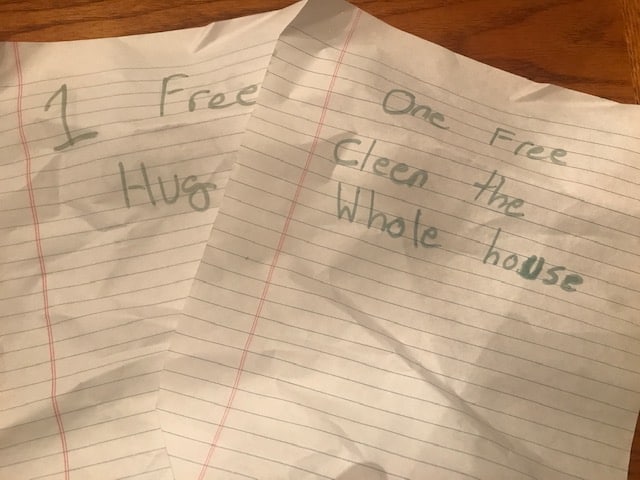 These are part of a coupon book my daughter gave me one year, and I have to admit, I cheated. I've saved them so I can use them over and over. I can take them out in the middle of July, and instantly have a smile.
Some of the best frugal Christmas gift ideas cost either nothing, or almost nothing. We all think about doing things together, but actually planning them and making them happen can be a nice gift.
How about some of these frugal gift ideas?
Commit to doing a weekly car cleaning.

Plan for a babysitter once a week so you and your spouse can have a cheap date night.

Or do some babysitting and give your spouse a few hours a week to do whatever he/she wants.

Arrange a few hikes at locations you've never been to.

Commit to a monthly surprise outing. It can be cheap, but the anticipation can last all year long.

Write a poem, frame a picture, or make a natural souvenir of a place you've been.

Design a homemade coupon book.
Or maybe give yourselves a joint gift, like commit to a home project, a health & exercise program together, or plan a trip later in the year. Or even plan a side hustle together.
When you're 75, you won't remember that pair of gloves from 30 years ago, but you'll sure as hell remember that challenging hike, or some of those surprise outings. 
When You Do Shop, Use Every Advantage
I don't load every app that comes along. To me, it's just overload. But sometimes even a skeptic like me can be convinced to use an app when it clearly saves money, and takes almost no time.
Ebates is one of the apps that I had heard about, but never tried until last year. You can use it on your phone or your laptop, and it pays you a rebate literally every time you buy something at over 2500 stores.

There's no catch. No membership fee. You just sign up, and select where you want your rebates to be sent. I selected my PayPal account. Then you just shop.
For instance, see where I just typed "Target" in the search bar above?  That's all you do. Then you'd be brought to the Target website, you browse, and buy whatever you need. But since you went to Target through Ebates, you'll receive a rebate.
It's really that simple. Retailers pay eBates a fee to bring customers to their store, and eBates shares the rebate with you. In fact, I just received an email from eBates two days ago. Here are some of the current rebates:
5% from Amazon
4% from Lands End
8% from Petco
10% from Pier One
4% from Lululemon
6% from Under Armour
Ebates is an easy way to save money every time, without the hassle of searching for coupon codes. Although if you do have a coupon code for a particular store, you can still use it.
One more bonus is, when you sign up here and spend your first $25, you'll receive a $10 welcome bonus.
Shopping on Amazon? Try this Search Hack to Find it Cheaper
I've always thought my searches on Amazon would list results in the order of best to worst in price. Not so. The list you see, is in the order of whatever products Amazon will profit most from.
The first page of results will be filled with sponsored ads – products that businesses have paid to be listed first.
So if you're looking for the best price, you'll scroll through pages and pages of unrelated items. Here's a hack to sort your search results, listing items on sale first.
Here, I did a search for "Mens Flannel Shirts". The first results are all priced at $49, and you can see on the right, they're all sponsored ads. So Amazon is getting a nice fee for listing these first.

Now, I'll leave "Mens Flannel Shirts" in the search box, but I'll add this to the end of my search string:
&pct-off=10-15
This will show mens flannel shirts that are discounted between 10-15%.
So my search string now is, "Mens Flannel Shirts&pct-off=10-15" (without the quotes).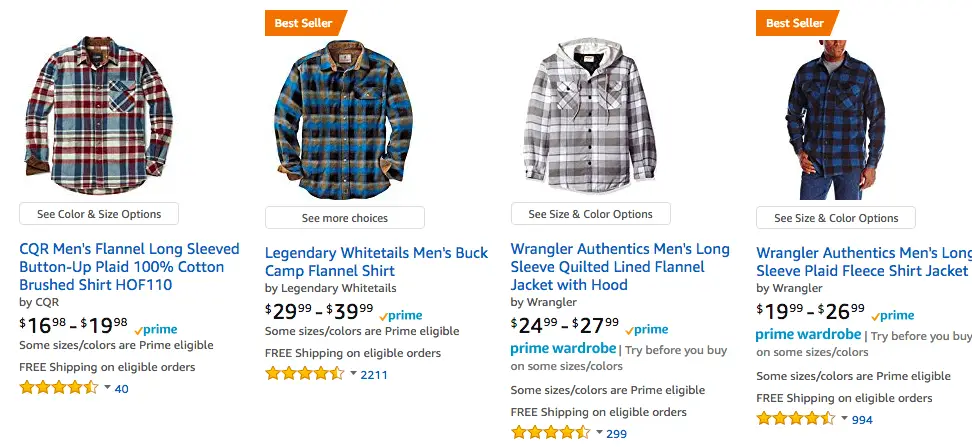 Wow, what a difference in price! None of these ads are sponsored, and they average $20-$30 less. So just add that string to the end of your search results with whatever discount range you'd like, and see how it works.
Here are some other ways to save a lot of money on Amazon:
 20 Money Saving Amazon Hacks You Need to Know About.
How to Eliminate Impulse Buying
How many times have you gone to a mall looking to buy pants, and come home with 2 or 3 shirts instead? Malls have perfected the art of enticing you to buy things you didn't come for.
But in the last few years, online shopping has surpassed traveling to stores.  Last year, was the first holiday season ever, that I didn't set foot in a mall, and it's helped us to control our holiday spending.
If you have kids, it can be tough to get out alone. But I can't tell you how relaxing it is, to have packages delivered while they're in school, and save your weekends for things other than shopping.
I use the free 2-day shipping with Amazon Prime, and it's been a lifesaver. Prime has other benefits, like free streaming movies, but if you still can't justify the $119 per year, you can always do their Free 30-Day Trial, and cancel after the holiday.
Eliminating impulse buying and all the traffic and parking headaches is one thing, but I have to say, there's just something empowering when you can shop from your couch!
Earn Some Quick Cash at Home in Your Spare Time
If you've tried to cut your budget and you're still coming up short, there are a few ways to generate cash pretty quickly. Online surveys work well, because:
There's no cost to sign up.
There's no approval process.
You can do them anytime and anywhere. Whenever you have the time.
You don't need to wait weeks to get paid.
These are surveys that businesses conduct, to get opinions on their products. They use the results from these surveys to adjust their products or the way they sell them.
You won't get rich from surveys, but they're a good way to make extra money. The surveys are short – usually 10 minutes or less, and are usually just a series of multiple choice questions.
I recently took one on flooring. It just asked me questions like, what types of flooring I might buy, and what kind of store I'd visit buy flooring. Not the most interesting topic, but it was easy.
To do surveys, you'd just sign up, fill in your demographic information, and they'll send you surveys to take whenever and wherever you are. On the couch, on your lunch break, when the kids are napping. Anytime.
Here's a few that I've done and had good luck with:
Pinecone Research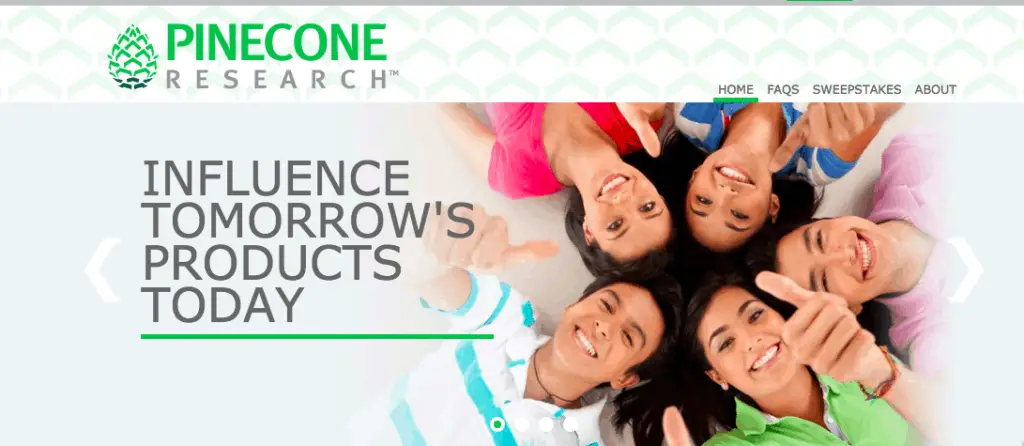 Pinecone Research is owned by the large survey company, Nielsen. Pinecone's main purpose is to do product testing, so they usually want consumer opinions on things that haven't been released yet. So it's common for them to send you a product to test, and then ask your opinion.
There's no confusion about what you'll earn – it's a flat fee of $3 per survey.
Here's how you'll earn money:
Pinecone will issue points as you complete questionnaires about the merchandise they send to you. Once you accumulate points, then you'll redeem them for cash.
Like many survey companies, Pinecone usually targets a particular demographic depending on the product they're working with. So if your profile information doesn't happen to match a particular survey, they'll let you know.
Survey Junkie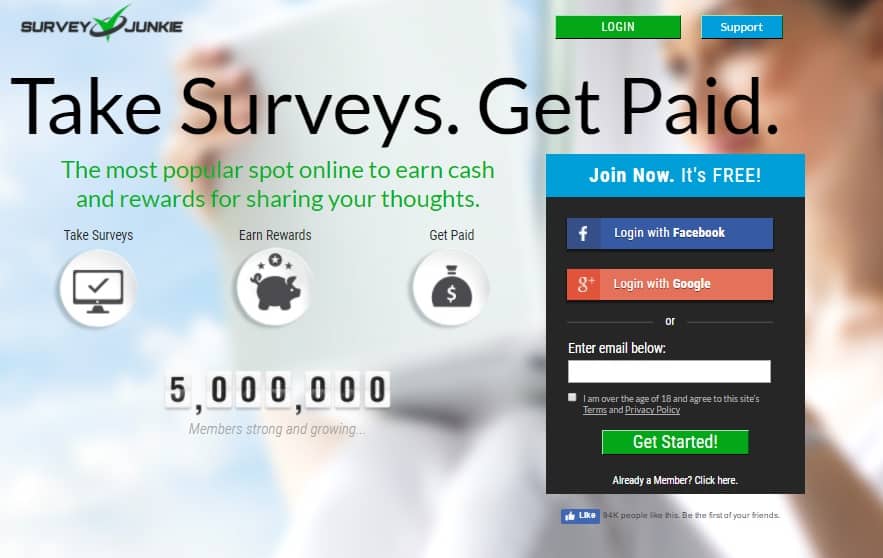 Really simple to sign up for and use, Survey Junkie has over 5 million users. It works on a simple points system, where you just convert your points to cash, then they'll deposit the cash in your Paypal account.
Here's how it works:
The payout threshold is 1,000 points, which equates to $10. They're short surveys, and most bring in somewhere between 100 and 200 points. So it doesn't take long to reach the threshold and get paid. I've used Survey Junkie to earn money while sitting in the car waiting for my daughter at soccer practice.
Final Points
They say Christmas is "the most wonderful time of the year". It can be, but not if you let yourself be convinced that the joy of Christmas is expressed through consumerism.
Being frugal isn't being "cheap". It's just being aware of what you can realistically afford, and spending your money intentionally. Passing up the 65' TV this year because you're on a mission to pay off debt, or build an emergency fund isn't being cheap. 
And anyway, the more stuff we own, the more that stuff begins to own us.
By spending less on Christmas and emphasizing friends, family and experiences, you're really investing in something way more valuable than those pleather gloves – your security and eventual freedom.
How about you? Are there ways you've been able to spend less on Christmas and still have a great time?