"This post may contain affiliate links. Please read my disclosure for more info.
Online data entry jobs from home are perfect for when you need to earn a living, but you also need to be home. Data entry jobs are usually simple, straightforward work that can be done on the weekend, or whenever you have the time.
The idea of no commute, less expenses, less childcare, and flexible work hours, makes an online data entry job from home worth more than just the salary. 
We've summarized seven popular data entry companies here, with a description of the company, how to apply, and what you can expect. All of them can add flexibility and balance to your life, and are great ways to make money from home.
Why Online Data Entry Jobs are in Demand
In an office, you're paid to stay busy. Whether there's work within your job description of not, you'll need to look busy doing something. So you end up multi-tasking among 10 different tasks, never really becoming an expert at any of them.
But data entry jobs at home pay you to do one specific job, by a specific date. You know exactly what you'll spend your time on, and you'll do it when you want to.
Here's what I found after leaving the office and working remotely:
When there are less distractions, you can focus on what you're being paid to do, and your skills improve faster.

There's no commute in all kinds of weather.

You're not exposed to whatever flu bug might be floating around the office.

The affect on your monthly budget is immediate – less gas, tolls, repairs, lunches – not to mention more time in your day.
So even if data entry jobs aren't the highest salaries around, when you're able to focus and develop that skill, you'll be able to leverage it into more lucrative opportunities.
What to Look for in Online Data Entry Jobs
Unfortunately, many of the sites advertising online data entry jobs from home aren't legitimate. Here's what you'll want to look for:
Check how long the company has been in business, and whether  data entry and/or transcription services are their specialty.

How well do they spell out the details of the job? For instance, what type of data entry would you be performing, and what's the expected turnaround time.

According to the jobs site

Glassdoor

, the estimated annual base pay for remote data entry in the U.S. is $31,717. Total pay could be as much as $55,068 which could include any bonuses, commission, tips or profit sharing according to Glassdoor.
If they promise much higher pay, they're probably not legitimate offers.

Do they charge to register with their company? If so, how much, and what's the purpose of the charge?

If you have questions on the job, is there a designated person you can get a quick clarification from?

How will they pay you – as an employee or as an independent contractor?
10 Flexible Remote Data Entry Jobs
Clickworker has been in business since 2005. They specialize in managing outsourced projects for businesses. Clickworker will analyze the project, identify the skills needed, and pay remote workers to complete the jobs.
Clickworker hires data entry clerks, but their services go way beyond data entry jobs. They also offer copywriting services, SEO optimization, web research and even surveys.
So if you can demonstrate skills over and above data entry, you can earn more.
Details: There's no fee to sign up. After you fill out their online application, they'll ask you to complete some brief assessments where they'll gauge your skill sets. The more skills you're capable of, the more work you'll be eligible for.
As a Clickworker, you would be one of 1.8 million independent contractors.
Once you're hired, jobs would be available for you to select, and you'd have a set time to complete it. You can work whatever hours you want in order to complete each job.  
Learn More About Clickworker.
Flexjobs was launched in 2007 and since then has become one of the most popular resources for work from home jobs.
I just did a quick search for "data entry jobs" and believe it or not, here are the results of the search: 954 jobs.
The titles vary from 'data entry clerk', to 'data entry agent', 'data entry specialist', but most of them describe the same general duties:
Proficient typing skills.
Basic Computer knowledge.
Attention to detail.
Details: Flexjobs provides curated job leads, and therefore, requires you to sign up on their site at $14.95/month. But judging by my search results above, I'd be very surprised if it took longer than one month to locate a job, especially if you're working remotely. 
Flexjobs offers a satisfaction guarantee, and they state that every single job is vetted by a real person before it's posted on their site.
DionData Solutions was launched in 2000, and they specialize in data entry and data management. They employ an in-house staff, but they also pay a large staff of home-based independent contractors to do data entry jobs from home. In fact, their website says…
"The increased need for parents to be at home with their children, supplementing their family income and the frustration of overseas out-sourcing has created an opening for fully qualified professionals to overcome these obstacles."
So if you've done data entry work, and you're considering a stay at home mom job, you'll want to check out DionData.
Details: For online data entry jobs, they look for 60 words per minute with a good degree of accuracy. And as with most home based jobs, you should be comfortable with email, downloading files and working with deadlines. They hire only U.S. citizens.
Capital typing is based in South Carolina, and they provide a variety of outsourced services to businesses in almost every sector.
They hire people to do data entry jobs from home, but if you also have skills in market research, transcription, secretarial services, or online customer support you should be able to make money at home working for Capital Typing.
Some typical data entry work you'd perform would be updating or correcting mailing lists, phone numbers, email and direct mailing lists, data conversion, database cleanup and word processing .
Details: Data entry clerks at Capital would work as an independent contractor, using your own computer and internet service.
As with most data entry jobs from home, once you are assigned work, you'd work your own schedule to meet your deadline.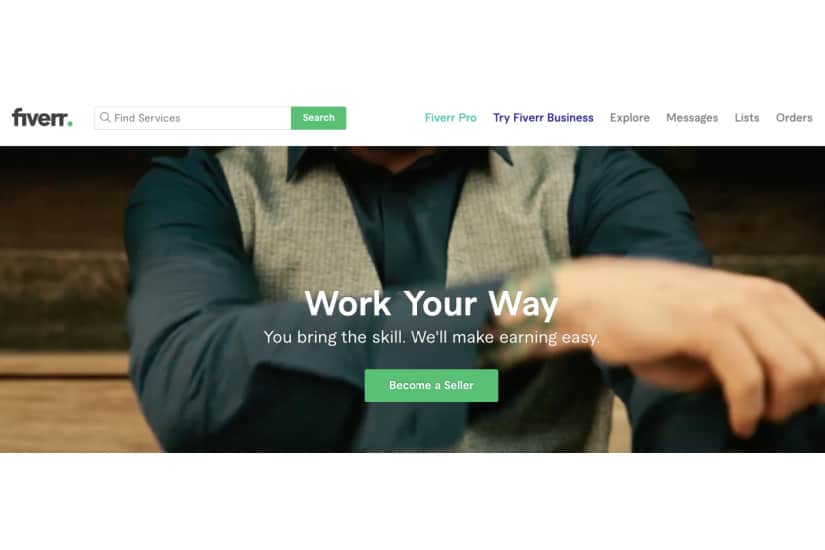 Fiverr got it's name by offering low-priced, remote jobs done starting at $5. But if your services are worth more, you can charge more.
Fiverr was founded in 2010 as an online marketplace to provide a platform for people to buy and sell digital services and so far, they've done over 50 million transactions.
You can offer your data entry services or get paid for any other skills you might have like proofreading, article writing, transcription etc. 
To get started, just browse some of the existing data entry offerings to get an idea of what you'll offer in the way of applications, turn-around time, revisions and what you'll charge.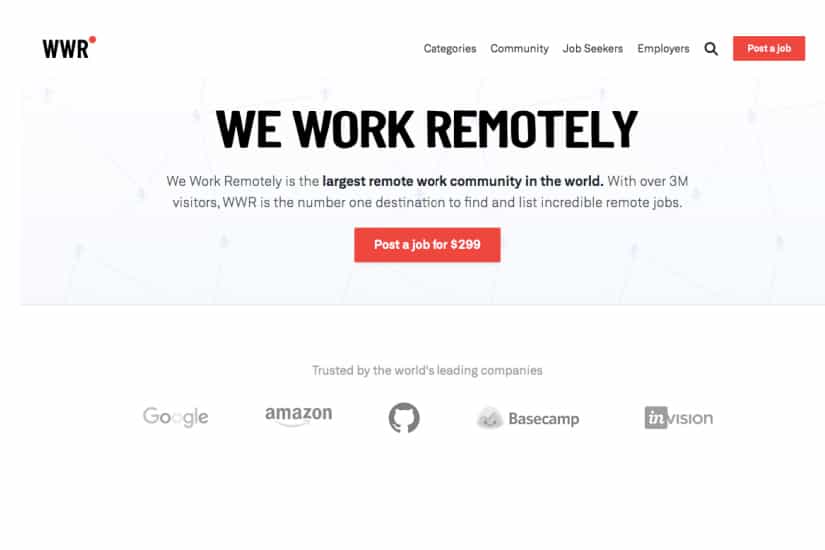 With a name like We Work Remotely, it's fair to say you'll have a good shot at finding a remote job here. We Work Remotely caters to lots of major companies like Amazon and Google to provide online data entry. And since companies pay $299 to post each job, you can be sure the jobs you'll see are legit.   
You can search for a specific job title or browse categories like programming, customer support,  sales and marketing and lots of others. You'll find anything from data entry jobs to senior management.
Birch Creek Communications
Birch Creek Communications is based in Montana, and they've been in business for about 13 years. They offer primarily transcription services, but they also hire data entry clerks to work remotely. You'd have flexibility working from home, but most of their work is available Monday through Friday.
Details: Working with Birch Creek, you would operate as an independent contractor, so you would use your own computer and file your own taxes.
To apply, send your resume to [email protected]. But don't send the resume as an attachment, because they won't open it.
In your email, include this information:
Work history and experience.
A.

 

Transcription experience. AAERT certification highly desirable.
B.

 

Do you use MS Word, Word Perfect or both?
C.

 

Availability, day, evening, weekend, overnight
D.

 

Your time zone and state of residence
E.

 

Hours per week you can devote to this work
F.

 

Do you have high speed Internet Access (needed for video files)
G.

 

Do you use a foot pedal?

(used with transcription to start/stop)

Are you a full-time student?

Are you employed full-time?

Why do you want a work-at-home position?               
DataPlus+ is based in Georgia, and they've been in business since 1992. They operate a bit different than some of the businesses offering "micro jobs".
A micro job doesn't take a lot of time, and therefore you're forced to spend more time looking for your next job.
DataPlus+ is more traditional, in that data entry clerks can work remotely, but on a more steady basis.
One typical data entry service they provide is transferring hard copy documents into database form. Things like membership applications, police and accident reports, warranty registrations and others. 
Details: Data entry clerks at DataPlus+ would work as an independent contractor, which means you'd use your own computer, and report your own taxes. A criminal background check is part of the screening process since you'd be working with legal documents.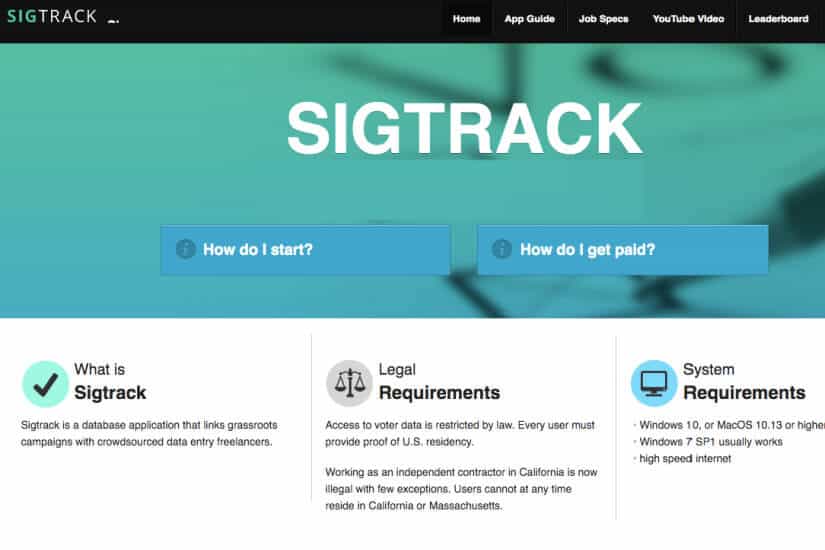 Sig Track was designed to connect political campaigns with crowdsourced data entry freelancers. The site will list available data entry jobs along with their due dates, and you can select whatever jobs you'd like to work on.
You'll need to be a U.S. citizen, however due to recent law changes that affect independent contractors, citizens of California and Massachusetts are not eligible. 
You'll be paid through PayPal, and the work you turn in will be peer-reviewed to ensure you're maintaining 95% accuracy.
You can learn more about signing up for Sig Track here.
Axion Data Entry Services is based in Pittsburgh, Pennsylvania and has been in business since 1996. They provide online data entry for everything from schools, to insurance companies, to professional sports teams and more.
Axion pays data entry clerks for longer term work, and therefore, the job turnover rate is not very high.
Axion hires only from their own database, and they charge a small fee to register your name. The fee is either $5, $7 or $10, depending on how long you want your name to remain active.
Their explanation for the fee: Axion asks for data entry clerks with two years experience, and the ability to type 50 wpm. They were receiving 20-30 new applicants each day, many of whom had no experience at all. When their applicant database grew abnormally large, they instituted the small fee as part of a cleanup process.
Details: Working as a data entry clerk for Axion, you would be an independent contractor. You'd use your own laptop, work your own hours, and bill Axion at scheduled intervals.
You'd need to be a legal U.S. resident, and since some work involves legal documents, they would do a criminal background check.
Alternatives to Online Data Entry Jobs
Having the opportunity to do data entry jobs from home can be a lifesaver when you need to be home, but you also need the income.
And once you start working remotely it's very hard to give up the benefits – much lower expenses for gas, tolls, repairs, lunches, child care, and more personal time…
But if your skill set expands, so do your benefits:
You'll always have an income.

Your income will rise as you level up your skills.

Your quality of life improves when you can earn income on your terms.
So with that in mind, here are two alternatives to working as a data entry clerk that still enable you to work remotely, are in demand, and offer higher pay:
Transcription can be an alternative to data input jobs, because you're still entering data, you're just taking it from an audio file (or in person) rather than a written document.
The main skill involved – typing fast with accuracy, is the same.
Some forms of transcription, like legal or medical may require you to get a certification. But there are plenty of opportunities to break into general transcription by taking an assessment test given by the employer.
Three of the companies listed above, who offer data entry jobs also regularly offer transcription jobs. 
Capital Typing offers transcription jobs in almost any format available: Medical, corporate, legal, academic, interviews, speech and sermons, translation, and others.
Their compensation isn't listed, but they note that it's competitive, with flexible hours and either full or part-time. 
Birch Creek hires both legal and general transcriptionists. The jobs generally pay $0.40-$1.75 per audio minute.
Legal transcription starts at a higher rate, generally between $.75 to $1.75 per page, depending on several factors – the turnaround time, the client and type of work.
The bulk of the work they assign would be Monday through Friday.
Kendall Creek specializes in legal transcription where you would listen to dictated recordings made by attorneys or paralegals, then transcribe them into documents.
You'd most likely listen to recordings on a headset, and use a foot pedal to pause the recording when necessary, while you type the text.
If you've done data entry work then you already have the most important skill – fast, accurate typing. 
You may also want to familiarize yourself with some common legal terms, check out some tips on how to do legal research, and have some basic knowledge of the U.S. legal system.
Best Resource to Learn Transcription
One of the better online courses to get started in transcription, is Transcribe Anywhere, from Janet Shaughnessy who's worked as a transcriber for over a decade.
Her course teaches everything you'd need to know to get comfortable with general transcribing, as well as legal and medical.
There are 7 levels of audio visual practice files to simulate real work, reviews of whatever equipment you may need, and a step by step guide to getting hired.
Janet has two free mini-courses that'll each show you exactly what to expect working as a transcriptionist, and how her course would prepare you to start earning money.
Free General Transcription Mini-Course.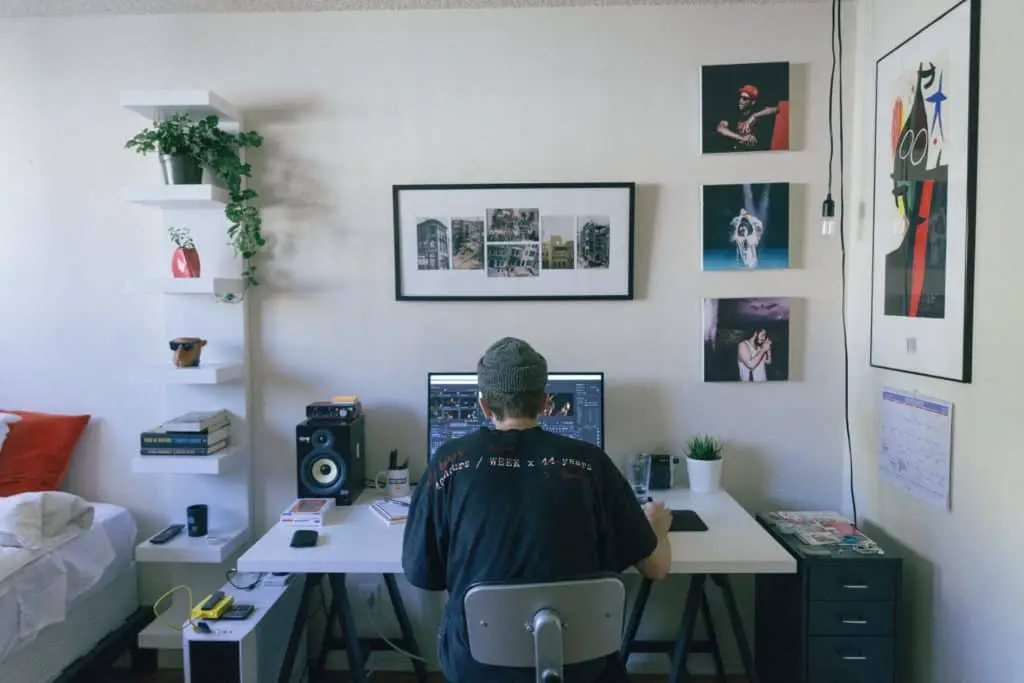 With some effort, you can transition your freelance data entry gig into freelance content writing. You'd still be working from home, but in a position to scale your income much higher. 
Freelance content writing isn't journalism, and you don't need a college degree to break into it.
Most of your income sources would be either bloggers, who write about a particular topic and are looking for more content, or businesses of all sizes and types.
Companies are trending away from employing their own staff to produce content for their website or other publications. It's more cost effective to pay a freelancer. And it's common for an established freelance writer to earn six figures.
So how would you break into freelance writing?
Getting started involves a pretty standard process:
Figure out what niche, or what subject area you'd like to focus on.

Determine what publications (blogs, websites etc) you can pitch to write your first few articles.

Use those references to pitch other publications, gradually improving your writing and the rates you charge for it.
Best Resource to Break into Freelance Writing
They say to never take advice from someone who hasn't had success in the field they're tutoring you on. 
Finding someone who's made the mistakes, learned from them, and can show you the path to take can literally shave years off your learning curve. 
Holly Johnson has made the mistakes, and is now earning well over $200,000 each year working from home doing freelance writing.
Her and her husband Greg worked in the funeral business, and like a lot of us, struggled with money, long work hours and time away from the family.
Holly decided to pitch a few blog posts which were accepted. From there, she pitched more and more until she was able to build a client base of regular, well paying customers. She's at a point now, where she'll never need to go work for someone else again. 
Holly's course, Earn More Writing, breaks down the process from being a complete novice, to pitching your first jobs, what to charge, how to relate to editors in a way that they'll offer you more work, and how to steadily raise your rates.
I've taken her course, and I can say, it's not one of those, "here's the course, good luck with it " deals. She wants you to succeed, and she's available with real world advice.
The Bottom Line on Online Data Entry Jobs
Whether you want to work from home as a full-time or part-time data entry clerk, there are more opportunities now than ever before.
More and more companies are leasing less office space to have employees work remotely, or are outsourcing their data entry work.
What this means for you and I, is that commuting to a grey cubicle every day is no longer a given. Whether it's data entry, transcription, freelance writing or dozens of other jobs, earning money from home is commonplace now.
Have you been trying to transition to working from home? How has your experience been so far?