"This post may contain affiliate links. Please read my disclosure for more info.
I stumbled on the idea of making money on Turo by sharing your car by accident. While in San Francisco for a family wedding, my son took the opportunity to look up a friend who attends the University of San Francisco.
They made plans to hang out together, and an hour later his friend rolled up to our hotel driving a BMW. He explained that he rented it online through Turo. I had no idea it was possible to make money renting your car, but making money on Turo is a pretty cool side hustle, especially for someone working at home.
I mean, think about it. A car depreciates faster than almost anything you can buy. And since the average car sits unused for 95% of it's life, why not get reimbursed for the insurance, gas, repairs or car payments?
Think you'd wanna make money renting your car? Here's what you'll need to know: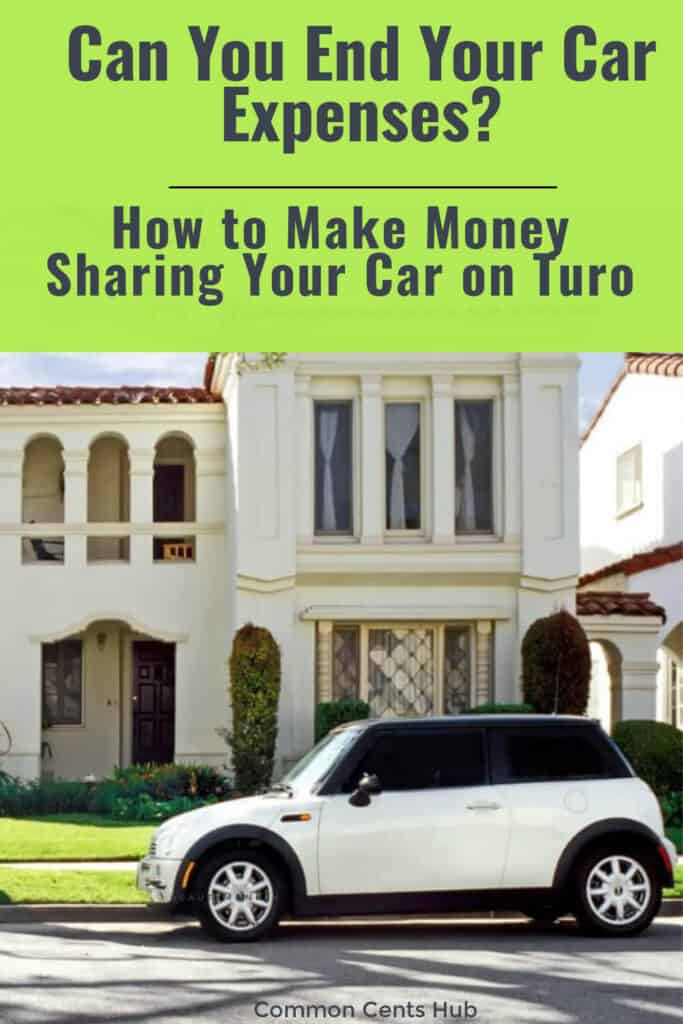 What is Turo and how does it work?
Turo is a peer-to-peer car sharing network that provides you as a car owner, the opportunity to list your car and get paid while you're not using it. Similar to AirBNB, making money on Turo enables you to offset the costs of an asset that you pay for each month.
You can list your car with Turo almost anywhere in the US, Canada and the UK. Over 14 million people now rent through Turo because it's cheaper than traditional rental agencies. And the idea of sharing your car on Turo has become so popular that over 450,000 people are now making money on Turo.
How much money can you make with Turo?
The most common question we hear from people looking into Turo is,
"How much do Turo hosts make?"
Sharing your car on Turo earns on average, about $500 a month. To determine your car's daily rental rate, Turo uses a calculator, or what they call a carculator. It's a utility that guides you through some questions about your car's make and model and suggests a daily rate.
Here's a typical Carculator estimate for a 2017 Ford Edge: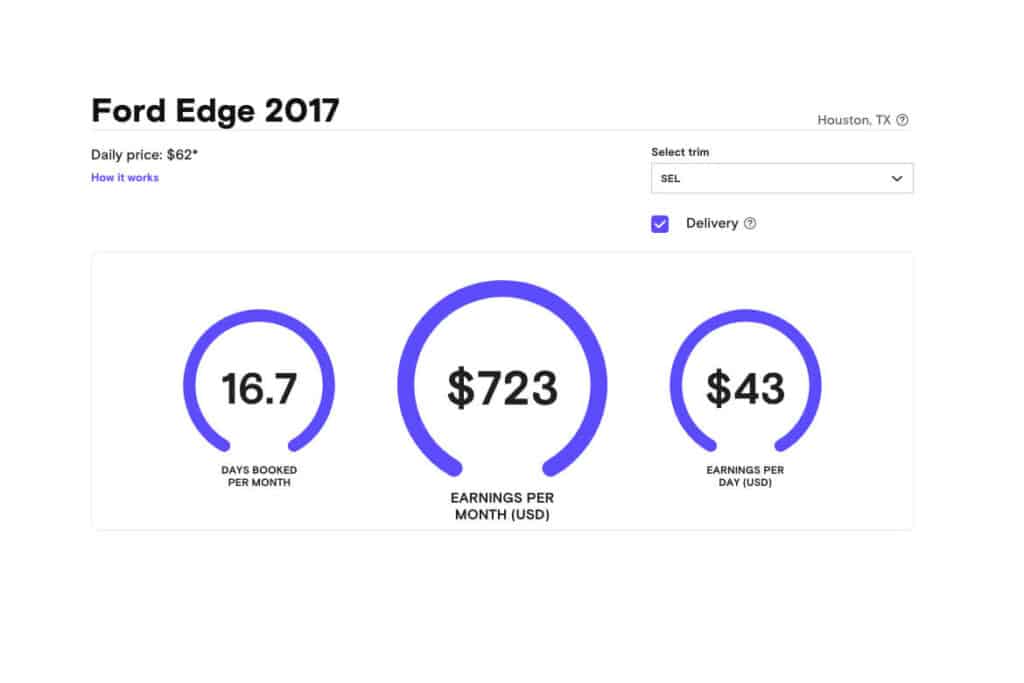 You can share your car using Turo's suggested rate, or you can select your own. Their rate is based on past rates for your specific model, along with factors like your location, time of year, and any events in your area.
You'll keep between 60% – 85% of the trip price, depending on the protection plan you choose.
I'll describe the protection plan below, but here are some typical daily rates:


How does Turo insurance work?
Turo provides insurance through Liberty Mutual for any car you host with. There are five plans to choose from, called the 60, 70, 75, 80 & 85 plans. 
Each plan has $750,000 of liability protection, then over and above that, the plans are named to match the percentage of the rental fee you'll keep.
For instance, with the 60 plan, you'll keep 60% of the rental fee, and you'll have the highest level of protection. Or with the 85 plan, you'll keep 85% of the fee, but have higher deductibles. 
Read more about Turo's Protection Plan. 
Is it safe to rent your car with Turo?
Renting your personal car may be a fairly new concept, but think of it this way – who would have thought 15 years ago to rent our own rooms to overnight guests?
But AirBNB has made it so commonplace that some people now invest in properties specifically to use for AirBNB. Making money with Turo is similar, and there are some safeguards built in:
Turo screens renters before you do
Before a driver is able to rent your car, they need to create an account on Turo and undergo a background check which usually takes about 24 hours.
Turo checks their driver's license, auto insurance score, criminal background, and requires them to upload a photo to the Turo app. It's at least as thorough as a traditional rental agency.
When an approved renter requests your car through the app, there's also a verification process. Turo recommends that you message them and request they send you a photo showing their driver's license held next to their face.
You can choose to do in-person, or contactless pickup
For in-person transactions, you can have the renter pickup the car in your driveway, or meet them at a public place. Or you can do contactless pickups two ways:
The low-tech method is by using lockboxes like the ones used by real estate agents or AirBNB hosts. You'd place the car key in a lockbox, then message the lockbox code to the renter after they've completed the ID verification. When the car is returned, you'd change the lockbox code. You would need to buy your own lockbox, but at $35-$40, you'd recoup that on your first rental.
Here are a few typical lockboxes on Amazon:
Keyguard Pro 

Shapers Key Safe
Another method for contactless pickups is to use the remote unlocking feature on your car. Most cars built after 2015 are equipped with remote locking/unlocking. 
After confirming the pickup time with the renter, unlock it when you're ready. if you use this method, you'll need to place a key somewhere inside the locked car for the renter to use during their trip.
If your key is non-bladed (it has a fob with buttons) then you'll want to place it in an RF signal-blocking bag (sometimes called a Faraday bag). This is just a small bag that blocks any remote signals that could trigger the unlock button.
Here are a couple signal blocking bags on Amazon:
Ticonn Faraday bag

Monody Faraday bag 
Turo is experimenting with a new feature called Turo Go, where guests will be able to locate and unlock the car through the app after they've booked the rental and verified their identity. It's currently available only in San Francisco, Los Angeles and San Diego, but keep an eye out!
How do you sign up for Turo?
Making money on Turo begins with creating a free listing. Once you've taken photos, you can complete the listing in just a few minutes:
Create a free account on Turo.
Fill in the details for your car's make and model, when it's available, and upload your photos.
Set your own price, or use Turo's

Carculator

that'll suggest a typical daily rate for your car.
If you accept a request, verify the customer's identity, and confirm the pickup location. 
Meet the guest to hand over the key, check the mileage and gas, and do a walk-around.
When the customer returns the car, check things out, then get paid.
The last two steps will be different if you do contactless pickups.
Turo tips to maximize your profits
The average host makes around $500 per month, but of course, it depends on your daily rate and how many times you rent your car. Even the average income can offset most or all of your car related expenses, but some hosts bring in several thousand dollars a month. In fact, some people buy cars specifically to rent on Turo.  
But if you're just renting one car to make extra money, there are things you can do to maximize your earnings:
Renters are asked to leave feedback and a rating at the end of their trip. According to Turo, customers select 5 star-rated cars 20% more than 4 star-rated cars, so a little hospitality can go a long way!
Travelers might appreciate things like a local map or travel guide, a water bottle or a pack of gum or mints. You can also message them at the end of their trip and suggest they leave a review.
Take good photos of your car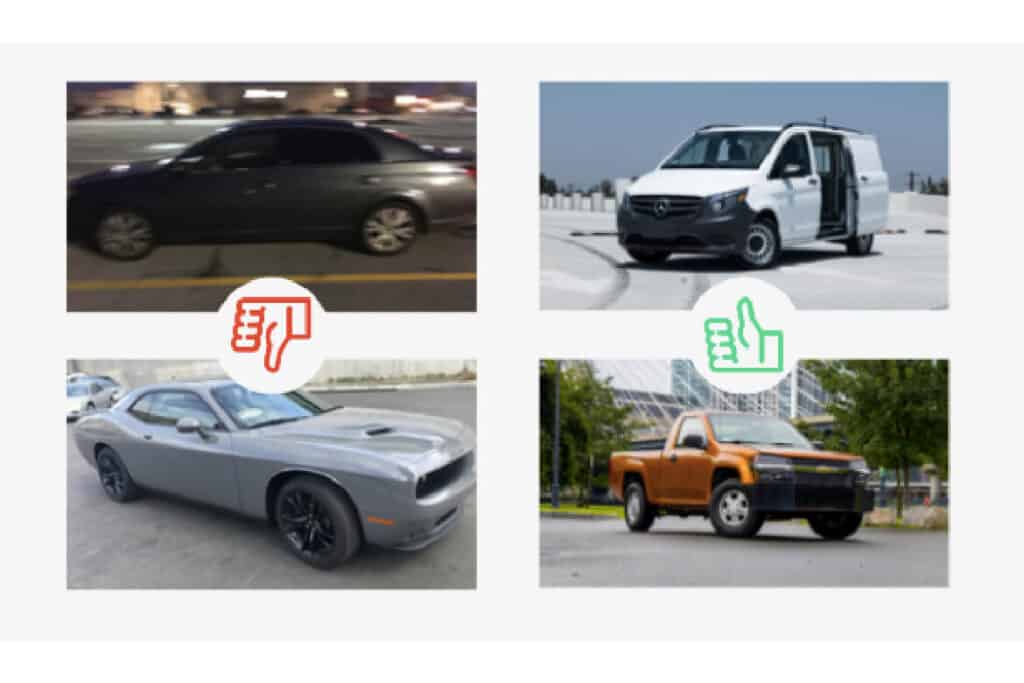 Turo says listings with quality photos receive 60% more trip requests. Your phone should work fine, but take pictures as if you're trying to sell your car: 
Make sure the car is clean, inside and out. 
Park your car in a nice location that shows it clearly.
Shoot it in the morning or later in the afternoon to minimize glare which could make your car looked washed out.
Take photos of the front, back, both sides, and include a few interior shots so guests know where they'll be sitting. Some guests may be concerned with the number of seats.
Do not use stock photos of your car. It's against Turo's terms of service.
Boost your Turo earnings by offering extras
Turo has a list of extras you can offer, which can boost your earnings to 90% of the rental fee.
From your listing, just select the Extras tab, then browse through 50+ extras. Adding extras to your listing would raise the rental price, but they're optional for the customer.
Some of the popular extras you can offer:
Pre-paid re-fueling or EV recharging so guests don't need to worry about it.
Unlimited mileage.
Include a child safety seat, or a stroller.
Post-trip cleaning if you can spend 10-15 minutes cleaning up between trips.
Turo is certainly an interesting concept – generating income from what might be the fastest depreciating asset we own. Over the course of a year, it can put a huge dent in your costs for gas, tolls, repairs, insurance and even car payments.
According to Pew Research, one in five people worked from home all or most of the time pre-Covid. Now 71% of people who are able to work from home do so most of the time.
If you're paying for a car that sits unused day after day, making money on Turo could be a big help in balancing your budget. It's relatively passive income that you can turn on or off anytime you want. Turo enables you to specify when your car is available, and you can "snooze" your listing (which makes it invisible to customers) whenever you want.
Making money with Turo car sharing is a side hustle worth considering
It's nice to earn a high salary, but moving past paycheck to paycheck life has a lot to do with increasing the gap between what you earn, and what you spend.
If you view what you've spent over the course of a year, vehicle costs are probably high on the list. So if you can decrease that – or even bring your vehicle costs to zero – then renting your car on Turo can be a winner.