"This post may contain affiliate links. Please read my disclosure for more info.
Have you tried clearing out your closet recently? Last time I did, the result was 3 huge bags of stuff I never wear.
It's such a relief getting out from under clutter and being more organized, but there's another bonus I hadn't thought of.
There are literally dozens of places to sell clothes online for money. 
It makes perfect sense. You get to declutter your life, while giving your clothes a new life rather than ending up in landfill. And you're giving someone a bargain while you make some serious cash.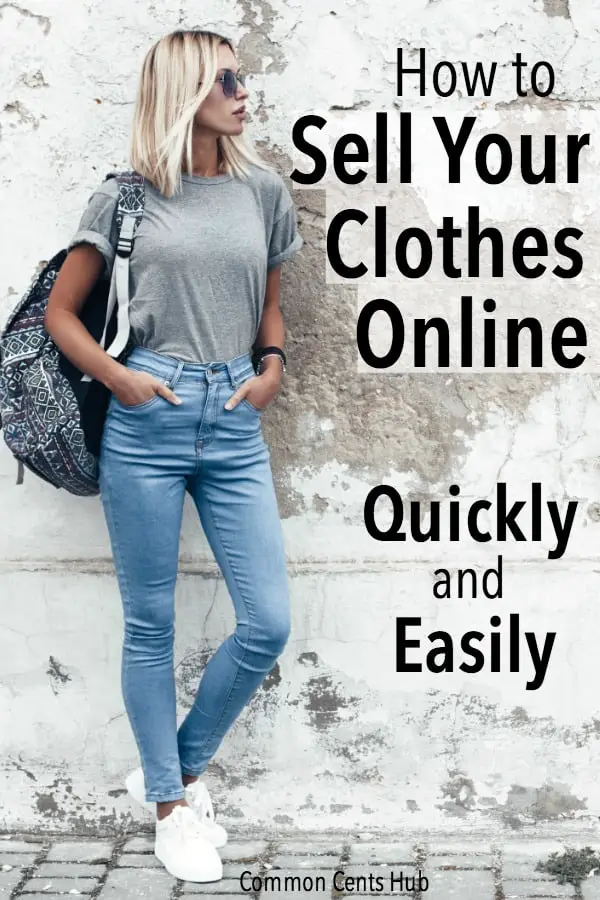 I've narrowed down the 15 best apps to sell clothes for cash, and how use them. I'll also include some expert tips on the best way to sell clothes online, regardless of the app.
You'll know how to take photos that stand out, write a description that sells, and how to price your clothes for a quick sale.
Best Places to Sell Clothes Online
Whether you're just clearing your closet, or starting your own business, selling clothes online is a great way to make money.  Let's find the best apps to sell clothes depending on the types of clothing you have, and how much control you want over the process. 
Best for:  If you don't want to bother with taking photos or writing descriptions, ThredUP makes it easy to bag and send your items and let them do the rest.
How it Works:  Just request a free 'Clean Out' kit, pack your items, and leave it for your mail carrier. ThredUP will check everything, photograph it and list it for you.
There's no guarantee ThredUP will accept every item you send. For any rejected items you have two choices:
ThredUP can donate the item to a charity of your choice, and pay you $5 per Clean Out kit.

Or you can request they return any rejected items to you for a $10.99 fee.
Fees:  There's no fee to have your clothes listed on ThredUP. But for whatever sells, they keep a "payout".
Payouts for lower priced items are:
Sales between $5.00-$19.99    – 3%-15%.
Sales between $20.00-$49.00 – 15%-30%.
And the percentage of their payout increases as the sale price increases. 
Getting Paid:  ThredUP pays you according to their payout scale, and  sends it to you via PayPal or Stripe. You can also opt to receive ThredUP credit for purchases.
Tip #1 – ThredUP has a rigorous inspection process for clothing they receive. They accept about 40% of the clothing sent to them. So to maximize your income, send only clothing with no obvious signs of wear or damage, and all sizing tags intact.
Tip #2 – At the time of this writing, ThredUP's home page says their turn-around time to process your clothing is around 15 weeks.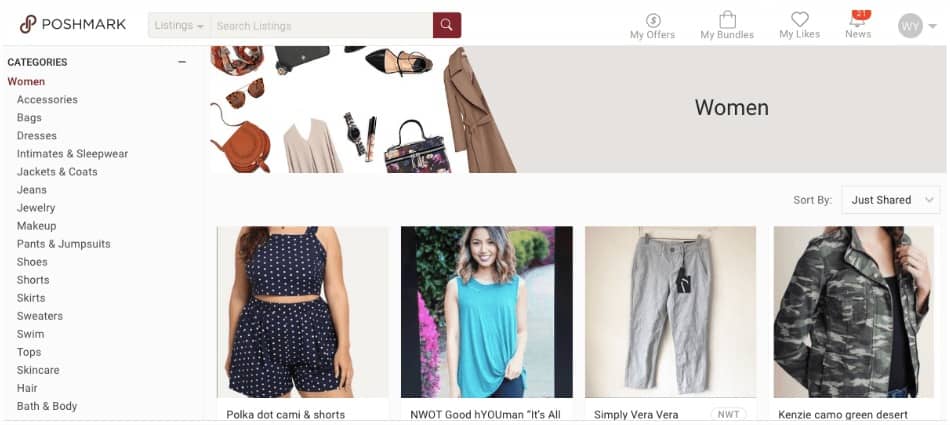 Best for:  If you prefer more control over your sales, Poshmark gives you full control over your listing, photos and selling price.
How it Works:  Sellers create their own "closet" and list clothing and accessories for men, women or children. Creating your listing is similar to an Ebay listing where you upload your photos, write a description and set your price.
There's a social aspect to Poshmark, in that buyers tend to bookmark closets when they find one matching their style and size. Sellers can advertise their closet on platforms like Instagram, YouTube, TikTok or Pinterest.
You can negotiate with buyers, and you can take advantage of Poshmark's Bundle Feature which lets you package several items together.
Fees:  There's no charge to list your clothing on Poshmark, but they do take a fee of $2.95 for each sale under $15, or 20% of the sales price for items over $15.
Getting Paid:  When you make a sale, you'll receive an email with an attached, pre-paid, pre-addressed shipping label  to attach to your package. How easy it that! Once the item is delivered, you'll be paid via direct deposit
Tip:  When you create your closet, try to include at least 5 items to start with. It'll give browsers an idea of what types of clothing you're selling. Similar to Pinterest, you can follow other seller's closets and interact to get ideas and tips.
Best for:  Not a specific clothing site, but with almost 1 billion visitors each month, Ebay is still a great place to sell clothes online because of the huge audience.
How it works:  Creating a listing is easy. Just create an account, click Sell, and fill out your description. You can choose an auction if what you're selling is an in-demand item, or go simple and set a "buy it now"
You'll want to use specific key words in your description, because on such a large platform buyers use specific key words to search. Include things like brand name, color, size, fabric, and words that could describe the activity, like casual, formal etc. 
Ebay protects buyers very well. So when you sell used clothes online there, you want to represent your item accurately. Use photos, and show any defects to minimize the chance that someone might request a refund. 
Fees:  Shipping fees are set by you, the seller, and paid by the buyer. You can either set a shipping fee, or offer "free shipping" and build the cost into your sale price.
You'll pay Ebay a selling fee of 10% on most clothing categories and a 3% PayPal fee, so your total fee is 13%. That may seem steep, but in return you're getting access to a huge market, and you're able to use a proven payment system like Paypal.
Getting Paid: Buyers can pay you using PayPal or credit and debit cards. When you mark your sold item as "shipped" you'll see the payment in your account within 7 days. Or if you provide Ebay with proof of shipment, you'll receive payment 3 days after delivery.
Poshmark vs. Ebay head to head
Potential Market:
Ebay offers a huge market, but of course, only a portion of them are shopping for clothes.

Poshmark is a smaller community, but they're looking specifically for clothing, and may be more motivated. 
Fees for Listing: 
Poshmark gives you free, unlimited listings every month. 

eBay gives you 50 free listings per month, but after that, you'll pay for additional listings. If you're just clearing your closet, this won't be a factor, but if you're going to flip clothes every month it's something to consider.
Fees for selling: 
Poshmark charges a flat fee of $2.29 for purchases under $15, or 20% for sales over $15.

eBay charges a 10% sales fee, and a 3% PayPal fee, for a total of 13%.
So for example, if I sold two sweaters for $14 each, and two dresses for $30 each for a total of $88.00, my fees would be:
$11.44 on eBay 

$16.58 on Poshmark
If you plan to sell more expensive items, Ebay may be the cheaper alternative since their fee is standard, regardless of the item's sale price. But Poshmark may offer a more motivated audience since they cater to clothing specifically.
Returns:
Sales are usually final on Poshmark.

The buyer does have the option of opening a case against you if for instance, you've sold a damaged or misrepresented product. But it's an exception. 

eBay gives the seller the option of permitting returns. But even if you choose not to, PayPal does allow returns within 180 days, and this supersedes whatever you choose on eBay. If you're just selling a few items this may not be much of a factor, but if you'll be selling regularly, it's something to consider.
Getting Paid: 
Poshmark buyers have 3 days to accept delivery, which triggers your payment. If they fail to "accept" within the 3-day period, Poshmark will approve the payment automatically. 

On eBay, once you mark your item as shipped, you should see payment within 7 days. Or if you provide proof of shipment, you'll receive payment 3 days after delivery. 
Shipping: 
Poshmark has a simple shipping process. They provide you a pre-paid shipping label for you to send your item to the buyer using USPS Priority Mail using a free box. 

eBay is a bit more complicated because there are more options. You can choose to offer free shipping or not, and if you choose to charge for shipping, they'll assist you to select the best option.
Customer Service: 
Poshmark offers customer service via email only. And most likely, your first response will be an auto-reply. Reaching a real person and getting a reply could take several days.

eBay employs an actual help desk with live operators on duty from 5am to 10pm. If you have an urgent problem, your chances of resolving it quickly are very good.
Best Places to Sell Clothes Online Locally
If you're looking to sell used clothing online without getting involved with shipping details, these next few are for you! No packing, shipping, and usually cash only.
Best for:  Selling every day clothes in your local area.
How it Works:  Facebook Marketplace isn't known as the ultimate platform for selling clothes online, but it's totally free, so if you're selling locally, it's worth trying.
The FB Marketplace app makes it super easy for buyers to browse, see your item, and just tap "Is this still available".
The Marketplace has been merged with FB Selling Groups which enable you to target customers in specific towns. Selling locally may eliminate the need to ship items, but you'll still be taking the time to meet buyers. 
Creating a listing is simple. Just click the Marketplace icon from the top menu, click on Sell, then upload your photos. Add a description and your location. Your exact address won't be revealed, just a general location. You can then optionally add your item to any specific selling group you may be a member of.
If you're selling luxury, or vintage clothing, one of the dedicated clothing sites may be the best used clothing app for you. But if for instance, your child outgrew several pairs of jeans or shirts, or you're clearing some mid-priced clothing, coats, or shoes from your closet, FB Marketplace is a great option. .
Fees: There are no fees to sell on Facebook Marketplace.
Getitng Paid:  FB Marketplace doesn't have a built-in payment system so a common method is to use PayPal. But if you're selling in person, cash is best since you're handing over your item at the same time.
Best for: Craigslist is the original online marketplace to sell your clothes online, or anything else you have. Local, in-person, cash sales that are commission-free.
How it Works: Just select your geographical location, click on Clothes & Accessories, then on Post. Fill out the description and add some clear photos. It'll ask for your general location, but you don't need to reveal your address. And you'll probably want to meet your buyer in a public place.
Trendier sites like Poshmark and ThredUP may come to mind first when you're selling clothes online, but on Craigslist your clothes don't need to pass any inspection. As long as you take clear photos and price items reasonably, you'll make sales and keep 100% of the profit.
Craigslist can work well for non-designer clothing, like outgrown kids clothes and shoes, coats, sports jerseys, women's shoes or accessories like handbags, backpacks and boots.
Fees: Postings on Craigslist are free.
Getting Paid: Since almost anything you sell on Craigslist is in-person, cash is best.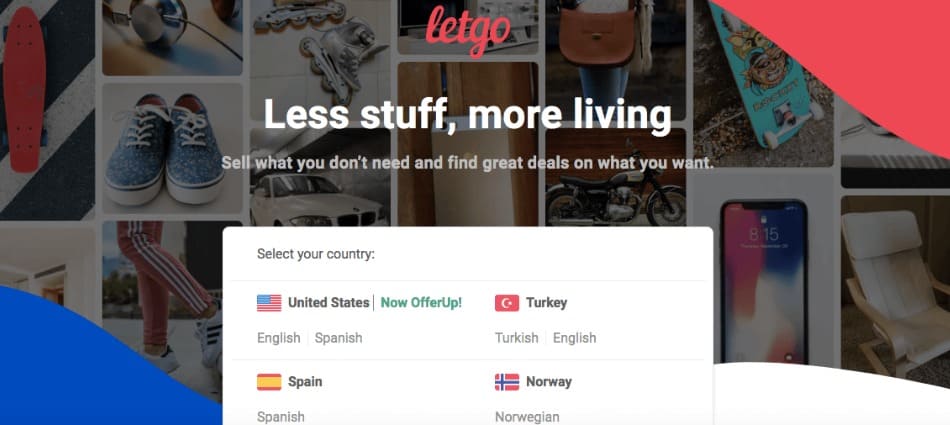 Best for:  Local, in person sales, with no commissions to pay.
How it Works:  Letgo is similar to Craigslist, where most sales are local. Once a buyer contacts you through the app, you can then haggle, offer a return policy, or sell "as is". Then you'll arrange a meeting place to exchange the item for cash.
You can also check other user's ratings and reviews to screen your buyer or seller.
The mobile home screen is simple to navigate, and includes everything you'll need to list your item, take photos, chat with customers and update your listing.
Optionally, you can pay for a featured listing, but it's not necessary. 
Fees: Letgo makes money from ads and featured listings. There's no fee for a posting or for using the app.
Getting Paid: Almost all transactions are in cash, since sales are in-person.
Tip: Letgo and Craigslist both cater to local sales, but in my experience, Letgo's location filter seems more accurate than Craigslist. When I use the BUY section specifying my zip code and a 5-mile radius, I only see items within that distance. When I do the same on Craigslist, I still see items for sale an hour or more from my home. It you're looking to do business close to home, it could be a factor.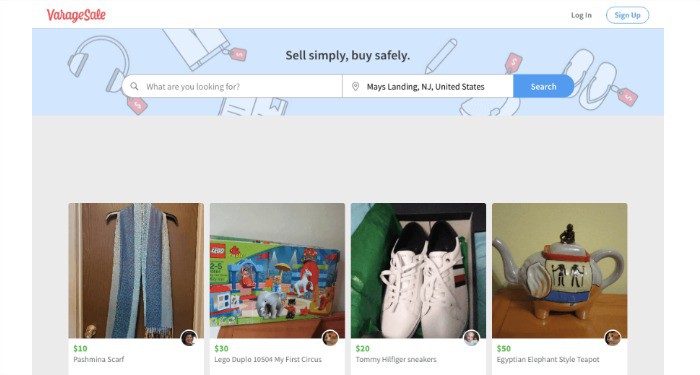 Best for: Local Sales of any types of clothing for men, women or children. 
How it Works:  Founded by an at-home Mom in 2014, VarageSale has over a million members already. It's easy to use, just create an account, select your area, and you'll be placed in that group.
Listing your items is quick and easy. You'll want to use key search terms like brand, style, size. When a buyer is interested, you click to "reserve" the item for the buyer, then make arrangements to meet.
Fees: No fees to do transactions.
Getting Paid:  Cash or Venmo is recommended.
Online Consignment Stores are a Great Way to Sell Used Clothes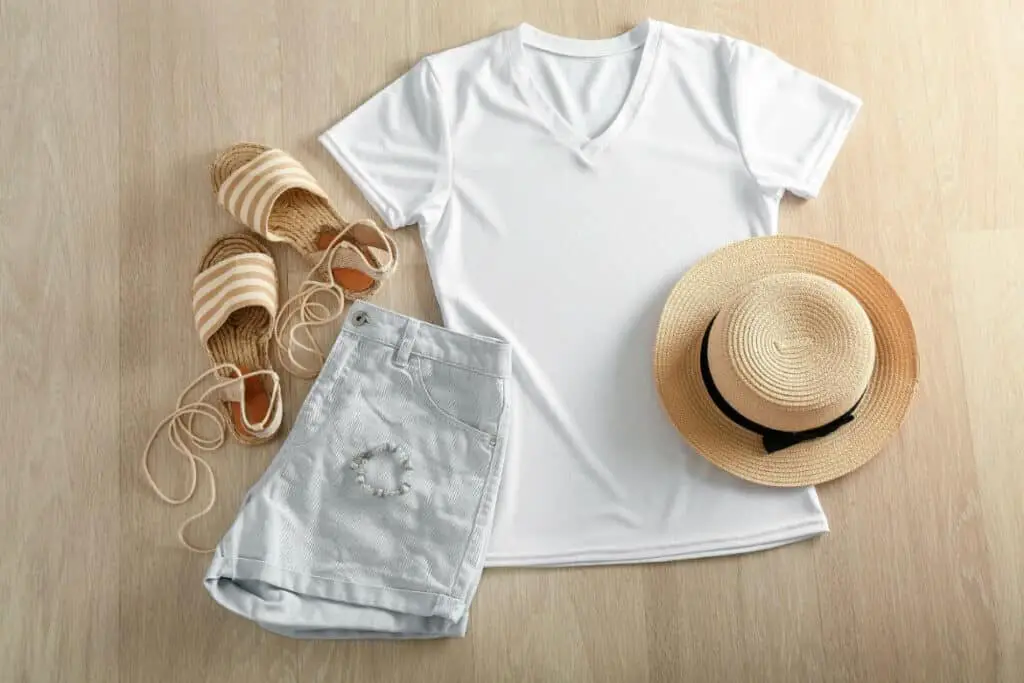 If you're on a closet clearing mission, and you'd like a place to sell clothes with a more hands-off approach, why not try consignment?
The next four entries are apps to sell clothes that'll do almost all the work for you. They'll take your clothes (some even pick them up!), sell them for you, and send you the cash.
Best for:  Luxury and high-end brands.
How it Works:  The RealReal is a cross between your local consignment shop, and Saks Fifth Avenue. They'll help to sell your luxury brand clothing, and accessories like jewelry, bags and shoes.
When you decide to sell your clothes online, just create an account and choose how you want to send the items. They'll either provide you a pre-paid shipping label, offer a drop-off location, or they'll even provide a pick-up.
Once they receive and inspect the items, they'll take it from there. They write up a description, take photos, set the price and place the ad.
A nice feature is, that if your items don't sell, you can opt to have them donated or returned to you, free of charge.
Fees: Your items can be picked up via UPS free of charge.
Getting Paid:  Payments are made by direct deposit, check or given as a site credit.
The amount you're paid for sold items depends on a few things:
The value of the product sold.

Your seller level.
RealReal Seller Levels:
Insider – Sellers who have sold $0-$1500 within the last 12 months. Insiders receive 55% of the selling price.
Icon     – Sellers who have sold $1501-$9999 within the last 12 months. Icons receive 60% of the selling price.
VIP      – Sellers who have sold $10,000+ within the last 12 months. VIP's receive 70% of the selling price.
Best for: Clothing in very good condition you'd like to have shown among 500 boutiques. Also for clothes you'd like to swap.
How it Works:  LePrix was formerly known as SnobSwap, and recently rebranded to LePrix. They have a unique feature that most other online clothing apps don't – you can swap clothing in addition to buying and selling. You can buy a dress for a deep discount today, and swap a sweater for a skirt tomorrow.
They operate by partnering with over 500 boutiques and second-hand stores and providing a platform for you to sell through them. LePrix specializes in second-hand luxury items, so your clothes don't all need to be designer, but they do need to be in excellent condition.
LePrix offers 3 ways to sell your clothes online:
Sell them yourself.

Consign them to LePrix and let them handle the sale.

Trade your clothing.
To sell your clothes online, you'll be paired with a "boutique partner" who would authenticate whatever brands you're selling. LePrix has a zero-tolerance policy for counterfeit items. Once your item is approved for sale.
You can also bring your clothing to one of their boutiques if one is nearby.
Fees:  Joining LePrix is free, but the seller fee you'll pay isn't clearly stated on their site. They do mention that you'll pay "a seller's fee percentage of the sale price and deduct pay out fees including bank transfer fees and PayPal payment fees". 
Getting Paid:  You'll be paid via PayPal.
Best for: An easy process, and a very fast, guaranteed payment.
How it Works:   Material World is like an online consignment shop with one big difference. They pay you for your clothing immediately, without waiting for someone to buy it. Understandably, they don't accept every single item they receive.
But the good news is, you have a choice of having them donate any rejected items, or having them returned to you, free of charge! So you still have the option of offering it somewhere else!
Material World sells customized subscription boxes for buyers, so they're always looking for those seldom-worn, but still cool clothes in your closet!
Just click Start a Trade-In and they'll send you a "Material Kit". Send it back with your pre-loved clothing in it, free of charge. Once they inspect it, they'll make an offer and if you accept, you'll receive payment via PayPal.
Fees: Material World collects 15% of the sale price.
Getting Paid: Payments are made through PayPal.
Best for:  If you want a hand's off approach to selling clothes online, and prefer to avoid selling and shipping.
How it Works: Linda's stuff will take your clothes on consignment. Just sign up, fill out their clean out form and a client coordinator will contact you. They'll pick up your clothes free of charge.
They'll photograph everything, research a price, and post it for sale. When your clothing sells, you'll be paid. How easy is that!
Fees:  There's no fee to have your clothing picked up.
Getting Paid:  When your clothing sells, you'll receive a percentage of the sale:
60% – for clothing sales under $1000.

75% – for clothing sales over

 

$1000.
80% – for clothing sales over

 

$5000.

Best for:  Mercari provides a huge audience (over 90 million per month) and is a marketplace for not just clothes, but almost any product around the home.
How it Works:  Listings are free, and the app will guide you through entering your description and photos. When you make a sale, you can print a pre-paid shipping label from the site. You can also use your own label if you'd prefer to pay for shipping. Mercari asks that you ship your item within 3 days.
Fees:  It's free to list items for sale, and Mercari keeps 10% of all sales.
Getting Paid:  For the seller to get paid, the buyer needs to confirm receipt of the item and submit a rating. If they haven't within 3 days, Mercari will add the payment to your "Mercari Balance". You can either cash out, or use the balance to purchase items on the site. If you cash out, there's a $2 fee for direct deposits less than $10.
Note: The Better Business Bureau gives Mercari an A+ rating, but they also note that the average rating from 775 people was 1 star out of 5. Most complaints are related to poor customer service, such as delayed responses, or closing help tickets regardless of a resolution.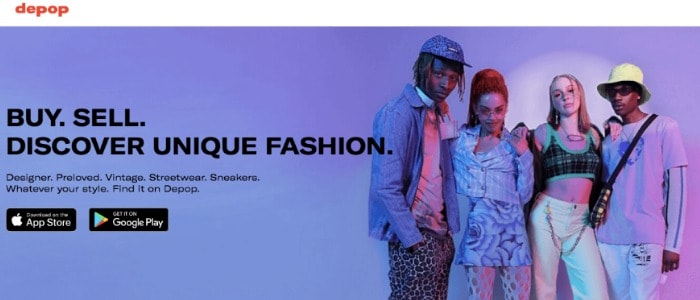 Best for:  Depop is a used clothes app that specializes in modern and vintage clothing for men and women. Great for things like that vintage shirt with a 60's or 70's vibe that someone may not have been looking for, but just has to have it. Depop has been described as a cross between eBay and Instagram.
How it Works:  Just download the app, create a username and add a photo that represents your brand. Enter a short description of the style of your brand and what you're selling. This will appear under your username on your personal page. You can also link to your Instagram page to promote yourself more.
Fees:  Listing your clothes is free. Then you'll pay 10% of the sale price to Depop when it sells.
Getting Paid:  When a buyer purchases your item, Depop immediately deposits the money (item price and shipping cost) into your PayPal account. Then they take out the shipping cost and their 10% selling fee in one transaction.
Tip #1 –  When you setup your shop, spend some time browsing other shops. See who shares the same taste and follow them. Soon you'll build your own following, and it'll translate into more sales. People tend to buy from sellers with a following and positive reviews.
Tip #2 – After setting up your shop, look next to your "followers" for the Share Shop button. Click it to share your shop to your Instagram story. Your account also has a link that you can post to Facebook, Twitter etc.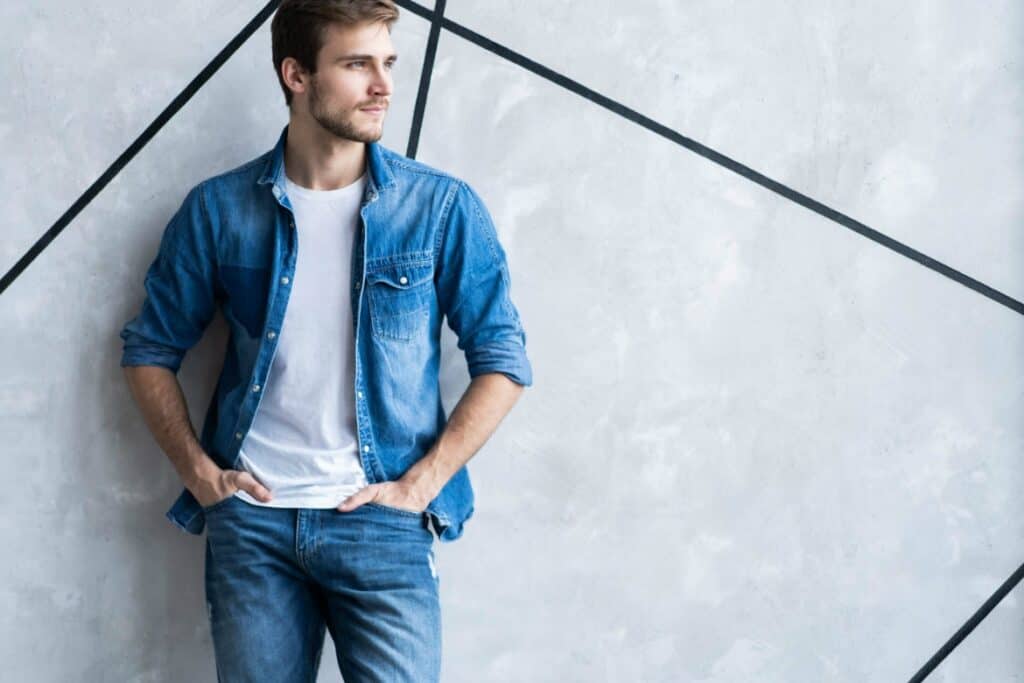 Best for:  Grailed is a marketplace for new or lightly worn luxury menswear.
How it Works:  High-end designer brands are very popular. Grailed also sells new clothing. Keep in mind when you're setting a sales price, that the price should include your shipping costs.
Listing your clothing is a simple process. Their wizard guides you through adding the item's details and photos on desktop or mobile.
Fees:  You'll pay Grailed 9% of the sales price, and any PayPal fee. 
Getting Paid: Payments are via PayPal
Best for:  Handmade, vintage or unique items. 
How it Works: Etsy may be known as a marketplace for homemade crafts, but handmade, embroidered, or vintage clothing are good sellers on Etsy also. Custom t-shirts, jeans, handmade scarves, hats or other accessories are popular on Etsy.
Fees: Listing your item on Etsy costs only $0.20. Then it'll remain for 4 months or until it sells.
When you sell an item, there is a 5% transaction fee on the sale price. If you accept payments through Etsy Payments, they'll also collect a 3% + $0.25 payment processing after the sale. 
Getting Paid: Their "Etsy Payments" system enables buyers to pay via multiple payment options, then Etsy will forward the payment to the seller via direct deposit to their bank account.
Tips on How to Sell Clothes Online
Knowing great places to sell clothes online is one thing – but creating an effective ad that attracts buyers is the other side of the coin. 
Whether you're just doing a wardrobe clear out, or you're starting a side business, here's how to sell your clothes online quickly and profitably.
Buyers are scrolling through dozens of photos, so here are some tips to make yours stand out.
You don't need an expensive camera – your phone will do fine, but you can maximize the quality.
Be sure to clean the lens. If your phone's been in a bag or a pocket all day,  lint can noticeably affect the picture quality.

Use natural light. Laying a shirt out on your bed at 10pm with a yellowish overhead light will throw off the true color of the clothes.

Use a plain, light colored background. Some cheap poster board at a local craft store can work.

If you're using an iPhone, you can use the built in iPhone editor. Experiment with settings like contrast, black points, and shadows.

Clothing photographs well when it's hung on a good quality hanger, with front and rear views.
Potential buyers can get a good feel for how your clothing looks if someone is wearing it. So depending on the clothing, consider taking a photo of yourself or a friend with it on. 
Write a Clear Description
Buyers search for specific items, so you want to be sure to use key words. Things like brand name, color, size, style, and specific accessories. Including measurements can also give buyers a more confident feeling.  
Consider how you might describe the item to a friend on the phone. Would it be great for certain occasions, is it waterproof, or does the material feel a certain way? Is it washable?
And you definitely want to be truthful about any slight defects. Regardless of the sales price, buyers want to know exactly what they're getting. 
The fewer questions your buyer needs to ask, the more likely they are to click "Buy".
Price Your Clothes Competitively
Before setting a price, try searching for the same or very similar item. When you have a good idea of the average selling price, set yours a bit higher than the lowest price you'd accept. Getting top dollar is nice, but not if it takes months to get it.
How Does Your Ad Look on Mobile?
Most people will view your ad on mobile, so however you're creating it, check to ensure that it looks ok from your phone.
Be Aware of Fees and Expenses
Many of the websites to sell clothes don't charge anything to list your items, but they all collect a commission for selling it. 
We've noted most of their commissions here, but depending on what you're selling and how often, certain sites will make the most sense.
Also, you'll want to be aware of shipping costs, and whether you'll need to build that into the price.
You can pack your item in a box you may already have, or get a free Priority Shipping box from the USPS. If the app pays for shipping, they'll email you a pre-paid USPS shipping label. You can either print the label at home, or pay a small fee to have it printed when you drop off the package.
Want to Sell Your Clothes for Cash?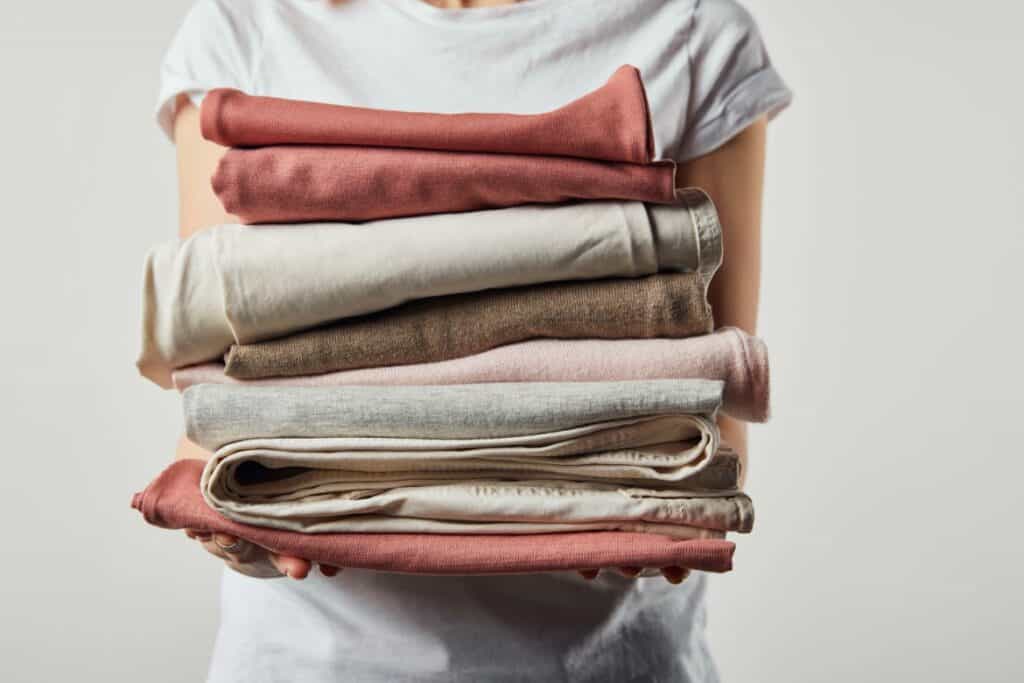 Here's an eye-opening exercise… try removing every single thing from your closet. I did it last year, and was shocked to see the clutter I was living with. There were shirts and pants I hadn't worn for years. There were things with the tags on that I had never worn.
Going cold turkey – emptying everything and putting back only the clothes you actually use has a dramatic effect on your physical space, but also on your mental clarity. And when you're done, you'll be left with a pile of clothes much bigger than you anticipated.
You could drop your old clothes in the nearest donation bin. But according to the United States Environmental Protection Agency, only about 10% of the clothing from donation bins is actually recycled. 90% of it (10.5 million tons a year) ends up in a landfill.
Selling your clothes online not only puts cash in your pocket – it helps the sustainability of our environment, and helps someone to get something they need that they may not have been able to afford.
How about you? Have you used any of the apps to sell clothes?
MORE WAYS TO MAKE EXTRA MONEY