"This post may contain affiliate links. Please read my disclosure for more info.
Eating high protein, low calorie meals isn't just for body builders. It's tough to try and maintain a healthy diet when you walk around feeling hungry most of the day.
One of the best ways to suppress your hunger, feel satiated, and maintain a healthy weight is by eating high protein, low-calorie meals.
Protein is a nutrient superhero that keeps you feeling full long after you've finished eating.
And you can stock up on it without eating bland meat patties, or blending chalk tasting shakes.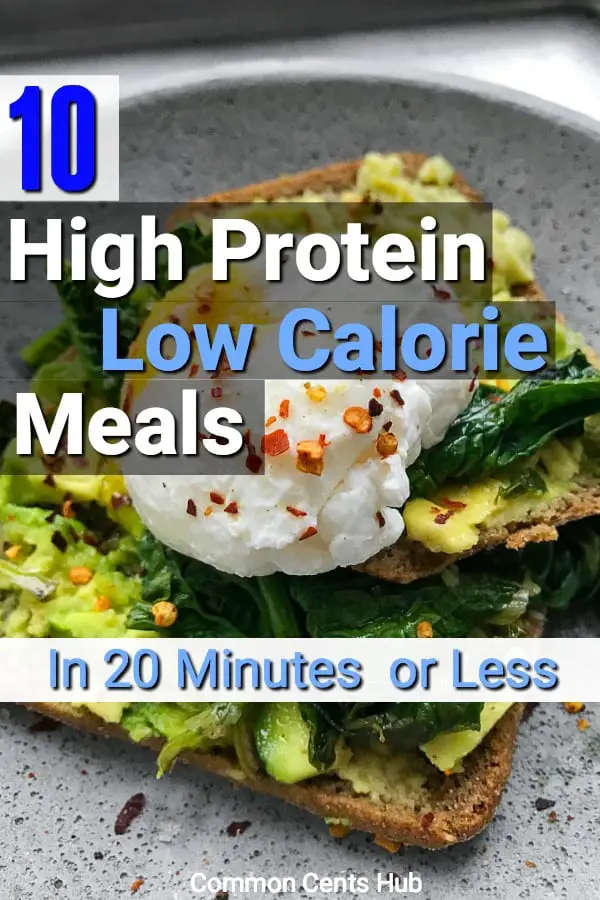 Here are ten mouth watering high protein, low calorie meals you can whip up in 20 minutes or less that'll make you forget about those cookies in your pantry.
10 High Protein, Low Calorie Meals Ready in 20 Minutes or Less
20-Minute Ancho Chicken Tacos
Low calories, high protein and delicious – perfect! They're chicken wrapped in a warm corn tortilla, topped with cilantro, cabbage, a squeeze of lime, plus jalapeños, sour cream, green onions, and avocados.
A little over 150 calories and 14 grams of protein each, so two or three will fill you up and put dessert out of your mind.
Found on Pinch of Yum
Tropical Coconut Chicken Salad
If you're looking for a light meal that'll fill you up without feeling bloated try this Tropical Coconut Chicken Salad. It's a great combination of flavors like bell peppers, avocado, fruits and of course, coconut. Definitely a welcome change of pace!
Each serving is 470 calories and 32 grams of protein.
Found on Joyful Healthy Eats
20-Minute Skillet Chicken Fajitas
This is a perfect weekday meal when you don't have a lot of time. It's easy to make, has only a few ingredients and you'll only have one skillet to clean. My kind of meal!
Found on The Iron You
Looking for some low-carb meal ideas? It's so easy to resort to bread heavy options that leave you feeling bloated. Here are 20+ low carb meal ideas for breakfast, lunch, dinner and dessert that are cheap, easy and really good!
Maple-Pecan Crusted Salmon
Salmon's a favorite of mine and this pecan crust gives it a great crunch while sealing in the juices.
Only 205 calories and just under 23 grams of protein.
Found on The Seasoned Mom
This recipe makes about 15 burritos but once you taste these you may not want to half it. They're great to save for tomorrow's lunch. Or even breakfast.
They're easy to make, with no fancy ingredients and at 387 calories and 27 grams of protein, will keep your sweet tooth at bay.
Found on Pinch of Yum
Slow Cooker Turkey, Black Bean and Sweet Potato Chili
This a great slow cooker recipe that only takes 10 minutes to throw together. Great for weeknights or the weekend. It has great flavor, the Quinoa kicks the protein up a few notches and it's gluten-free.
One Serving is 380 calories; 30 grams protein.
Found on Inquiring Chef
Dairy Free Chicken Corn Chowder
Anything chipotle-spiced and I'm in line for it. This corn chowder has great flavor and leaves out the heavy creams and butter.
And even though there's no dairy in this chowder, there's lots of protein and flavor. It uses almond milk to give it the creamy base and the added nutritional yeast gives it a cheesy flavor without adding any real cheese.
One serving is 415 calories and a whopping 36 grams of protein!
Found on Kim's Cravings
Chicken Parmesan Zucchini Boats
Chicken parm is great, but a mountain of pasta served with it can leave you feeling like you ate a brick.
This recipe swaps out the carbs and a lot of the processed ingredients in favor of real food. It uses sautéed ground chicken served in hollowed out zucchini.
The parmesan flavor comes from mixing pasta sauce into the chicken. There's a mixture of mozzarella and parmesan cheese that you can adjust to your own taste.
It has 500 calories per serving (3 boats) and an unreal 57 grams of protein!
Found on Wholesome Dish
One Pan Pesto Chicken and Veggies
One-pan meals are great for a quick weeknight meal. Or a lazy weekend. This one is light, packed with vegetables, full of color and delicious! Each serving has 450 calories and 35 grams of protein.
Found on Julia's Album
Eating high protein, low carb meals isn't just for weightlifters. Protein is an important part of every cell in our bodies and it's used to build and repair tissues, make enzymes, hormones and other body chemicals. It's an important building block of bones, muscles, skin, and blood.
And it can really help you forget about your sweet tooth.
Foods like Greek yogurt, beans, chickpeas, and even quinoa have a lot of protein, and can easily be added to a lot of different meals in place of carb-loaded things like rice and pasta.
So, try one of these when you can, and let us know how you liked them!
MORE WAYS TO STAY HEALTHY AND FIT