"This post may contain affiliate links. Please read my disclosure for more info.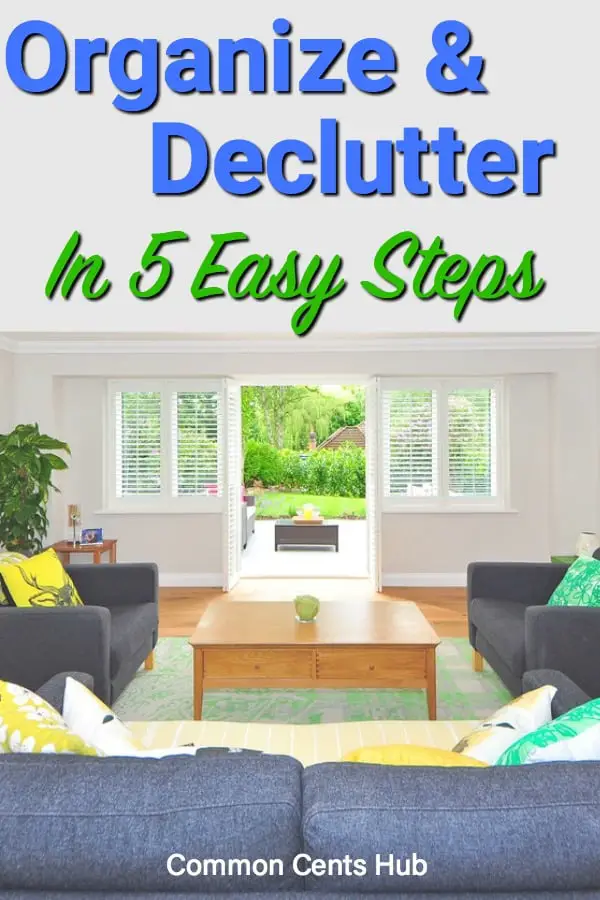 When you don't have an organized home, the chaos can leave you feeling anxious, helpless, and overwhelmed. The problem is, that we gradually let our space become this way so we don't recognize it as a big source of our stress.
You don't have to be a hoarder, squeezing through narrow aisles to suffer stress in a disorganized and cluttered space. Over the course of months or years, we tend to stuff things wherever they'll fit. A hall closet, kitchen drawers, a bedroom closet, the garage.
When someone says, "quick, I need that permission slip" or "Mom, where's my hat?" and it takes 20 minutes looking through four different places, it can throw your whole day off.
So here we'll outline 5 simple steps that'll transform your space from an overwhelming, non-functional mess into a simple stress-free place to come home to.
5 Steps to an Organized Home
STEP 1 – Pick a Spot and Define its Use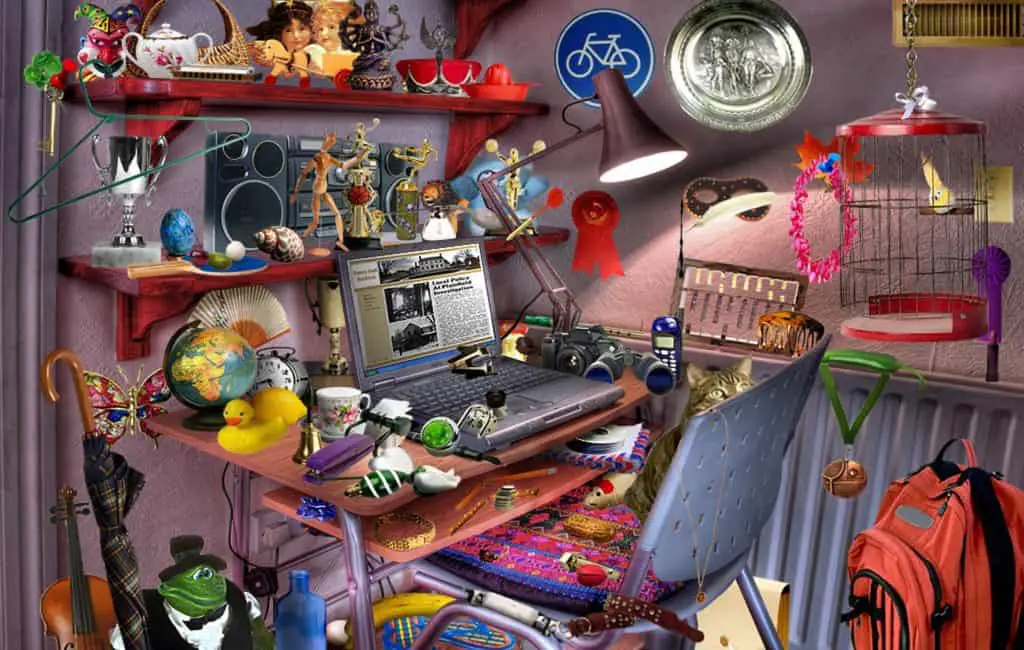 Don't try to attack your entire home at once. That can be overwhelming. Pick one area at a time.
Concentrating on one area at a time lets you define (or redefine) its use and remove everything that doesn't fit that use.
Let's say you've picked your bedroom closet.
The first step is – you may not like this – remove everything. When my daughter, whose bedroom is neat as a pin, offered to help me with my closet I balked when she insisted we remove every single thing. My closet hadn't been empty since moving in 12 years earlier.
Fifteen minutes later I had a three-foot mountain of clothes on my bed. My entire floor was covered with 30 unrelated things – none of them clothes, shoes or coats.
It seems like a small difference in process – removing everything first, or trying to organize it in place. But I've since read an article about Marie Kondo, the Japanese organizing guru who explained it.
She says removing everything first, forces you to make a decision about each item. If it doesn't belong in this spot, then where else does it belong?
If there isn't a specific place where every item can be stored and used, then getting rid of it is better than moving it around or creating more storage for it.
STEP 2. Deciding What Stays and What Goes
Now that you have a mountain of things in the middle of the room, it's time to decide what actually belongs here. It either fits your definition of this space or it doesn't.
Grab three big bags. They'll be for:
Throw out.
Donate.
Put somewhere else in the house.
You'll be left with a 'keep' pile that can be put back once you've eliminated what doesn't belong.
Be ruthless. Have you worn it or used it in the last year? Would you buy it again? Do you really need four pairs of tan pants or thirteen sweaters? In my case, I filled four huge yard cleanup bags.
Once you've sorted things, immediately put the donate bag into the car, and the throw out bag into the trash. Just going through this motion will feel like a weight lifted off your shoulders.
STEP 3. Organize the Rest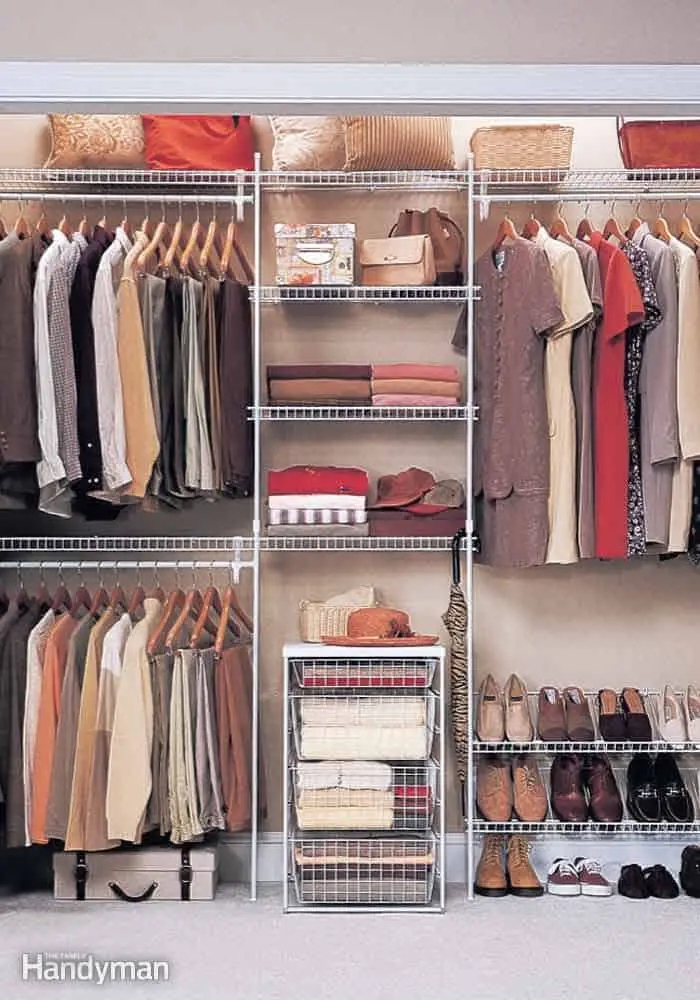 Image from Family Handyman
Once you've put the donate bag in the car and the throw out bag into the trash, you'll be left with the stuff that actually belongs in this space and the stuff that goes somewhere else in the house.
The key is, decide if it belongs in this space. Here, I was left with skis, Christmas wrapping paper, kid's old stuffed animals and fifteen other things that had nothing to with clothes, shoes, and coats.
Use bins, baskets or trays for small things like hats, gloves or scarves.
Having bins in a uniform size looks better and will be easier to move around.
Labeling them is even better. Old dresser drawers or covered, low-rise bins work great to store out of season clothes under the bed.
When you finish putting back only things that fit this area and that you know you'll use, it'll be a dramatic difference. You'll see everything and be able to find everything. You'll know everything in this space is useful to you. You may even want to show it off.
Related Posts:
STEP 4. Moving on to Other Areas
Concentrating on one space at a time has a benefit that you'll see as you move to other areas. When you bring the things that belong in another area to that other area, you'll see, "oh look, I have 5 tape measures" or "I didn't know we had 6 cans of white paint".
And there will be some stuff that doesn't seem to belong anywhere.
That's when you'll start to see that maybe you just have too much stuff. If you can't define an area to store something, the answer isn't to go out and buy 15 plastic crates and stack them up to the ceiling.
We have a natural tendency as we move to bigger spaces, to build shelves and storage everywhere. I've bought lumber to build floor to ceiling shelves in the garage, hanging shelves, and a shed in the yard.
Continually building and buying more storage is just delaying the keep or get rid of decision.  I wish I had a dollar for every time I thought, "I know I have that, I just don't know where."
Step 5. Keeping Up Your Organized Home
Once you make the effort to organize the areas in your house, the challenge will be to keep it that way.
People classified as 'hoarders' are sometimes thought to be suffering from OCD. But you don't need to be suffering from OCD to be hesitant to let go of certain things that remind you of fun times.
It's tough getting rid of a special toy your son or daughter used, or their art projects from 12 years ago.
I happened to come across my old Boy Scout mess kit last week – it's a small pan and pot to cook with while camping. It all fits together and is still in the same olive green canvas cover. Things like that remind you of a great time in your life, but that's all they are.
When I think of those camping trips, it's not cooking with that mess kit that I remember. It's exploring the woods with my friends, swimming in the lake, and sneaking out of our tents at night. So, getting rid of the 'stuff' doesn't take the memories with it.
Try asking your 14-year-old if they want that paper birdhouse they built in 2nd grade. I guarantee their response will be, "are you kidding me… No!"
Take pictures of things you have a hard time releasing. A folder on your laptop with pictures of art projects doesn't fill half of your closet. Or when you buy a new shirt, commit to getting rid of one other.
Having stacks or crates full of things around your house can be stressful even if you don't consciously recognize it. But as we age it's common to gravitate from "we need more storage" to "we need less stuff". If we could just release the past sooner then maybe we'd live more in the present.
Have you found any methods that have worked to declutter your space and keep it more organized?