"This post may contain affiliate links. Please read my disclosure for more info.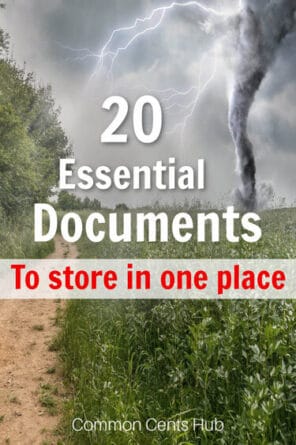 If you had to leave your house quickly, would you scramble looking for essential documents? Probably not, right? You'd worry about getting yourself, your family and pets out quickly.
But as soon as you did get out, you'd probably think – what about our birth certificates, social security cards, financial records, family pictures… It'd be a nightmare replacing everything, and some of it would be irreplaceable.
People in the Houston area facing Hurricane Harvey never expected to have to abandon entire towns. And just five years ago homes all over the New Jersey and New York coasts – many in my own town – were lost in Superstorm Sandy.
Wouldn't it feel more secure to have that stuff – just your most essential documents – in one secure container that you could grab in a second?
Even without a fire or the storm of the decade. Maybe you're just looking for birth certificates to register the kids for soccer. Here's a list of essential documents you may want to consider storing in one secure, easy to access location.
20 Essential Documents to Gather Today to Protect Yourself
Family related
Birth certificates or adoption certificates.
Passports
Social Security cards
Marriage certificate
Divorce decree
Military discharge papers.
Backup of important photos or files on USB drive
Financial documents
Loan documents (home mortgage, auto loan, personal loan).
Auto registration.
Auto title.
Insurance policy declaration pages (home or renter's, auto).
Health insurance cards.
Deeds to any property.
Financial statements (checking, savings, IRA)
Legal Documents
Trust document.
Will
Living Will
Naturalization document.
Letter of Instruction.
Power of Attorney document.
Now, you may not have every one of the 20 essential documents. But gathering the ones you do have into one secure bundle that you can grab in a second could save you precious time and let you focus on your family.
I've checked around for a decent quality, fire and water resistant box that's big enough to hold letter-sized documents. Many of ones I've seen in the $30 range are rated poorly. The one picture here is the least expensive, but best quality I've seen, that'll hold documents without folding them and still protect them.
Check the current price on Amazon here.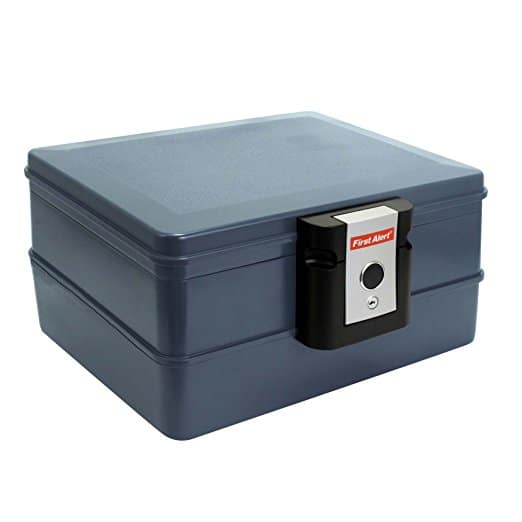 Just the act of getting these documents together could alert you to the fact that you've lost or misplaced a few, so you'll have a chance to replace them. So, on the next rainy weekend this could be 30 minutes well spent.
Related Posts: