"This post may contain affiliate links. Please read my disclosure for more info.
This is the first year that online shopping has actually eclipsed in-store shopping. It's nice to go out and shop sometimes, but to be honest, it's more productive to shop online. But it's not always cheaper. So, here are 15 Amazon hacks that'll ensure you not only save time, but have money left over.
A little known Amazon hack that works every time
Here's an Amazon hack I just recently found. Go ahead and search for a product. Then, to filter your results for discounted items within your search results, add a simple code to the end of the results url.
For example, here's a search for "kids's pajamas". The average price of the first four PJ's listed is $14.94.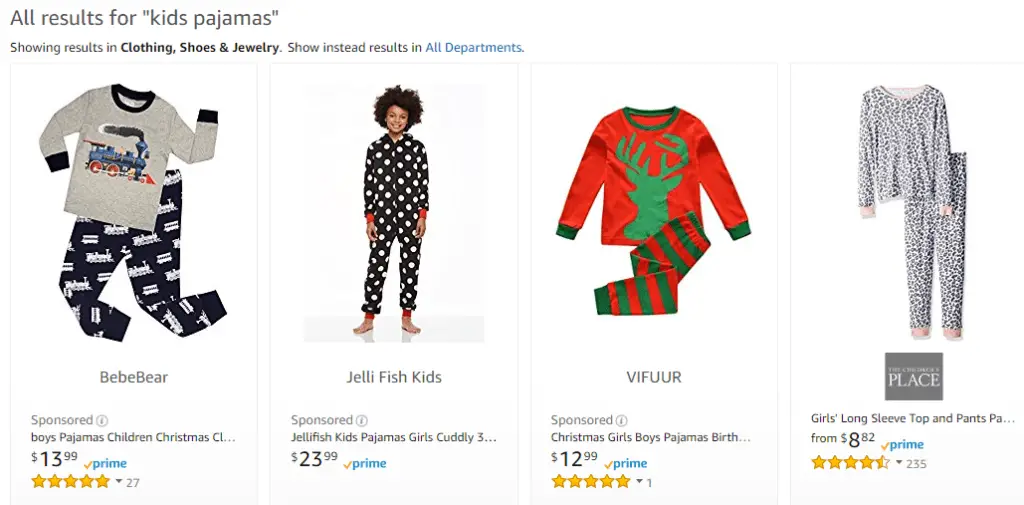 Now, I want to filter all the results to show me just the ones that are discounted between 25-40% off. I'll just add this code to the end of the url (without the quotes) "&pct-off=25-40". Whatever discount you want to find, just substitute the numbers.
Here are the first four results now: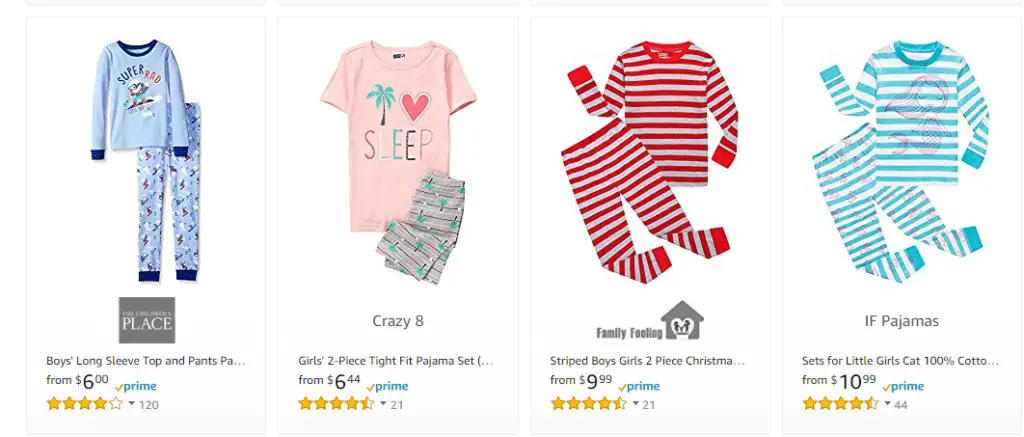 Now the average price of the PJ's listed is $8.35. This is a better method to find discounts than clicking the "Price: Low to High" option because that selection will list lots of products that are only slightly related to your search.
So, to use this Amazon hack, just do your normal search, then add your qualifier to the end of the url on the results page. You'll be sure to see the discounts you may have missed.
An Amazon Hack to See Whether Your Product Review is Legitimate
Amazon was one of the first retailers to introduce the concept of customer reviews, and it's a great idea to get other people's opinion. I've definitely avoided products with low reviews, and have been influenced by five star reviews.
But sometimes I wonder if the good reviews are all legitimate.
Now there's an easy Amazon hack to give you a much better idea if some of the reviews for the product you're considering may be fake. Just copy the url for your product and paste it into the the site, Fakespot.
Fakespot will immediately analyze the reviews and within seconds, report any inconsistencies. I tested it with a few products I've already bought. Fakespot told me the reviews for a wifi extender I purchased were 90% accurate. But for a piece of clothing we purchased, it said the word "perfect" was used in way more reviews than should be expected.
Fakespot may not be 100% foolproof, but it's free and it's just one more hack to try and get the best bang for your buck.
Ask for Compensation if Your Prime Shipment is Late
Amazon Prime shipping has always been very efficient for us, but keep an eye out. If for some reason they miss their 2 day promise, remember their guarantee is 2 days and they're charging you for the privilege. So, be sure to let them know. Usually, you'll receive either 1 month of free Prime or a free gift card.
Here below, is a letter I received last year (again, this one late shipment is the only one I can ever remember).

As a Prime Member You May Qualify for Same Day Delivery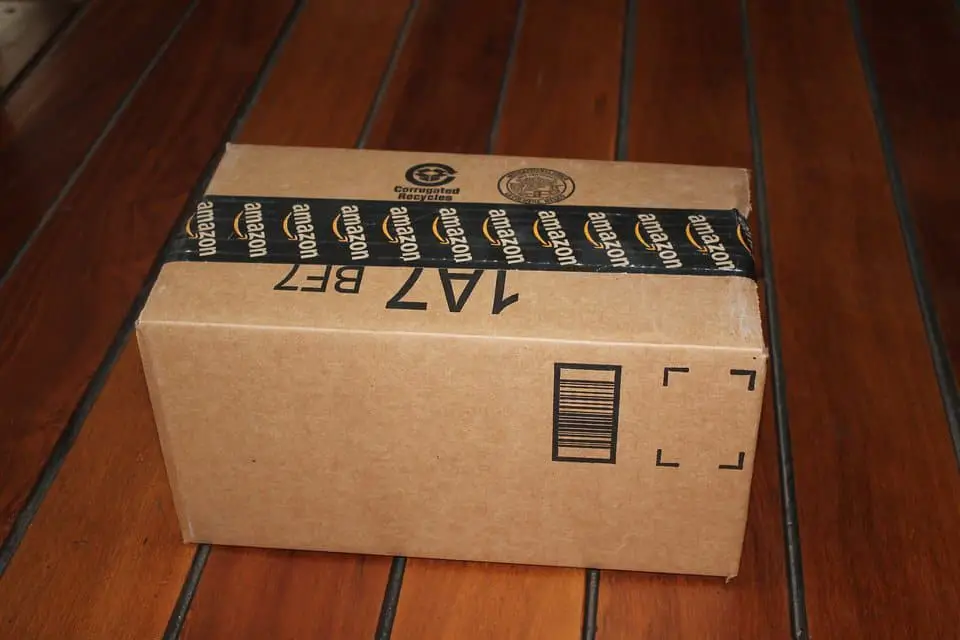 I like same day shipping, but same day delivery? Wow! Amazon has been rolling out same day delivery for Prime members, and so far, it's only available to certain zip codes, but check here to see if yours is one of them.
Related – 25 Guy Gifts He'll Actually Use
Want to Exchange Gift Ideas with Friends or Family?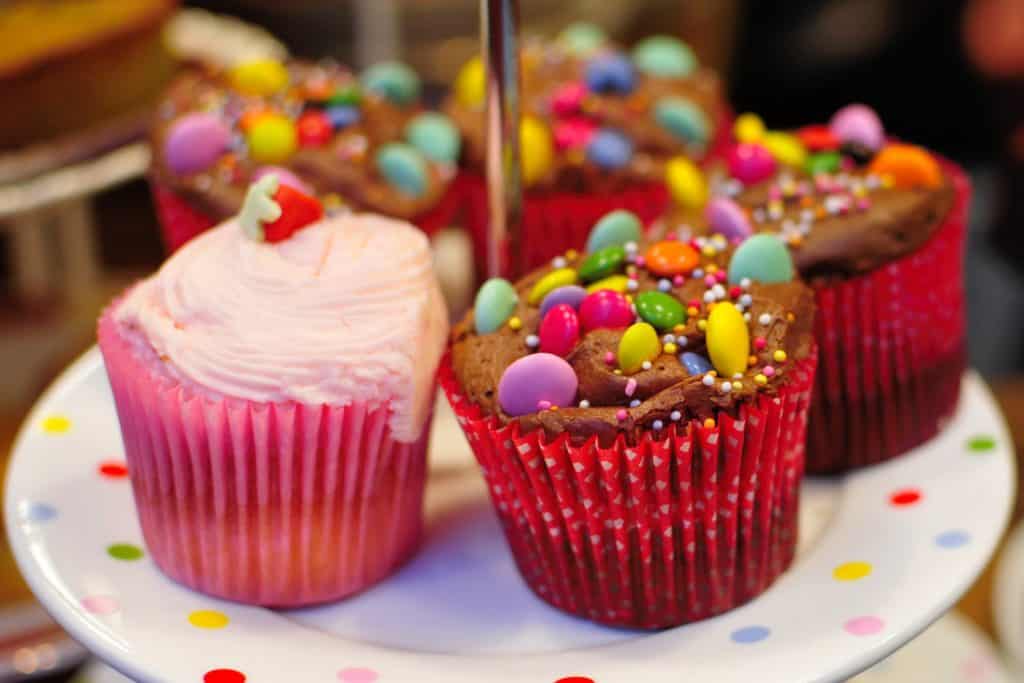 Have a wedding, birthday or other special occasion coming up? If your family or friends are kicking around ideas for the birthday boy or girl, try using the Friends and Family Gifting link to keep track of ideas and prevent duplicates. Or if you have a family member in another location, they can shop for exactly what they want and share the links with you.
Just click on Accounts and Lists > Friends and Family Gifting.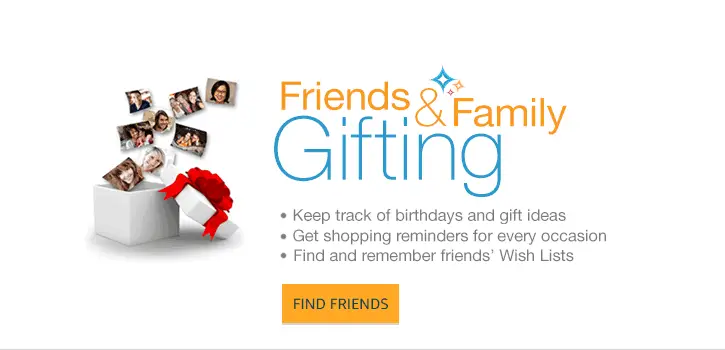 The Lowest Priced Item Won't Always be First in Your Search Results
Wouldn't you think that Amazon would list your search results in the order of cheapest to most expensive? It'd sure make sense for the buyer right? And it'd be an incentive for sellers to keep prices low.
Well, they don't. Amazon lists your search results in the order of what makes them the most money. So you'll usually see "sponsored" items listed first. These are products where the merchant has paid Amazon to list first.
They're far from the lowest in price, and Amazon gets a nice fee when you buy them.
Instead of scrolling though pages of unrelated items to find the best price, try these first:
Use the drop-down sort box in the upper right corner to select "Priced Lowest to Highest".
Check the "Customers who viewed this item also bought" section just below your item.
Beware of the "Sponsored products related to this item" section. Those prices are higher.
Try filtering your search for sale items using the code we described above.
For Certain Items Don't Overlook Second Hand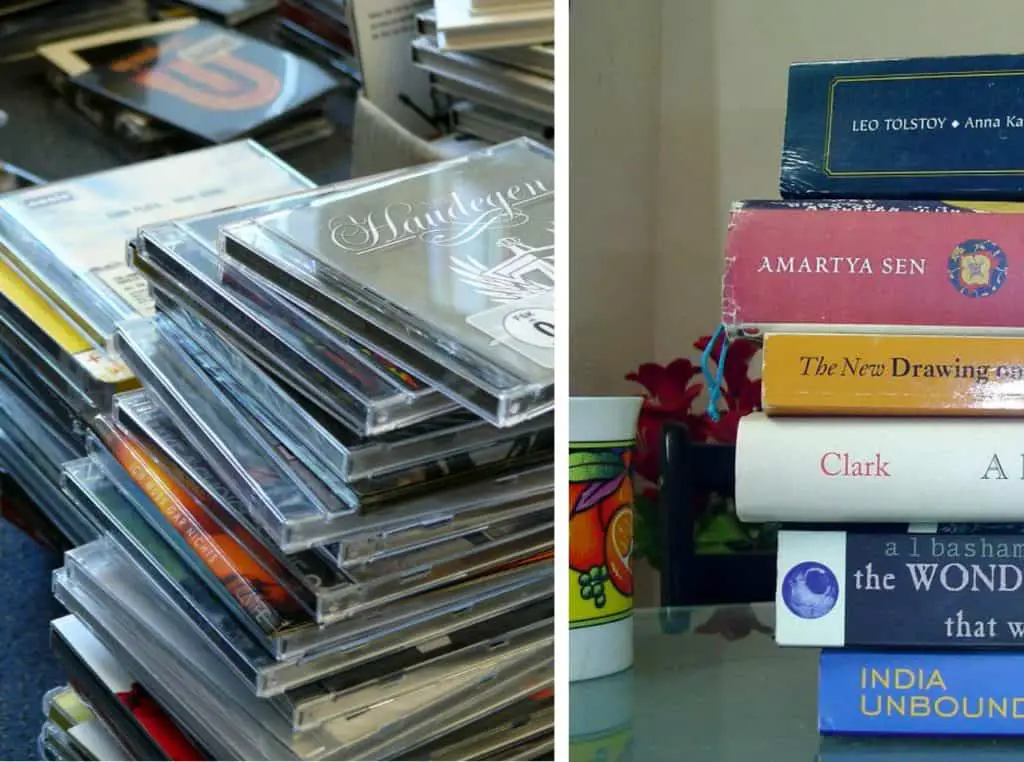 You can save with Amazon by considering some of the second-hand items. Some that I've found to be a great buy are DVD's or gently used books. We've selected the "Like New" condition, and purchased a lot of popular movies for anywhere from $3-$6 and have never had a problem with them.
Take Your Time Shopping and Earn Discounts
According to Shopify, over 67% of shopping carts are abandoned before an online customer checks out. So you can bet online merchants want to recover some of those lost sales. This Amazon hack won't work repeatedly, but is very likely to score you a discount or free shipment.
When you find the item you want, instead of checking out, just close you're browser window. Believe me, this won't go unnoticed. Almost definitely, within a day or two, you'll receive an email notifying you that you have things in your cart. And there's a good chance you'll be offered an incentive. So if your purchase isn't that time sensitive, and you have a few days, give it a try.
If You Subscribe to Cable, Have You Considered Prime Video?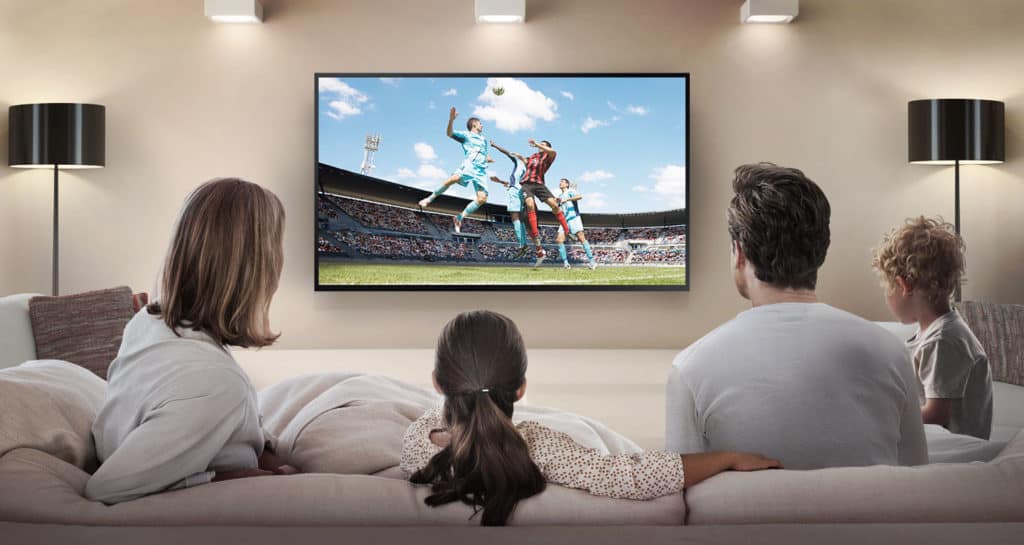 One of the reasons I waited so long to ditch cable TV was, the hundreds of on-demand movies cable offered. But if you're an Amazon Prime member, you have access to thousands of movies, documentaries and other content.
Why pay $100 or even $200 per month for cable when you can pay $119 per YEAR for content and other benefits.
If you're on the fence about getting Prime, check out their Amazon Prime Free for 30 Days offer. You can always cancel if you change your mind, and owe them nothing. Personally, canceling cable was one of the best decisions I've made in the past year. I don't miss it one bit.
Earn Money to Shop on Amazon
Probably the easiest Amazon hack is to shop there using eBates. Here's how it works: you just sign up for a free eBates account. You'd log in, then use the eBates search bar to type in whatever store you want to shop at. (eBates is partnered with over 2000 stores.)
Here's what it would look like: I typed in Amazon and as you can see, you'd earn up to 6% back just by shopping on Amazon through eBates. That's pretty crazy. Just by shopping through the eBates app, you save.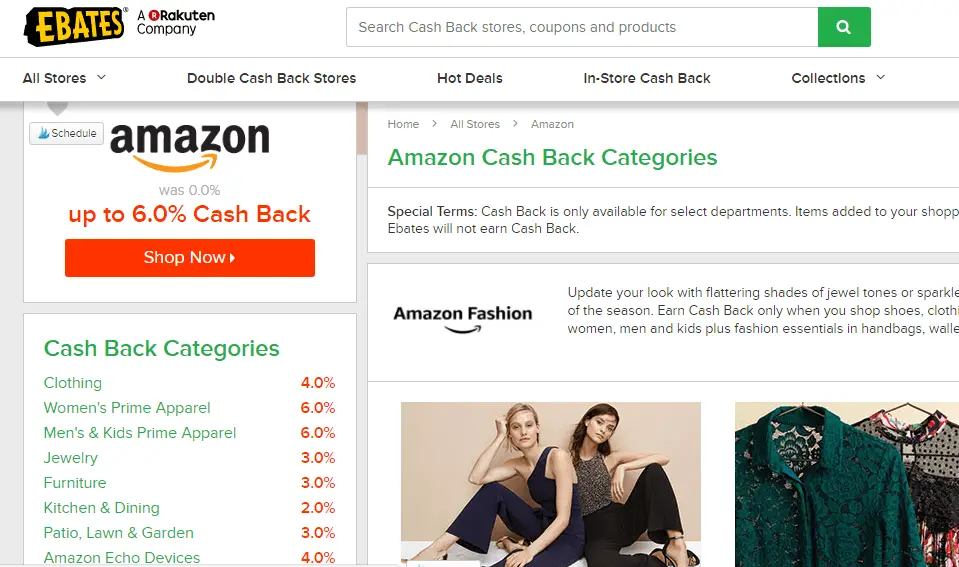 You're not paying anything extra to shop through eBates. They get a percentage of the sale from merchants in exchange for pushing customers their way. And eBates shares that with you.
I've tested it, by searching for items at a store like Target, then search for the same item at Target through eBates. It's the same price both ways. Except that you get money back through eBates. So, you're leaving money on the table by not using it. When you sign up for eBates, just select whether you want to be paid through PayPal or by check.
Let Honey Find Coupon Codes or Discounts
Honey is browser extension that that'll enable you to save on Amazon. It sits idle until you're checking out. You don't have to do anything. Once Honey sees a product in your shopping cart, it will check for any available discounts and if it finds one it will apply it to your cart.
How easy is that?
Here's why Honey is a nice Amazon hack: It's common to assume that the first item in your Amazon search is the lowest price available. And if you see the "Prime" icon next to the price, you know you're getting free two-day shipping. So for a lot of people, that would seal the deal.
But usually, the first item listed isn't the lowest priced. It's probably a sponsored item.
Once you install Honey, it'll show another little icon next to the price. This one indicates whether or not you're seeing the best price. Honey calls this Cart Protection, but it'll actually alert you before you add a product to your cart and show you a cheaper item if one's available.
CamelCamelCamel Will Locate the Best Price on Amazon
Don't you hate it when you agonize over a purchase, then you see it priced lower than what you paid for it? You thought you looked everywhere, but there it is, a week later for 15% less!
You'll probably find whatever you're looking for on Amazon. But how do you know you're getting the best deal on the largest retail site in the world? There could be hundreds of listings for the camera or the TV you're shopping for.
CamelCamelCamel bills itself as an "Amazon Price Tracker". There's a variety of ways you can use CCC:
If you create an Amazon wish list, CCC can automatically create price watches for anything on your list.
You can have your price alerts direct message or tweet you.
You can add their browser add-on which will display price history charts for your item displayed right on Amazon.
If you don't want to add the browser extension, you can use their Bookmarklet that'll create a price history for your item and make it easy to flip back and forth between Amazon and CamelCamelCamel.
I find that CamelCamelCamel is a nice Amazon hack if you're planning a bigger purchase like a TV. You're shopping around and want to make sure you're getting the best price when you decide to pull the trigger.
Save Over $100 Per Year by Using Amazon Prime Music
If you subscribe to Spotify or Apple Music you can save the $9.99 per month by using Prime Music instead. Just like Spotify and Apple Music, you can create your own playlists and listen offline.
So, instead of paying around $120 a year for Spotify or Apple Music, you'd have music and two-day shipping, thousands of movies and all the other benefits of Amazon Prime.
Here's an idea. Try adding up your yearly cost for cable TV and whatever music service you subscribe to. We used to pay over $2000 per year just for cable. Now,  compare it to the cost of one year of Prime at $119.
If you're looking to cut costs, pay off debt and start saving, remember:
It's an accumulation of all the seemingly "small" savings that add up to thousands per year.
Check out Amazon's Free Prime for 30 Days offer and see if you like the level of content they offer.
Always Look for a Coupon Listed Next to Your Item
This is such a simple Amazon hack, yet I used to overlook it. Just look to the right of your item and if a coupon is listed, don't forget to click it and save.

Related – Digit – The Painless Way to Build an Emergency Fund
Get an Amazon Prime Student Account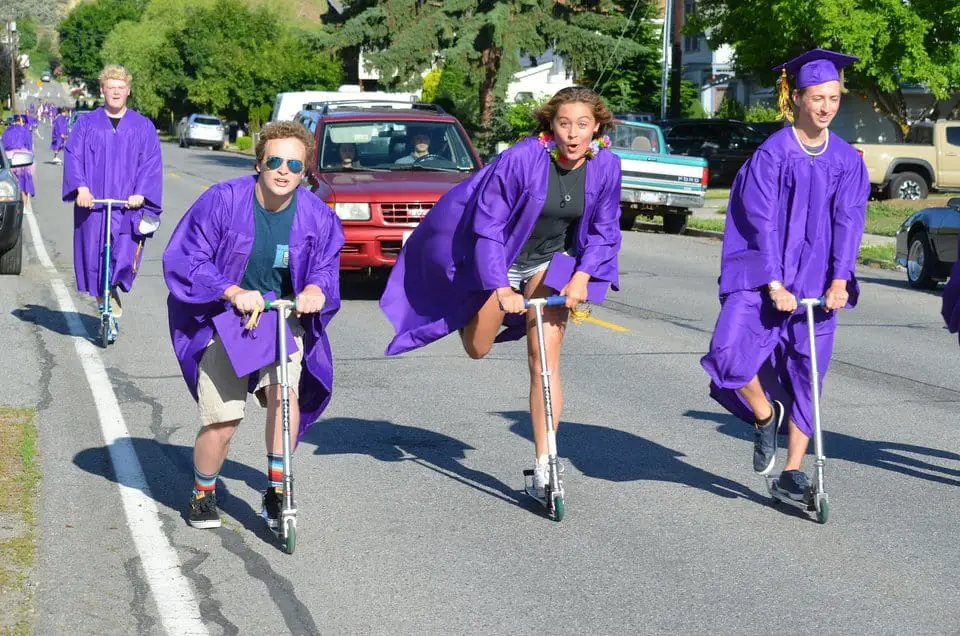 As a college student, you can take advantage of a free six-month trial of Amazon Prime Student. It offers the same free two-day shipping, access to unlimited photo storage and other benefits. Then when your free trial ends, you'd get upgraded to a Amazon Prime membership but it'll only be half the usual cost. You'll just need to use a .edu email address to sign up.
Exchange Your Loose Change for Amazon Gift Cards at Coinstar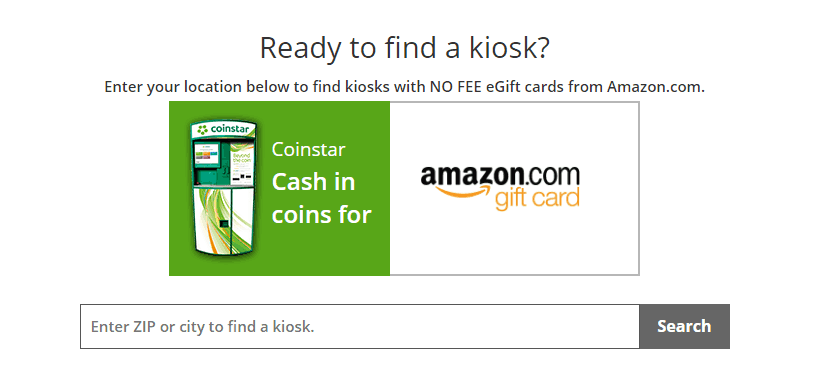 Gather up the loose change accumulating in your sock drawer and drop it in one of the Coinstar Kiosks around town. You can elect exchange it for a no-fee Amazon Gift Card. Click here to find the kiosk near you.
Check Out Amazon Warehouse Deals to Save 50% or More

Amazon Warehouse Deals is a business of Amazon that sells open-box & used products as well as renting out textbooks. The items sold through Warehouse Deals will always have a clear description of why it's discounted and be assigned a condition, for instance Like New, Very Good, Good or Acceptable. Warehouse Deals is supported by the same customer service staff as regular priced items, so you can be sure. Check out Amazon's Warehouse Deals.
Final Points
One of the goals of Amazon has always been to make shopping so simple and so accessible that you'll keep coming back. But simple isn't always cheap.
Have you ever been to a concert, a play or taken a flight somewhere and compared the price of your ticket with someone else? It's frustrating to see that someone sitting right next to you paid 30% less.
But that's just because they knew a few tips and tricks.
So keep these Amazon hacks handy and you'll be the shopping boss of the family.

Join to Receive Your FREE eBook. 50+ Ways to Save All Year Long.