"This post may contain affiliate links. Please read my disclosure for more info.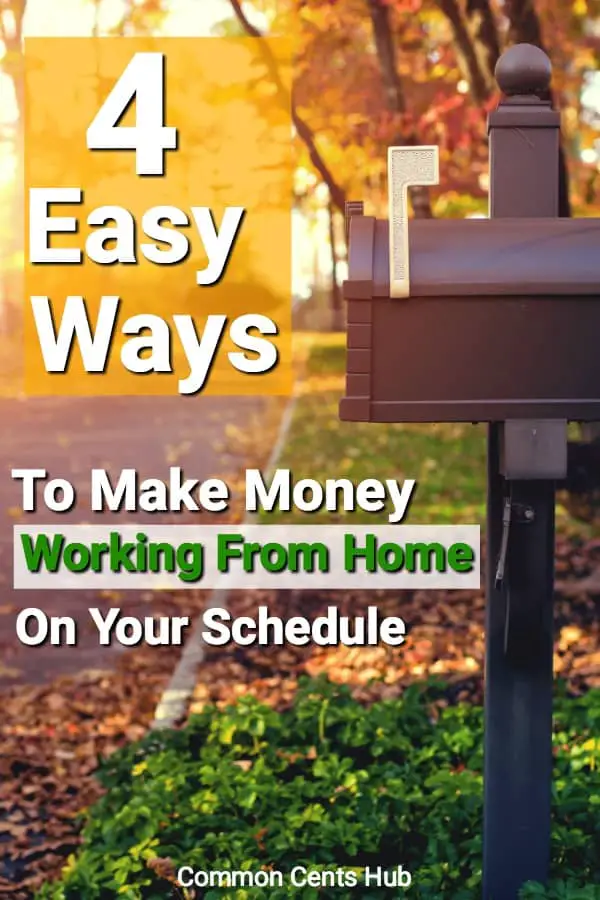 I've been able to make money from home since 2008, and I have to tell you… when I first went home, I felt like I was getting away with something. Like someone was gonna call me and say, "Sorry we made a mistake. Report back to the office starting tomorrow."
I mean, here I was, earning money from home and no longer racing out the door at dawn on my  white-knuckle, 80 mile-an-hour commute to work.
Now, I'd just walk upstairs and sit at my desk in my sweats, my PJ's or whatever I felt like wearing. I worked with my dog at my side, and suddenly I was hitting the gas station once a week instead of three or four.
Whatever your situation is now – whether you're working for an employer, you freelance, are a stay at home mom, or unemployed – there's a way to make money from home.
This post focuses on ways to make money from home if you don't have a lot of time, and you need to earn money quick. There are online surveys that'll pay you for giving your opinion on a variety of products.
Four Simple Ways to Make Money From Home
Get paid for your opinion
Suppose you owned a sneaker company and you're planning to make 30,000 new pairs for the Spring season. You're deciding on how many of each color to make. Maybe you prefer the white, but will they sell? When so much money is on the line, businesses want to be sure that the product they produce will sell.
They need a way to gather the opinions of consumers, but they already have a primary focus. They make sneakers, or floor coverings, or coats. So, they'll pay companies that specialize in market research to do what they do best – conduct surveys.
And those market research companies will pay you to give your opinion.
You won't get rich by taking surveys, but it's a great way to make money from home, and do it literally whenever you want.
Are surveys a good way to make money from home?
Here's why I've used surveys:
They were perfect when my time was unpredictable. Like when my kids napped at various times of the day, or over the next few years, when I'd find myself sitting in the car waiting for soccer practice to end.
If you're trying to pay down debt, it's amazing how a few hundred extra dollars dedicated to debt can help.
Or maybe you just need money for something – a vacation, Christmas, or something nice for the house, but your budget is already stretched to the limit.
Surveys are just a convenient way to make money from home on your terms. When and where you can.
Whether it's 15-20 minutes on your lunch break, or waiting for the kids, or even from the couch watching a movie. They're simple enough, that they don't require a lot of thought. Most are just a matter of running down a list and checking boxes.
The companies below, are the ones I've found are really simple to use. None of them charge money. You may want to consider signing up for a few of them because surveys are usually targeted to a certain demographic group.
For instance, if they're doing a survey about mens shaving products, or baby strollers, or knitting supplies, they'll qualify the participants. So the more you participate in, the more opportunities you'll have. .
Survey Junkie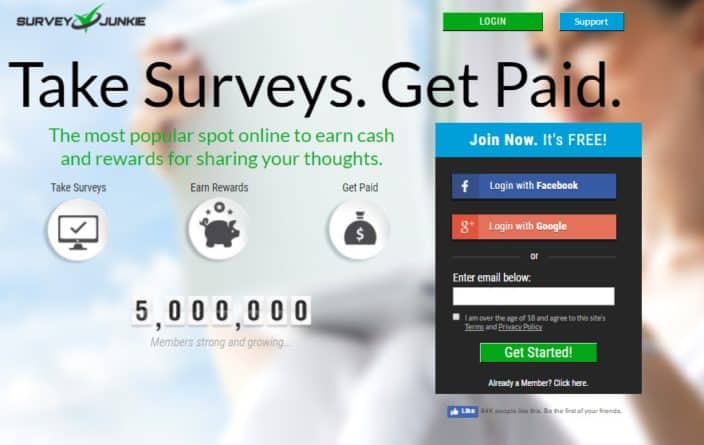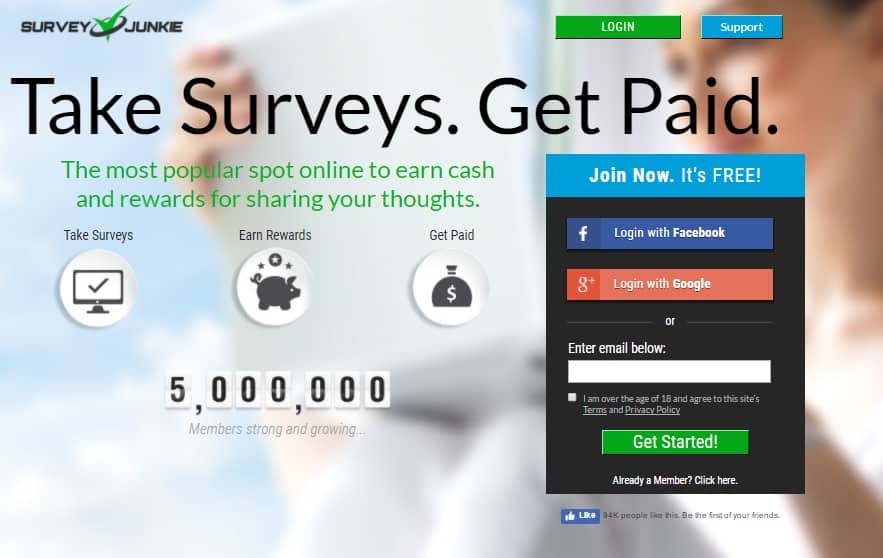 Survey Junkie  – Really simple to sign up for and use, Survey Junkie has over 5 million users. For surveys you take, payments are made right to your Paypal account.
Inbox Dollars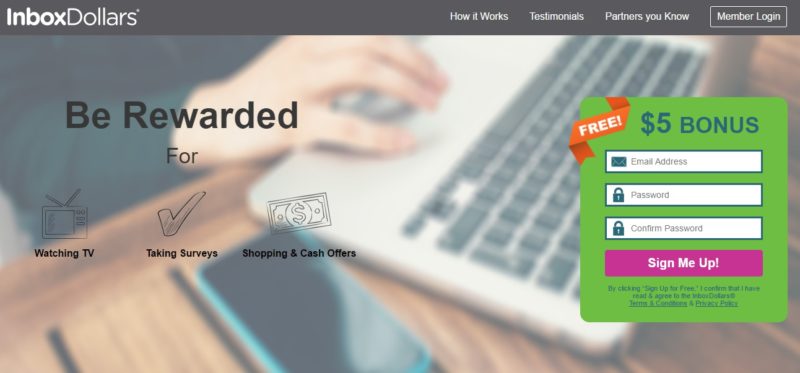 Inbox Dollars  – In 2016 Inbox Dollars paid out over 50 million dollars to users. One way to earn through Inbox Dollars would be to participate in surveys. But you can also play all sorts of games, like card games, word games, or strategy games and get paid while you play. Or if you use their toolbar for your searches you'll earn money just for doing the normal searches you'd be doing anyway. Another way to earn through Inbox Dollars is by referring friends. For every friend you refer, you'll earn 10% of what they earn.
Paid Surveys at Home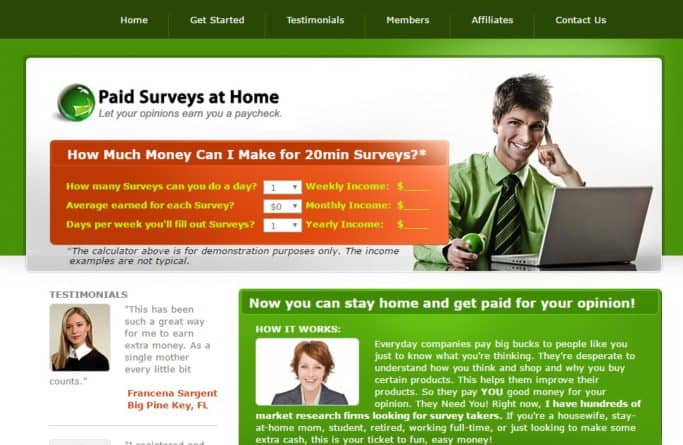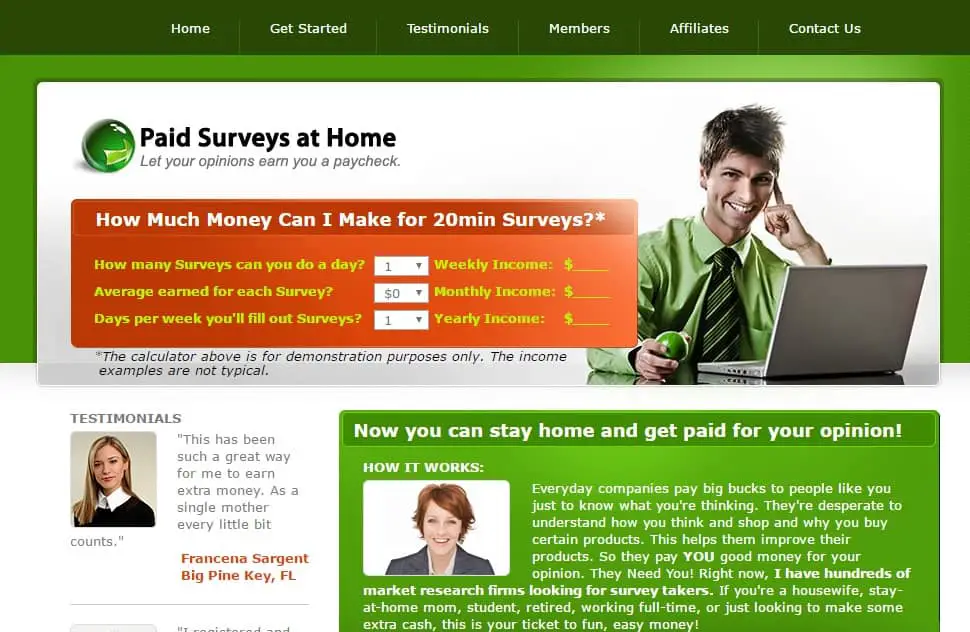 Paid Surveys at Home – Paid Surveys at Home will pay you not only for taking surveys but also for watching movie trailers (really!) or for trying new products or participating in focus groups.
Swagbucks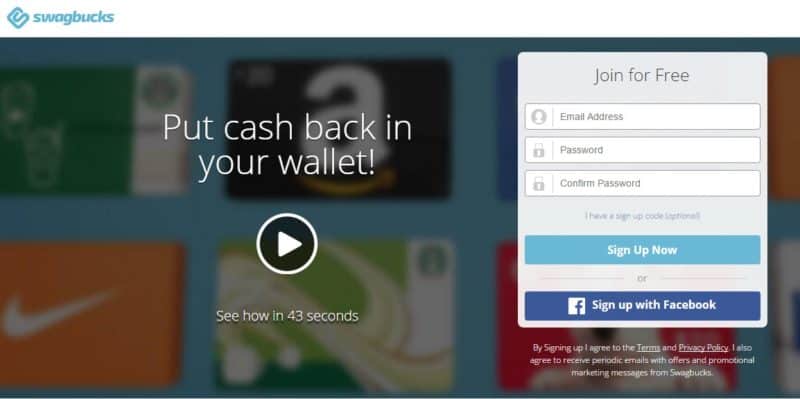 Swagbucks  – Swagbucks is one of the more flexible ways to make money from home. You can take surveys, but you can also watch videos and give an opinion. You can search the web and earn because Swagbucks values your search preferences. You can also earn SB points by making purchases that you'd be making anyway, and then redeem those points for gift cards to major stores like Walmart, Target, Amazon and Starbucks.
Other ways to make money from home part-time
One thing I've learned since working from home, is that the old idea of commuting in all kinds of weather, and sitting in a cubicle for years is a way of life you don't need to accept. Whether you have kids at home, or you just crave more balance and more time in your day, there are dozens of ways to make money from home.
Here some other ways to make money online, or working remotely, or around your neighborhood:
Final Points
Some people are reluctant to sign up for anything online because understandably, there are some companies that aren't legitimate. But there are a few things you can keep an eye out for:
Don't signup for any site that's asking for a fee, or a membership to participate. The sites here are all legitimate, well established market research companies who pay participants.
Survey sites are a great way to make money from home, but they're not designed to make a full-time income. I'd be wary of any ads promising full-time income for taking surveys.
Surveys are a great option if your budget is stretched to the limit, and you can't take on a part-time job that requires you to work away from home. After all, there's a limit to how much you can cut spending. At some point, making extra money is the only thing that'll move the needle.
If you try a few of these out, let me know how you do. I'd love to hear!