"This post may contain affiliate links. Please read my disclosure for more info.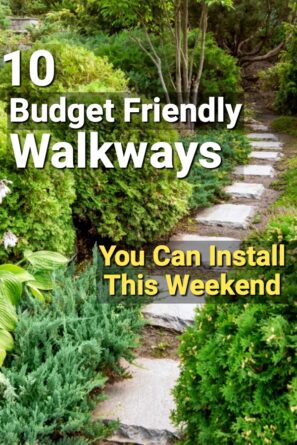 As the weather warms up it's nice to get outside and enjoy your outdoor space. You might even have a picture in mind of your backyard transformed into the perfect oasis.
The only problem though, is that backyard transformations don't come cheap. You can easily spend $3000-$4000 for a simple twenty foot long paver path.
If you get an estimate from your local landscape company, they may not want to break out the cost, but you can be sure that a large chunk of it is for labor. Sure, a professional landscaper has done this many times, so they have the skills to lay down a nice solid walkway.
But if you're on a budget, do you want to pay a few months of salary on one project, then not be able to afford another improvement until next year? Life is short. Why not enjoy your home now?
If you're willing to put in a weekend of work, there are some nice alternatives that you can implement for a fraction of the cost. You can put down a nice walkway of natural stone and/or gravel that will blend perfectly into the landscape. And who knows, maybe you'll save enough in the process to put a nice hot tub at the end of your new walkway.
Flagstone path
Flagstone is a beautiful natural looking stone that blends really well into almost any setting. It's easy to lay, and you can shape your path in any direction you want. You can experiment by setting it close together or more spaced. Instead of a straight shot, this irregularly shaped stone makes a gentle curve around existing plantings. And it incorporates well into a property with hills and dips.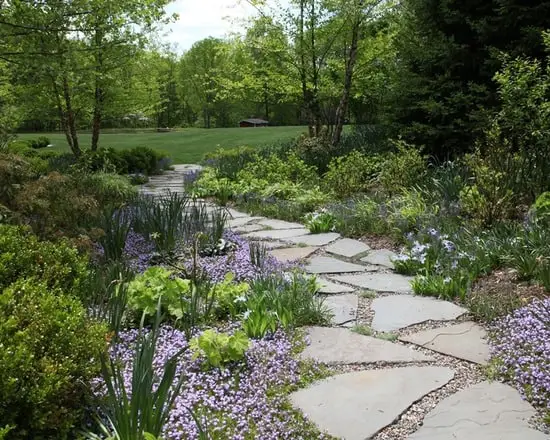 Gravel Path
This simple gravel path can be installed among existing plantings or incorporate them after to mature around it. If you use small angular gravel it tends to interlock together but it still drains well. You can rent a roller to compact it, or buy a hand tamper for under $20. This is a great natural looking option that comes together quick, and is almost maintenance free.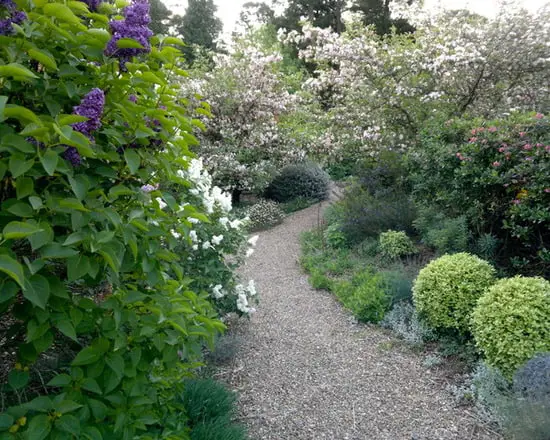 Straight Path
If you have a long narrow space, then a straight walkway may be your best bet, but it doesn't have to be boring. Break it up to accommodate for entrances and vary the surrounding areas with a combination of furniture and plantings of various sizes in raised or ground-level beds.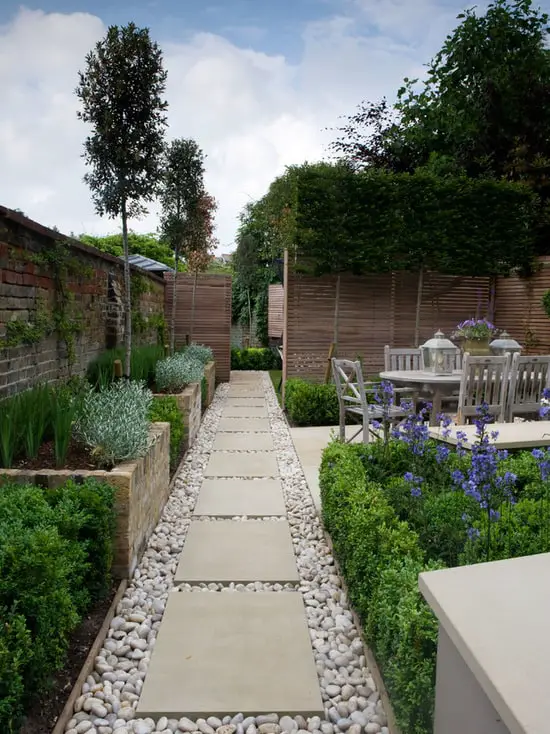 Natural Stone with Mulch
Another great example of a walkway you can install on a Saturday for about 75% less than you'd pay a landscaper to install pavers in the same area. It blends perfectly into the landscape and is virtually maintenance free.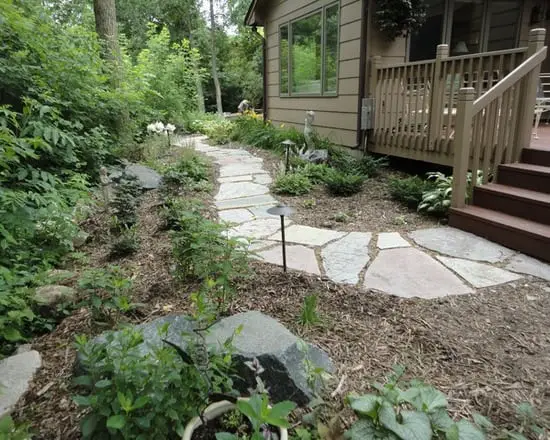 RELATED TOPICS
Curved Flagstone Path
You can look at your yard hundreds of times trying to figure out the best layout. But this path is a great example of how, once you install the hardscape, the rest of the yard begins to take shape around it.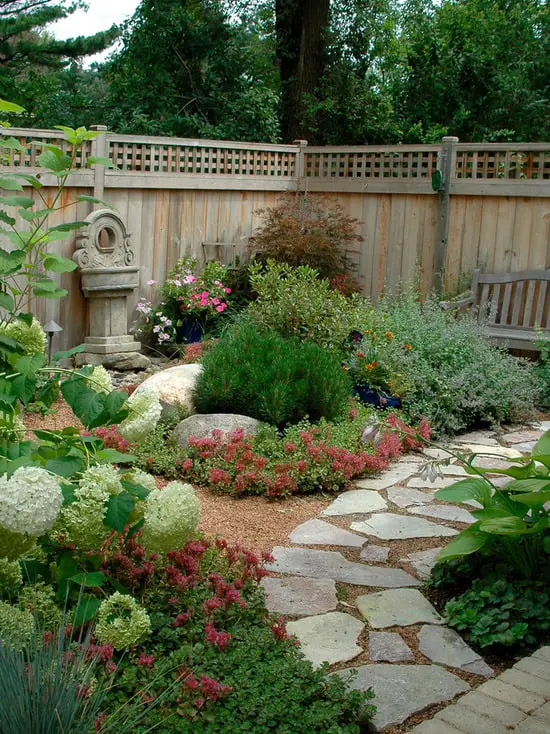 Narrow Wooded Path
Who says you can't build a path through a heavily wooded area? This path barely disturbs the natural landscape, and by laying natural stone you'd avoid any issues of digging through tree roots. It provides a scenic way to meander from the backyard to the front. You may even want to bring your bird binoculars.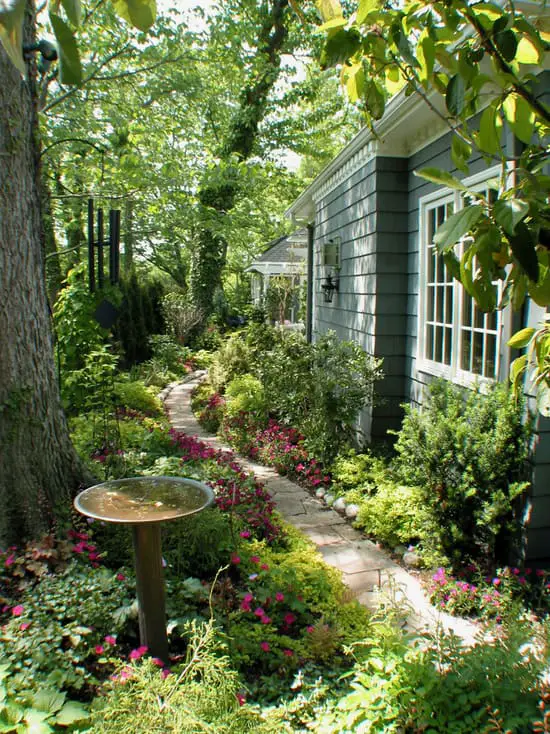 Curved and Edged Path
This is a simple curved path that can be installed around your existing plantings or can look very natural by adding plantings along it. This path uses simple landscape edging that can be purchased for less than $1 per foot.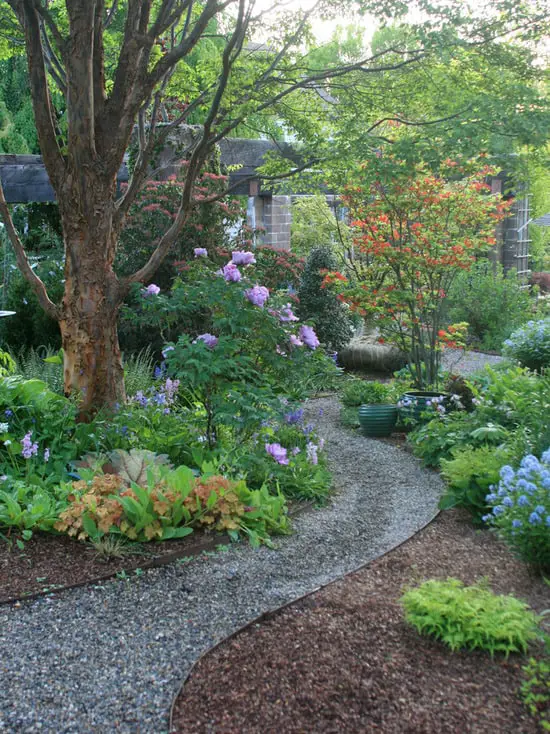 Timber Steps
Have a hill in your yard? You can easily spend $2000 – $3000 having paver steps installed, or put in your own made of 6×6 timbers. I can say from experience, that this will take longer than one weekend, because I installed the identical steps you see here. Working with 12 foot long, 6×6 timbers is a workout. Especially if you're working alone.
Here, there are ten steps and each one is made up of three four-foot lengths of 6×6 pressure-treated timber. If you buy these in 8-foot lengths you'd need 15 pieces, and at about $20 a piece, would run you around $300 plus the cost of nails and the gravel to fill in between them. You should be able to save about 80% from the cost of hiring a professional landscaper to install paver steps.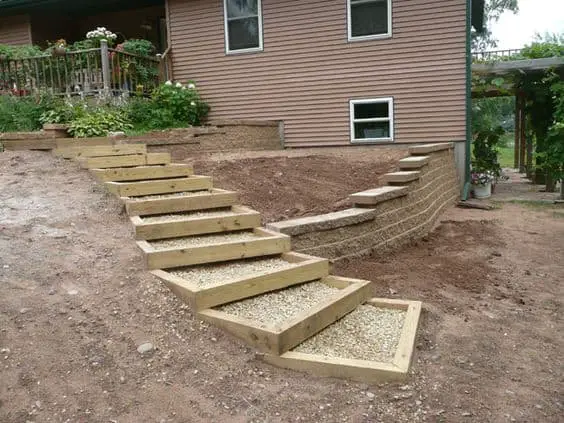 Natural Stone Surrounded by Mulch
Sometimes it's not the walkway itself that stands out, but the way it's presented. By accenting a simple trail of natural stone with a spacious expanse of mulch artfully accented with stone and plantings, you have an inexpensive but attractive walkway. Whether your aim is to walk from the pool without dirtying your feet or just a stroll, this walkway fits the landscape perfectly and cost a fraction of what you'd pay for a paver path.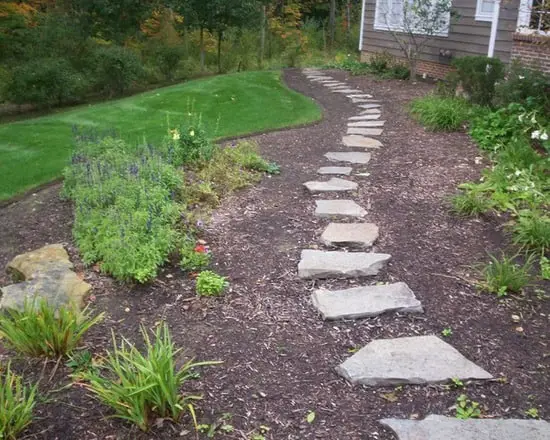 Natural Stone Pavers
Rectangular pavers laid in gravel and following an irregular pattern. Once this path is surrounded by some plants it looks like it's been there for a generation.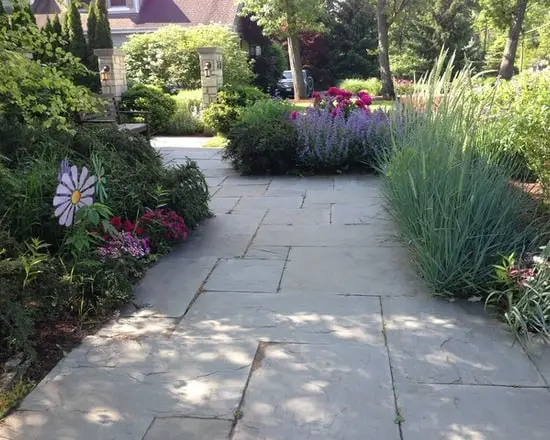 So there are ten ideas for walkways that you can lay down with a bit of sweat equity. If you're on a budget, don't wait years to make improvements to your home because you're saving thousands of dollars. Some things are best left to the experts, but if you're willing to buy the materials and spend a weekend or two, you can save thousands of dollars. Life is short, do it now.