"This post may contain affiliate links. Please read my disclosure for more info.
"Don't settle for anything less than what you deserve."
I bet you've heard that dozens of times. From the time we're kids, till we enter relationships, and throughout our career.
We want the best. We deserve the best.
But it's easy to confuse what we deserve with what we need.
We deserve to end the work day feeling like we've accomplished something. But how many days have you come home feeling like you've spun your wheels in 5 different directions and accomplished nothing.
We deserve to end a weekend feeling refreshed and recharged. But when we've committed to 6 different things, Sunday night comes in the blink of an eye. You want a do-over.   
You shouldn't settle for less than what you need, but if you don't define what your specific need is, you end up reaching for every opportunity that comes your way. 
Your needs are different than your friend's, your brother's or your parents. And when we focus on the things we think we're supposed to need, we're left confused over how we can work to exhaustion and yet feel unfulfilled.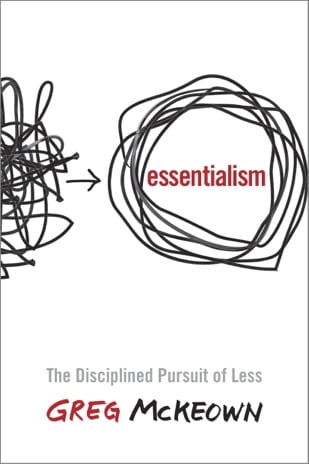 In his book Essentialism – The Disciplined Approach to Less, Greg McKeown talks about filtering out the things that don't matter to you. The things that might make sense for other people, or maybe even us at a different time, but right now they're distracting us from getting closer to a goal at this point in our life.
He says it's not about saying an automatic no to opportunities.
"The truth is, there are way more activities and opportunities facing us than we'd ever have the time to invest in. A lot of them may be worthwhile, but most aren't."
He says we can get so inundated with options that we can actually forget, or become numb to our ability to choose the one that's right for us.
One way we eventually realize we're in a situation we'd never have chosen, is by the sheer information overload coming at us every day.
As you read this, your phone probably updated a few times with texts, emails or tweets. Maybe the TV's on, and you're reading and watching simultaneously.
Walk down the street, or through any crowded place – the airport, train station or any food court. Half the people have their head buried in their phone or are engrossed in a podcast.
It's tough to escape the barrage of input around us. So, it's easy to confuse what everyone around us wants, and what we're told we should want, with what we alone need.
Greg McKeown pointed out another way we can lose touch with what we need:
Is there something in particular you've always struggled with? He used an example that I struggled with – learning math.
Yours could be anything – feeling stuck and overwhelmed at work, struggling to manage your money, being chronically disorganized, experiencing a string of failed relationships…
When we continually have difficulty at something, we can acquire a "learned helplessness". And it usually manifests in one of two ways:
You start grasping at anything you think may work.

You give up trying at all.
Suppose you feel stuck in your job. You haven't been promoted in 5 years and don't see it happening anytime soon. So you start volunteering and saying yes to everything under the sun.
Now you're running in 6 different directions but making little progress in any of them.
Maybe your boss pats you on the back for "working hard", but do you go home at night feeling accomplished? Probably not.
Or maybe you give up. You show up, collect your paycheck and suffer in silence.
You're confused and frustrated. You deserve more. But what you need, is to be able to focus on the few tasks that'll move the ball forward each day.
If not there, then somewhere else.
How Essentialism Saved Apple Computer
Steve Jobs was ousted from Apple in 1985, and returned in 1997 when he was named interim CEO. Apple was in crisis mode at the time. Their product line had become bloated, and in the last quarter of 1996, sales had sunk by 30%.
One of the first things Jobs did, was to slash the product line by 70%. His strategy was to produce only four products, and put a much greater focus on quality and innovation.
"People think focus means saying yes to the thing you've got to focus on. But that's not what it means at all. It means saying no to the hundred other good ideas that there are. You have to pick carefully. I'm actually as proud of the things we haven't done as the things I have done. Innovation is saying no to 1,000 things".   -Steve Jobs
And saying no to the things that didn't matter paid off. During the first fiscal year of Job's return, Apple lost $1.04 billion, and according to him, they were 90 days from insolvency. The following year, they turned a $309 million profit.
How We Can Filter it all Out
Your neighbors are going snorkeling in Grand Cayman next month. Your friend is investing in a rental property. And your coworker is applying for a position at the new company across town.
But wait, what about you? Shouldn't you be taking advantage of those opportunities? You deserve it too, right?
Derek Sivers said your criteria for devoting your time and money on something should either be "hell yea", or "no". Nothing in between. 
Because if you keep reaching for the kinda cool stuff – the stuff that people around you are doing, you'll miss the awesome, once in a lifetime, hell yea opportunities – the ones right for you. 
So if you haven't taken the time to figure out the 1 or 2 most important goals for your next few years, you might be inclined to reach in a few of those directions.
And chances are, months or years down the road you'll wonder why you feel overworked and unfulfilled.  
You may have heard one of Warren Buffet's opinions on success: 
"The difference between successful people and really successful people is that really successful people say no to almost everything".
That doesn't mean he automatically rejects almost every opportunity. In fact, the method he suggests using for your career is to make a list of your top 25 goals. Then circle the 5 most important ones. And now cross off the other 20. The 20 will be done in time, he says, but right now they're just distractions.
You can give this a try now:
Write 5 personal goals you'd like to accomplish over the next year. Now cross off 3, leaving the two that'd have the most impact.

Write 8 things you'd like to do, or get done this weekend. Now cross off 4 (or reschedule to another day).

Write 3 work goals you'd like to accomplish tomorrow. Now, which one will make the most difference?
So Warren Buffet filters out stock offerings and business opportunities to eliminate all but the essential. And Steve Jobs chose to design only a handful of products. 
But can their habits of weeding out all but the essential really help you and I?
The idea of Essentialism, or drilling down on the things that matter most, reminded me of two stats that really resonated. The first is financial, and the second is personal.
Almost 8 in 10 people have no emergency fund and couldn't pay for a sudden expense like a car repair.
Now, granted, we all have tough times at some point in our life. But when such a large percentage of hard-working people live paycheck to paycheck their entire life, it makes you wonder…
How many of us live with a budget that helps us to separate the non-essential (for us) from the essential?
Is it because we over commit at work and at home, which leaves us multitasking and struggling to balance our checkbook each month?
I paid for a bloated cable TV package full of rental fees and channels I never watched for years. I'd pay my gym membership month after month, and visit it maybe twice. I'd renew magazine subscriptions that collected dust, and paid huge car payments – sometimes two at a time, when I had no emergency fund.
People often live their entire life, never pursuing what matters to them.
For her book, The Top Five Regrets of the Dying, palliative nurse Bronnie Ware spoke to many patients during their last days. When she asked for their biggest regret in life, the one expressed most often was that they never lived the life they wanted to. They spent their entire life living according to other people's expectations. 
Why wouldn't someone live the life they wanted?
I'd bet if you asked 50 people in their 30's and 40's whether their current career aligns with what they truly feel they were meant to do, the majority would probably say no.
And many of them probably have a mortgage to pay, a big car payment, and $5000 in credit card bills. Getting some training to move to a more fulfilling line of work would require money that's already committed to a mountain of debt.
And after work, their schedules may be full with yard work, the gym, the PTA meeting or their kid's track meet.
Having no money and no time is a trap we think is temporary. 
Until you realize that two decades have slipped by, and you still haven't taken that trip. You're still at that job you can't stand. And you still don't have a 401k because of the house full of furniture you're paying off.
So, being an Essentialist doesn't mean settling for less than what you deserve.
It means carefully defining what it is that you want. Whatever it is that'll benefit your life at this point. Then using that as your measuring stick to filter out the things that don't help you move in that direction. 
Or as David Allen says, "You can do anything, but not everything".    
How about you? Do you feel like you're spread in so many directions that few of them bring value into your life?
How could you pursue less and live more?
Join to Receive Your FREE eBook. 50+ Ways to Save All Year Long.