"This post may contain affiliate links. Please read my disclosure for more info.
The term 'Smart Home' used to describe one of those state-of-the-art homes featured on HGTV.
One where professionally trained technicians installed and configured the system, and then trained the homeowner how to use it.
They were expensive. They required cabling throughout your house. And to me, the luxury of piping stereo sound into various rooms didn't seem worth it.
That's not the case anymore.
During the 1980's, people laughed at the idea that cell phones were really a necessity. Now everyone from grade schoolers to grandparents are never without one.  Smart Home systems have evolved in the same way, and they're now an affordable option you should seriously consider.
Why?
They've come down in price enough that you can now get a system for between $100-$200.
They're so simple to install that you can do it yourself.
They work in conjunction with your home wi-fi so there's no wiring.
They're modular. You can buy a basic system with just a few monitors and add to it whenever you want.
Their capability has expanded so much that you can monitor or control almost anything in your home, and you can control multiple items of different brands from one hub.
Smart Home systems can pay for themselves in less than a year by reducing your energy costs.
They add convenience and security to your home.
How Do They Work?
Most over the counter, affordable systems are wireless and work in conjunction with your home wireless connection. You can purchase a basic system for between $100-$200 dollars, which includes several alert sensors and then add additional options whenever you want.
Have you ever considered the thought of being away for a week and having a washing machine hose fail while you're gone? An inch of water on your floors for several days would cause thousands of dollars in water damage and mold.
Or even if you're home, how would you know if a water pipe froze and burst in your crawlspace? Water sensors are a basic component of many 'smart-home' kits and can alert you of a leak immediately – even send a signal to your smartphone.
Or suppose you're lying in bed upstairs. Wouldn't it be nice to be alerted immediately if your kitchen window downstairs suddenly opened?
Burglars are known to case homes and can easily figure out your schedule. In many cases, they'll ring your bell and when nobody answers, they can be in your home in a minute. But what if you had a doorbell alert that called your mobile phone?
You're sitting at work – an hour away, pick up the call and speak with the person on your porch. He thinks you're inside, and also realizes he's on camera.
Alert sensors can also be used in conjunction with your smoke and carbon monoxide detectors. Getting an alert on your smartphone could alert you to a dangerous situation before you get home.
Or it can give you time to make a phone call and get children or pets out of the house.
Are They Difficult To Install?
If you can follow simple written instructions, you'll be able to install a wireless smart home kit with no problem. The 'hub' acts as the control center and operates through your home wifi. Then you'd buy whatever detectors or sensors are right for your home.
Some of the most popular sensors to start with are:
Lamp sensor
Leak sensor
Motion sensor
Open/Close sensor
You can add additional sensors or cameras wherever you need them. It can be as elaborate or as basic as your family needs.
What Types Are Available?
There are a lot of choices but your best bet is to choose a hub that works not only with its own sensors, but other brands also.
The Samsung SmartThings Hub is a real popular system at $199, It will recognize devices like light bulbs, thermostats, water sensors, cameras, door locks, speakers and smoke detectors.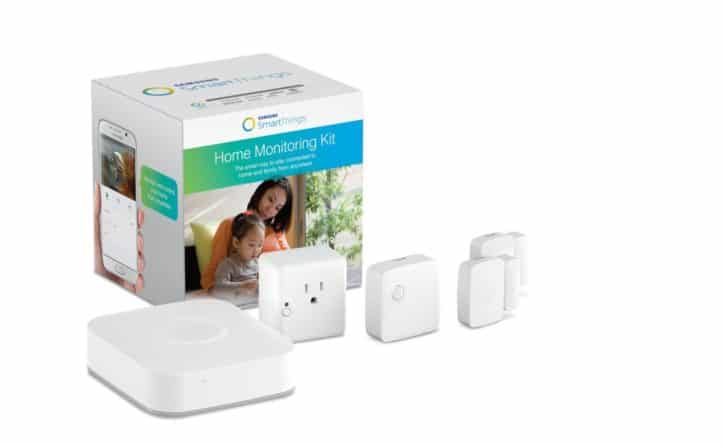 It comes with two Samsung Multipurpose Sensors, one Samsung SmartThings Motion Sensor, and one Samsung SmartThings Outlet. You can expand the system and add on whatever other sensors you need,
What's nice is that it will also recognize devices made by other companies like Bose, First Alert, Schlage, Yale, Cree, Osram Lightify and Honeywell,
Once you install it and add whatever devices you need around your home, you can control it either from the hub or anywhere you happen to be through your smartphone.
What Else Can You Integrate Into Your Smart Home?
The Smart Things Hub will also recognize things like Amazon Echo.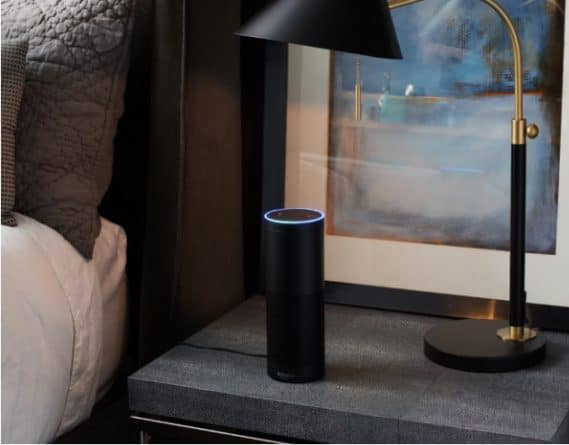 What functionality would Amazon Echo give you? What doesn't Echo do!
The Echo runs an app called 'Alexa' which is similar to Apple's Siri, in that you can speak hundreds of commands or questions to it and have it respond.
You can say things like:
"Alexa, play 80's music".
"Alexa, what's the weather forecast for tomorrow?"
"Alexa, place my last order of pizza at Domino's."
You can tell Alexa to play music from your Spotify, Pandora, iHeartRadio or Amazon music. People will be looking around the room for a huge set of speakers. The quality of sound from the Echo is awesome!
It can do things like read an audio book to you, give you sports scores or even adjust the temperature.
It can give you info on local businesses, sports scores, and schedules.
It can control things like lights, fans, switches, thermostats, garage doors, sprinklers, locks and more.
Do you own a Kindle? Alexa can read any of the books to you, and leave a bookmark where it left off.
Whew! And that's just scratching the surface!
So if you add Amazon's Echo into the Samsung Smart Things hub, you'd be able to control pretty much anything you have connected to your Samsung hub, by a verbal command.
How cool is that?
Make Your HVAC System Smarter
Another great option to make your home smarter is the Nest thermostat.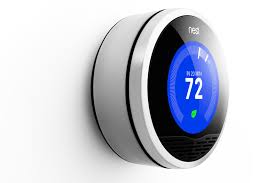 The Nest will integrate with Amazon Alexa so from the couch, you can not only put on music, but you can say, "Alexa set the temperature to 70 degrees."
But the more important feature of the Nest is that it will learn your schedule. And by knowing when to adjust the temperature Nest can save you about 20% in annual heating costs.
How much is that?
For a home of 2200 square feet, with a gas furnace, an average annual heating cost is about $1000-$1200, depending on the efficiency of the furnace and the home.
The  Nest would pay for itself in the first year, and from then on you're saving a few hundred dollars each year. It actually keeps a usage record that you can check anytime from whatever wi-fi device you have.
Another bonus – A lot of energy companies and homeowners insurance companies will give discounts for installing a Nest.
So How About Making Your Home Smarter?
If you don't own a smart home system now, it may seem like one of those "nice to have" options. But just like cell phones – remember when GPS apps weren't widely used? It wasn't that long ago.
Now we consider these indispensable tools.
Someone who has kids arriving home from school in the afternoon with no adult in the house may appreciate a notification on your smartphone – even a video – if a stranger knocks on the door.
Sure, man's best friend can bark if someone knocks on the door.

But he can't pick up the phone if your house is flooding, or give you a description of the person on your front porch, or have a hot cup of tea waiting for you.
Summing it Up
With their relatively inexpensive cost, no recurring monthly charges, and easy installation, smart home systems are really something to consider.
They can offer peace of mind, security, and convenience. And the fact that they can pay for themselves through lower energy costs makes them worth looking into.
Join to Receive Your FREE eBook. 50+ Ways to Save All Year Long.