"This post may contain affiliate links. Please read my disclosure for more info.
What's your time worth? $25 dollars an hour? $50? More? We usually put an hourly rate on our time in terms of our career, but what about your personal time? When you subtract sleep time, the work day, meals and family time from 24 hours, it doesn't leave a lot of time to yourself. And if you're trying to stick to a regular fitness routine, there's always a handful of things competing for that hour.
We consider the bang for our buck all the time when we need other things done. Should I spend all day Saturday trying to replace the brakes on my car? Or should I just pay a mechanic and have the whole day to do six other things?
When so many other things demand our time and attention, that little slice of our own time should hold a high value. But when things come up unexpectedly, what's the first thing to suffer? Probably your trip to the gym.
I've made more than one New Year's resolution to get in shape by committing to a gym membership. I start off strong, and by March I'm rationalizing why I've only been there twice this month.
It's not that my desire to get in shape fades. But when work, commuting, family obligations and errands demand more and more time, it can be pretty demotivating.
If you too are finding that your well-intentioned plan to get in shape falls apart before you see any results, then maybe it's not the getting in shape part as much as the getting to getting in shape.
Joining a gym may not seem that expensive initially. But if you're only going a few times a month, those few visits become costly when you divide the fee by the number of visits. When you add in the travel time, the locker room, the actual workout, and the couple errands on the way, it's easy to see how the demands on your time start to chip away at your plan.
So, if we put a value on our personal time, what's the actual cost of going to a gym – the cost in money and time?
I'll make these assumptions:
A one year period with monthly membership dues of $30 dollars.
You go 50 weeks out of the year.
Your personal time (not working out, but the time spent traveling to and from the gym) is valued at $25 dollars an hour.
$360  Gym membership = $30/month x 12 months.
$500  Gas to get there      = $10/week x 50 weeks.
$3750 Your personal time getting there = $25/hour x 3 workouts/week = $75/week x 50 weeks.
Wow! That number is surprising, isn't it? Even if you consider the actual out of pocket cost is $860, look at the value of your time spent!
And that's not time spent getting in shape. It's just getting there and back. Just getting to the gym and home three times a week for a year totals about 150 hours.
You've spent almost a month of regular work hours just getting to and from the gym.
What else could you have done in almost four full work weeks of time?
There's Hope
Hopefully, by now I haven't caused you to reconsider your plan to get fit. It's too important. Besides the obvious benefits of strength and endurance, taking some regular time to yourself to get your heart rate up also yields a lot of mental and emotional benefits.
Getting out of the office chair and breaking a regular sweat boosts your mood, reduces stress and anxiety and can even help motivate you to improve your diet. Clearing your head during a workout can increase creativity and even decrease the loss of cognitive ability.
So YES. Working out does return great benefits for your time.
But there's a misconception that getting in shape means either 1) going to a gym, or 2) having a dedicated room at home full of expensive equipment. If your personal time is at a premium and you're watching your budget, there are alternatives to driving yourself to a gym. And no, you don't need an entire room full of equipment.
You can invest in a few basic pieces of workout equipment – stuff that you can kick under the bed or hide in your closet, that will provide all the resistance and cardio you need.
Here's what I'd recommend getting:
A couple pairs of dumbbells in different weights. You can do dozens of exercises for multiple muscle groups with them.
A set of push up bars. They're inexpensive and allow your wrists to remain straight while isolating the effort to your shoulders, chest, and arms.
A decent pair of running shoes. Maybe the most expensive thing at around $100.
A yoga mat.
A pull-up bar.
Believe it or not, with just these few basic things, you can do enough resistance and cardio to keep yourself strong and fit.
What Makes Free Weights Better?
Those expensive machines in a gym support every inch of your body and isolate the effort to one specific muscle area. So, to get a complete workout, you'll need to do multiple sets on an entire row of machines. Of course, that's in between the other users. Or you can work one muscle group one day and come back another day to work another area.
Working with free weights will emulate actual physical challenges much better. They require you to use balance and coordination. You're working your body and mind together rather than pushing a dead weight at the same exact angle over and over. And you can do multiple exercises with one piece of equipment.
Why Work Out at Home?
It's a huge time saver. Roll out of bed and do 30 minutes before work. Or while dinner is in the oven. Or when the kids are watching TV or doing homework. You don't need to drive anywhere.
You don't need to search the laundry basket for your perfect workout outfit. Or get to the gym and realize you forgot your earphones.
You'll eliminate a monthly bill.
What Kind of Workouts are Possible with this Basic Equipment?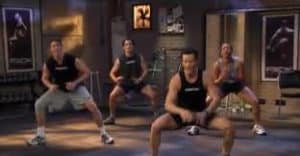 Except for the running shoes, the list of equipment above is the exact list required to do the popular P90X training program. The gist of P90X is what they call "muscle confusion", or doing so many varieties of pushups, chin-ups, and free weight exercises, that your muscles never get accustomed to the same routine. They're constantly challenged in different ways, and as a result, respond better.
P90X isn't easy. It's 12 DVD's each covering a different area, like shoulders and arms, abs, back and chest, yoga, plyometrics, and others. They're each about an hour long. When I first tried it, I was nauseous about 20 minutes in, but gradually adjusted. It's set up as a 12-week program that gets progressively harder. It also comes with a book full of diet information.
If you don't want to invest in something like P90X, but you do want to use a formalized work out, there are plenty of other options:
Your local library will have numerous workout DVD's.
YouTube has hundreds of guided workouts.
Your local YMCA is a great place to check for inexpensive group fitness programs like aerobics, yoga, kickboxing or Zumba. And a lot of them offer child care.
If you're into yoga, see if any of the local studios offer a free trial for a certain type of class. It'll give you some exposure to it and make it easier to decide if you want to commit to it.
Check through your employer and see what kind of fitness memberships they may help to pay for.
There are loads of free mobile apps
What could be easier than propping up your phone and working out upstairs, downstairs, on vacation? Anywhere. Here's a sampling:
For iPhone
Fitbit for iOS – The Fitbit app offers the easiest way to track daily exercises, log food intake, and even compete with friends for the ultimate in fitness gamification.
My Fitness Pal for iOS – MyFitnessPal lets you scan a barcode or choose from company's database of over 5 million foods to easily track nutrition and caloric intake.
Strava Running and Cycling – Strava is an exercise tracker, a fitness community, and an activity log all built into an app just for runners and cyclists. The Segments page compares your times on specific routes while the ongoing leaderboard displays how your times compare to others.
Nike+ Training Club – The Nike Training Club offers more than 100 free guided workout videos for beginners all the way up to seasoned vets. The app also offers four-week training programs for getting lean, toned or stronger, and they're available for all fitness levels.
For Android:
Daily Workouts Free – This is a great 5 to 30-minute daily workout routine for men and women that steps you through some of the best exercises you can do in the comfort of your own home. These proven workouts, demonstrated by a certified personal trainer, target all major muscles.
Daily Butt Workouts – A really effective 5 to 10-minute daily butt and leg routine that steps you through some of the best lower body exercises you can do in the comfort of your own home. It's developed and demonstrated by a certified personal trainer, and spending just minutes a day can strengthen and tone your butt and legs.
Daily Ab Workouts – A 5 to 10 minute daily ab routine for men and women that steps you through some of the best ab-sculpting exercises you can do in the comfort of your own home. These are demonstrated by a certified personal trainer and target all major abdominal muscles. The best part is they take just minutes a day.
30 Day Fitness Challenge – suited for people of any fitness level, the 30 Day Fit Challenge is designed by a professional fitness coach and helps to improve overall fitness and health. It can synchronize with burned calorie data on Google Fit. Stick with the program, and you will see amazing results.
Working out at home can save time and money but if you're missing working out with other people, there are still ways to do that and not pay for a regular gym membership.
Check out some local running club sites. Even without signing up for a membership, they'll probably list some regular group runs for whoever shows up. These are completely free. I participated in one that met every Saturday morning where we jogged as a group to warm up, then split into smaller groups depending on how far you wanted to go. That's a great way to commit yourself to a regular schedule and train with other people.
Try Meetup where you can find a like-minded group for almost any fitness activity.
Check your local town's website or recreation department and see if there's a regular group game of volleyball, basketball or any number of sports.
If you're attending college, consider taking a fitness course – anything from martial arts to yoga. I took a semester of golf and was able to ramp up my game a lot with 3 months of professional instruction.
Have kids on a sports team, where you find yourself sitting at a field for 90 minutes? Why not take some of the time for yourself and get an hour of work in. Who knows, maybe you'll inspire a few other parents to join you.
If you decide to work out at home, there's a lot of outdoor activities that you can incorporate to make things interesting.
Your local park may have a fitness trail where you can alternate speeds and hit the challenges along the way.
Most towns have a kid's playground and if they have a jungle gym, it's easy to combine a jog with some pull-ups, chin-ups, raised leg push-ups and anything else you can imagine.
Check out the local high school football stadium. You can combine some time on the track with some work on the stadium stairs. Nobody seems to like running around a track, but if you're training for a 5K or longer run, a track is the best place to get accustomed to a certain pace.
While we're at school, a lot of them will allow alumni to stop in and use the weight room.
Same thing with the local college. Even if you're not a student, see if they offer time on a pay as you go basis.
Swimming is one of the best exercises ever. If you're lucky enough to be near a lake or ocean, work some strokes in after you finish jumping the waves.
Ever try surfing? It's one of the best whole body exercises you can do.
While you're there, try running a mile in the sand.
Stand-up paddle boarding is a great exercise for your core as well as balance and coordination.
Investing in an inexpensive kayak is a great way to get out on the water, exercise your arms and shoulders and see your local waterways from a much different perspective.
Try cycling. Yes, this will involve a bit of an investment upfront, but it's a one-time cost. And you don't need to plunk down $800 on a top of the line bike. You can get one good enough to get a decent workout at a reasonable price from your local sports store. If you find you want to upgrade later, go for it.
Road cycling is great, but trail biking is another fantastic way to get a workout and enjoy nature at the same time.
Or if you want to leave the bike at home, try breaking up your normal routine with a hike of several miles.
There's always the good old treadmill for getting a little cardio in before your workout. But before spending hundreds of dollars, check Craigslist or Decluttr for a gently used one at a fraction of the price.
 Cooling Down
If you have the time in your day and the money in your budget to get to a gym regularly, and that works for you, great. My point here is that if you have a finite budget and you feel the pressure of other obligations competing for your personal time, don't give up.
There are tons of different workouts that'll keep you fit without ever setting foot in a gym. By doing some routine core exercises and mixing it up with other activities indoors and out you'll make great use of your time and money. On Living Well Spending Less, Tammy Strait outlined some great free weight exercises in her post, Quick Workouts at Home.
When you consider the cost of joining a gym, don't forget to figure in the total time you'll spend traveling there and back, the time changing, or waiting for machines.
How much is an hour of your time worth? And what else could you be doing in that hour of traveling to and from the gym?
Varying your workouts will keep you interested and challenged. You can do a lot of the same basic core exercises like pushups and ab work, but throwing in some variety and different locations will transform it from a chore to a welcome challenge.
Have you had to change up your approach to working out? What kind of changes did you make, and did they work out OK?
RELATED – If you've ever considered starting your own blog, check out my step by step tutorial that'll get you started in about 20 minutes.
Join to Receive Your FREE eBook. 50+ Ways to Save All Year Long.