"This post may contain affiliate links. Please read my disclosure for more info.
If you're wondering how to save money fast, then chances are, you don't have weeks to think about it.
If you need to double check your bank balance before grocery shopping, then you need some quick wins.
But it'd sure be nice not to have to focus on things you can't do, right?
So here's our plan… first we'll find out how to save money fast.
Then we'll hit on some ways to stop letting money flow into and out of our hands each month, and start making it work for us.
The saying, "dress for the job you want, not the one you're currently in" might be good career advice. You want to give the impression, at least around work, that you're more than what your title says you are.  
But when it comes to our money, emulating other people will always keep you living short-term, and wanting more.
One friend has a new car, someone else is posting pictures of their ski vacation, and every weekend your sister is either at a concert or out to dinner.
The quickest way to create room in your budget is to forget about what anybody else is doing, or buying, and focus on just two things – your income, and your needs.
To Save Money Fast, You'll Need to Know the Size of the Pie
Before you can eliminate anything, you need to know what you're working with. How much is coming in each month, and exactly where it's going.
Budgeting seems hard, and it might seem restricting. But really, it's not.
It's just a tool to get a handle on things, so you'll be able to make decisions on your lifestyle. Sometimes choices may not seem very consequential, but their cost over a year can be eye opening. Seeing exactly where your money is going will give you the push to change spending habits.
And over the long term, those habits will give you the freedom to do what you really want instead of working to pay bills.
You don't need a fancy budget, just a list of your spending areas in a way that you can duplicate every month. That's how it's gonna help, by comparing each month.
You can write your budget in a notebook, as long as you don't mind copying the categories each month. Or you can download one of these free templates that'll make it easier.
Then all you'll need to do is grab your bank statement and add in every nickel you've spent over the last full month. 
The three biggest expenses for most people are housing, food and transportation. We'll look at housing in a minute, but lets see about the other two.
If you're trying to save money fast, food is the quickest win. It's one of your biggest monthly expenses, but it's also the most flexible. Most people can save a few hundred dollars per month without much effort.
The key to reducing your food cost is to lump all food purchases together.
The reason to consolidate food purchases, is that there are so many ways we spend money on food – groceries, take-out food, restaurants, work lunches, convenience stores. If we can roll all that into one trip to the grocery store, we'll recover several hundred dollars pretty quickly.
It's not as hard as it seems:
Once each weekend, take a look at your schedule for the week ahead.

Note the nights you'll need a quick and easy dinner, and the nights you'll have a little more time.

Write down the meals you'll have.

Now check to see whether you have the ingredients.
Breakfasts, lunches and snacks are easier. You can plan for leftovers for lunch. And when you're checking for ingredients, write down a few breakfast and snack staples.
Taking 15-20 minutes each weekend to plan meals may seem like one more chore you don't have time for. But it's well worth it. Once you make it a habit, you'll notice several things.
You'll reduce take-out meals.

You'll reduce restaurant meals.

You'll reduce extra trips to the grocery store.

You'll reduce paid work lunches and trips to convenience store.
Your monthly food expenses will be significantly lower.
How to Save Money Fast for a Car
Any car dealer would probably suggest you save around $2000 as fast as you can, and then come in and make your best deal.
But our aim is to save money for ourself, not to fork it over for the single fastest depreciating asset you can buy. According to Fortune, cars sit unused 95% of the time, so why tie up a big percentage of our income paying a loan for it.
Your neighbor's brand new SUV may look cool, but remember, we're gonna ignore what anyone else is doing and make our money work best for us.
Here's a method Dave Ramsey suggests for getting a dependable car, without payments. Dave says the average car payment is around $450-$475 per month. So rather than throw that away for 4 or 5 years, try this:
Save about $2000 and pay cash for a car. Don't worry though, it's temporary.

Instead of paying that $450 a month to a car loan, put it into a savings account for 10 months.

Now, sell your $2000 car and combine the proceeds with your $4500 to get something decent in the $6000 range. 

Now you have a car that'll last awhile, with no car payment.
If you can keep saving that amount each month, you'll set yourself up with a nice emergency fund, pay off debt, and then start accumulating savings.
Save Money Fast on Other Expenses
Food and car payments are two of the bigger areas we waste a lot of money, but there are plenty of smaller areas where hundreds of dollars can fall through our hands.
Let's look at a few.
Eliminate Cable TV for a Cheaper Alternative
Paying for cable these days makes no sense at all. There's almost nothing you can see on cable that you can't see via a streaming device at a much lower cost.
We finally eliminated cable last year, and now pay a fraction of the cost.
If you have cable now, check your bill and see how much you're paying to rent their equipment. We were paying $45 a month just to rent their boxes and remotes, and that's before buying their over-priced content.
We purchased one Roku streaming box for our main TV, and Amazon Fire Sticks for two other TV's.
We subscribed to Hulu at $8.95/month, then I upgraded that to Hulu Live for $39.95/month. I see any of our local channels, all the cable news channels, NFL, soccer, and my daughter still watches all of her shows.
But what we don't have, are the wasted rental fees, or the bloated price for content we never watch. And we're not subjected to constant price increases. Here's exactly how we switched.
Saving Money on Phone Payments
If your carrier is Verizon, Sprint, T-Mobile or AT&T, you're probably paying quadruple what you could be.
Just like millions of people are migrating away from high-priced, bundled cable TV plans, there are now much cheaper phone options that offer a la carte data plans and only the services you want. For a lot less money.
I subscribed to Verizon for a long time, and paid around $250/month for 3 phones. We were able to switch to Republic Wireless, and my bill is now less than $100/month.
Believe it or not, their plans start at (and this isn't a typo) $15 a month. Then you'd add on as much data as you need, at $5 per gig. I can't remember the last time I used more than 2 gig in a month, but that's the plan I have, so my phone alone is $25 per month. Total.
The only caveat, is that Republic doesn't support iPhones.
But lets talk about that for a minute.
Are iPhones still the "must have" device they once were?
Steve Jobs, God rest his soul, was a visionary and created some of the coolest gadgets we never knew we needed. But he's been gone for 10 years now, and in that time, what has Apple introduced that really blew everyone away?
The Apple watch? Yawn. A better camera on the iPhone? Ok, but for $1100? Really? That's more than I paid for my first two cars. Combined.
What do most people use a cell phone for – calls, emails, texts, calendar, notes, reminders, internet. Any smartphone can do those things without paying a $45/month never-ending loan, on top of a $40/month data plan, on top of your cell service.
It's possible that your monthly take home pay is enough to cover your bills, but the due dates fall mostly in one half of the month. Try giving one or two creditors a call and ask if they're willing to change your due date.
They're not obligated to of course, but if they see you're making a good faith request, they may oblige. It's a win for your budget, and a win for them because they'll retain a good customer. 
Give Yourself an Allowance, Then Use Cash
It's simple to carry around one debit card. But one drawback is, that it's hard to keep track of how much you've spent without checking your account. If you need to save money fast, try another method, even if it's temporary.
Give yourself an allowance each week, then use cash. We have more of an emotional involvement when we fork over actual money for things.
And it's strange, but when you know there's a limit, you somehow come up with alternatives to spending money.
Think About Your Habits, In Terms of a Year
Lots of times we leak money on habits that don't seem expensive, but balloon over the course of a year.
That daily $6 or $7 on lunch and coffee is close to $1700 over the course of a year.
Getting out on the weekend is nice, but dropping $60 every Saturday costs over $3000 in a year.
The idea isn't to become a hermit, but just to question every regular expense, regardless of the cost, and try to brainstorm lower cost alternatives. 
Reconsider Your Gym Membership
Someone close to me (not mentioning any names) joined a gym at the student price of $40/month. The adult price is $49/month. It's a beautiful place, with a pool, sauna, steam room, and every class you can think of.
I value health and staying in shape. But this is one of those choices where you say, "is this right for me now? This year, given my finances?"
I hate to suggest quitting the gym because it's healthy and it's a great outlet for stress. But there are plenty of free apps that'll help with everything from calorie counting to exercises, yoga and running.
In fact, here are 7 Free Fitness Apps, and here's how you can work out at home and get even better results than the gym. 
So, this one's a toss up. If your employer offers gym subsidies or has a gym, that's one option, but if you need to save money fast, a gym payment is definitely one to re-consider.
Saving money implies passive behavior – doing without, or cutting back. But if you need to save money fast, there are plenty of ways to accumulate money that don't require any real experience.
Have any furniture you're no longer using? Try listing it on Craigslist or Facebook Marketplace.
The same goes for exercise equipment, large tools, athletic equipment, laptops or phones.
Walking dogs or cleaning homes can bring in $25-$50 an hour, and can be started literally this weekend.
How to Save Money Each Month - Over the Longer Term
It's strange, but some of the longer term ways to save money are easier than the short term fixes.
When you're trying to save money fast, it usually involves changing your daily habits. But putting longer term fixes into place is more about consistency.  
The good thing is, that once you see results, it's motivating.
The adjustments above, could potentially save $800-$1000 a month, depending on your situation.
But to keep the momentum going, here are some things that'll work for the long term.
Most people spend more time planning their weekend, than they do planning their life. Having a personal goal for the next couple years doesn't need to be complicated.
It might be something like… finish my degree, buy a home, transition to another career choice, start a business.
But it'll provide a focal point for a lot of other decisions.
Personal goals will probably change every few years. But it's a lot easier to keep wearing last year's jacket, or keep your car for another year when you have a goal in mind. 
Money management is one of the biggest areas of friction in a marriage. And lots of times, it's the same arguments repeated over and over.
When one person manages the budget, and the other spends money you don't have, it can cause some real headaches.
Here are two ways to try and avoid that:
Try to talk about and agree on one or two common goals, because i

f you agree on your overall vision, it's easier to see eye to eye on your weekly spending.

Have weekly, informal budget meetings where you talk about the past week, and whatever's happening next week that you'll need to pay for. Regular scheduled sit-downs are a great way to head off any problems, and also celebrate your wins.
If you're combining finances with your partner, or thinking about it, here are some tips that'll help:
Money and Marriage – How to Combine Finances Without Becoming Enemies
Always Pay Yourself First
When you're living paycheck to paycheck, it's common to think you can't afford to save. It's what I thought the first few years I worked for a company who offered their own savings program.
But that's living with a scarcity mindset. When you work every week, only to fork over every cent to bills, and repeat the same thing each week, things will never change.
Warren Buffet summed it up perfectly:
"Don't save what is left after spending; spend what is left after saving." 
If your employer offers a savings program where they kick in a percentage, I'd sign up today. No other savings program is going to hand you money as a reward for saving your own money.
Invest at least the amount to get their maximum match. Some companies automatically increase your contribution by one percentage point each year, but if not, I'd increase at least once a year.
Use Automation to Build Emergency Cash
Paying yourself first is a two-pronged approach. You want to save for retirement, but you also need emergency cash. Not having an emergency fund is one of the main reasons people never escape paycheck to paycheck life.
Here are two ways you can build an emergency fund quickly with hardly any effort:
Build an Emergency Fund Easily Using Digit
Digit is a smartphone app that's definitely the easiest, and probably the most useful app I've ever used. You download it for free, and it'll prompt you to connect to your checking account.
Then Digit will open an FDIC insured account, and will transfer a few dollars every couple days. It's not an arbitrary amount, either. Digit will monitor your deposits and your spending pattern, and will only transfer money to your emergency fund when you can afford it.
I say it's the most useful app I've ever had, because since I've used Digit (for about a year) I've paid for 4 car repairs and two other emergencies without spending a dime from my checking account.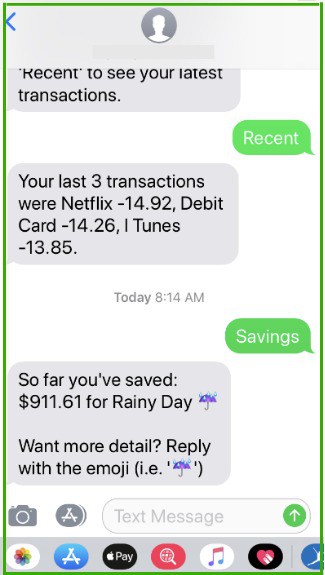 This simple smartphone app has been a huge help with maintaining a predictable budget.
If you want to see more of an overview of how it works, here's my Digit review.
Open a High Interest Savings Account
To be able to keep saving over the long haul, you'll need get out of emergency mode, where every car repair is going to wreck your monthly budget.
I love Digit to build about $1000 quickly, but once you do, another option is to open a high interest savings account, with an automated deposit. This way, as you build several months of expenses, you'll earn interest.
The key, just like Digit, is to have an account that's separate from your checking account. This way, you can budget almost to the dollar, because no emergencies will ever affect your bill paying.
The highest rate I've seen for savings accounts, is CIT Bank's Savings Builder. They pay over 18 times more than traditional banks. Withdrawals are easy by doing a simple, free transfer to your checking account.
We all experience periods of living close to the edge. And usually by making some honest choices about needs and wants, it's possible to get back on track.
I understand, it's not easy figuring out how to save money fast on a low income. But if you find yourself repeatedly in crisis mode, then remember some of the keys:
Have an overall goal for the next 3-5 years. Something that'll serve as a north star for all your spending decisions.
Know your triggers. When do you usually spend money you don't have. Put safeguards into place to avoid those situations.
Question every expense. A budget that made sense two years ago, may not work today. Decide whether each expense fits in with your situation right now.
Automate savings. Whether it's your workplace savings program or your personal emergency fund. Always pay yourself first.
Be consistent. You don't need to be a financial genius to retire wealthy. You just need to be consistent.
How about you?
Do you have any go-to methods when you need to save money fast?
Join to Receive Your FREE eBook. 50+ Ways to Save All Year Long.