"This post may contain affiliate links. Please read my disclosure for more info.
Whether you're traveling across the country, or a to a new restaurant in the next county, you want to be sure of a few things. Mainly, that you'll get there quickly, cheaply and be informed once you get there.
I've looked for the 10 best travel apps for your next trip, or tomorrow's commute here's what I've found.
They'll help you save on gas, parking, flights, and lodging. And once you arrive, you'll know where to eat, how to order from a menu in Paris, read a street sign in Bangkok, and what attractions are nearby.
You'll know where the free wi-fi is, how to convert any currency to dollars, and how to record your expenses simply.
And when you get home wouldn't it be nice to have a multimedia recording of your trip to share with friends and family?
Here's the scoop.
Flight Aware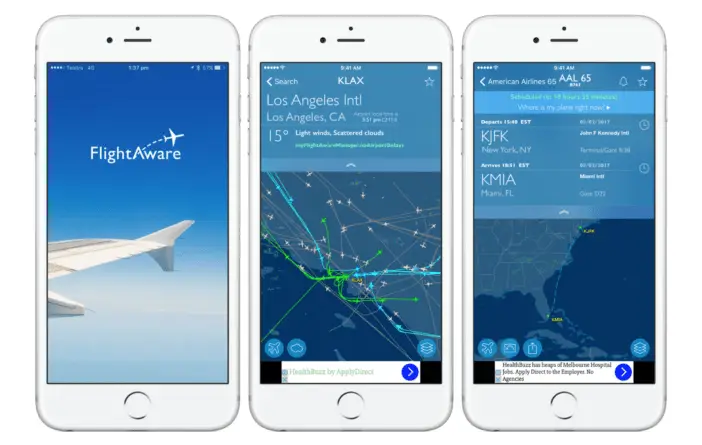 On a flight from New Jersey to San Diego a few years back my 9-year-old daughter asked me about every eleven minutes, "Dad, how many more minutes?"
With Flight Aware, she'll know exactly how many more minutes. And she'll also know what altitude she's at, what state she's over, and the names and destinations of other flights in the area.
And our family at home using Flight Aware will also know exactly where we are.
Flight Aware uses air traffic control data from over 55 countries to give you up to the minute flight data for virtually any commercial flight in the sky.
Keep up to date about flight delays, weather, and even navigation charts.
Whether you're a frequent traveler or a curious nine-year-old, Flight Aware is a great utility.
Get Flight Aware Free for Android or iOS .
Tripit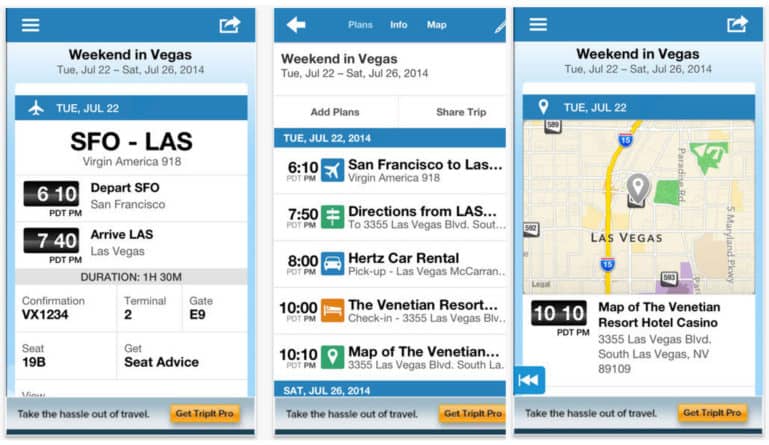 If you're planning a trip for the family, it should be a time to decompress. But keeping track of flight numbers and times, connecting flights, car and hotel reservations and confirmation numbers can add stress where you don't need it.
Tripit can save you from juggling between multiple notes containing your trip details. It will pull together all the details for flights, hotels, rentals, and reservations and list them in one easy to reference itinerary.
Suppose you get separated from someone in your travel party? With Tripit you can share the entire itinerary so they'll instantly know where everyone is headed.
You can also share your itinerary with a friend or family member at home. It's like taking a personal travel agent along with you.
Get Tripit for Android or iOS or Blackberry.
AccuWeather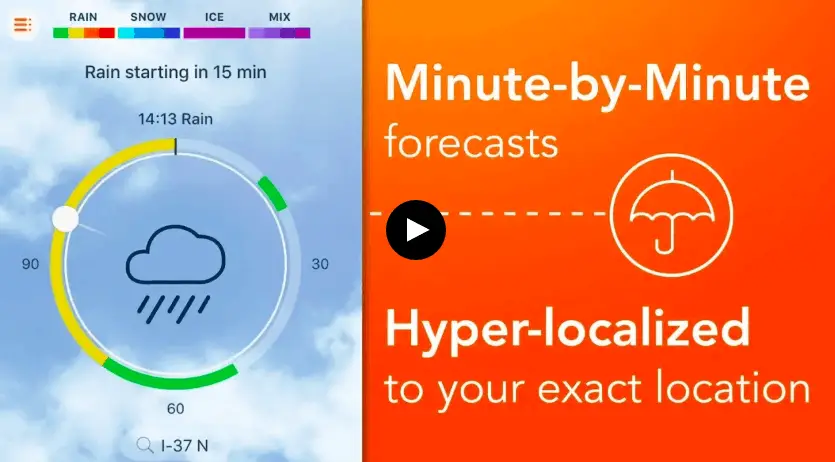 Whether you're hiking, biking, hitting the beach or touring the city, unexpected weather can ruin your day. AccuWeather can quickly display anything from 15-day summaries, 5-day forecasts, to a local up-to-the-minute forecast
The up-to-the-minute forecast uses GPS to zero in on your location and provide accurate precipitation forecasts out to the next two hours. You may not be a weather junkie at home, but being prepared on the road can make or break your trip.
Get AccuWeather for Android or iOS
Google Translate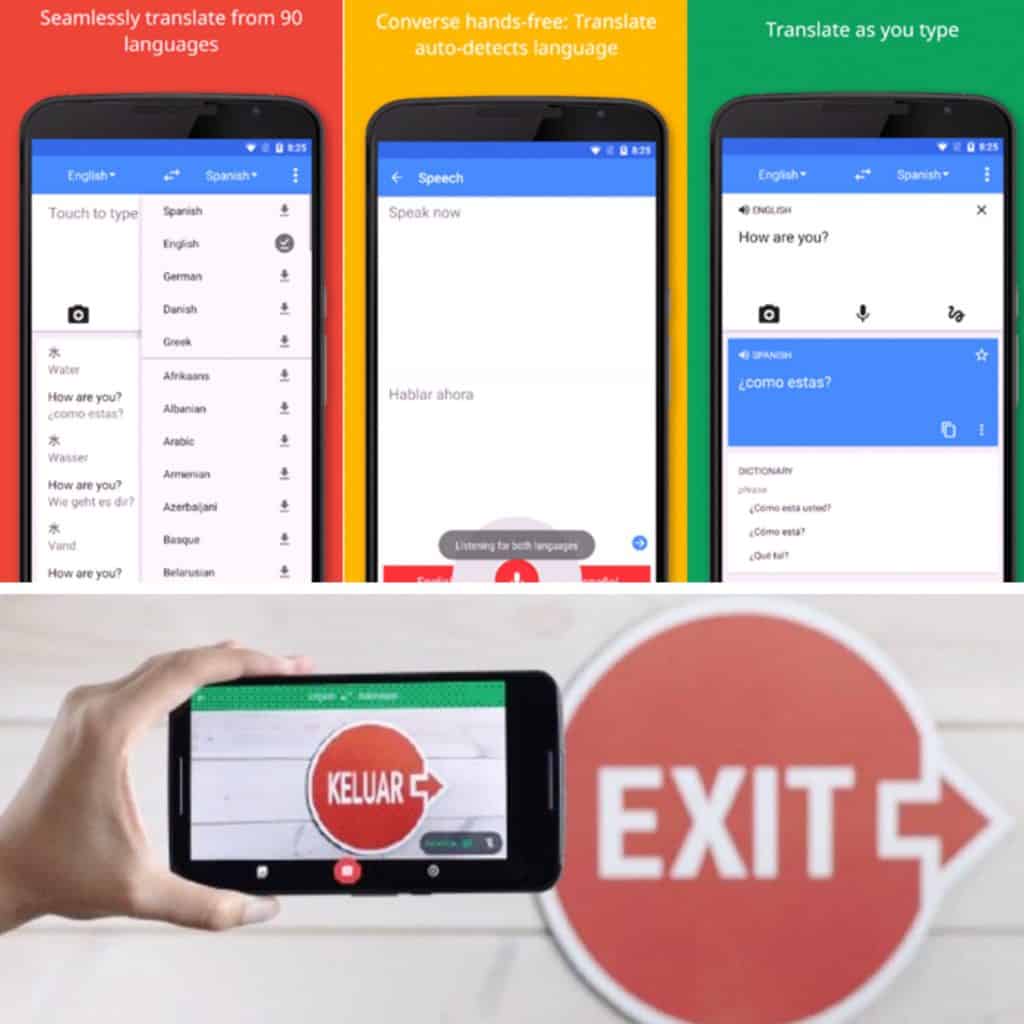 What's one of the main reasons people hesitate to travel outside the US?
You guessed it! The language barrier. Who wants to sit down to breakfast in Paris and order a shoe over easy?
But what if you could scan the menu and instantly see – in English, what you're ordering? Or walk through Madrid and 'read' each sign along the way.
Just scan menus, signs or other text and Google Translate will show you the text in English.
Or type in what you want to say, and have Google Translate ensure that you're not asking for directions to the bathrobe.
Get Google Translate for Android or iOS.
LiveTrekker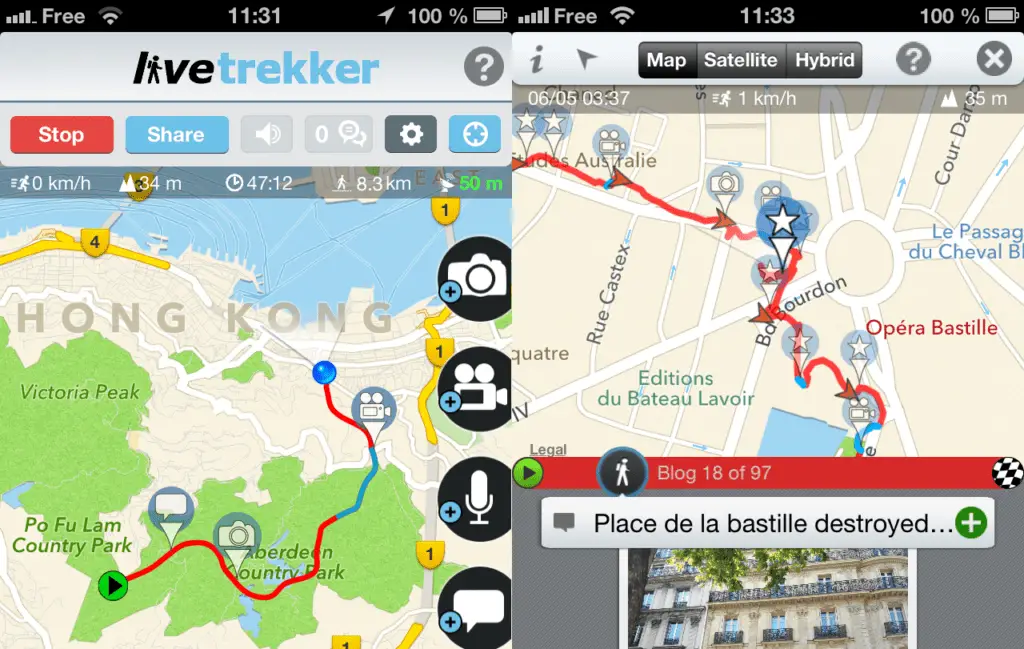 I took a trip throughout the southern US states, then onto the southwest, up to Colorado and all through the Rocky Mountains. There were so many small towns and great memories in each one.
If I had LiveTrekker I'd have a detailed journey of my exact route. I'd be able to look back and view the trip on an interactive map. And I'd be able to sync the photos or videos I took along the way.
And when I shared the trip with family and friends, I'd have a multimedia travel diary to show them.
Whether you're hiking, biking or taking a family road trip, LiveTrekker is a great way to remember your trip.
Get LiveTrekker Free for Android or iOS
GasBuddy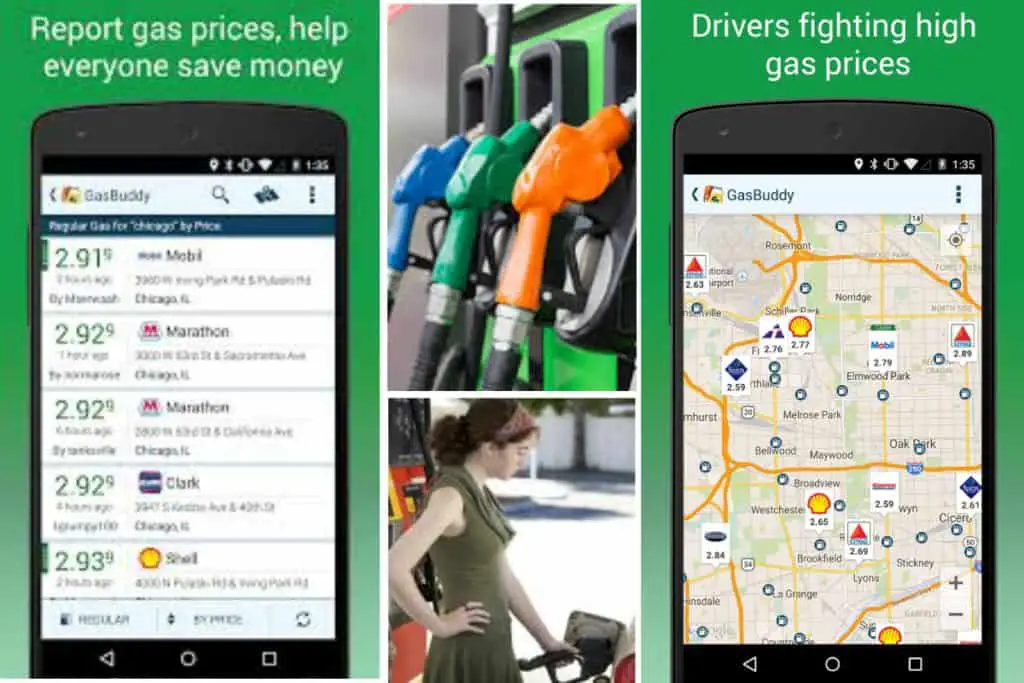 Gas prices are about sixty cents higher now than they were this time last year. It may not seem like a lot, but that's $9.00 if you're filling up a 15-gallon tank. Over a year, you could be wasting hundreds of dollars. That's where GasBuddy comes in.
Just enter your town or zip code in and GasBuddy instantly shows you a list of every station around with their per gallon price.
Don't panic in an unfamiliar town when your low fuel warning light comes on. GasBuddy will show you where the nearest – and cheapest station is.
And it's not just for when you're on the road. Are you getting ready to head out to work and need gas? Pull up GasBuddy on your laptop before you leave and you're guaranteed to stop at the lowest station.
Need to calculate the mileage for your next trip? GasBuddy can handle that too.
You can also report your local gas prices to GasBuddy. With 32 million users, GasBuddy is always up to date.
Get GasBuddy Free for Android or iOS or Windows.
Time Out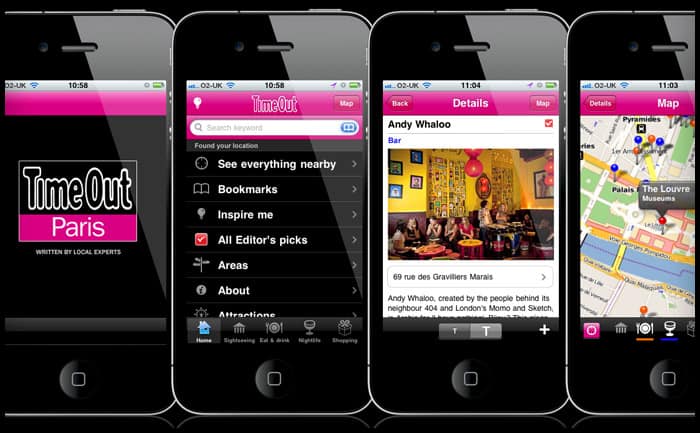 You know how you walk into a hotel lobby in a new city and pass that huge rack of sightseeing brochures?
With Time Out, you can walk right past that rack. Don't waste your morning sitting in a hotel room wondering what to see and do.
Time Out is a great directory of things to do in cities around the world. It includes everything from restaurants, to bars, attractions, and events.
It also includes an event finder so you'll be aware of any festivals, concerts, or other scheduled events.
See an event that's selling tickets? Buy them right through Time Out. Notice a great looking restaurant across town? Book a table. Done! Try doing that with a paper brochure.
Get Time Out Free for Android or iOS.
RunGo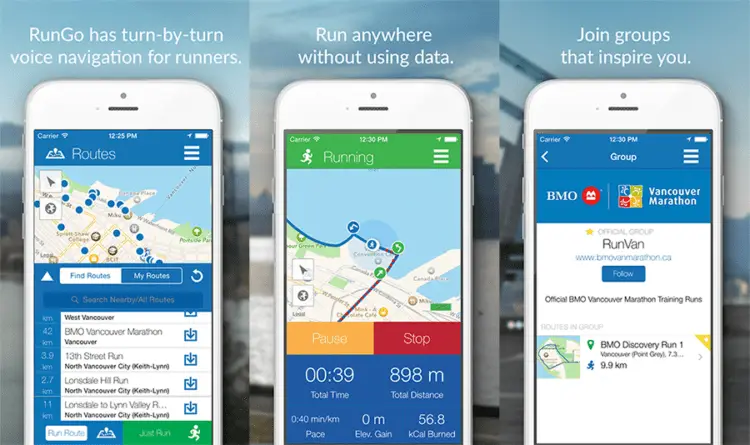 Running or jogging is a great exercise because all you need is a decent pair of shoes and a little motivation. One of the hardest parts about staying fit is just getting out the door. There's always an excuse. Being on the road doesn't need to be one anymore.
RunGo will tell you the best places to run in hundreds of different cities. The routes are created by local runners so they're measured, scenic and safe.
Whether you're looking for a scenic four-miler in Vancouver or a six-mile loop through Hoboken, RunGo can not only show you but guide you along the way. What a great way to explore a new city!
So, on your next trip don't forget to throw your running shoes in the suitcase.
Get RunGo Free for Android or iOS.
Expensify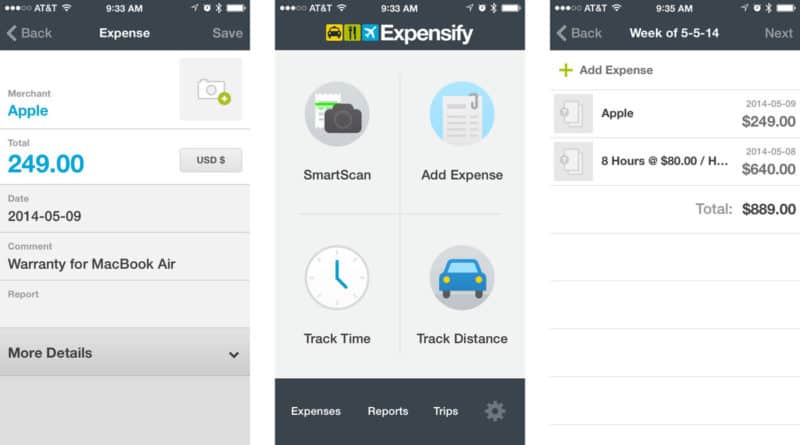 Filing expense reports can be frustrating when you're trying to locate and tally up receipts for multiple days.
Expensify can simplify the process by enabling you to photolog receipts, track expenses and import credit card info for your purchases.
The Smart Scan feature is especially handy. Being able to photograph a receipt, have it read and automatically added as an expense is definitely a time saver.
The ability to enter travel mileage, rate-based expenses and do currency conversion make Expensify the Swiss Army knife of expense reporting.
And if you're trying to take a budget-conscious vacation, Expensify can help to make sure you don't blow your budget at the halfway mark.
Get Expensify Free for Android or iOS.
Airbnb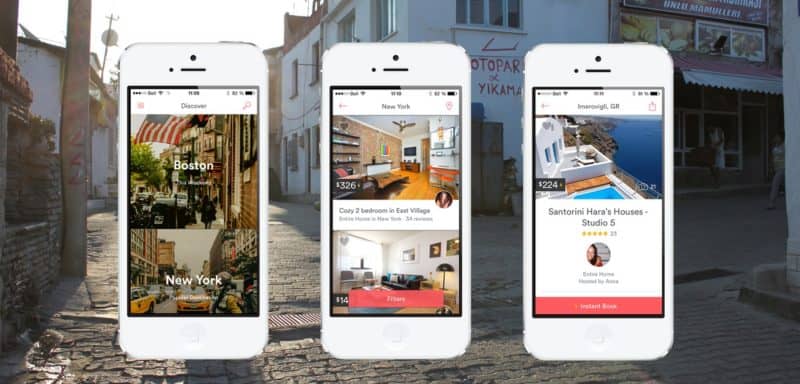 Most people planning a vacation or a weekend away check for the cheapest, most convenient hotel near your destination.
But then your friend sends you pictures of that great B&B they stayed at right at the base of Mt. Snow where they put out fresh-baked muffins each morning,
How did they find that place, you wonder.
Psst… it's Airbnb.
Airbnb locates unique places to stay worldwide. Anything from a mom and pop B&B to a small apartment to even a castle. You can search through a range of prices for accommodations in 34,000 cities in close to 200 countries.
Get Airbnb here.
Oanda Currency Converter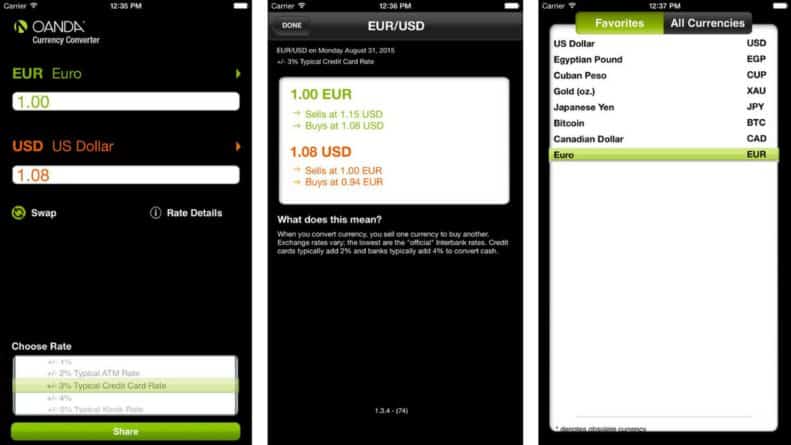 If you're circumnavigating the globe you'll never hesitate at paying for a river taxi in Bangkok or a cappuccino in Naples. Oanda converts amounts for over 190 currencies – and four metals. Keep frequently used currencies for quick access. And with a big-button keypad, it's simple to quickly enter conversion amounts. This free converter uses OANDA Rate® data, which is the daily rates used by corporations, tax authorities, auditing firms, and financial institutions. Load Oanda and Google Translate, and it's time to round up the passports!
Get Oanda Free for Android or iOS.
I hope you've found a few apps that'll help make your next trip a little less stressful and more memorable. If you have a favorite app for your travels, feel free to let me know in the comments below!
And if you want to save this for your next trip, trying pinning it for later.
Join to Receive Your FREE eBook. 50+ Ways to Save All Year Long.